Disney's Hollywood Studios | Sunset Blvd. Area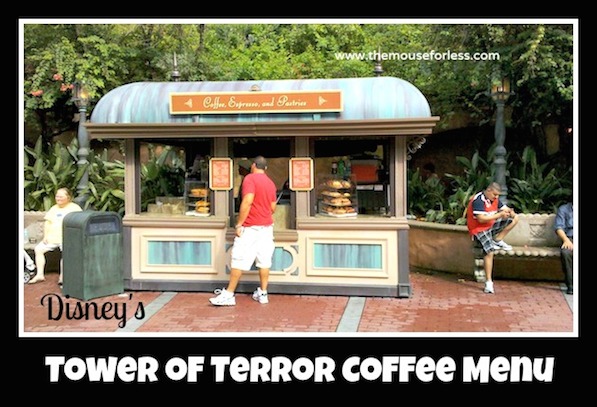 Like other Coffee, Espresso & Pastries kioks throughout Walt Disney World, Joffery's hot and frozen coffee treats are served at the Tower of Terror Coffee Cart.
Restaurant Info: Beverage Kiosk, $ – under $14.99 per adult
Find out how you can save money on dining at Walt Disney World by using one of Disney's Dining Plans.
Tower of Terror Coffee Cart Menu
Menu Date: 05/2018
Coffee – $3.39

Double Espresso – $3.49

Cappuccino – $4.89

Cafe Latte – $4.89

Chai Latte – $4.89

Mocha Latte – $5.39

Flavored Latte – Vanilla, Caramel, Hazelnut, or Irish Cream – $5.39

Whole or Skim Available. All Coffee Drinks Available Iced.
Hot Tea – $3.39

Peach Iced Tea – $3.99

Hot Chocolate – $3.89

Frozen Drinks – $5.39

Frozen Cappuccino – $5.39

Pastries
Assorted Cookies – $3.99
Assorted Muffins – $3.99
Assorted Pastries – $3.99
Alcoholic Beverages
Coffee or Latte – add Baileys Irish Creme, Grey Goose Vodka, Kahlua or Jameson Irish Whiskey – $9.49 / 8oz
Shakin Jamaican – Signature frozen Cappuccino with Kahlua topped with Whip Cream – $9.49
Joffrey's Tiki Torch – Frozen Passion fruit blended with Grey Goose – $9.49
Kahlua Tini – roasted coffee chilled then topped with Kahlua, vodka and rich light cream – $9.49
Seasonal Specialties
Dreamsicle Iced Latte – espresso, white chocolate sauce, and candied orange syrup – $5.39

Dulce de Leche Iced Latte – espresso and creamy dulce de leche with whipped cream and dulce de leche drizzle – $5.39

Frozen Strawberry-Lemon Sunset – layered frozen strawberry and lemonade topped with Grey Goose – $9.49
Dreamsicle Iced Latte with alcohol – espresso, white chocolate sauce and candied orange syrup, with alcohol – $9.49
Island Swizzle Iced Tea – iced tea with tropical fresh fruit flavors and Captain Morgan Spiced Rum – $9.49
Dulce de Leche Iced Latte with alcohol – espresso and creamy dulce de leche with whipped cream and dulce de leche drizzle, with alcohol – $9.49

= Snack on the Disney Dining Plan
** Tower of Terror Coffee Cart Menu and Prices are Subject to Change Without Notice **