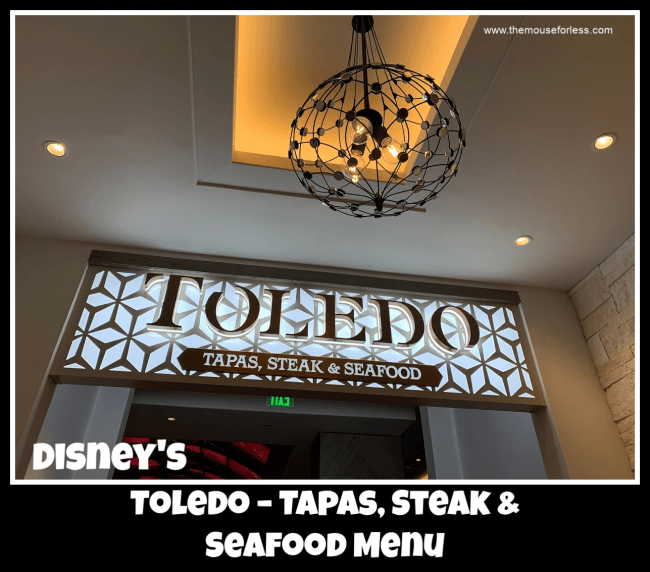 At Toledo, savor dishes and small plates inspired by the flavors of Spain while feasting your eyes on the sweeping views from this rooftop restaurant.
Spend the evening enjoying delicious tapas, sublime steaks and succulent seafood under a large pair of olive trees and shimmering vaulted ceilings.
The on-stage tapas kitchen serves small plates, charcutería, and cheeses. Toledo highlights Spanish and California wines with over 75 choices hand-selected by our Master Sommelier, as well as handcrafted cocktails, beers, and ciders.
For dessert, continue to relax in Spanish decadence with a rich array of mouth-watering delicacies.
Toledo is located in the Gran Destino Tower of Disney's Coronado Springs Resort. Find more Walt Disney World dining locations on our Walt Disney World menus page.
Restaurant Info: Seafood, Steakhouse, Spanish Cuisine, Dinner, $$$ ($35 to $59.99 per person)
Find out how you can save money on dining at Walt Disney World by using one of Disney's Dining Plans.

Planning a Walt Disney World Vacation?
For a Free no-obligation quote, contact our sponsor
The Magic For Less Travel
. The Magic For Less Travel is an Authorized Disney Vacation Planner and has been helping guests plan magical vacations since 2002. Receive the best prices and free travel planning services. Their fee-free services will help you save time, money, and stress while planning a vacation designed around you and your needs!
Toledo Dinner Menu
Menu Date: 08/2021
Tapas and Starters
Rioja-braised Chorizo
Spanish-style Sausage, Rioja Wine and Onions – $15.00
Pan con Tomate
Crushed Tomato, Garlic, Olive Oil and Charred Bread (Plant-based) – $10.00
Charred Octopus
Patatas and Chimichurri – $15.00
'Aceitunas' Marinated Olives
Citrus, Garlic and Crushed Red Pepper – $11.00
Romaine Salad
White Anchovy, Garden Radish, Cracked Black Pepper and Soft-poached Egg – $10.00
Flight of Four Pinxtos
Chilled Mussels 'Escabèche', Olive Oil-poached Tuna with Lemon , 'Tortilla Española' Spanish Potato Omelet, Valdeón Blue Cheese with Fig and Honey – $12.00
The Spaniard for Two
Chefs' signature selection of artisanal Charcuterie and Cheeses – $35.00
Chef's Signature for Two (129.00)
Flight of Four Pinxtos
Chilled Mussels 'Escabèche', Olive Oil-poached Tuna with Lemon , 'Tortilla Española' Spanish Potato Omelet, Valdeón Blue Cheese with Fig and Honey
The Spaniard
Chefs' signature selection of artisanal Charcuterie and Cheeses
Chuletón Bone-In Rib-Eye*
Tomato, Onions and choice of two House Sides
'The Toledo Tapas Bar Dessert'
Spanish Coffee, Crunchy Chocolate, Raspberry Mousse and Lemon Curd
Entrées
Grouper
Cauliflower, Cipollini Onions and Valencia Orange – $34.00
Scallops
Vegetable Purée, Olives, Harissa Vinaigrette and Roasted Carrots – $32.00
Marinated Hanger Steak*
Potatoes, Salsa Verde, Greens and blistered Peppers – $32.00
Filet of Beef
Olive Oil-Potato Purée, Forest Mushrooms, Date Jam and Sherry Vinaigrette – $36.00
Rioja-braised Chicken
Roasted Tomato Bomba Rice, Grapes and Crispy Potatoes – $28.00
Chuletón Bone-In Rib-Eye for Two*
Tomato, Onions and choice of two House Sides – $89.00
Brick Oven Cauliflower
Carrot Romesco, Artichoke Pistou, Cured Tomatoes and Cilantro Crema (Plant-based) – $34.00
Sides
Blistered Shishito Peppers – $8.00
Olive Oil-Potato Purée – $8.00
Roasted Cauliflower – $8.00
'Bravas' Potatoes – $8.00
Braised Gigante Beans – $8.00
Roasted Tomato Bomba Rice – $8.00
Desserts
'The Toledo Tapas Bar'
A progressive dessert tasting with the flavors of Spanish coffee, crunchy chocolate, raspberry mousse, and lemon curd – $12.00
Classic Crema Catalana
Valencia orange, chocolate tuile – $8.00
Chocolate-Avocado Mousse, A Plant-based Dessert
strawberry-basil sorbet, coconut crumble – $10.00
'Café con Leche' Profiterole
dark chocolate, vanilla whipped cream – $9.00
Non-alcoholic Beverages
Minute Maid® Premium Lemonade – $4.99
Fountain Soda
Coca-Cola®, Diet Coke®, Coke Zero Sugar®, Sprite®, Fanta® Orange, Minute Maid® Zero Sugar Lemonade, POWERADE® Mountain Berry Blast – $4.29
Fresh-brewed Iced Tea – $4.29
Ponche de Frutas
Hubert's® Pomegranate Limeade, Sweet-and-Sour, Pineapple, Blackberry, Soda Water – $5.49
Hibiscus-Mint Limonada
Hubert's® Pomegranate Limeade, Sweet-and-Sour, Pineapple, Blackberry, and Soda Water – $5.49
Hot Beverages without Alcohol
Freshly Brewed Coffee Press Pot
Enjoy a well-balanced cup with Joffrey's Coffee™ & Tea Co.'s organic Café Femenino from Mexico. A medium roast with light body, medium acidity, nutty overtones and a natural sweetness. Serves two  – $9.00
Cortado
Espresso and Dash of Steamed Milk – $4.99
Gibraltar
A Grande Cortado – $4.99
Café con Leche
Espresso and warm Milk – $4.49
Café Bombon
Espresso and Sweetened Condensed Milk – $4.99
Doppio Espresso – $3.29
Cappuccino – $4.49
Caffè Latte – $4.49
Twinings of London® Hot Tea Large Leaf Discovery Collection
Golden Tipped English Breakfast, London Strand Earl Grey, Pure Sencha Green, Golden Caramel Rooibos, Budding Meadow Camomile, Medley of Mint – $3.99
Hot Beverages with Alcohol
Cafesito Delicioso
Terra Meiga Coffee Liqueur, Licor 43, Espresso and Cream – $15.00
Barraquito
Licor 43, Espresso, Condensed Milk, Foamed Milk and Lemon Zest – $8.00
Café Carajillo
Torres 10 Gran Reserva Imperial Brandy and Espresso – $10.00
Alcoholic Beverages
Assorted Beer, Hard Cider and Hard Seltzer – $7.50 – $11.50
Assorted Wine by the Glass – $8.00 – $15.00
Assorted Dessert Spirits – $12.50 – $30.00
Specialty Cocktails
Gran Gin Tonic
Tanqueray Gin, House-made Saffron-Orange Tonic and Soda Water – $15.00
Sangría-Tini
Stolichnaya Vodka, Garnacha Old Vines, Combier Crème de Pêche De Vigne and Sweet-and-Sour – $13.00
Tequila Daisy
Don Julio Blanco Tequila, Torres Magdala Naranjas del Mediterráneo, Grapefruit, Lime, Hibiscus and Soda Water – $14.00
Alla Prima Manhattan
Elijah Craig 94 Proof Kentucky Straight Bourbon, Amaro Nonino Quintessentia, La Copa by González Byass Sweet Vermouth, Maple Syrup and Orange Bitters – $15.00
Espumoso Punch
Fonseca Bin 27 Port, Combier Crème de Mûre, Lime, Orange, Freixinet Blanc de Blanc Cava Brut and Fresh Fruit – $14.00
Sangría Tinto
Garnacha Old Vines, Torres Magdala Naranjas del Mediterráneo and Orange – $13.00
Toledo Kids' Menu
Menu Date: 08/2021
Kids' Appetizers
Toledo Greens Salad – with Fat-free Ranch Dressing – $3.00
Lentil Hummus, Carrot Sticks, and Crispy Bread Sticks – $3.00
Kids' Create-Your-Own Entrees
Served with choice of two selections and choice of Small Lowfat Milk, Small Dasani Water, or Small Minute Maid Apple Juice
Grilled Steak – with Salsa Verde – $14.00
Grilled Chicken Breast – $11.00
Sustainable Fish – with Parsley, Lemon – $13.00
Braised Meatballs – $10.00
Sautéed Shrimp – $12.00
Kids' Selections
Roasted Whole Carrots
Seasonal Vegetable

Roasted Cauliflower

Spanish Rice
Braised White Beans
Macaroni & Cheese

Potato Purée
Strawberry Mousse Mickey Tart and Fresh Strawberries
** Toledo Menu and Prices are Subject to Change Without Notice **