Resort Restaurants | Old Key West Resort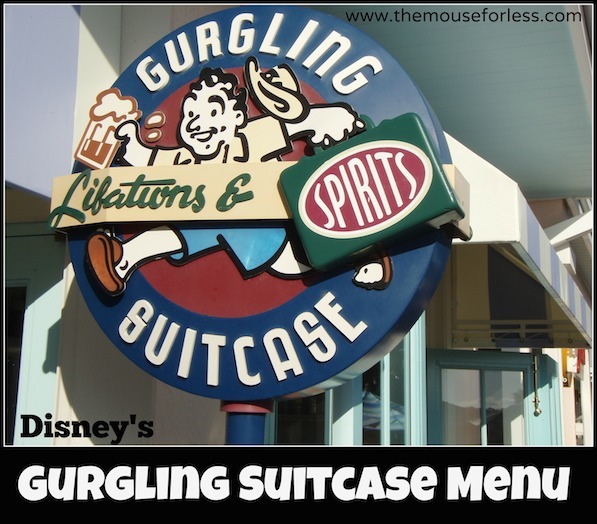 At the Gurgling Suitcase, Guests can belly up to this cozy little Key West-style bar and try the Turtle Krawl, Sultry Seahorse or your drink of choice inside or by the pool. If you're hungry,  the lunch and dinner menu from Olivia's Cafe is also available!
Restaurant Info: American, Lunch/Dinner/Snack, $
Find out how you can save money on dining at Walt Disney World by using one of Disney's Dining Plans.
Gurgling Suitcase Menu
Menu Date: 05/2019
Hot Entrées
1/3 lb Angus Cheeseburger  – served with French Fries  – $10.99
All-Beef Hot Dog with Chili and Cheese  – served with French Fries  – $9.99
Chicken Breast Nuggets – 10 Pieces  – served with French Fries – $10.99
Vegetable Burger  – served with French Fries  – $10.99
Mango-Rum Barbecue Pulled Pork Sandwich  – topped with Coleslaw on a Kaiser Roll served with French Fries  – $9.99
Caribbean Jerk Chicken Rice Bowl  – $8.49
Sandwiches and Salads
Flagler Italian Sandwich  – served with Salami, Ham and Mortadella on Focaccia Bread with Lemon Caper Mayonnaise and Chips  – $9.99
Tuna Salad  – Olivia's famous Tuna served with House-made Chips with White or Wheat Bread  – $7.79
Power Salad  – A mix of Edamame, Garbanzo, Roasted Peppers, Cherry Tomatoes, Mixed Greens and Quinoa with a Key Lime Mustard Vinaigrette  – $9.99
Caesar Salad with Chicken  – $9.99
Shrimp Cobb Salad  – $11.99
Taylor Turkey Sandwich  – House-roasted Turkey served on Ciabatta Bread with Basil Pesto Mayonnaise and Chips  – $10.49
Loaded Nachos  – House-made Fried Chips topped with Barbecued Pulled Pork, Cheese Sauce, Salsa and Sour Cream  – $7.99
Snacks
Key Lime Pie – $4.29
Chocolate Brownie – $4.29
Specialty Cupcake – $5.49
Carrot Cake – $4.49
Soft Pretzel with Cheese – $5.99
Assorted Fruit Cups

Non-Alcoholic Beverages
Assorted Fountain Beverages – $3.49
Dasani Bottled Water – $3.00
Piña Colada Slushy – $6.49
Strawberry Slushy – $6.49
Specialty Drinks
Turtle Krawl  – Siesta Key White Rum, Parrot Bay Coconut Rum, Sailor Jerry Spiced Rum with Grenadine, Pineapple, Orange and Key Lime Juices  – $11.50
Olivia's Strawberry Lemonade  – Patrón Silver Tequila, Key Lime Juice, Strawberry and Odwalla® Lemonade with a Sugared Rim  – $14.00
Rum Runner  – Myer's Original Dark Rum, Crème de Banana, Black Brandy, Orange and Pineapple Juices with a float of Bacardi 151 Rum  – $11.50
Papa's Den  – Jack Daniels, Peach Schnapps, Cherry Brandy, Orange Juice, Pineapple Juice and Grenadine  – $11.50
Captain's Mai Tai  – Captain Morgan Original Spiced Rum, Bols Amaretto and Tropical Juices topped with a float of Myers's Original Dark Rum  – $11.75
Ultimate Long Island Iced Tea  – Bacardi Superior Rum, Tito's Handmade Vodka, Hendrick's Gin, Cointreau and Sweet-and-Sour with a splash of Coca-Cola®  – $13.50
Loaded Key West Bloody Mary  – Our Premium Bloody Mary is made with Ketel One Vodka, Bacon, Shrimp, Jumbo Olives, Celery and Lime  – $11.50
Piña CoLAVA  – Bacardi Raspberry Rum blended with flavors of Coconut, Pineapple and Raspberry Purée  – $12.00
Beer
Bud Light  – $7.25
Key West Sunset Ale  – $9.00
Samuel Adams Seasonal  – $9.25
Yuengling Traditional Lager  – $7.75
7 Mile Bridge IPA  – Two Henrys Brewing Company, Plant City, Florida  – $8.75
Conch Republic Key Lime Wheat Ale  – Big Top Brewing Company, Sarasota, Florida  – $8.75
Corona  – $8.50
Blue Moon Belgium Wheat Ale  – $8.25
New Belgium Fat Tire  – $9.75
Cigar City Jai Alai IPA  – $9.00
Stella Artois  – $9.00
Schöfferhofer Pink Grapefruit Hefeweizen  – $10.00
Sierra Nevada Pale Ale  – $9.75
Guinness  – $9.50
Crooked Can Mr. Tractor Kolsch  – $8.75
Angry Orchard Crisp Apple Hard Cider  – $9.00
Goose Island 312 Urban Wheat Ale  – $8.75
** Gurgling Suitcase Menu and Prices are Subject to Change Without Notice **