Disney's Hollywood Studios | Grand Avenue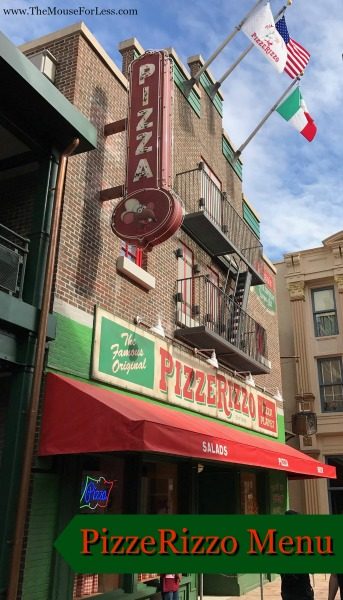 Special Notice: PizzeRizzo opened in the former location of Pizza Planet. It is a seasonal dining establishment.
This classic family pizzeria is owned by none other than Rizzo from The Muppets. The decor is inspired by Rizzo and his extended family. Head upstairs to Rizzo's Deluxe Supreme Banquet Hall where a wedding reception is already in progress.
Restaurant Info: American, Lunch/Dinner/Snack, $ – under $14.99 per adult
Find out how you can save money on dining at Walt Disney World by using one of Disney's Dining Plans.
PizzeRizzo Menu – Lunch and Dinner
Menu Date: 11/2016
Entrées
Vegetable Pizza – with Mushrooms, Peppers, Onions, and Tomatoes served with Caesar Salad – $9.99
Pepperoni Pizza – served with Caesar Salad – $9.99
Cheese Pizza – served with Caesar Salad – $9.49
Meat Lovers Pizza – served with Caesar Salad – $10.69
Meatball Sub – served with Caesar Salad – $9.69
Salads
Antipasto Salad – Tossed-to-order with Ham, Salami, Pepperoni, Kalamata Olives, Mozzarella, Tomatoes, Chopped Romaine, and Balsamic Dressing – $10.49
Snacks and Desserts
Tiramisu – $4.59 

Cannoli – $4.99 

Beverages
Assorted Fountain Beverages – Coke, Diet Coke, Coke Zero, Sprite, Fanta Orange, Barq's Root Beer, Minute Maid Light Lemonade, Gold Peak Sweet Ice Tea, Gold Peak Unsweetened Ice Tea – $2.99 Regular | $3.29 Large

Dasani Bottled Water – $2.75

Coffee – Regular or decaf – $2.49

Hot Tea – $2.49

Nestle Hot Cocoa – $2.59

Minute Maid Apple Juice – $2.79

Milk or Nesquik Chocolate Milk – $2.59

PizzeRizzo Menu for Kids
Menu Date: 11/2016
For Guests Ages 9 and Under
Kids' Meals
All meals includes Carrot Sticks and Applesauce and Choice of small Lowfat Milk or small Bottled Water
Cheese Pizza – $5.99
Mini Chicken Sub – $5.99
*Juice box, small Nesquik chocolate milk or cookie substituted upon request
Mickey Check Meals

Kid's Power Pack Lunch – Dannon Danimals Yogurt, Apple Wedges, Carrot Sticks, Goldfish Crackers, Apple-Cinnamon Snack Bar and choice of small Lowfat Milk or small Dasani Water – $5.49

Meets Disney Nutrition Guidelines for Complete Meals without substitutions

= Snack on the Disney Dining Plan
** PizzeRizzo Menu and Prices are Subject to Change Without Notice **