Disney's Hollywood Studios | Hollywood Blvd. Area
Hobnob like a star at this version of the world-famous Hollywood Brown Derby and dine on its classic offerings. There are hundreds of movie star caricatures lining the wall and a few roving Hollywood characters to keep customers entertained. Plus, where else can you find a wait staff that wear tuxedos while you dine in your shorts! And here's a little tip, if you are sitting at a booth and notice a little telephone jack ask your server to bring you a phone; you'll get one of those old rotary styles to plug in and make your call!
Restaurant Info: American, Lunch/Dinner, A la carte, $$ – $15.00 to $29.99 per adult/$$$ – $35.00 to $59.99 per adult
Find out how you can save money on dining at Walt Disney World by using one of Disney's Dining Plans.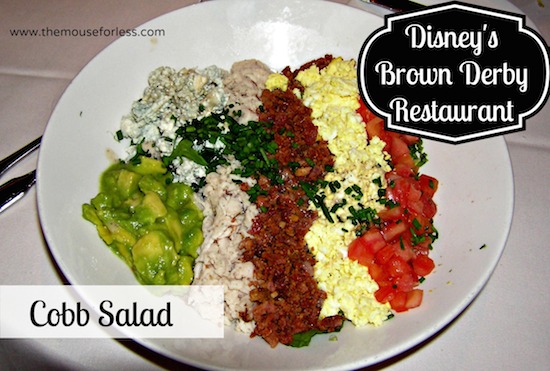 The Hollywood Brown Derby – Lunch & Dinner Menu
Menu Date: 02/2018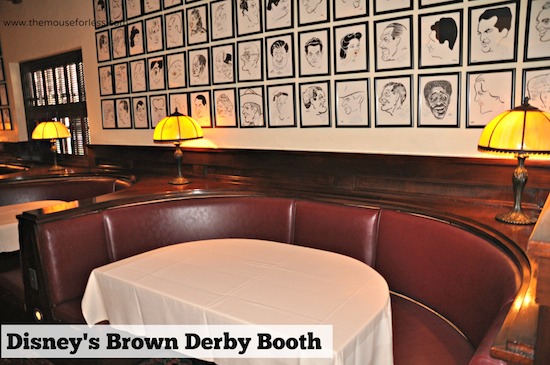 Appetizers
Our Famous Cobb Salad – with Finely Chopped Greens, Turkey Breast, Bacon, Egg, Tomatoes, Crumbled Blue Cheese, Avocado, Chives, and Cobb Dressing – $11.00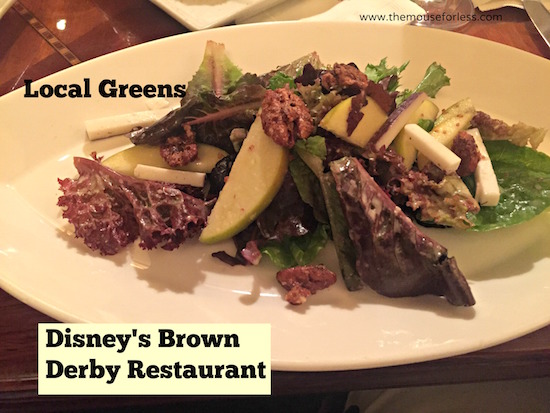 Local Greens tossed in a Champagne Vinaigrette – Heirloom Apples, Blueberries, Laura Chenel Goat Cheese, Spiced Candied Pecans – $11.00
Beef Carpaccio – Capers, Lemon-Mustard Aïoli, Petite Salad Greens, Caesar Salad, and Toasted French Bread – $17.00
Togarashi-Pumpkin Seed-crusted Ahi Tuna – House-made Kimchi, Sesame Jasmine Rice, Sake-Ginger-Soy Glaze – $15.00
Blue Lump Crab Crispy Wonton – Crispy Rice Noodles, Lolla Rosa, Cucumber, Tomato, Ponzu Vinaigrette, Wasabi Aïoli, Piquillo Pepper Sauce – $16.00
Oyster-Brie Soup – Oyster Beignets, Lemon Aïoli, Chive Batonnets – $11.00
Florida Tomato Soup – $11.00
Entrées
Charred Filet of Beef – Forest Mushroom-White Truffle Oil Mashed Potatoes, Sautéed Rainbow Carrots, Haricot Verts, Red Wine Reduction – $49.00
Faroe Island Salmon – Yellow Cauliflower Purée, Roasted Marble Potatoes, Fennel, Cherry Tomatoes, English Peas, crispy Leaks – $37.00
Roasted Cheshire Pork Chop – Citrus Marmalade, Fennel, Sweet Onion Purée, Tomato Pesto, Arugula, Smashed Okinawa Sweet Potato, crisp Golden Beets, Spicy Micro Greens – $37.00
Grilled Wagyu Beef Burger – Gruyère Cheese, Pastrami, Heirloom Tomato, Avocado, Fried Egg, Toasted Brioche, Cognac-Mustard Aïoli, Hand-cut Steak Fries – $23.00
Vegetarian Pho – Ginger-Lemon Grass Broth, Mushroom and Tofu Spring Rolls, Ginger-Soy Dipping Sauce – $29.00
Bell & Evans Chicken Breast – Creamy Gruyère-Bacon Macaroni and Cheese, Tomato Compote, Curly Spinach, Mushrooms – $32.00
Andouille-crusted Chicken Breast – Smoked Bacon, White Cheddar, Arugula, Pickled Cucumber, Onion Kaiser Roll, Vegetable Slaw – $19.00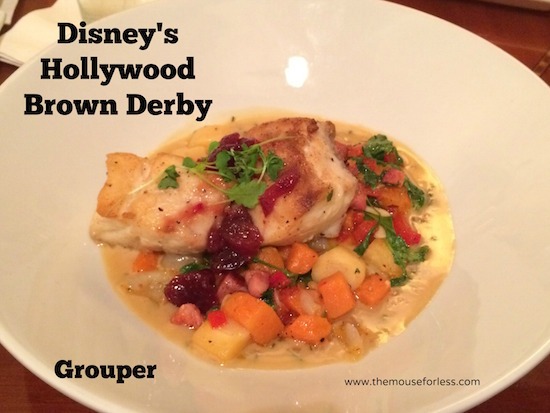 Pan-seared Black Grouper – Half Herb-crusted Lobster Tail, Heirloom Tomato, Baby Spinach, Orzo Salad, Cognac-Mushroom Beurre Blanc – $46.00
Our Famous Cobb Salad Entree – with Finely Chopped Greens, Turkey Breast, Bacon, Egg, Tomatoes, Crumbled Blue Cheese, Avocado, Chives, and Cobb Dressing – $18.00
Braised Beef Short Rib – Truffle Pomme Frites, Mushroom Ragoût, M2 Sauce – $26.00
Pork Belly Pastrami BLT – Grilled Ciabatta Roll, Whiskey Aïoli, Arugula, Watercress, Pickled Onions, Gruyère, Heirloom Tomato, Prosciutto – $22.00
Shrimp and Grits – Andouille-crusted Shrimp, Costwald Chive and Onion Grits, Poblano Cream Sauce, Mango Pico de Gallo, Espellette Oil – $26.00
Entrée Enhancement
Garlic-Herb Butter-crusted Cold Water Lobster Tail – $28.00
Pan-seared Georges Bank Sea Scallops – $20.00
Marinated Shrimp Skewer – $19.00
Mini Dessert Trio – (Select three)
Amaretto Flan & Oplya White Chocolate Whip – with an Almond Cookie
Double Vanilla Bean Crème Brûlée               
Warm Blueberry Cobbler – with Crème Fraîche and Orange Blossom Honey
Chocolate Mascarpone Sphere – infused with Apricot-Orange Jam
Brown Derby Original! Mini Grapefruit Cake
Banana Toffee Cake – on Cocoa Crunch and Strawberry Banana Pearls
Non-Alcoholic Beverages
Alto Mayo Protected Forest Coffee Roasted by Joffrey's Coffee® – Disney supports Conservation International's Alto Mayo Protected Forest project in Peru, which promotes sustainable coffee growing and economic growth – French Press Pot serving two – $8.00
Premium Tea Selections
Featured Wines
Louis Jadot Pouilly-Fuissé, France – $14.00
Marilyn Merlot, Napa Valley – $15.00
Skywalker Sommitá Chardonnay, Marin County – $17.00
Sequoia Grove Cabernet Sauvignon, Napa Valley – $19.00
The Hollywood Brown Derby Kids' Menu
Menu Date: 02/2018
Kids' Appetizers
Chicken Noodle Soup – $4.00
Chopped Salad – With Tomatoes, Cucumbers, and Carrots – $3.00
Celery and Carrot "Dippers" – With Ranch Dressing – $3.00
Mickey Check Meals
Served with choice of Small Lowfat Milk or Small Dasani Water

Grilled Black Grouper – with oven-roasted red skin potatoes and steamed broccoli and fruit cup – $15.00

Grilled Breast of Chicken with oven-roasted red skin potatoes and steamed carrots and broccoli and fruit cup – $14.00

Whole-Grain Penne Pasta – with marinara sauce served with baby green beans and carrots and fruit cup – $12.00

Meets Disney Nutrition Guidelines for Complete Meals without substitutions.
Kids' Entrées
All Entrees served with choice of small lowfat milk, small water, or small apple juice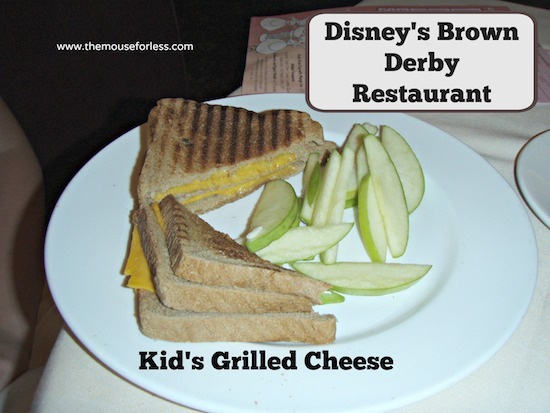 Grilled Cheese – on Whole-Wheat Bread with Sliced Apples – $7.00
Hot Dog – With Baked Potato Chips – $7.00
Fried Fish Sticks – With Red Skin Potatoes, Broccoli, and Carrots – $12.00
Kids' Desserts
Fresh Fruit Cup – With Mango Ice – $4.00
Hidden Treasures – Vanilla Ice Cream, Oreo Cookie Crumbles, Gummy Snakes, and a Toll House Cookie – $5.00
Strawberry and Yogurt Parfait – With Granola – $4.00
** Hollywood Brown Derby Menu and Prices are Subject to Change Without Notice **