Resort Restaurants | Boardwalk Resort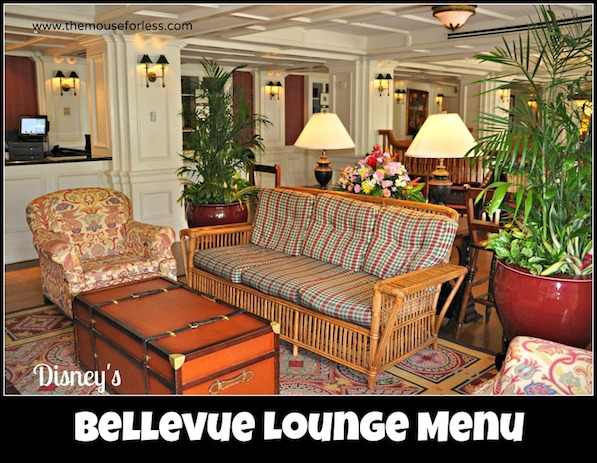 Step into this quaint 1930s-style sitting room where radios play programs from the era at Bellevue Lounge. Or, relax and enjoy evening cocktail on Bellevue Lounge's outdoor patio overlooking the Boardwalk's Village Green.
Restaurant Info: American, Breakfast/Snack, $ – $14.99 and under per adult
Find out how you can save money on dining at Walt Disney World by using one of Disney's Dining Plans.
Belle Vue Lounge Breakfast Menu
Menu Date: 04/2019
Breakfast Starters
Blueberry Muffin – $3.49
Chocolate Chip Muffin – $3.49
Danish – $3.99
Almond or Chocolate Croissant – $3.99
Croissant – $3.49
Multigrain Croissant – $3.49
Cinnamon Bun – $4.29
Sticky Bun – $3.99
Assorted Bagels – $3.49
Mixed Berry Scone – $3.49
Whole Fruit – $2.19
Fruit Cup – $3.99
Dannon® Greek Yogurt – $2.59
Cereal with Milk – $4.99
Beverages
Coffee – regular or decaf – $3.29
Hot Tea – $3.29
Cappuccino – $3.99
Double Espresso – $3.49
Minute Maid Apple Juice – $3.99
Minute Maid® Cranberry-Apple Juice – $3.99
Simply Orange Juice – $4.99
Whole Milk – $3.79
Nestle Nesquik Chocolate Milk – $3.79
Alcoholic Beverages
Mimosa – $11.25
Bloody Mary – $9.50
Bellevue Lounge Menu
Menu Date: 04/2019
Sparkling and Champagne
Graham Beck Brut Rosé – Beautiful pink color with strawberry fruit flavors and a rich, creamy complexity on the palate – $11.00 Glass, $49.00 Bottle
Veuve Clicquot Yellow Label, Champagne, France – Pleasant aroma with complex flavors. Initial fruit notes followed with accents of brioche and vanilla – $19.00 Glass, $79.00 Bottle
White Wine
Dr. Bergweiler, Bernkasteler Badstube Kabinet Riesling, Mosel – A bouquet of ripe fruit, with spicy and exotic notes. A well-integrated acidity with apples, nutmeg, and white pepper notes – $11.00 Glass, $49.00 Bottle
La Crema Pinot Gris, Monterey – White peach, Meyer lemon, and subtle floral notes with hints of ripe pear, yellow plum, baking spice, and exotic tropical notes – $11.00 Glass, $45.00 Bottle
Hartford Court Chardonnay, Russian River Valley – Jasmine flower and Crenshaw melon complemented by fresh kiwi, pineapple, white peach, and Pippin apple flavors – $13.00 Glass, $57.00 Bottle
Gancia Moscato d'Asti, Piedmont – Floral and fruity with hints of mountain honey, sage, and musk. The taste of fresh, pleasant, and delicately sweet and aromatic – $10.00 Glass, $45.00 Bottle
Craggy Range Sauvingon Blanc, Martinborough – Flavors of lime, passion fruit, and white peaches show alongside a dry minerality – $15.00 Glass, $65.00 Bottle
Chateau Montelena Chardonnay, Napa Valley – Pear, crisp green apple, nectarine, and white peach along with a hint of lychee and fresh citrus – $16.00 Glass, $69.00 Bottle
Beso del Sol White Sangria, Spain– Made from a 100% natural blend of Airén white Spanish grapes, lemon, peach, and mango juices – $9.50
Red Wines
Paul Hobbs Pinot Noir, Russian River Valley – Aromas of dark red cherry and floral notes with a palate of blackberries and cola supported by firm, round tannins – $15.00 Glass, $65.00 Bottle
Sebastiani Merlot, Alexander Valley – Layers of dark cherry, ripe fruit, and lingering tea-like flavors. Balanced, elegant, and fruit-forward yet not overly ripe – $14.00 Glass, $59.00 Bottle
Ernesto Catena Siesta Malbec Mendoza – Cherry fruit, fresh raspberry, plum, honey, a touch of caramel, and gentle notes of minerals and mint – $14.00 Glass, $59.00 Bottle
Vajra Barolo, Piedmont – On the nose it exudes freshness and is accompanied by an alteration of orange zest and mountain herbs – $16.00 Glass, $69.00 Bottle
Treana Cabernet / Syrah, Paso Robles – Ripe, dark fruit, and exotic spice. Depth and power come from the Cabernet, while a Syrah component lends inviting fleshiness – $14.00 Glass, $59.00 Bottle
Provenance Cabernet Sauvignon, Rutherford – Filled with blackberry, dark plum, black cherry, and cassis flavors, with a hint of clove, black pepper, mocha, toffee, and hazelnut notes – $17.00 Glass, $75.00 Bottle
Willamette Valley Vineyards Estate Pinot Noir, Willamette Valley – Aromas of baked red apples, cherry, pie spice, and brown sugar are complemented by a hint of cinnamon on the nose.  A smooth and sweet entry with flavors of brandied cherry, dark chocolate, and leather – $15.00 Glass, $65.00 Bottle
Swanson Merlot, Oakville – Plum, black cherry, exotic spices, espresso, and sweet vanilla – $15.00 Glass, $65.00 Bottle
Rombauer Zinfandel, Napa Valley – Slightly floral with a punch of concentrated plum, dark berry fruit, and orange peel – $15.00 Glass, $65.00 Bottle
Spice Route Chakalaka Shiraz Blend, South Africa – Blend of Syrah, Mourvèdre, Carignan, Petite Sirah, Grenache, and Tannat with savory notes of plum and black cherry finish – $11.00 Glass, $49.00 Bottle
Martin Ray Cabernet Sauvignon, Sonoma County – Classic Aromas of ripe cherry, tobacco, cedar spice, and cola progress to candied cherry flavors, finishing with blackberry and plum – $11.00 Glass, $49.00 Bottle
Beso Del Sol Red Sangria, Spain – Made from a 100% natural marriage of Spanish Tempranillo grapes, orange, blood orange, and lemon juices, with a touch of natural cinnamon – $9.50
Specialty Cocktails
Rye Manhattan – Bulleit Rye Small Batch American Whiskey, Carpano Antica Sweet Vermouth, and Angostura Bitters, garnished with Luxardo Gourment Maraschino Cherries
Old Fashioned – Woodford Reserve Bourbon, Agave Nectar, and Angostura Bitters
Straight Up Margarita – Patrón Silver Tequila, Grand Marnier, Agave Nectar, and fresh Lime Juice
Tom Collins – Nolet's Silver Dry Gin, fresh Lemon Juice, and Agave Nectar topped with Soda Water
Sidecar Noir – Fireball Cinnamon Whiskey, Cointreau Noir, Orange Juice, and fresh Lemon Juice
Bahama Mama – Parrot Bay Coconut Rum, Myers's Original Dark Rum, Bols Crème de Banana, and Tropical Juices
Captain's Mai Tai – Captain Morgan Original Spiced Rum, Bols Amaretto, and Tropical Juices topped with a float of Myers's Original Dark Rum
Magical Star Cocktail – X-Fusion Organic Mango and Passion Fruit Liqueur, Parrot Bay Coconut Rum, Pineapple Juice, and a souvenir Multicolored Glow Cube
Moscow Mule – Russian Standard Vodka, fresh Lime Juice, and Agave Nectar topped with Ginger Beer
Belle Vue Cosmopolitan – Belvedere Vodka, Grand Marnier, and Cranberry Juice
Smoked Turkey – Wild Turkey 101 Bourbon, Red Stag Black Cherry Bourbon, Grenadine, and Odwalla Lemonade with a hint of Hickory Smoke, garnished with Luxardo Gourmet Maraschino Cherries
Ultimate Long Island Iced Tea – Bacardi Superior Rum, Tito's Handmade Vodka, Hendrick's, Cointreau, and Sweet-and-Sour with a splash of Coca-Cola®
Beer
Budweiser, Bud Light, or Michelob Ultra – St. Louis, MO
Coors Light – Golden, CO
Corona Extra or Modelo Especial – Mexico
Heineken – Netherlands
Miller Lite – Milwaukee, WI
Stella Artois – Belgium
Samuel Adams Boston Lager – Boston, MA
Yuengling Traditional Lager – Pottsville, PA
Modelo Especial, Mexico
Goose Island 312 Urban Wheat, Chicago, IL
Schöfferhofer Pink Grapefruit Hefeweizen – Germany
St. Bernardus ABT 12 (Quad) – Belgium
New Belgium Fat Tire, Ft. Collins, CO
Magic Hat #9 – South Burlington, VT
SweetWater 420 Extra Pale Ale – Atlanta, GA
Blue Moon Belgian White – Golden, CO
Bear Republic Racer 5 IPA – Healdsburg, CA
Cigar City Jai Alai IPA – Tampa, FL
Napa Smith Hopageddon Imperial IPA – Napa, CA
Sierra Nevada Torpedo Extra IPA – Chico, CA
Orlando Brewing I-4 IPA – Orlando, FL
Lagunitas IPA – Petaluma, CA
Left Hand Milk Stout – Longmont, CO
Angry Orchard Crisp Apple Hard Cider – Cincinnati, OH
Non-Alcoholic Beverages
All Natural Lemonade – Odwalla® Lemonade topped with Wildberry Foam
Wild Strawberry Lemonade – Odwalla® Lemonade and Wild Strawberry topped with Lemon-Lime Foam
Coconut Elixir – Zico® Coconut Water with Pineapple and Cranberry Juice
Sprinkling No-Jito – Fresh Lime Juice, Agave Nectar, and Mint topped with Soda Water
** Bellevue Lounge Menu and Prices are Subject to Change Without Notice **