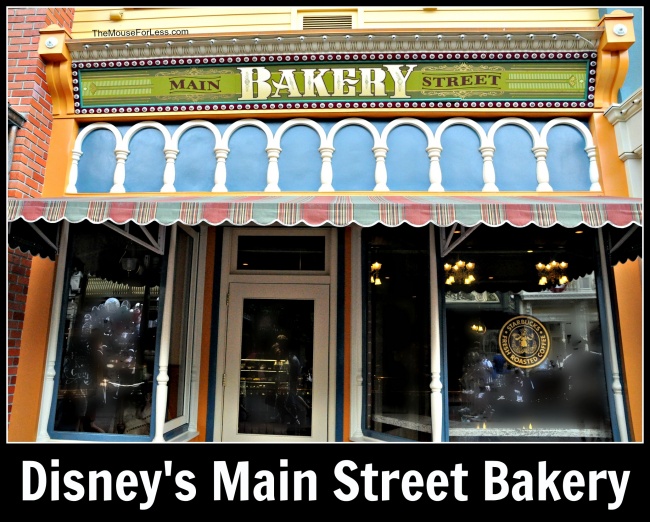 At Starbucks Main Street Bakery location, food and bakery items are sold until 11 a.m. After 11 a.m., both Starbucks and Disney treats are served at the Starbucks Main Street Bakery, such as cupcakes, cookies, and brownies are offered. There is also a Grab 'n' Go section with cold sandwiches, yogurt, whole fruit, bottled beverages, and more available. All Starbucks beverages can be purchased at the Starbucks Main Street Bakery as a snack credit on the Disney Dining Plan. While Starbucks gift cards and mobile apps can be used to make purchases, My Starbucks Rewards are not honored at this location. Purchases at Starbucks Main Street Bakery will earn My Starbucks Rewards, however.
Starbucks Main Street Bakery is located in Disney's Magic Kingdom theme park.  Find more Walt Disney World dining locations on our Walt Disney World Resort menus page.
Restaurant Info: American, Breakfast/Snack, $ – $14.99 and under per adult
Find out how you can save money on dining at Walt Disney World by using one of Disney's Dining Plans.
Beverage Menu  Grab 'N' Go Menu

Planning a Walt Disney World Vacation?
For a Free no-obligation quote, contact our sponsor
The Magic For Less Travel
. The Magic For Less Travel is an Authorized Disney Vacation Planner and has been helping guests plan magical vacations since 2002. Receive the best prices and free travel planning services. Their fee-free services will help you save time, money, and stress while planning a vacation designed around you and your needs!
Starbucks Beverages
Menu Date: 08/2020

All drinks and sizes qualify as a snack credit on the Disney Dining Plan!
Starbucks Sizes: Tall – 12 oz | Grande – 16 oz | Venti- 24 oz | Trenta 31 oz
Frappuccino Blended Beverages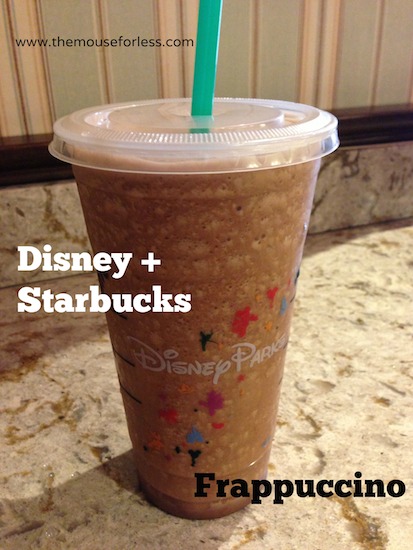 Choose Your
Milk: Whole, 2% or Nonfat, Coconut, Organic Soymilk – $0.59
Coffee: Decaf, Extra Coffee – $0.59, Espresso Shot – $0.79
Calories: * No Whip Light, 1/3 fewer calories
Caramel* – $5.79 Grande
Mocha* – $5.79 Grande
Coffee* – $5.29 Grande
Vanilla Bean – $5.29 Grande
Strawberries & Creme –  $5.79 Grande
Double Chocolaty Chip – $5.79 Grande
Espresso
Make It Yours
Try it Skinny: * Nonfat Milk, Sugar-Free Syrup, No Whip
Flavor: Vanilla, Hazelnut, Caramel or Peppermint – $0.49
Espresso Shot – $0.79
Coconut Milk or Organic Soymilk – $0.59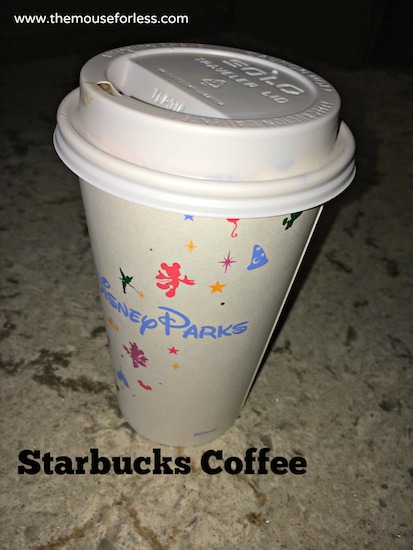 Freshly Brewed Coffee – Regular or Decaf – $3.29 Grande
Caramel  Macchiato – $5.29
White Chocolate Mocha– $5.29
Flat White* – $5.29 Grande
Cappuccino* – $4.29 Grande
Caffè Latte* – $4.29 Grande
Caffè Mocha* – $4.99 Grande
Starbucks Refreshers
Iced Beverages
Very Berry Hibiscus –  $4.49 Grande
Strawberry Acai – $4.49 Grande
Mango Dragonfruit –  $4.49 Grande
Teavana Iced Tea
Shaken Iced Tea – Black, Green, Passion –  $3.29 Grande
Iced Tea Lemonade – Black Tea, Green Tea, Passion – $4.69 Grande
Shaken Iced Peach Green Tea with Lemonade  – $4.79
Shaken Iced Guava Black Tea with Lemonade – $4.79
Chai Tea Latte – $4.99
Match Green Tea Latte – $4.99
** Starbucks Main Street Bakery Menu and Prices are Subject to Change Without Notice **