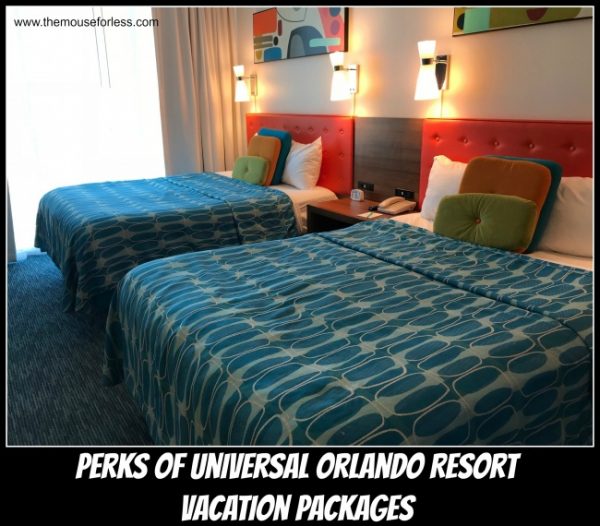 Universal Vacation Packages VS. Rooms & Tickets
When it comes to your vacation there are multiple choices you have to make. Do you bundle everything together to create Universal Orlando Resort Vacation Packages? Or is it better to purchase hotel rooms and park tickets separately? Both have their advantages, and both have their disadvantages. However, with all the options available there is no wrong way to go. This guide can help you compare to get an idea of what will be the best choice for you and your family.
Vacation Packages Rooms & Tickets The Mouse For Less Tips

Planning a Universal Vacation?
Packages
At Universal Orlando Resort there are a few vacation packages you can choose from. Vacation packages do not include airfare. Package pricing is per person, per night + tax. For current package discount offers, click here.
When you purchase a Universal Orlando package, you always get the best price and benefits.  You can bundle your room and tickets to create a package and save up to $200, or get extra perks through their other packages.  This is the best value when you already have a travel date in mind and are ready to book your hotel.
Rooms & Tickets
For those who do not wish to bundle everything into a package deal you can also purchase your park tickets and hotel room separately. This is great when you don't have a travel date in mind but see an annual pass/ticket deal for Universal Orlando that is too good to pass up.  For a full list of ticket options visit our Universal Ticket Options page. Visit the Universal Resorts page to see all the on-site hotel and resort options.
Universal Orlando Value Hotels
Two Universal Orlando resorts fall in this category.  These are Universal's Endless Summer Resorts – Surfside Inn and Suites and Dockside Inn and Suites.  The perks of staying at Universal Orlando's Value hotels include the following:  Early park admission to the Wizarding World of Harry Potter up to one hour before park opens.  Complimentary transportation to the theme parks and Universal CityWalk.  Resort-wide charging privileges with room key.  Complimentary delivery of merchandise purchased throughout the resort to your hotel.  As well as complimentary club-to-club access to select Universal CityWalk venues for the length of your stay.
Universal Orlando Prime Value Hotels
Two Universal Orlando resorts fall in this category – Cabana Bay Beach Resort and Aventura Hotel.  These resorts are economically-friendly but offer more elegance and perks than the value resorts.  These two resorts offer guests all the benefits of the value resorts plus one extra perk:  A private entranceway to Volcano Bay, Universal Orlando's water theme park.
Universal Orlando Preferred Hotel
One Universal Orlando resort falls in this category – Sapphire Falls Resort.  Universal Orlando Preferred hotel offers some benefits above the value and prime value resorts.  At this level, you receive all the benefits of the value resorts plus 24-hour room service, valet parking and pets are allowed with restrictions.
Universal Orlando Premiere Hotels
Three Universal Orlando resorts fall in this category – Portofino Bay Hotel, Hard Rock Hotel and Royal Pacific Resort.  These are the top tiers of Universal's resorts.  These resorts offer extra theming and larger room sizes.  Guests staying at these resorts also receive the benefits of other Universal Resorts plus complimentary Unlimited Express Passes and priority seating at select restaurants.
The Mouse For Less Tips
When you stay at any of the on-site hotels you get complimentary access to select clubs and entertainment venues at Universal CityWalk, and a select few even offer complimentary express passes.
Universal partners with nearby hotels for those wanting to stay off-site to save a little money. This is a great option for anyone purchasing their room stay and park tickets separately. All partner value or moderate hotels are 3 miles or less from Universal Orlando Resort. Click here for more information.
If you would like to include it in your package you can click the airfare + hotel + tickets in the online booking tool and you can bundle everything together.
Florida residents can usually get discounts on multi-park tickets when you purchase online, so purchasing your hotel room and park tickets separately might be a good option for those with a Florida address.
Package prices can be expected to rise depending on the hotel or resort you choose.