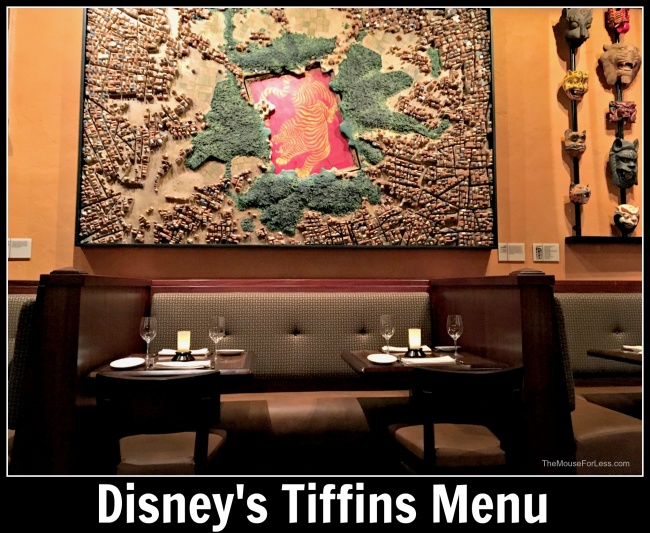 Tiffins celebrates the art of traveling, featuring foods from places around the globe that inspired the creation of Disney's Animal Kingdom. With beautiful waterfront views, this 252-seat high-end restaurant is the signature restaurant at Disney's Animal Kingdom. Open for both lunch and dinner, "Tiffin" is an Indian English word for a midday meal or a type of container used to carry food while traveling. Tiffins offer handcrafted cocktails with African, Asian and South American flavors, imported beers and a South American and South African wine list.
Tiffins is located in Disney's Animal Kingdom theme park. Find more Walt Disney World dining locations on our Walt Disney World Resort menus page.
Restaurant Info: African Cuisine, Lunch/Dinner, $$$ – $35 to $59.99 per adult
Find out how you can save money on dining at Walt Disney World by using one of Disney's Dining Plans.
Dining Package  Lunch & Dinner Menu  Kids Menu

Planning a Walt Disney World Vacation?
For a Free no-obligation quote, contact our sponsor
The Magic For Less Travel
. The Magic For Less Travel is an Authorized Disney Vacation Planner and has been helping guests plan magical vacations since 2002. Receive the best prices and free travel planning services. Their fee-free services will help you save time, money, and stress while planning a vacation designed around you and your needs!
Tiffins Special Dining Packages
Info Updated: 01/2021
 *All Tiffins Restaurant dining packages are currently unavailable.*
Tiffins Lunch & Dinner Menu
Menu Date: 01/2021
Appetizers
Charred Octopus – Romesco Sauce, Olive Tapenade, Chorizo, Squid Ink Aïoli – $17.00
Spiced Chickpea Falafel – Mint-Pistachio Pesto, Cumin-scented Garlic Raita, Pickled Vegetables – $10.00
Tiffins Signature Bread Service – Red Pepper Hummus, Spicy Coriander Yogurt, Ginger-Pear Chutney – $12.00
Taco – Plant-based Tinga, Avocado, Plant-based Cheese, Corn Tortilla – $12.00
Fattoush Salad – Artisinal Lettuce, Frisee, Pita Crisps, Feta, Sumac, Tomato, Cucumber, Radish, Kalamata Olives, and Lemon Vinaigrette – $12.00
Duo of Appetizer – Charred Octopus, Spiced Chickpea Falafel – $14.00
Roasted Calabaza Squash Soup – Ginger-pear Chutney, Pickled Jalapeno, Chai-spiced and candied Pistachios – $14.00
Main Courses
Butter Chicken – Chickpea-Rice Croquette, English Peas, Cauliflower, Pickled Onion – $38.00
Shrimp and Grits – Anson Mills Grits, Applewood-smoked Bacon, Heirloom Tomatoes, Smoked Pepper Jam – $35.00
Tamarind-braised Short Rib – Parsnip-Potato Purée, Cauliflower, Cipollini Onion, Medjool Date Vinaigrette – $48.00
Substitute Grilled Beef Tenderloin – $55.00
Surf and Turf – South African Braai Spiced Beef Tenderloin, Seared Scallops, Potato Pave, Grilled Vegetables , Dhania Butter, Cola Demi-Glace – $65.00
Whole-fried Sustainable Fish – Fermented Black Bean Sauce, Thai Green Papaya Slaw, Peanuts – $42.00
North African-spiced Tofu – Chermoula-marinated Tofu, Seasonal Vegetables, Wilted Kale, Tomato Chutney  –$30.00
Enhancements
Gobi Manchurian – Crispy-fried Cauliflower, Manchurian Sauce, Green Onion – $11.00
Lobster Macaroni & Cheese – Black Diamond Cheddar, Sherry, Orecchiette Pasta – $22.00
Desserts
The Lion King – Caramel Mousse, Chocolate Brownie, Strawberry-Mango Sauce – $15.00
Passion Fruit Tapioca Créme – Chocolate Crumble, Citrus Fruits, Coconut Crème – $10.00
South American Chocolate Ganache – Caramelized Banana, Cocoa Nib Tuile – $13.00
Non-Alcoholic Beverages
Zingiber Fizzie – Passion Fruit Purée, Mint, Ginger Beer, Lime Juice – $7.25
Hibiscus Henna – Watermelon, Hibiscus, Soda Water, Lime Juice – $6.75
Lillie Gorill-ie – Strawberry, Sprite – $6.00
Balineze Breeze – Mountain Berry Tea, Simple Syrup, Lemon Juice – $6.00
Kiama Mamma – Watermelon, Sprite – $6.75
Kids' Lunch & Dinner Menu
Menu Date: 01/2021
For Children Ages 9 and Younger
Kids' Appetizers
Garden Vegetables with Dipping Sauce – $5.00
Falafel with Garlic Yogurt – $5.00
Soup of the Day – $4.00
Kids' Create-Your-Own Entrees
Served with choice of two (2) Selections and choice of Small Lowfat Milk, Small Dasani® Water, or Small Minute Maid® Apple Juice
Grilled Chicken Breast – $10.00
Shredded Beef Tacos with Queso Fresco – $14.00
Grilled Shrimp with Ginger-Tamari Glaze – $15.00
Impossible Bunny Chow – $12.00
Kids' Selections (choose two)
Green Beans
Roasted Potatoes
Basmati Rice
Seasonal Vegetables
White Cheddar Macaroni & Cheese
Cookies and Cream Brownie
Strawberry Short Cake with Marshmallow Fluff
Kids' Specialty Drink
Specialty Character Drink – Minute Maid® Light Lemonade served in a souvenir Character Cup with a glowing Character Clip-on Light – $8.00
** Tiffins Menu and Prices are Subject to Change Without Notice **