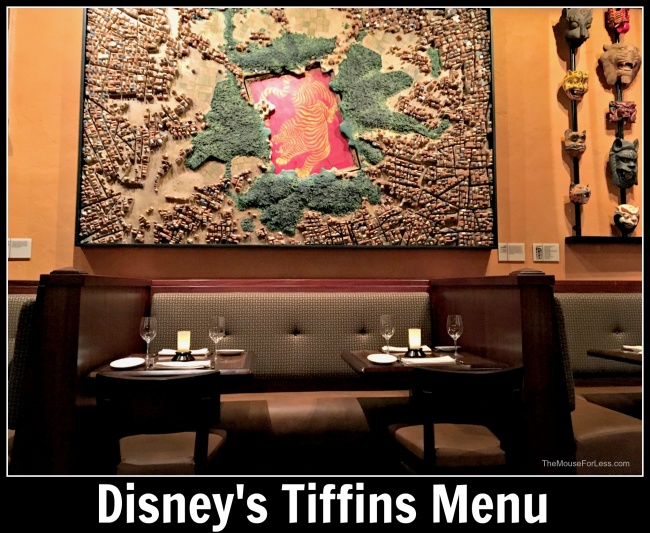 Tiffins celebrates the art of traveling, featuring foods from places around the globe that inspired the creation of Disney's Animal Kingdom. With beautiful waterfront views, this 252-seat high-end restaurant is the signature restaurant at Disney's Animal Kingdom. Open for both lunch and dinner, "Tiffin" is an Indian English word for a midday meal or a type of container used to carry food while traveling. Tiffins offer handcrafted cocktails with African, Asian and South American flavors, imported beers and a South American and South African wine list.
Tiffins is located in Disney's Animal Kingdom theme park. Find more Walt Disney World dining locations on our Walt Disney World Resort menus page.
Restaurant Info: African Cuisine, Lunch/Dinner, $$$ – $35 to $59.99 per adult
Find out how you can save money on dining at Walt Disney World by using one of Disney's Dining Plans.
Dining Package  Lunch & Dinner Menu  Kids Menu

Planning a Walt Disney World Vacation?
For a Free no-obligation quote, contact our sponsor
The Magic For Less Travel
. The Magic For Less Travel is an Authorized Disney Vacation Planner and has been helping guests plan magical vacations since 2002. Receive the best prices and free travel planning services. Their fee-free services will help you save time, money, and stress while planning a vacation designed around you and your needs!
Tiffins Special Dining Packages
Info Updated: 12/2018
A unique Dining Package will be offered for either lunch or dinner at Tiffins that includes reserved seating for Rivers of Light, the park's new nighttime show. The Dining Package will cost $67 for adults and $26 ages 3 to 9, plus tax and gratuity and includes your choice of appetizer, entrée, dessert, and non-alcoholic beverage. Tiffins is on the Disney Dining Plan and counts as two table-service meal credits. Guests are asked to dine at least three hours before the show.
Rivers of Light dining package Guests will be directed head towards the seating area DinoLand U.S.A. to enjoy the show. Guests are given a seating voucher at the restaurant and encouraged to arrive 15-35 minutes before showtime. Seats are available anywhere in the seating area assigned on a first-come, first served basis.
Tiffins is also hosting to a new special dining package for the Festival of the Lion King. This dining package has two tiers and includes a three-course meal at either lunch or dinner, special seating for Festival of the Lion King and more. Tier one costs $99 for adults and $49 for children ages 3-9, plus tax and gratuity, and tier two costs $74 for adults and $29 for children ages 3-9, plus tax and gratuity.
To book these packages call 407-WDW-DINE or use the Disney website. Booking special packages is typically not available through the WDW Mobile App.
Tiffins Lunch & Dinner Menu
Menu Date: 12/2018
Appetizers
Charred Octopus – Romesco Sauce, Olive Tapenade, Chorizo, Squid Ink Aïoli – $16.00
Spiced Chickpea Falafel – Mint-Pistachio Pesto, Coconut Chutney, Pickled Vegetables – $10.00
Tiffins Signature Bread Service – Indian-spiced Tomato Chutney, Spicy Coriander Yogurt, Apricot Chutney – $11.00
Selection of Artisanal Cheeses – Chef's Selection of Accompaniments – $16.00
Avocado and Tomato Salad – Artisanal Greens, Roasted Sweet Corn, Queso Fresco, Buttermilk Dressing – $12.00
Mushroom Soup – Wild Chanterelle Ragoût, Truffle Oil, Crispy Shiitake – $13.00
Chef's House-made Charcuterie Board – Selection of Cured and Smoked Meats – $17.00
Entrees
Chicken and Waffle – Cornmeal Waffle, Caulilini, Huckleberry Butter, Maple Chicken Jus – $36.00
Braised Lamb Shank – Black-Eyed Peas, Piquillo Peppers, Coriander Chutney, Baharat – $43.00
Shrimp and Grits – Anson Mills Grits, Applewood-smoked Bacon, Heirloom Tomatoes, Smoked Pepper Jam – $33.00
Taramind-braised Short Rib – Parsnip-Potato Purée, Cauliflower, Cipollini Onion, Medjool Date Vinaigrette – $49.00
Surf and Turf – Grilled Fort McCoy Beef, Lobster Tail, Purple Potatoes, Charred Peppers, Chimichurri Butter, Bonarda Reduction – $62.00
Pan-Seared Alaskan Halibut – Herb-roasted Tomato, Haricot Vert, Fingerling Potatoes, Saffron Aïoli, Kalamata Marmalade – $39.00
Whole-fried Sustainable Fish – Fermented Black Bean Sauce, Som Tam, Peanuts – $43.00
Crispy Sadza – Crispy Corn Cake, Chermoula-infused Spring Vegetables, Chakalaka, Corn Emulsion – $29.00
With Braised Berkshire Pork Belly – $41.100
Enhancements
Gobi Manchurian – Crispy-fried Cauliflower, Manchurian Sauce, Green Onion – $11.00
Roasted Brussels Sprouts – Bacon-Sherry Vinaigrette, crispy Capers – $12.00
Lobster Macaroni & Cheese – Black Diamond Cheddar, Sherry, Orecchiette Pasta – $21.00
Desserts
Passion Fruit Tapioca Creme – Chocolate Crumble, Citrus Fruits – $9.00
South American Chocolate Ganache – Caramelized Banana, Cocoa Nib Tuile – $12.00
Whipped Cheesecake – Amarula Panna Cotta, Sesame Crumbs, Espresso Sponge – $10.00
Guava Mousse – Lemon Curd, Pomegranate Sauce – $11.00
Tiffins Trio – South American Chocolate Ganache, Whipped Cheesecake, Guava Mousse – $13.00
Halo-Halo – Sweet Potato Ice Cream, Jack Fruit, Raspberry-Ginger Beer Sorbet, Condensed Milk Ice Cream, Coconut Crumble, Lime Pâte de Fruit – $9.00
Non-Alcoholic Beverages
Zingiber Fizzie – Passion Fruit Purée, Mint, Ginger Beer, Lime Juice – $6.25
Hibiscus Henna – Watermelon, Hibiscus, Soda Water, Lime Juice – $6.75
Lillie Gorill-ie – Strawberry, Sprite – $6.75
Balineze Breeze – Mountain Berry Tea, Simple Syrup, Lemon Juice – $6.00
Kiama Mamma – Watermelon, Sprite – $5.75
Tealeaves Iced Tea – Passion Fruit Vanilla – $3.49
Vitaminwater – Açai-Blueberry-Pomegranate – $3.79
Powerade – Mountainberry Blast – $3.49
Alto Mayo Protected Forest Coffee – $8.00
Specialty Cocktails
Annapurna Zing – Bombay Sapphire East Gin, Passion Fruit Purée, Mint, Lime Juice, Ginger Beer – $14.25
Lamu Libation – Starr African Rum, Cruzan Banana Rum, Guava Purée, Tropical Juices, Gosling's 151 Rum Float – $12.50
Hightower Rocks – Casa Dragones Blanco Tequila, Watermelon, Sweet-n-Sour, Lime Juice – $14.00
Tempting Tigress – Russell's Reserve 10 yr Bourbon, St. Elizabeth Allspice Dram, Tamarind Syrup, Lime Juice – $14.00
Snow Leopard Salvation – Snow Leopard Vodka, Belle de Brillet Pear Liqueur, Mint, Lime Juice, Ginger Beer – $13.75
Jenn's Tattoo – Ketel One Vodka, Watermelon, Hibiscus, Lime Juice – $12.00
Draft and Bottled Beer
Kungaloosh Spiced Excursion Ale Draft – USA – (16-oz pour) African-inspired deep amber ale brewed exclusively for Walt Disney World® with sorghum and a special blend of spices including cinnamon and cardamom – $9.50
First Magnitude Wakulla Hefeweizen – USA – $9.00
Modelo Especial Lager Draft – Mexico – $8.00
TBBC Old Elephant Foot IPA Draft – $9.00
Exploration Beer Flight – (5-oz pour) First Magnitude Wakulla Hefeweizen, Kungaloosh Spiced Excursion Ale, Old Elephant Foot IPA – $10.50
Chang Lager – Thailand – $7.75
Sapporo Black Lager – Japan – $10.00
Dogfish Head Namaste White Belgian-style Witbier – USA – $8.75
Modelo Negra Munich Dunkel-style Lager – Mexico – $7.75
Singha Lager – Thailand – $7.25
Tiger Lager – Singapore – $9.00
First Magnitude 72 Pale Ale – USA – $8.75
Tusker Lager – Kenya – $8.50
Savanna Dry Premium Cider – South Africa (Gluten-friendly) – $10.00
A selection of Wine is also available.
Kids' Lunch & Dinner Menu
Menu Date: 12/2018
For Children Ages 9 and Younger
Kids' Appetizers
Garden Salad – Seasonal Vegetables and Pumpernickel Soil with Vinaigrette or Ranch Dressing – $5.00
Fritters – served with Sweet-n-Sour Dipping Sauce – $5.00
Kids' Meals Entrees
Grilled Chicken Breast – with choice of two selections with a choice of Small Lowfat Milk or Small Dasani Water – $10.00
Cottage Pie– with choice of two selections with a choice of Small Lowfat Milk or Small Dasani Water – $14.00
Shrimp Rice Bowl – with Ginger-Tamari choice of two selections with a choice of Small Lowfat Milk or Small Dasani Water – $15.00
Soup of the Day – $4.00
Kids' Selections (choose two)
Broccolini
Seasonal Vegetables
Multigrain Rice
Loaded Fingerling Potatoes
Fresh Fruit
Chocolate Brownie – with Chocolate-Hazelnut Mousse, House-made Vanilla Ice Cream, and Strawberry Sauce

Neapolitan Macaroon – Strawberry and Vanilla Macaroon with White Chocolate Mousse, Pâte de Fruits, and Macerated Strawberries
Kids' Specialty Drink
Specialty Character Drink – Minute Maid® Light Lemonade served in a souvenir Character Cup with a glowing Character Clip-on Light – $8.00
** Tiffins Menu and Prices are Subject to Change Without Notice **