Animal Kingdom | Pandora-World of Avatar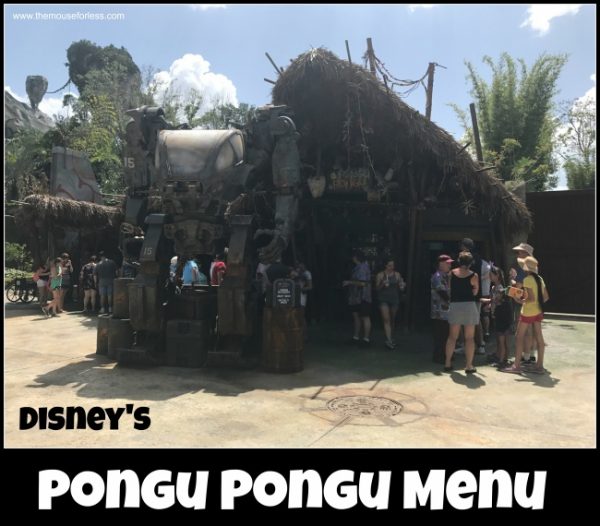 Pongu Pongu refreshments is a snack and beverage location in Pandora – World of Avatar located right next door to the Windtraders shopping destination.
Restaurant Info: American, Snacks, $-$14.99 and under per adult.
Find out how you can save money on dining at Walt Disney World by using a Disney Dining Plan.
Pongu Pongu Menu
Menu Date: 07/2018
Snacks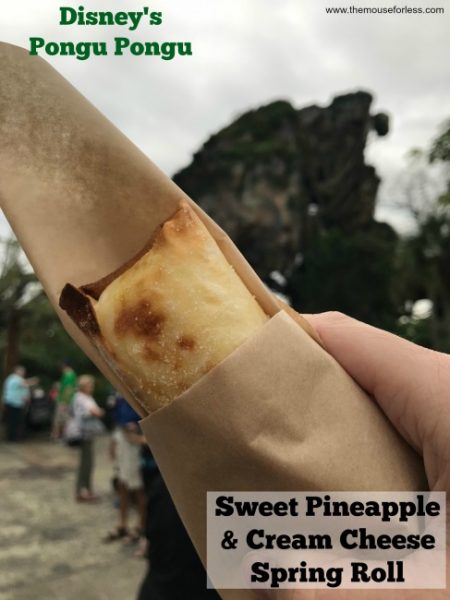 Pongu Lumpia – Sweet Pineapple and Cream Cheese filled Spring Roll – $2.99
Colossal Pretzel – with Cheese Sauce – $10.49
Non-Alcoholic Beverages
Night Blossom – Mixture of Limeade with apple and desert pear flavors topped with Passion Fruit Boba Balls $5.99   add Glowing Unadelta Seed $8.99
Night Blossom in Souvenir Mug with Glowing Unadelta Seed  – $14.99
Dasani Bottled Water – $3.00
Alcoholic Beverages
Rum Blossom – Bacardi Superior Rum with layers of Apple and Desert Pear Limeade topped with Passion Fruit Boba Balls – $10.25
with glowing Unadelta Seed – $13.25
in a souvenir mug with glowing Unadelta Seed – $19.25
Mo'ara Margarita – Sauza Conmemorativo Anejo Tequila with Strawberry and Blood Orange flavors topped with Strawberry Boba Balls – $10.25
with glowing Unadelta Seed $13.25
in a souvenir mug with glowing Unadelta Seed – $19.25
Mo'ara High Country Ale – Draft Beer with a rich amber color, a spicy hop aroma, and notes of caramel, toffee, and nuts- 16 oz. – $8.50, 22 oz. – $9.75
Hawkes' Grog Ale – Draft Beer Golden Ale with brilliant green color and flavors of wheat and citrus followed by a creamy finish – 16 oz. -$8.50 , 22oz.- $9.75
Draft Beer – 16 oz. with Glowing Unadelta Seed – $11.50, – 22oz. – $12.75, – In Souvenir Mug – $18.75
** Pongu Pongu Menu and Prices are Subject to Change Without Notice **