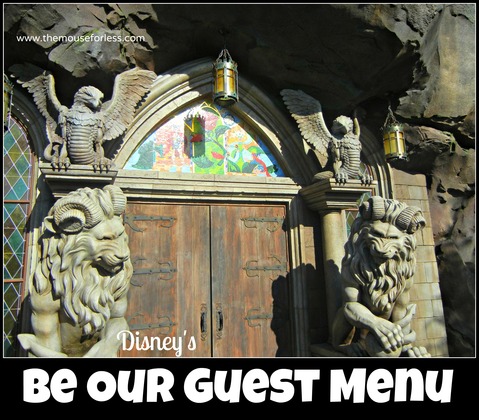 Be Our Guest Restaurant is a Beauty and the Beast-inspired restaurant and offers three unique dining rooms.  The elegant "Ballroom" with 20-foot-tall domed ceiling, twinkling chandeliers and glimpses of softly falling snow outside in the French countryside; The "Rose Gallery" with twirling, larger-than-life figures of Belle and Beast; and a mysterious "West Wing" with a sense of foreboding as the Enchanted Rose sheds its petals in a grand illusion that brings it to life. Be Our Guest Restaurant is also the very first establishment or venue to sell alcohol in the Magic Kingdom, with French and Belgian beers and wine selections at dinner time.
Mouse For Less Tips
 Advance reservations are highly suggested. As with all dining reservations, a credit card guarantee is required at the time of reservation, and the standard cancellation policy applies.
Walking through the hallway to the ballroom, stop and listen, you may hear some interesting conversation!
Try the "Grey Stuff" after your meal. This dessert gets its name from the song "Be Our Guest" – "try the grey stuff; it's delicious!"
After your dinner, you "may" be able to meet with Beast in his Study (the room where lunch guests make their order). PhotoPass photographers will be available to capture the magical moment if it should happen.
Be Our Guest is located in Disney's Magic Kingdom theme park.  Find more Walt Disney World dining locations on our Walt Disney World Resort menus page.
Restaurant Info: French-Inspired; Lunch/Dinner; pre-fix; $$$$ (over $60 per adult)
This location participates in the Disney Dining Plan, with one quick-service entitlement required for breakfast or lunch and two table-service credits required for dinner. Find out how you can save money on dining at Walt Disney World by using one of Disney's Dining Plans.

Planning a Walt Disney World Vacation?
For a Free no-obligation quote, contact our sponsor
The Magic For Less Travel
. The Magic For Less Travel is an Authorized Disney Vacation Planner and has been helping guests plan magical vacations since 2002. Receive the best prices and free travel planning services. Their fee-free services will help you save time, money, and stress while planning a vacation designed around you and your needs!
Be Our Guest Restaurant Lunch/Dinner Menu
Menu Date: 08/2022
Appetizers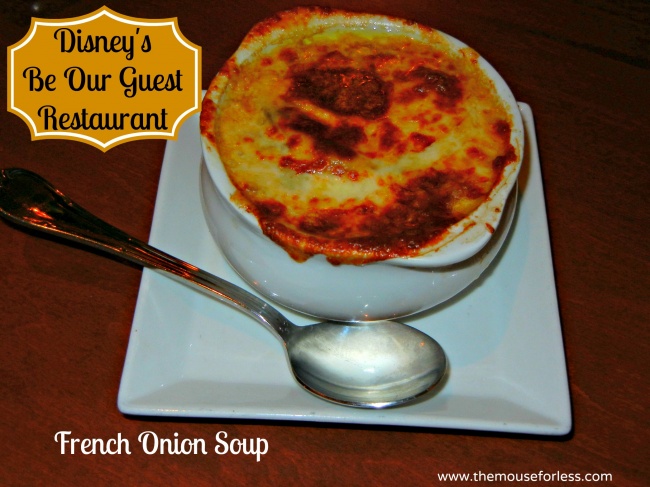 Your choice of one appetizer.
Captain Nemo Octopus – Seaweed Salad, Cucumber, Pickled Beets, Hearts of Palm, Tapioca Crackers, Beets Mousse, and Carrot-Ginger Silk
French Onion Soup – Toasted Crouton, Gruyère, and Provolone
Maine Lobster  Bisque – Garnished with Crème Fraiche and Poached Lobster.
Country Seasonal Salad – Toasted Walnuts, Fresh Fruit, and Seasonal Vinaigrette Dressing
Assorted Meats and Artisanal Cheese Selection
Entrees
Your choice of one entree.
Adult – $62.00
Child– $37.00 (Ages 3 to 9)
Herb salted Pork Tenderloin  – Crispy Pork Belly, Seasonal Vegetables – two ways, Pork Jus and Candied Pecan
Vadouvan Spiced Vegetables – Sautéed Seasonal Vegetables, Crispy Corn Cake with Coconut-Vadouvan Jus and Pickled Mustard Seeds
Center Cut Filet Mignon  – Robuchon Yukon Potatoes, Seasonal Vegetables, and Cipollini and Red Wine Sauce
Sustainable Market Fresh Fish – with Rock Shrimp, Leek Sauce, and Seasonal Vegetables
Poulet Rouge Chicken – Savory Bread Pudding and Seasonal Vegetables with a Chicken Glace
Dessert Trio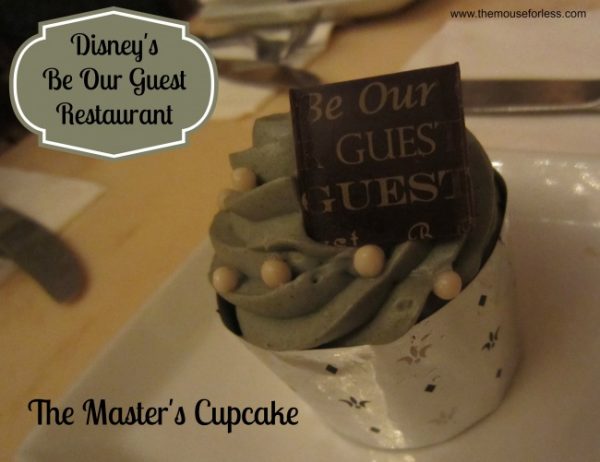 Vanilla  Cake with Lemon Curd (Plant-based offering) –  with Fresh Berries and Strawberry Meringue
Dark Chocolate Truffle – Filled with Dark Chocolate Grand Marnier Ganache
Chocolate Tart – with Grey stuff, Crisp pearls, and White Chocolate Wafer
Lemon Jam Macaron
Beverages
EARidescent Sip-a-bration
Minute Maid® Premium Lemonade and Fruity Strawberry Punch served in a souvenir 50th Celebration Cup with a surprise Character and a little bit of magic – $10.00
The Nautilus
Dive, dive into the majestic sea. A Blue Raspberry Slush with Candy Fish and a special 20,000 Leagues Under the Seas Glow Cube – $15.00
Pomegranate Limeade
Pomegranate Juice and Limeade served in an Enchanted Light-up Souvenir Cup – $19.00
Minute Maid® Premium Lemonade
Served in an Enchanted Light-up Souvenir Cup – $19.00
Private Label Champagne & Wines – glass $12-$20; bottle $49-$79
Be Our Guest Private Label Wine Sampler – Enchanteé Rose, L'ombre de la Bête Chardonnay, L'ombre de la Bête Vin Rouge -$25.00
Sparkling and Wines – glass $10-$22; bottle $39-$140
Assorted Beers and Cider – $8.00-$12.75
Soft Drinks
Hot Beverages Fresh-brewed Coffee, Hot Tea, or Hot Cocoa
Fresh-brewed Iced Tea
Milk or Chocolate Milk
Be Our Guest Restaurant Kids' Lunch/Dinner Menu
For Guests 9 and Under
Menu Date: 08/2022
Kid's Meals
Grilled Beef Tenderloin – Served with Choice One Appetizer, Two Selections, and One Dessert
Pan- Seared Chicken Breast  –  Served with Choice One Appetizer, Two Selections, and One Dessert
House -made Macaroni & Cheese – Served with Choice One Appetizer, Two Selections, and One Dessert
Kid's Appetizer
choose one
Iceberg Wedge Salad
Fruit and Cheese Plate
House-made Peach Applesauce
Kid's Selections
choose two
Sauteed Zuchini
Wild Rice
Steamed Green Beans
Sweet Potato Wedges
Kid's Dessert
choose one
Seasonal Fruit – with Freshly Made Yogurt Dip
Dessert Trio
** Be Our Guest Restaurant Menu and Prices are Subject to Change Without Notice **