Magic Kingdom | Fantasyland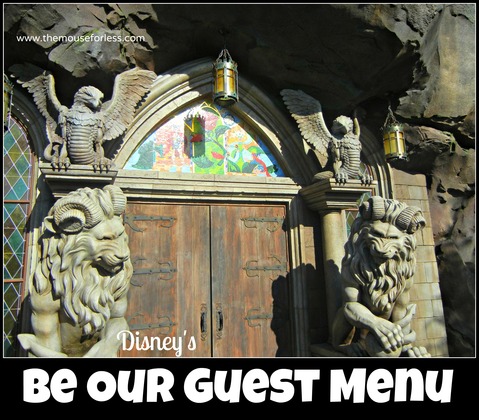 Breakfast Menu   Kids' Breakfast Menu Lunch Menu   Kids Lunch Menu Dinner Menu   Kids Dinner Menu
Be Our Guest Restaurant is a Beauty and the Beast-inspired restaurant  and offers 3 unique dining rooms.  The elegant "Ballroom" with 20-foot-tall domed ceiling, twinkling chandeliers and glimpses of softly falling snow outside in the French countryside; The "Rose Gallery" with twirling, larger-than-life figures of Belle and Beast; and a mysterious "West Wing" with a sense of foreboding as the Enchanted Rose sheds its petals in a great illusion that brings it to life. Be Our Guest Restaurant is also be the very first establishment or venue to sell alcohol in the Magic Kingdom, with French and Belgian beers and wine selections at dinner time.
Mouse For Less Breakfast & Lunch Tips
Be Our Guest Restaurant now offers a quick service breakfast daily from 8 a.m. through to 10:30 a.m.
 Advance reservations can be made for both breakfast and lunch and are highly suggested. As with all dining reservations, a credit card guarantee is required at the time of reservation and the standard cancellation policy applies.
Walking through the hallway to the ballroom, stop and listen, you may hear some interesting conversation!
Mouse For Less Dinner Tips
Try the "Grey Stuff" after your meal. This dessert gets it's name from the song "Be Our Guest" – "try the grey stuff, it's delicious!" It's available only during dinner.
After your dinner, you "may" be able to meet with Beast in his Study (the room where lunch guests make their order). PhotoPass photographs will be available to capture the magical moment if it should happen.
Restaurant Info: French-Inspired; Breakfast/Lunch/Dinner; pre-fix/A la carte; $ – $14.99 and under per adult / $$ – $15 to $34.99 per adult
This location participates in the Disney Dining Plan, with one quick-service entitlement required for breakfast or lunch and one table-service credit required for dinner. Find out how you can save money on dining at Walt Disney World by using one of Disney's Dining Plans.
Be Our Guest Restaurant Breakfast Menu
Menu Date: 03/2018
Entrees
Feast A La Gaston – Scrambled Eggs, Herb-Roasted Potatoes, Apple Smoked Bacon, and Sausage served with Fresh Fruit and a selection of pastries – $25.00
Assorted Cured Meats and Cheese – Alpine-smoked Ham, Serrano Ham, Sopressata, and Cheese with Marmalade, Fresh Fruit, and Toasted Baguette, and a selection of pastries – $25.00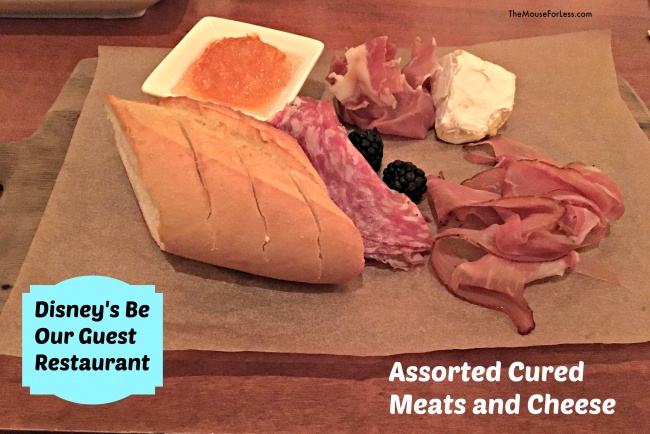 Open-Face Bacon and Egg Sandwich – Poached Eggs, Applewood Bacon, Brie Cheese, and Arugula on a toasted Baguette served with Fresh Fruit and a selection of pastries – $25.00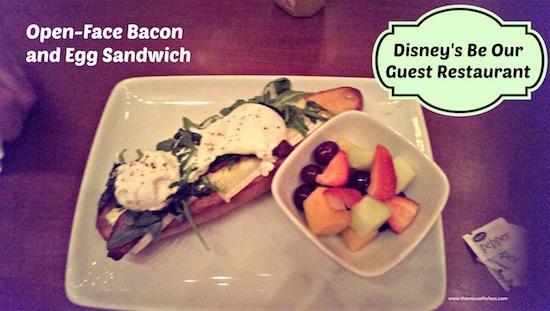 Croque Madame – Open-faced Ham Sandwich topped with a Fried Egg, Gruyere Cheese, and Béchamel served with Fresh Fruit and a selection of pastries – $25.00
Scrambled Egg Whites – Scrambled Egg Whites with Roasted Tomatoes, Multi-grain Croissant, Fresh Fruit, and a selection of pastries. – $25.00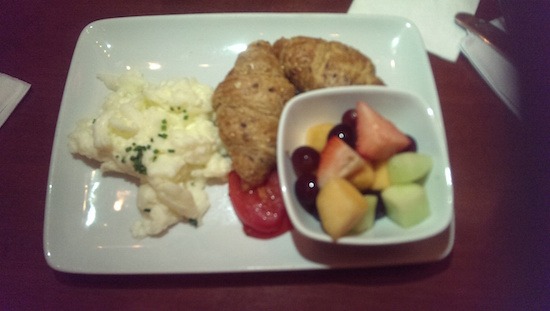 Vegetable Quiche – Mushroom, Zucchini, Bell Pepper, Onion and Chive Quiche served with Fresh Fruit and a selection of pastries – $25.00
Croissant Doughnut – Fried Doughnut topped with Banana-Caramel Sauce, Pastry Crème, and Chocolate Ganache served with a selection of pastries – $25.00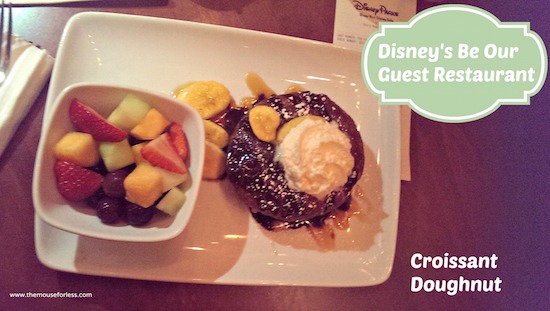 Beverages
Hot Beverage – Self-serve, Fresh-brewed Coffee or Hot Cocoa – $2.79
Cold Fountain Beverage – Self-serve, Coca-Cola, Diet Coke, Coke Zero, Sprite, Barq Root Beer, Fanta Orange, 22oz – $3.29
Souvenir Castle Goblet – Light Up Castle-themed Souvenir Goblet with choice of fountain beverage – $15.00
Be Our Guest Cup – Be Our Guest Cup with choice of fountain beverage – $5.00
Mickey Straw – $0.69
Dasani Bottled Water – $3.00
Smartwater – $4.50
Perrier Water – $3.50
Lowfat Milk – $1.99
Nestlé Nesquik Chocolate Milk – 14 oz – $2.69
Be Our Guest Restaurant Kids' Breakfast Menu
For Guests 9 and Under
Menu Date: 03/2018
Kid's Entrees
Crepes – crepes stuffed with Yogurt, Fresh Berries, and Wildberry Foam served with a selection of pastries – $14.00
Oatmeal – Steel-cut Oatmeal served with Golden Raisins, Brown Sugar, and a selection of pastries – $14.00
French Toast – Brioche Bread served with Fresh Fruit and a selection of pastries – $14.00
Scrambled Eggs– served with Applewood Bacon, Fresh Fruit, and a selection of pastries – $14.00
Cereal with Fruit – Choice of Cereal with Milk, Fresh Fruit, and a selection of pastries – $14.00
Kids' Desserts
The Master's Cupcake – Chocolate Sponge Cake topped with Lumiere's special "Grey Stuff" – $4.99
Be Our Guest Restaurant Lunch Menu
Menu Date: 03/201800
Soups
French Onion Soup – $6.49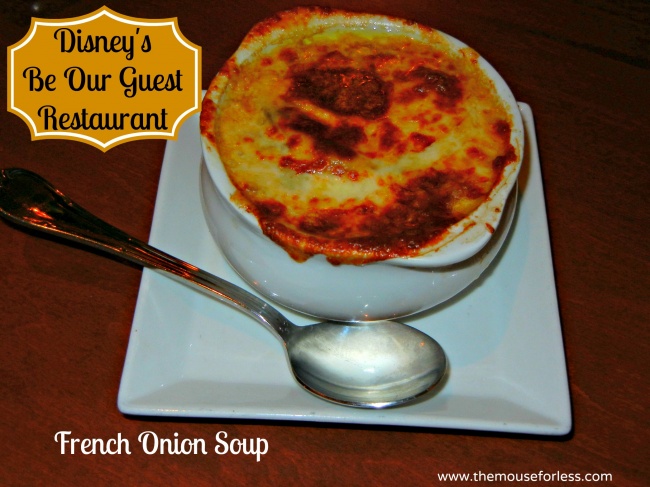 Potato Leek Soup – $5.99
Entrees
Tuna Nicoise Salad – Warm Seared Tuna Steak with chilled Green Beans, Fingerling Potatoes, Olives, Roasted Bell Peppers, Tomatoes, and a Hard Poached Egg – $16.99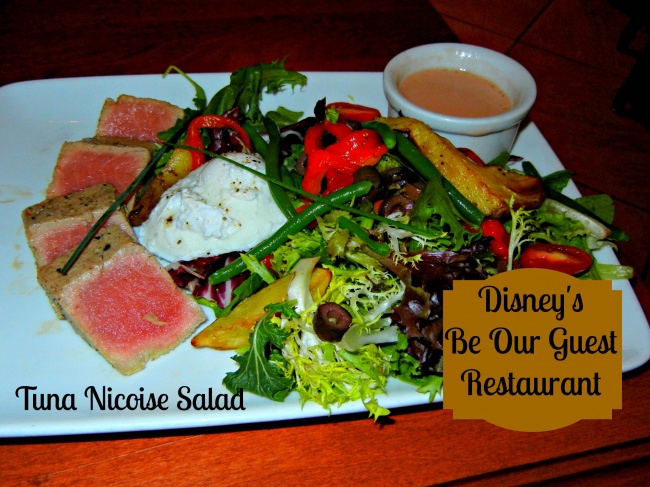 Braised Pork (Coq Au Vin Style) -Eight Hour Slow-cooked Pork with Mushrooms, Onions, Carrots and Bacon served with Mashed Potatoes and Green Beans Jardiniere – $16.99
French Dip Sandwich – Served on a Baguette with Au Jus and Pommes Frites – $16.99
Carved Turkey Sandwich – served warm on a Baguette or Millet Bread with Dijon Mayonnaise and Pommes Frites – $15.99
Quinoa Salad – with Green Beans, Potatoes, Olives, Roasted Bell Peppers, Golden Beets and Tomatoes – $12.99
Vegetable Quiche – Mushroom, Zucchini, Bell Pepper, Onion, and Chive Quiche served with Baby Lettuce coated with Champagne Vinaigrette – $12.99
Croque Monsieur – Grilled Sandwich of Carved Ham, Gruyere Cheese and Béchamel with Pommes Frites – $13.99
French Onion Soup – $6.49
Potato Leek Soup – $5.99
Desserts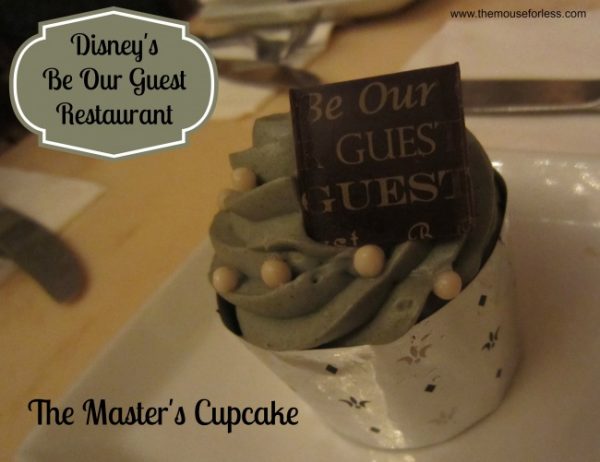 The Master's Cupcake – Chocolate Sponge Cake topped with Lumiere's special "Grey Stuff" – $4.99
Strawberry Cream Cheese Cupcake – Vanilla Sponge Cake, Strawberry Mousse Filling, and Cream Cheese Icing – $4.99
Triple Chocolate Cupcake – Chocolate Sponge Cake, Chocolate Mousse Filling, and Chocolate Ganache – $4.99
Lemon Meringue Cupcake – Vanilla Sponge Cake, Lemon Custard Filling and Flamed Meringue Icing – $4.99
Chocolate Cream Puff – Filled with Chocolate Mousse topped with Whipped Cream – $4.99
Éclair à l'Orange – Custard Filling with zested Orange and then finished with Chocolate Ganache – $4.99
Lemon – Raspberry Cream Puff – Filled with Lemon Custard. A No Sugar Added Dessert – $4.99
Beverages
Hot Beverage – Self-serve, Fresh-brewed Coffee or Hot Cocoa – $2.79
Cold Fountain Beverage – Self-serve, Coca-Cola, Diet Coke, Coke Zero, Sprite, Barq Root Beer, Fanta Orange, 22oz – $3.29
Souvenir Castle Goblet – Light Up Castle-themed Souvenir Goblet with choice of fountain beverage – $18.00
Be Our Guest Cup – Be Our Guest Cup with choice of fountain beverage – $8.00
Mickey Straw – $0.69
Dasani Bottled Water – $3.00
Smartwater – $4.50
Perrier Water – $3.50
Lowfat Milk – $1.99
Nestlé Nesquik Chocolate Milk – 14 oz – $2.69
Be Our Guest Restaurant Kids' Lunch Menu
For Guests 9 and Under
Menu Date: 03/2018
Kid's Meals
Carved Turkey Sandwich – Carved Turkey Sandwich on Multigrain Bread with Sweet Potato Wedges and Peach Applesauce – $8.49
Mickey Meatloaf – Turkey Meatloaf, Broccoli Florets and Zucchini served with Orange "Stuff" for dipping – $8.49
Grilled Shrimp – Grilled Shrimp with Broccoli and Peach Applesauce – $8.49
Slow-cooked Pork – Slow-cooked Pork with Sauteed Green Beans and Mashed Sweet Potatoes – $8.49
Whole-Grain Macaroni – Whole-Grain Macaroni with Marinara Sauce and Mozzarella served with Seasonal Vegetables – $8.49
Grilled Cheese and Turkey Noodle Soup – Grilled Cheese with Turkey Noodle Soup and Green Beans – $8.49
Pommes Frites – $2.09
Be Our Guest Restaurant Dinner Menu
Menu Date: 03/2018
Appetizers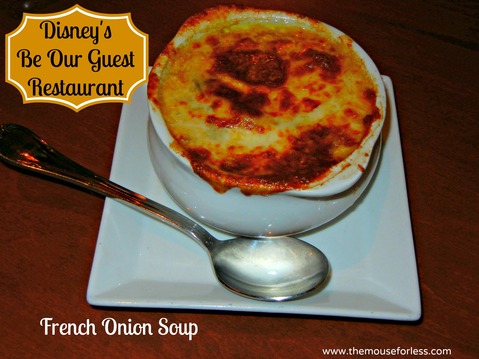 French Onion Soup – topped with a Crouton and Gruyère Cheese – $10.00
Marseilles-style Mussels – steamed in a Smoked Tomato and Saffron Broth served with a Garlic Crostini – $15.00
Garden Salad – Roasted Butternut Squash, Goat Cheese, Dried Cranberries, and Pumpkin Seeds with Lemon Vinaigrette – $11.00
Seasonal Salad Trio – $11.00
Lobster Bisque – served with Crème Fraiche – $11.00
Cheese Plate – $12.00
Entrées
Pan-seared Chicken Breast – Served with Confit Fingerling Potatoes and Arugula Salad with Braised Heirloom Tomatoes and a Roasted Garlic Aïoli – $27.00
Sautéed Shrimp and Scallops – with Lobster, Mushrooms, and Seasonal Vegetables in a creamy Lobster Sauce – $31.00
Grilled Strip Steak – with Garlic-Herb Butter and Pommes Frites – $36.00
Layered Ratatouille – Oven-baked Zucchini, Eggplant, Mushrooms, Tomatoes, and Caramelized Onions sliced and layered on Quinoa served with a Bell Pepper Sauce – $22.00
Roasted Pork Tenderloin – Served with Cauliflower Silk, Sautéed Greens and Turnips, and finished with a Cherry-Mustard Sauce – $28.00
Braised Beef – served with Seasonal Vegetables, Baby Potatoes, Balsamic Caramelized Onions, and crispy Potato Curls – $32.00
Roasted Rack of Lamb – Served over Golden Couscous, Niçoise Olive Tapenade, Sautéed Snow Peas, and Red Wine Gastrique – $32.00
Seasonal Sustainable Catch Du Jour – served with Seasonal Vegetables – $32.00
Desserts
Strawberry Cream Cheese Cupcake – Vanilla Sponge Cake, Strawberry Mousse Filling, and Cream Cheese Icing – $5.00
Triple Chocolate Cupcake – Chocolate Sponge Cake, Chocolate Mousse Filling, and Chocolate Ganache – $5.00
Lemon Meringue Cupcake – vanilla Sponge Cake, Lemon Custard Filling, and Flamed Meringue Icing – $5.00
Chocolate Cream Puff – Filled with Chocolate Mousse topped with Whipped Cream – $5.00
Éclair à l'Orange – Custard filling with zested Orange and then finished with Chocolate Ganache – $5.00
Lemon–Raspberry Cream Puff – Filled with Lemon Custard. Dessert is No Sugar Added – $5.00
The "Grey Stuff" – Chocolate Shell, Cookie Crème topped with Lumiere's special "Grey Stuff" – $5.00
Beverages
Odwalla All-Natural Lemonade – sweetened with Organic Cane Juice and topped with a Wildberry Foam served in a Light Up Castle-themed Souvenir Goblet – $19.00
Odwalla All-Natural Fruit Punch – sweetened with Organic Cane Juice and Wildberry Extract topped with Lemon-Lime Foam served in a Light Up Castle-themed Souvenir Goblet – $19.00
Fountain Beverages
Fresh-brewed Joffrey's Coffee
Espresso
Latte
Cappuccino
Coffee
Hot Tea
Hot Cocoa
Odwalla All-Natural Fruit Punch
Odwalla All-Natural Lemonade
Fresh-brewed Iced Tea
Milk or Chocolate Milk
Juice – Orange Juice, Apple Juice, or Cranberry Juice
Sparkling, White, Red, and Dessert Wines
Charles de Fère, Jean Louis Blanc de Blancs, France – Light, bright and fruity, exuding aromas of apple, apricot and a hint of honey – $9.00 Glass, $39.00 Bottle
Terra d'Oro Moscato, California – Opens with elegant bouquet of honeysuckle, orange blossom, litchi, and nectarine. Sweet finish of apricots and rose petals – $9.00 Glass, $39.00 Bottle
Pierre Sparr Riesling, Alsace – Lemon peel and green apple followed by banana and notes of sweet cherry blossoms with a charismatic mineral finish – $9.00 Glass, $39.00 Bottle
Conundrum, California – Fruit forward flavors of apricot, peach, ripe pear, and apple joined in a creamy and richly textured style which has a lingering finish – $14.00 Glass, $59.00 Bottle
Georges Duboeuf Beaujolais-Villages, Burgundy – Silky palate and fruit forward on the nose, full of strawberry, black currant, and cinnamon flavors – $9.00 Glass, $39.00 Bottle
Roth Pinot Noir, Sonoma Valley – Elegant and fruit forward, hints of rose petals and raspberry on the palate, with a finish of sweet vanilla – $16.00 Glass, $69.00 Bottle
Cline Cashmere Grenache Blend, Sonoma Valley – Flavorful offering of bing cherry, raspberry, and chocolate notes, with hints of black pepper and plum – $9.00 Glass, $39.00 Bottle
Cadaretta Syrah, Walla Walla – Aromas of truffles, and dark fruits, mingle with apricot and applewood. Lush and spicy, with a roundness and softness in layers of texture – $17.00 Glass, $75.00 Bottle
Lasseter Family Winery Paysage, Sonoma Valley – Luscious Saint-Émilion style red blend with aromas and flavors of cherries, black raspberry, and chocolate balanced with spice and cedar notes – $75.00 Bottle
Veuve Clicquot Ponsardin Brut Yellow Label, Reims – Classical dry Champagne with lightly honeyed flavors of apple blossom and peach – $79.00 Bottle
Helfrich Pinot Gris, Alsace – A touch of smoke ties together aromas of ripe apricot, pear and minerals with sweet-tart flavors of peach and apple – $9.00 Glass, $39.00 Bottle
Michel Redde Sancerre, Loire Valley – A crisp and racy Sauvignon Blanc with pure fruit and herb aromas, clean, intense citrus, apple and mineral flavors – $14.00 Glass, $59.00 Bottle
Flora Springs Chardonnay, Napa Valley – Smooth, rich and vibrant, with layers of ripe pear, fig, melon, vanilla, and hazelnut, finishing long and lively – $11.00 Glass, $49.00 Bottle
Joseph Drouhin Laforet Pinot Noir, Burgundy – Full of red fruit aromas including raspberry, red currants and wild strawberry – $9.00 Glass, $39.00 Bottle
Flowers Pinot Noir, Sonoma Coast – Expressive aromas of dark berry fruit, black tea, and dried cranberry with earthy nuances of oregano, spice, and sweet tobacco – $19.00 Glass, $79.00 Bottle
Freemark Abbey Merlot, Napa Valley – Layers of blackberry, black cherry, raspberry, dark plum, dark chocolate and spices such as cinnamon, clove, and vanilla – $11.00 Glass, $49.00 Bottle
Simi Cabernet Sauvignon, Alexander Valley – Richly extracted black currant and dark cherry flavors extend to a long, polished finish – $14.00 Glass, $59.00 Bottle
Beer
Stella Artois, Belgium– Well-balanced blonde Belgian lager beer with a floral hop aroma and a soft dry finish – $8.00
Stella Artois Cidre, Belgium– Refreshing, crisp, and distinctive European cider made with hand-picked apples – $8.25
Kronenbourg Blanc, France – A wheat beer with underlying tones of coriander and cloves, balanced with flavors of lemon zest and orange peel for a crisp taste – $8.00
Saison Dupont, Belgium – Refreshing farmhouse ale with flavors of orange, peel, clove, allspice, and citrus with a wonderfully fresh hop bouquet – $9.25
Kronenbourg 1664, France – A lager with a noble history, characterized by its fine taste, golden hues and delicate bitterness from Strisselspalt, a French aroma hop from Alsace – $8.25
Hoegaarden Wit, Belgium – With an aroma of orange peel, coriander and spice, its characteristic taste is smooth and light-bodied with a subtle, spiced citrus flavor – $7.00
Chimay Blue, Belgium –  Dark Belgian Strong Ale brewed by Trappist monks. Aromas of spice and dried fruit with light caramel notes. Body is smooth and luscious with hoppy, sourdough flavors. Fresh yeast provides a rosy, floral touch – $11.75
Be Our Guest Restaurant Kids' Dinner Menu
For Guests 9 and Under
Menu Date: 03/2018
Kids' Appetizer
Fruit Cup – $3.00
Garden Salad – $3.00
Mickey Check Meals

Grilled Fish of the Day – with Whole-Grain Rice Pilaf, Seasonal Vegetables, and Fruit Cup and Choice of Small Lowfat Milk or Small Dasani Water – $12.00

Mickey Meatloaf – with Broccoli Florets and Zucchini served with Orange "Stuff" for Dipping, and Fruit Cup and Choice of Small Lowfat Milk or Small Dasani Water – $11.00

Chicken Brochette – with Seasonal Vegetables and Fruit Cup and Choice of Small Lowfat Milk or Small Dasani Water – 11.00

Grilled Steak – with Seasonal Vegetables and Fruit Cup and Choice of Small Lowfat Milk or Small Dasani Water – $13.00

Meets Disney Nutrition Guidelines for Complete Meals without substitutions
Kid's Meals
Beast Casserole – served with Seasonal Vegetables and Choice of Beverage and Dessert – $10.00
Grilled Cheese and Tomato Soup – with Seasonal Vegetables and Choice of Beverage and Dessert – $10.00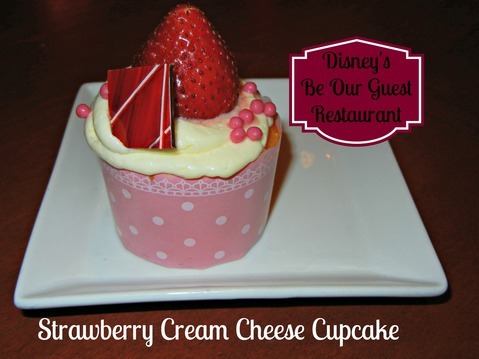 Kids' Desserts
Strawberry Cream Cheese Cupcake
Triple Chocolate Cupcake
Lemon Meringue Cupcake
Chocolate Cream Puff
Éclair À L'Orange –
Lemon-Raspberry Cream Puff – No Sugar Added Dessert
The "Grey Stuff"
** Be Our Guest Restaurant Menu and Prices are Subject to Change Without Notice **