Disney Springs | The Landing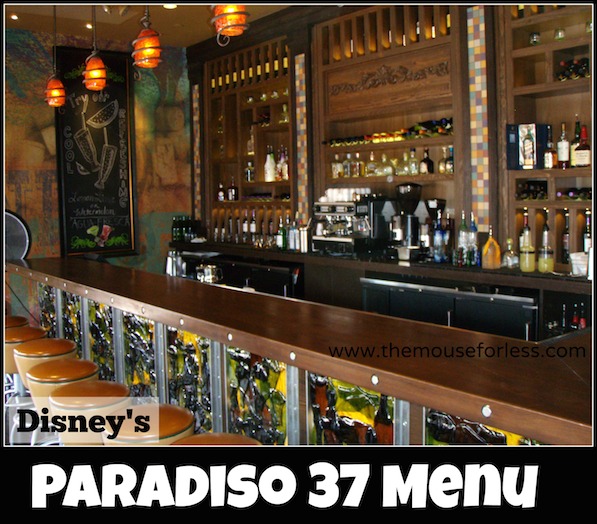 Step into this chic restaurant with amazing food and an atmosphere to match! This high-energy restaurant and bar serves up unique cuisine inspired by the Street Foods of the Americas. Paradiso 37 menu items from North, South and Central America will be featured for lunch and dinner. Paradiso 37 features an international wine bar and a one of a kind tequila tower bar with more than 50 kinds of tequila and a selection of signature frozen margaritas. Come in for a cup of specialty coffee at Paradiso 37 when they open at 11:00 a.m., and return in the evening for festive food, the world's coldest beer (29 degrees), and entertainment; the restaurant closes late at night.
Restaurant Info: Multiple Cuisines, Lunch/Dinner – A la carte, $$ – $15 to $34.99 per adult
Find out how you can save money on dining at Walt Disney World by using one of Disney's Dining Plans.
Paradiso 37 Lunch and Dinner Menu
Menu Date: 1/2019
Starters
Santa Fe Chicken Tortilla Soup – Crisp Tortilla, Queso Mexicana, Cilantro Crema
Pork Chorizo and Marinated Beef – Pita Bread, Tiny Tomatoes, Onions, and Cucumber-Yogurt Sauce – $15.00
Chips and Salsa – House-made Corn Tortilla Chips served with our House-made Fire-roasted Salsa – $6.00
Chicken Quesadilla – Flour Tortilla, Shredded Chicken, P37 Cheese, Sour Cream, Pico de Gallo – $15.00
Barbacoa Beef Quesadilla – Flour Tortilla, Barbacoa Beef, P37 Cheese, Sour Cream, Pico de Gallo – $17.00
South American Crazy Corn – Fire Roasted Corn on the Cob, Aji Amarillo, P37 Cheese (serves two) – $15.00
Spinach Dip – Spinach, Aji Amarillo, Sweet Peppers, P37 Cheese, Corn Tortilla Chips (gluten-free) – $13.00
Jamaican Jerk-spiced Shrimp Cocktail – Served with Tropical Islands Dipping Sauce – $15.00
Canadian Poutine – House Fries, Cheese Sauce, Roasted Garlic Gravy, Braised Beef, Cherry Pepper (Serves Two) – $16.00
Chili Con Carne – House-made Angus Sirloin Chili, Cilantro Crema, Tortilla Chips – $13.00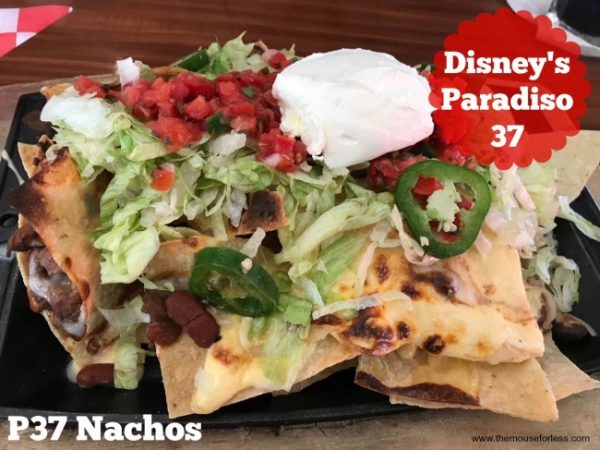 P37 Nachos – Corn Tortilla Chips, Cheese Sauce, Chili Con Carne, P37 Cheese, Shredded Lettuce, Sour Cream, Pico de Gallo, Jalapenos (serves two) – $19.00
House-made Guacamole – Hass Avocado, Tomato, Lime Juice, Cilantro, Chopped Serrano Pepper, Red Onion, Gluten-friendly Tortilla Chips – $13.00
Salad Selection
Caesar Salad -Crisp Romaine, Parmesan Cheese Croutons, Caesar Dressing – with Grilled Chicken – $17.00 | with Steak – $20.00 | with Shrimp $19.00
Southwest Fajita Salad – Crisp Tortilla Bowl, Mixed Greens, Sautéed Bell Peppers, Red Onions, tomato, Shredded Cheddar Cheese, and House Vinaigrette – with Grilled Chicken – $17.00 | with Steak – $20.00 | with Shrimp $19.00
Ranchero Steak Salad – 6-oz New York Strip Steak, Iceberg Wedge, Chipotle Ranch Dressing, Applewood-smoked Bacon, Queso Fresco, Avocado, Cucumbers, Tomatoes – $21.00
Sandwiches and Burgers
Paradiso 37 Burger – 8 oz. Char Grilled Angus Steak Burger, Cheddar Cheese, Lettuce, Tomato, Red Onion, Pickle Spear, Toasted Brioche Bun served with P37 Fries – $18.00
Jalapeno Burger – 8 oz. Char Grilled Angus Steak Burger, Cheddar Cheese, Guacamole, Jalapenos, Pico de Gallo, Toasted Brioche Bun served with P37 Fries – $19.00
Columbian Bacon-Pineapple Burger – 8-oz. Char-Grilled Angus Steak Burger, Applewood-smoked Bacon, Queso Blanco, Pineapple Chutney, Creamy Ketchup, Cilantro Crema, Toasted Brioche Bun and P37 Fries – $19.00
Smokehouse BBQ Burger – 8-oz Grilled Angus Steak Burger with Smoked Beef Brisket topped with Aged Cheddar Cheese, House-made BBQ Sauce, Toasted Brioche Bun, and P37 Fries – $23.00
Key West Blackened Fish Sliders – Zesty-spiced Daily Fish selection, Tangy Tropical-spiced Sauce, lettuce, Tomato, Sesame Brioche Bun, and P37 Fries – $21.00
Black Bean Chipotle Burger – Black Bean Patty, Guacamole, Queso Fresco, Toasted Brioche Bun, and P37 Fries – $16.00
Char-grilled Cheese Steak Sandwich – Grilled New York Strip, Aji Amarillo, Shredded Lettuce, Ripe Tomatoes, Queso Sauce, and P37 Fries – $22.00
Pulled Pork Sandwich – Roasted Pork, Mayo-Ketchup, Queso Blanco, Tomatoes, Lettuce, Plantain Chips in a Toasted Focaccia Bun with P37 Fries – $18.00
Grilled Chicken Sandwich – Grilled Chicken Breast, Bacon, Guacamole, Queso Fresco, Toasted Brioche Bun and P37 Fries – $18.00
Upgrade Fries – White Truffle Fries or Wasabi Fries – $3.00
Platters from the Americas
Baja Fish Tacos – Three Flour Tortillas with Crispy Seasonal White Fish, Cabbage Slaw, Corn Salsa, Cilantro-Lime Crema – $20.00
Tex-Mex Shredded Chicken Enchiladas – Shredded Chicken with Mole Verde, Corn Tortilla, P37 Cheese, Shredded Lettuce, Pico de Gallo, Queso Fresco, P37 Frijoles Rancheros – $22.00
Tex-Mex Guajillo Pepper-laced Enchiladas – Guajillo Pepper-laced Barbacoa Beef, Corn Tortilla, P37 Cheese, Shredded Lettuce, Pico de Gallo, Queso Fresco, P37 Frijoles Rancheros – $24.00
P37 Burrito with Chicken – Sautéed Seasonal Vegetables, Flour Tortilla, Chipotle-Mango BBQ Sauce, P37 Cheese, Cilantro Rice, P37 Beans – $19.00
P37 Burrito with Steak- Sautéed Seasonal Vegetables, Flour Tortilla, Chipotle-Mango BBQ Sauce, P37 Cheese, Cilantro Rice, P37 Beans – $21.00
Tex-Mex Shredded Chicken Enchilada – Shredded Chicken with Mole Verde, Corn Tortilla, P37 Cheese, Shredded Lettuce, Pico de Gallo, Queso Fresco, P37 Frijoles Rancheros – $22.00
Tex-Mex Guajillo Pepper-laced Barbacoa Beef Enchiladas – Guajillo Pepper-laced Barbacoa Beef, Corn Tortilla, P37 Cheese, Shredded Lettuce, Pico de Gallo, Queso Fresco, P37 Frijoles Rancheros – $24.00
Cedar Plank-roasted Salmon – Farm Raised (not wild) topped with Citrus-Honey Glaze served with a side of Cilantro Rice and Roasted Vegetables and a Grilled Lemon – $29.00
Herb-Roasted Half Chicken – Roasted Chicken on top of Lemon-Garlic Sauce and served with a side of Mashed Potatoes and Green Beans – $28.00
South Carolina Style BBQ Pork Ribs – Slow-roasted Ribs, Tangy BBQ Sauce, side of Cabbage Slaw, and P37 Fries – $27.00
Slow Roasted Pork Shank – 17-oz cooked 6 hours slowly and served with Mashed Potatoes, Carrots, Onions, and Celery Braising Liquid – $29.00
Sides
Arepa – $5.00
Cilantro Rice – $5.00
Wasabi Fries – $5.00
Roasted Vegetables – $5.00
Mac & Cheese – $5.00
Truffle Fries – $5.00
P37 Beans – $5.00
Desserts
Paradiso Chocolate Stack – Decadent Chocolate Cake layered with creamy Chocolate Mousse served with Warm Caramel Sauce and topped with Vanilla Ice Cream – $10.00
Tres Leches – Coconut Milk soaked White Cake layered with a fresh Strawberry Mousse and topped with Toasted Meringue and fresh Strawberries – $10.00
Mini Cones – Four Waffle Cones of Vanilla, Chocolate, Strawberry and Cookies and Cream – $9.00
Seasonal Fruit Sorbet – Ask your server for selections – $9.00
Milkshakes – Vanilla, Chocolate, Strawberry or Cookies and Cream – $9.00
Churros – Cinnamon and sugar dusted served with a caramel dipping sauce – $9.00
Root Beer Float – $6.00
Non-Alcoholic Beverages
Fountain Beverages  – Coke, Diet Coke, Sprite, Dr. Pepper, Orange, Lemonade – $4.00
Freshly Brewed Iced Tea  – $4.00
Agua Fresca – made fresh with lemon or lime – $5.00
No Jito – Muddled mint and lime with lemon/lime soda – $6.00
Natural Spring or Sparkling Water – $4.00
White or Chocolate Milk – $4.00
Regular or Decaf Coffee – $4.00
Espresso – $5.00
Cappuccino – $5.00
Draft Beer
Paradiso 37 – $7.00/glass; $20.00/pitcher
Budweiser – $7.00/glass; $20.00/pitcher
Bud Light – $7.00/glass; $20.00/pitcher
Shock Top Seasonal – $8.00/glass; $21.00/pitcher
Paradiso 37 Street Bites for Little Tykes
Menu Date: 1/2018
Little Tyke's Entrees
Chicken Fingers – Lightly Breaded and Fried to Golden Brown. Served with with choice of Warm Tortilla Chips or Fresh Chopped Fruit – $7.99
Grilled Chicken – served with Creamy Mac & Cheese and choice of Warm Tortilla Chips or Fresh Chopped Fruit – $7.99
Grilled Fish – Served with Creamy Mac & Cheese and choice of Warm Tortilla Chips or Fresh Chopped Fruit – $7.99
Add Fries for $0.99 and/or a Tyke's Drink for $1.50
Little Tyke's Desserts
Chef's Daily Special – Ask your Server for the daily special – $3.99
Fruit Medley – mixed seasonal fruit topped with fluffy whipped cream – $4.99
Paradiso Ice Cream Cone – strawberry, vanilla, chocolate, cookies 'n cream – $2.99
** Paradiso 37 Menu and Prices are Subject to Change Without Notice **