Disney's Hollywood Studios | Echo Lake Area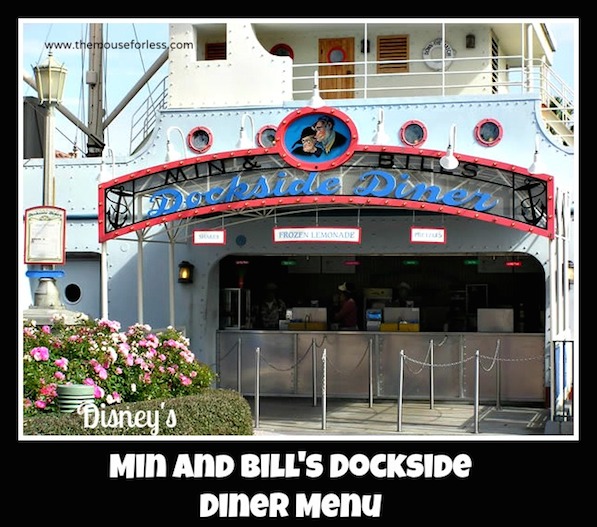 Cast your anchor at Min and Bill's Dockside Diner! This open-air "tramp steamer" eatery that pays homage to the 1931 comedy hit, Min & Bill and it's a perfect place to dock 'n dine!
Restaurant Info: American, Snacks and Beverages, $ – under $14.99 per adult
Find out how you can save money on dining at Walt Disney World by using one of Disney's Dining Plans.
Min and Bill's Dockside Diner Menu
Menu Date: 10/2018
Entrees
Carolina Foot-long Hot Dog – topped with Pulled Pork and Coleslaw served with Chips – $12.99
Chili-Cheese Foot-long Hot Dog – served with Chips – $12.99
Barbecued Pulled Pork Sandwich – topped with Coleslaw and served with Chips – $10.99
Loaded Chili Cheese Nachos – served with Guacamole, Pico de Gallo and Sour Cream – $10.99
Kids' Meals
Uncrustables – served with Carrot Sticks, Apple Slices and choice of small Lowfat Milk or small Dasani® Bottled Water – $6.19
Macaroni and Cheese – served with Carrot Sticks, Apple Slices and choice of small Lowfat Milk or small Dasani® Bottled Water – $6.49
Beverages
Assorted Fountain Beverages – $4.49
Dasani Bottled Water – $3.50
Shake – chocolate or vanilla – $5.49
Minute Maid Frozen Lemonade Cup – $4.99
Coffee – regular or decaf – $3.29
Hot Tea or Hot Cocoa – $3.29
Alcoholic Beverages
Minute Maid Frozen Lemonade – with a shot of Bacardi Superior Rum or Bacardi Dragon Berry Rum – $11.25
Patron Platinum Margarita – Patrón Silver Tequila, Cointreau, Lime Juice, and Sweet-and-Sour – $14.00
Blue Long Island Iced Tea – $11.50
Kahlua and Cream Milkshake – with a shot of Baileys Irish Cream (choice of Chocolate or Vanilla – $13.25
Bud Light Draft – $8.00
Yuengling Draft – $8.50
Jack and Coke – $10.25
Hot Cocoa or Coffee (Alcoholic) – $10.25
** Min and Bill's Dockside Diner Menu and Prices are Subject to Change Without Notice **