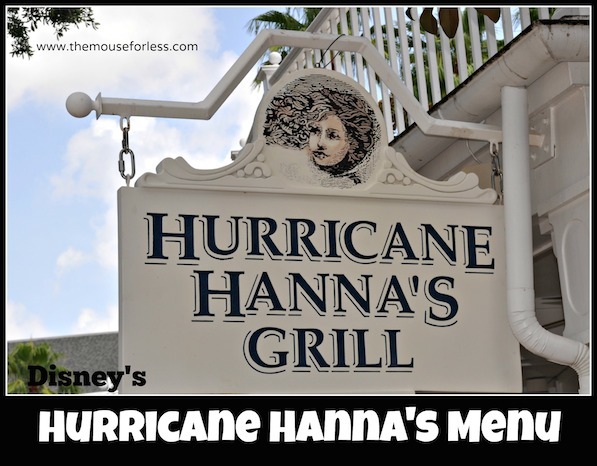 Be blown away at Hurricane Hanna's by signature cocktails, frozen drinks and draft beers while enjoying the view of Stormalong Bay. Try a Hurricane Reef Caribbean pilsner or a Sunken Treasure. Fruit and Mickey ice cream bars are also available.
Hurricane Hanna's is located in Disney's Beach Club Resort.  Find more Walt Disney World dining locations on our Walt Disney World menus page.
Restaurant Info: American, Lunch/Snack, $ – $14.99 and under per adult
Find out how you can save money on dining at Walt Disney World by using one of Disney's Dining Plans.

Planning a Walt Disney World Vacation?
For a Free no-obligation quote, contact our sponsor
The Magic For Less Travel
. The Magic For Less Travel is an Authorized Disney Vacation Planner and has been helping guests plan magical vacations since 2002. Receive the best prices and free travel planning services. Their fee-free services will help you save time, money, and stress while planning a vacation designed around you and your needs!
Hurricane Hanna's All Day Menu
Menu Date: 09/2021
Entrees
Grilled Chicken Sandwich
with Provolone and Chunky Avocado Spread on a Brioche Bun served with French Fries – $11.99
Hanna's Bacon Cheddar Cheeseburger*
with Lettuce and Tomato on a Brioche Bun served with French Fries – $12.99
Seafood Roll*
with Lettuce on a Parker House Roll served with French Fries – $11.79
Impossible™ Burger
Lettuce, Tomatoes, and Tomato Jam on a Brioche Bun served with French Fries (Plant-based) – $11.49
Salads
Caesar Salad with Chicken
Romaine, Parmesan and House-made Croutons – $9.99
Garden Salad
Romaine, Arugula, Spinach, Cucumber, Cherry Tomatoes, Carrots, Chickpeas, and Edamame (Plant-based) – $8.99
Grab and Go
Chilled Chicken Wrap
Served with Chips – $10.49
Turkey and Swiss Sandwich
Served with Chips – $10.49
Caesar Salad with Chicken
Romaine, Parmesan and House-made Croutons – $9.99
Garden Salad
Romaine, Arugula, Spinach, Cucumber, Cherry Tomatoes, Carrots, Chickpeas, and Edamame (Plant-based) – $8.99
Hummus and Crudité – $4.49
Fresh Fruits – $4.49
Snacks
Hummus and Crudité – $4.49
Fresh Fruits – $4.49
Frozen Grapes – $3.99
Chocolate Chip Cookie – $3.29
Kids' Disney Check Meals
Cheeseburger
served with choice of Grapes, Applesauce, or Carrots and choice of Small Lowfat Milk or Small DASANI® Bottled Water – $9.49
Turkey Sandwich
served with choice of Grapes, Applesauce, or Carrots and choice of Small Lowfat Milk or Small DASANI® Bottled Water – $8.99
Kids' Meals
PB&J Uncrustable
served with choice of Grapes, Applesauce, or Carrots and choice of Small Lowfat Milk or Small DASANI® Bottled Water – $8.19
Non-Alcoholic Beverages
Minute Maid® Premium Lemonade
also available in Strawberry or Raspberry for $5.49 – $4.99
Lava Smoothie
Raspberry Purée blended with flavors of Coconut and Pineapple – $5.99
Strawberry Smoothie
Strawberry Purèe blended with Nonfat Yogurt – $5.99
DASANI® Bottled Water – $3.50
smartwater® – $5.50
Powerade® Mountain Berry Blast – $4.69
Fever Tree Ginger Beer – $4.99
Specialty Cocktails
Storm Chaser
Tito's Handmade Vodka, Bacardi Superior Rum, Blue Curaçao and Sweet-and Sour topped with Sprite® – $13.00
Category 5
Captain Morgan Original Spiced Rum, Crème Banana, Peach Schnapps, Orange and Pineapple Juice, and a splash of Grenadine with a float of Bacardi 151 Rum – $13.00
Cutwater Canned Cocktails
Fugu Spicy Bloody Mary, Old Grove Gin and Tonic and Three Sheets Rum and Ginger – $10.00
On the Rocks
Sunshine Margarita
Lunazul Reposado Tequila, Cointreau and Sweet-and-Sour with juices of Orange and Lime – $14.00
Bourbon Breeze
Jim Beam Black Extra-Aged Bourbon with Cranberry, Lime and Pomegranate Juices topped with Fever Tree Ginger Beer – $15.00
Blueberry Lemonade
Three Olives Blueberry Vodka, Bols Blue Curaçao and Minute Maid® Premium Lemonade with Juices of Lemon and Pomegranate topped with Sprite® – $14.00
Cucumber & Mint Vojito
Ketel One Botanical Cucumber & Mint Vodka, Lime Juice and Pure Cane Sugar topped with Soda Water – $14.00
Poolside Iced Tea
Absolut Vodka, Bacardi Superior Rum, Beefeater Gin, Jose Cuervo Tradicional Tequila Cointreau, and Sweet-and-Sour topped with Coca-Cola® – $15.00
Banana Cabana
Cruzan Mango Rum, Coruba Coconut Rum, Crème de Banana, with Orange and Pineapple Juice and a float of Grenadine – $13.00
Frozen Beverages
Strawberry Margarita
Herradura Reposado Tequila and fresh Lime Juice blended with Strawberry Puree – $15.00
Frosé
Featuring Meiomi Rosé and Tito's Handmade Vodka – $14.00
Pina CoLAVA
Barcardi Black Razz Rum blended with Piña Colada Mix and Raspberry Purée – $13.00
Beer & Wine
Assorted Beer – Bottle, Can, or Draft –  $7.50-$10.25
Copa Di Vino –Pinot Grigio, Chardonnay or Cabernet Sauvignon –$9.00
Jackson Estate Chardonnay –$13.00
Meiomi Rosé – $12.00
Louis M. Martini Cabernet Sauvignon –$13.00
Opici Family Sangria – Red or White – $11.00
** Hurricane Hanna's Menu and Prices are Subject to Change Without Notice **