Resort Restaurants | Beach Club Resort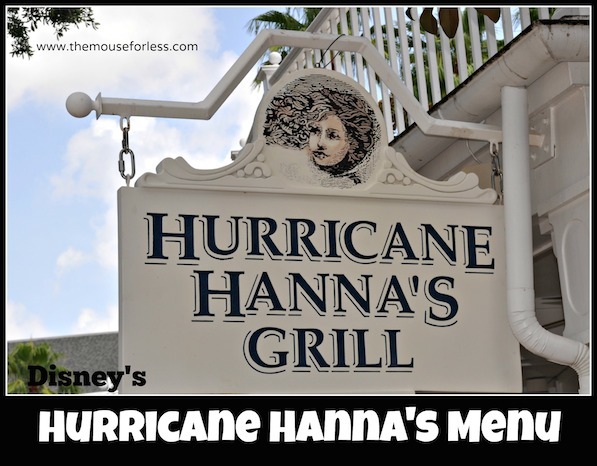 Be blown away at Hurricane Hanna's by signature cocktails, frozen drinks and draft beers while enjoying the view of Stormalong Bay. Try a Hurricane Reef Caribbean pilsner or a Sunken Treasure. Fruit and Mickey ice cream bars are also available.
Restaurant Info: American, Lunch/Snack, $ – $14.99 and under per adult
Find out how you can save money on dining at Walt Disney World by using one of Disney's Dining Plans.
Hurricane Hanna's All Day Menu
Menu Date: 04/2019
Appetizers
Hummus – with Pita Chips and Crudité – $3.99
Hurricane Hanna's Fries – with Citrus Old Bay Aïoli  – $4.49
Chicken Breast Nuggets – choice of Barbecue or Buffalo Sauce and Ranch Dressing  – $7.99
Sea Salted Edamame – sprinkled with Togarashi – $3.99
Coconut Shrimp – served with Mango Sauce – $8.49
Entrees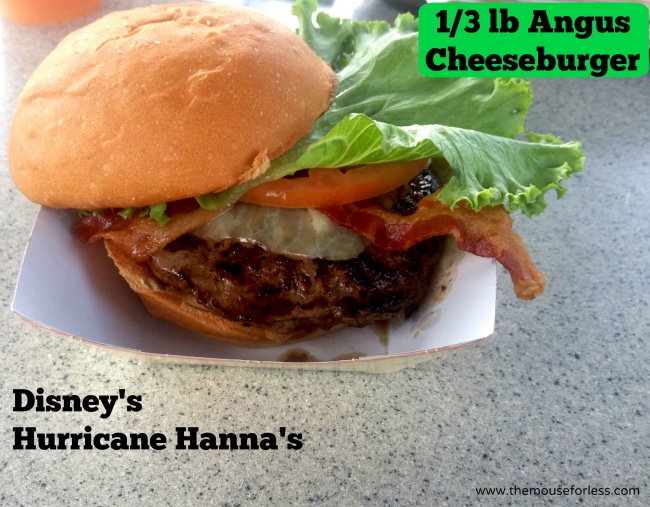 Shripwreck Bacon Angus Cheeseburger – Ground Short-Rib, Brisket and Fried Shrimp with Cajun Remoulade Sauce served with choice of Waffle Fries or Apple Slaw – $13.99
Caesar Salad with Chicken – Romaine, Parmesan and House-made Croutons – $9.99
Barbecue Pork Nachos – with Shredded Cheddar Cheese, Pico de Gallo and Avocado Crema – $9.29
Non-Alcoholic Beverages
Fountain Beverages – Coke, Diet Coke, Sprite, Fanta Orange, Minute Maid Light Lemonade – $3.99
Coffee (regular or decaf) – $3.29
Hot Cocoa – $3.29
Smart Water – $5.50
Dasani Bottled Water – $3.50
Piña Colada Smoothie – $5.99
Strawberry Smoothie – Strawberry Purée blended with Nonfat Yogurt – $5.99
Specialty Cocktails
Sunshine Margarita – Lunazul Reposado Tequila, Cointreau and Sweet-and-Sour with juices of Orange and Lime – $13.00
Bourbon Breeze – Bulleit Bourbon with Cranberry, Lime and Pomegranate Juices topped with Fever Tree Ginger Beer – $13.25
Cucumber & Mint Vojito – Ketel One Botanical Cucumber & Mint Vodka, Lime Juice and Pure Cane Sugar topped with Soda Water – $12.50
Poolside Iced Tea – Absolut Vodka, Bacardi Superior Rum, Beefeater Gin, Jose Cuervo Tradicional Tequila Cointreau, and Sweet-and-Sour topped with Coca-Cola® – $13.50
Blueberry Lemonade – Three Olives Blueberry Vodka, Bols Blue Curaçao, odwalla® Lemonade with juices of Lemon and Pomegranate topped with Sprite – $12.25
Banana Cabana – Cruzan Mango Rum, Coruba Coconut Rum, Crème de Banana, with Orange and Pineapple Juice and a float of Grenadine – $11.75
Captain's Mai Tai – Captain Morgan Original Spiced Rum, Bols Amaretto and Tropical Juices topped with a float of Myer's Original Dark Rum – $11.75
Storm Chaser – Skyy Vodka, Bacardi Superior Rum, Blue Curaçao, Sweet-and-Sour and Sprite® – $11.75
Category 5 – Captain Morgan Original Spiced Rum, Crème Banana, Peach Schnapps, Orange and Pineapple Juice, and a splash of Grenadine with a float of Bacardi 151 Rum – $11.75
Cutwater Canned Cocktails – Fugu Spicy Bloody Mary, Old Grove Gin and Tonic and Three Sheets Rum and Ginger – $9.00
Frozen Beverages
Strawberry Margarita – Herradura Reposado Tequila and fresh Lime Juice blended with Strawberry Puree – $13.50
Frose – Featuring Meiomi Rosé and Tito's Handmade Vodka – $12.50
Pina CoLAVA – Barcardi Black Razz Rum blended with Piña Colada Mix and Raspberry Purée – $12.00
Beer & Wine
Assorted Beer – $7.25-$10.75
Woodbridge by Robert Mondavi Pinot Grigio – $9.00
Woodbridge by Robert Mondavi Chardonnay – $9.00
Woodbridge by Robert Mondavi Cabernet Sauvignon – $9.00
Jackson Estate Chardonnay – $12.00
Meiomi Rosé – $11.00
Louis M. Martini Cabernet Sauvignon – $12.00
Beso Del Sol Sangria – Red or White – $10.00
** Hurricane Hanna's Menu and Prices are Subject to Change Without Notice **