Epcot | World Showcase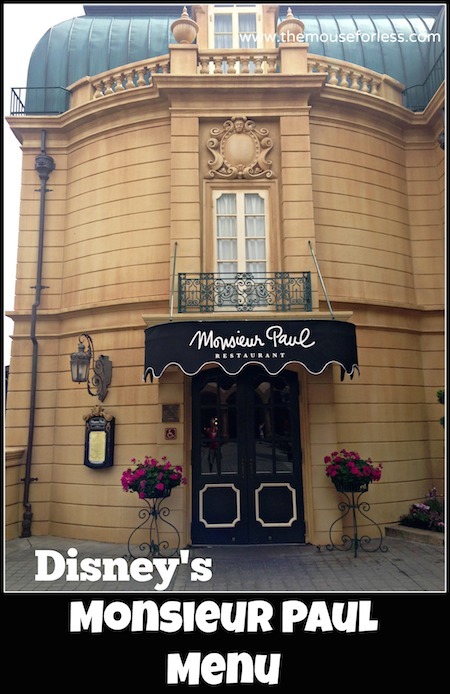 Monsieur Paul is located just upstairs from Les Chefs de France, the other gourmet French restaurant in the France Pavilion. Here, you'll discover a focused wine list, inventive twists on traditional French dinner and breathtaking views of Epcot. This is is the perfect place to celebrate a special occasion or simply savor gourmet cuisine in a serene setting.
Restaurant Info: French, Dinner, A la carte, $$$ – $35.00 to $59.99 per adult
Find out how you can save money on dining at Walt Disney World by using one of Disney's Dining Plans.
Monsieur Paul Dinner Menu
Menu Date: 09/2018
Prix-fixe Menu Prestige
---
First Course – Green Asparagus with Veloute, Lemon Cream
Second Course – Choice of Appetizer – Oxtail broth with braised beef, vegetables and black winter truffles covered in puff pastry OR Oven-baked egg, peas salad, arugula, truffle cream, and green asparagus OR Ahi tuna served three-ways: cured, seared and in rillettes, Niçoise-style
Third Course – Choice of Main Course – Dover Sole with tagliatelles, mushrooms, and creamy sabayon OR Roasted Lamb Chop and Braised Saddle with vegetables and polenta napoleon, lamb jus OR Roasted Duck Magret with white bean purée and fricassee, braised crispy duck, jus
Choice of Dessert
Prix-fixe Menu Dégustation
---
Second Course – Grilled Octopus – with bell pepper and corn fricassee, red pepper emulsion, and micro mustard greens
Third Course – Dover Sole – with tagliatelles, mushrooms, and creamy sabayon
Fourth Course – Verbena and Mint Sorbet
Fifth Course – Veal Three-Ways – with spinach purée, carrots with mustard and veal jus
Sixth Course – Choice of Three Imported Cheese
Seventh Course – Choice of Dessert
---
Hors-d'oeuvres (Appetizers)
Oven-baked Egg – pea salad, arugula, truffle cream, and green asparagus – $15.00
Ahi Tuna Served Three Ways – cured, seared and in rillettes, Niçoise-style – $18.00
Compressed Cantaloupe Melon – Bayonne ham chiffonade, lime sorbet, fresh mint, and parmesan tuile – $17.00
Soup aux Truffles V.G.E. – Oxtail Broth with Braised Beef, Vegetables, and Black Winter Truffles covered in Puff Pastry – $29.00  
Pattes de crabe royal servies entières et en salade de betteraves, crème de raifort, chips et copeaux de pommes et betteraves – King Crab Legs Shelled and served Two Ways. Whole, in a Beet Salad with Horseradish Cream, Chips, and Shavings of Apple and Beets – $29.00
Soupe aux truffes V.G.E. – Beef broth, oxtail, vegetables, black winter truffle, puff pastry – $29.00
Meat Entrées
Poitrine de poulet et mousse truffée pochée – Poached, Free-range Chicken Breast and Truffle Mousse, Crayfish, Mixed Mushrooms, Confit Potatoes, Rice Chips, creamy Sauce – $39.00
Poitrine de porc braisée – Braised Pork Belly, Mashed Potatoes, Quince Marmalade, Brussels Sprouts, Pickled Red Cabbage, Potato Chips, Pork Jus – $42.00
Filet de Boeuf Grillé – Grilled Beef Tenderloin, Bone Marrow with Fleur de Sel, Roasted Fingerling Potatoes, Spinach, Cream Sauce, and Beef Reduction – $44.00             

Main Course
Bar Noir Écailles de Pommes de Terre (Black Sea bass) – Black sea bass in potato "scales", fresh spinach, rosemary sauce – $42.00
Pavé de flétan poché – Butter-poached Halibut Filet, Squid Ink Rice Pilaf, Calamari, Butternut Squash Emulsion – $44.00
Roasted Guinea Fowl Breast – Rice pilaf with mushrooms, parmesan emulsion, chicken jus – $40.00
Roasted Stuffed Suckling Pig Sliced – Mashed potatoes, caramelized apples, roasted sweet potatoes, pork jus – $42.00
Filet de Boeuf Grillé – Potato 'Macaire' with Tomme de Savoie cheese, oyster mushroom fricassee, beef jus reduction, creamy sauce – $44.00
Desserts
La Verrine Pomme Caramel – Caramelized apples, Shortbread Brittany-style, vanilla cream, green apple sorbet, warm caramel sauce – $13.00
La Vacherin Classique – Meringue, vanilla ice cream, raspberry sorbet, vanilla Chantilly, raspberry coulis – $13.00
Vacherin glace vanille, framboise, crème chantilly – Vanilla ice cream and raspberry sorbet in a meringue, whipped cream – $11.00
La Sphère – Milk chocolate sphere, chocolate almond cake, praline and chocoalte cream, light hazelnut biscuit, chocolate with candied oranges ice cream, warm chocolate and Armagnac sauce. Offering prepared with alcohol – $13.00
Le Moelleux – Warm chocolate and almond cake with raspberry coulis in the center, hazelnut crust, hazelnut ice cream – $13.00
La Vacherin Exotique – Meringue, mango and coconut sorbets, vanilla Chantilly, exotic fruits coulis- $13.00
Monsieur Paul Kids' Menu
Menu Date: 09/2018
Kids' Appetizers
Cherry Tomato Salad – with fried cheese stick – $6.00
Small Parmentier of Boeuf Mashed Potato Pie – with a parmesan tuile $7.00
Kids' Entrees
Saumon rôti  – Roasted Salmon served with Tartar Sauce and choice of French Fries, Green Beans, Mashed Potatoes, Rice, or Broccoli – $16.00
Filet mignon Grille – Grilled beef tenderloin served with Bordelaise sauce served with choice of French fries, green beans, mashed potatoes, rice, or broccoli – $19.00
Aiguillette de poulet poêlée – Seared Chicken Tender served with creamy Chicken Sauce and choice of French Fries, Green Beans, Mashed Potatoes, Rice, or Broccoli – $13.00 
Kid's Desserts
Choix de Glace – Choice of Ice Cream chocolate or vanilla – $6.00
Mousse au chocolat – Chocolate Mousse Cake with Chocolate Sauce Center and Vanilla Ice Cream – $7.00
** Monsieur Paul Menu and Prices are Subject to Change Without Notice **