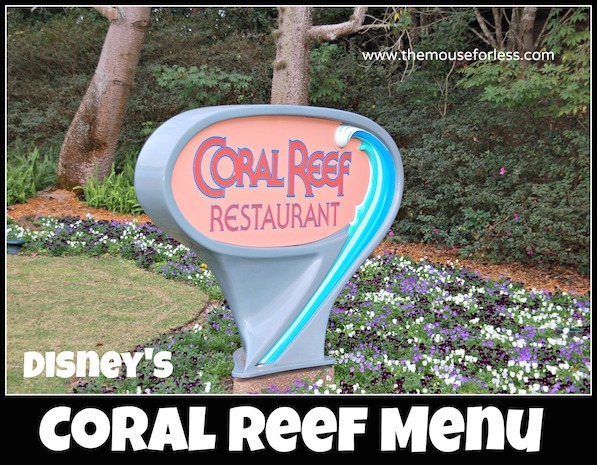 Dine under the sea at Coral Reef Restaurant with a perfect view of its inhabitants in this awesome restaurant in The Seas with Nemo and Friends pavilion.
Coral Reef Restaurant is located in Disney's Epcot theme park.  Find more Walt Disney World dining locations on our Walt Disney World Resort menus page.
Coral Reef Restaurant Menu Info: Seafood, Lunch/Dinner A la carte, $$ – $15 to $34.99 per adult
Find out how you can save money on dining at Walt Disney World by using one of Disney's Dining Plans.

Planning a Walt Disney World Vacation?
For a Free no-obligation quote, contact our sponsor
The Magic For Less Travel
. The Magic For Less Travel is an Authorized Disney Vacation Planner and has been helping guests plan magical vacations since 2002. Receive the best prices and free travel planning services. Their fee-free services will help you save time, money, and stress while planning a vacation designed around you and your needs!
Coral Reef Restaurant Menu – Lunch/Dinner
Menu Date: 11/2020
Appetizers
Colossal  Shrimp Cocktail – Traditional Cocktail Sauce, Charred Lemon – $15.00
Lobster Bisque – Cream, Brandy, Chervil – $10.00
Caesar Salad – with Shredded Parmesan and Croutons – $10.00
Entrées
Plant-based Grilled Garden vegetable Skewer  – roasted Kefta, Basmati Rice, Lentils, Smoked Eggplant Salad – $24.00
Oven-roasted Herb Chicken Breast – Seasonal Risotto, Thyme Jus – $28.00
10-oz Slow Roasted Grilled Rib-Eye – Loaded Mashed Potatoes with Bacon, Creamed Spinach, Bercy Butter – $34.00
Seared Mahi Mahi – Jasmine Rice, Coconut and Cilantro-Lime Sauce, Avocado-Mango Salsa – $31.00
Shrimp and Grits – Sautéed Shrimp, Cheddar Cheese Grits, Local Corn Succotash, Andouille Sausage, Creole Spice Emulsion – $30.00
Desserts
The Chocolate Wave – Warm Flourless Chocolate Cake, Chocolate Curls, Raspberry Gelato – $10.00
Baileys and Jack Daniel's Mousse* – Chocolate Ganache, Chocolate Crisp Pearls (*Denotes dessert containing alcohol products) – $9.50
Mixed Berry Mousse – Vanilla Chiffon Cake, Chocolate Sauce, Shortbread Cookie – A No Sugar Added Dessert – $8.50
Non-Alcoholic Mocktails
Pomegranate Lemonade – All-Natural Lemonade: Minute Maid® Premium Lemonade with Pomegranate and Lime Juices – $5.49
Grapefruit Spritzer – Ruby Red Grapefruit and Lime Juices topped with Soda Water – $5.49
Sparkling No-Jito – Lime Juice, Pure Cane Sugar, and Mint topped with Soda Water – $4.99
Watermelon Lemonade – Minute Maid® Premium Lemonade and Watermelon – $5.49
Specialty Cocktails
Blood Orange Margarita – Sauza Conmemorativo Añejo Tequila, Cointreau, Lime Juice, and Blood Orange Sour – $14.00
Spicy Poblano Margarita – Patrón Silver Tequila, Ancho Reyes Verde Liqueur, Lime Juice, and Pure Cane Sugar – $14.00
Watermelon Margarita – Patrón Silver Tequila, Watermelon, and Lime Juice – $14.00
Paloma – Don Julio Blanco Tequila with juices of Ruby Red Grapefruit and Lime topped with Soda Water – $14.00
Rum Swizzle – Mount Gay Eclipse Rum with Tropical Juices and flavors of Guava and Mango – $13.00
Raspberry Mojito – Bacardi Raspberry Rum, Mount Gay Eclipse Rum, Lime Juice, Mint, and Raspberry Purée topped with Soda Water – $13.00
Bacardi Mojito – Bacardi Superior Rum, Lime Juice, Pure Cane Sugar, and Mint topped with Soda Water – $13.00
Antioxidant Lemonade – Van Gogh Açaí-Blueberry Vodka, Odwalla® Lemonade, and Pomegranate Juice topped with Sprite® – $13.00
Walk the Plank – Crown Royal Northern Harvest Rye Whisky, Orange Juice, Orgeat (Almond), and Lemon Juice garnished with Luxardo Gourmet Maraschino Cherries – $15.00
Smoked Turkey – Wild Turkey 101 Bourbon, Red Stag Black Cherry Bourbon, Grenadine, and Odwalla® Lemonade with a hint of Hickory Smoke, garnished with Luxardo Gourmet Maraschino Cherries – $15.00
Negroni – Bombay Sapphire Gin, Campari, and Carpano Antica Sweet Vermouth – $15.00
Whiskey Breeze – Jim Beam Black Extra-aged Bourbon, Cointreau, and Lime Juice with flavors of Guava and Mango – $14.00
Moscow Mule – Russian Standard Vodka, Lime Juice, and Pure Cane Sugar topped with Fever Tree Ginger Beer – $14.00
Kentucky Mule – Buffalo Trace Kentucky Straight Bourbon, Lime Juice, and Pure Cane Sugar topped with Fever Tree Ginger Beer – $15.00
Bahama Mama – Parrot Bay Coconut Rum, Plantation Original Dark Rum, Bols Crème de Banana, and Tropical Juices – $13.00
Piña CoLava – Bacardi Raspberry Rum blended with flavors of Coconut, Pineapple, and Raspberry Purée – $13.00
Ultimate Long Island Iced Tea – Bacardi Superior Rum, Tito's Handmade Vodka, Hendrick's Gin, Corazón Blanco Tequila, Cointreau, and Sweet-and-Sour with a splash of Coca-Cola® – $15.00
Captain's Mai Tai – Captain Morgan Original Spiced Rum, Bols Amaretto, and Tropical Juices topped with a float of Plantation Original Dark Rum – $13.00
Cold Brew XO – Patrón XO Cafe Coffee Liqueur, Heavy Cream, and Cold Brew Joffrey's Coffee™ – $13.00
Godiva Chocolate Martini – Godiva Chocolate Liqueur, Stoli Vanil Vodka, Bols White Crème de Cacao, and Frangelico – $14.00
Red Sangria – Opici Family Red Sangria is made in La Mancha, Spain from Tempranillo grapes and has flavors of raspberry, apple, and blackberry with succulent aromas of natural Valencia oranges and cinnamon – $11.00
White Sangria – Opici Family White Sangria is made in La Mancha, Spain from Airén grapes and has flavors of banana, pineapple, and grapefruit with a hint of ginger – $11.00
Magical Star Cocktail – X-Fusion Organic Mango and Passion Fruit Liqueur, Parrot Bay Coconut Rum, Pineapple Juice, and a souvenir Multicolored Glow Cube – $15.00
Captain's Rum Runner – Captain Morgan Original Spiced Rum, Blackberry Brandy, Créme de Banana, and Tropical Juices topped with a float of
Plantation Original Dark Rum – $13.00
Coral 'Rita – A Margarita with Patrón Añejo Tequila and Cointreau – $15.00
The Abyss – Skyy Vodka, Bacardi Superior Rum, Blue Curaçao, and Pineapple Juice – $13.00
Beer, Hard Cider, Hard Seltzer
Draft – $7.50 – $10.25 / Bottle or Can – $6.75 – $11.25
Budweiser – St. Louis, MO
Bud Light – St. Louis, MO
Corona Extra – Mexico
Stella Artois – Belgium
Yuengling Traditional Lager – Pottsville, PA
Blue Moon Belgian White – Golden, CO
New Belgium Fat Tire – Ft. Collins, CO
Sierra Nevada Pale Ale – Chico, CA
Cigar City Jai Alai IPA – Tampa,FL
Goose Island IPA – Chicago, IL
Samuel Adams Seasonal – Boston, MA
Spring – Cold Snap | Summer – Summer Ale | Fall – OctoberFest | Winter – Winter Lager
Angry Orchard Crisp Apple Hard Cider – Cincinnati, OH
Truly Wild Berry Hard Seltzer – Boston, MA
Reef Amber Draft – $10.50
Specialty Coffees
Spanish Coffee – Kahlúa and Brandy – $12.00
Irish Coffee – Irish Whiskey and Hot Coffee with a dollop of Whipped Cream – $12.00
Nutty Fisherman – Frangelico and Baileys Irish Cream – $14.00
Sparkling Wine
Paul Chaneau Lady of Spain Cuvée, Cava, Spain – Bottle $49.00 / Glass $12.00
Iron Horse Ocean Reserve Blanc De Blancs, Green Valley – Bottle $79.00
White Wines
Fess Parker Rielsing, Santa Barbara County – Bottle $45.00 / Glass $11.00
Trimbach Riesling, Alsace – Bottle $49.00 / Glass $12.00
Benvolio Pinot Grigio, Friuli – Bottle $39.00 / Glass $10.00
La Crema Pinot Gris, Monterey – Bottle $49.00 / Glass $12.00
Honig Sauvignon Blanc, Napa Valley – Bottle $49.00 / Glass $12.00
d'Arenberg The Hermit Crab Viognier Marsanne, McLaren Vale – Bottle $49.00 / Glass $12.00
Conundrum, California – Bottle $65.00 / Glass $16.00
Veramont Chardonnay, Casablanca Valley – Bottle $45.00 / Glass $11.00
Silverado Vineyards Chardonnay, Carneros – Bottle $65.00 / Glass $16.00
White Wine Flight – Honig Sauvignon Blanc, Napa Valley | d'Arenberg The Hermit Crab Voignier Marsanne, McLaren Vale | Veramonte Chardonnay, Casablanca Valley – $18.00
Rosé and Red Wines
Gerard Bertrand Côte Des Roses, Rosé, Languedoc – Bottle $49.00 / Glass $12.00
Argyle Pinot Noir, Willamette Valley (certified sustainable) – Bottle $59.00 / Glass $15.00
Columbia Crest H3 Merlot, Columbia Valley – Bottle $45.00 / Glass $11.00
Markham Merlot, Napa Valley – Bottle $59.00 / Glass $15.00
Francis Ford Coppola Director's Cut Zinfandel, Dry Creek Valley – Bottle $59.00 / Glass $15.00
Catena Vista Flores Malbec, Mendoza – Bottle $39.00 / Glass $10.00
Black Pearl Oro, Shiraz-Cabernet, Paarl – Bottle $49.00 / Glass $12.00
Louis M. Martini Cabernet Sauvignon, Sonoma County – black cherry and cassis notes accented with spicy oak, rich and complex, long black fruit finish – Bottle $53.00 / Glass $13.00
Robert Mondavi Cabernet Sauvignon, Napa Valley – Bottle $65.00 / Glass $16.00
Red Wine Flight – Argyle Pinot Noir, Willamette Valley | Black Pearl Oro Shiraz-Cabernet, Paarl | Catena Vista Flores Malbec, Mendoza – $18.00
Coral Reef Restaurant Menu – Kids Lunch and Dinner
Menu Date: 12/2019
Appetizers
Lobster Bisque – $3.00
JR Garden Salad – Romaine Lettuce, Tomatoes, and Cucumbers with creamy Herb Dressing – $3.00
Kids' Entrees
Served with Two Sides and choice of Small Lowfat Milk or Small Bottled Water
Grilled Fish of the Day – $13.00
Grilled Chicken with Sweet Soy Sauce – $11.00
Jr. Reef Steak – $13.00
Grilled Shrimp – $11.00
Kid's Side Selections
Broccoli
Corn
Green Beans
Jasmine Rice
Cheddar Mashed Potatoes
Fruit Salad
Sea Breeze Jell-O Cup

Nemo and Squirt's Noggin Concoction

** Coral Reef Restaurant Menu and Prices are Subject to Change Without Notice **