Resort Restaurants | Animal Kingdom Lodge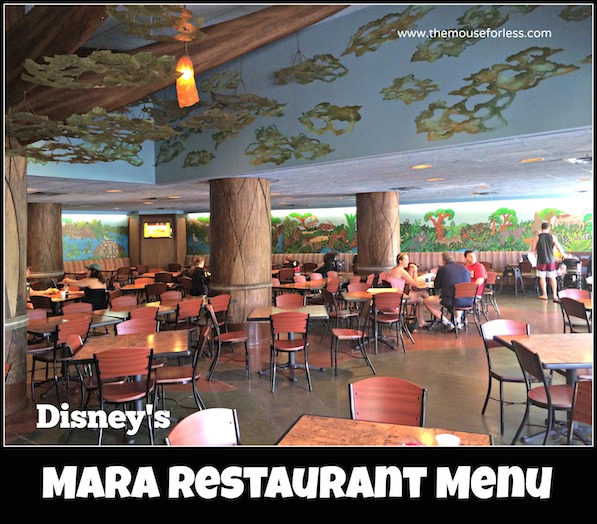 Breakfast Menu Lunch and Dinner Menu
Named for a river flowing through Kenya and Tanzania, this savanna-like space serves African stew, pitas, half-chicken dinners and more. American favorites like burgers and flatbreads are also available at The Mara, as is breakfast until 11:00 a.m.
Restaurant Info: African/American, Breakfast/Lunch/Dinner/Snack, $ – $14.99 and under per adult
Find out how you can save money on dining at Walt Disney World by using one of Disney's Dining Plans.
The Mara Breakfast Menu
Menu Date: 04/2019
Entrées
Served only between 7am and 11am
Bounty Platter – Scrambled Eggs, Breakfast Potatoes, Bacon, Sausage, Pap, Chaklaka, and a Waffle – $11.49
Fried Egg, Ham and Cheese Sanwich – on a Brioche Bun served with Breakfast Potatoes. – $8.79
Croissant Breakfast Sandwich – Croissant Sandwich filled with your choice of Bacon or Sausage completed with Scrambled Eggs and American Cheese served with Breakfast Potatoes – $8.79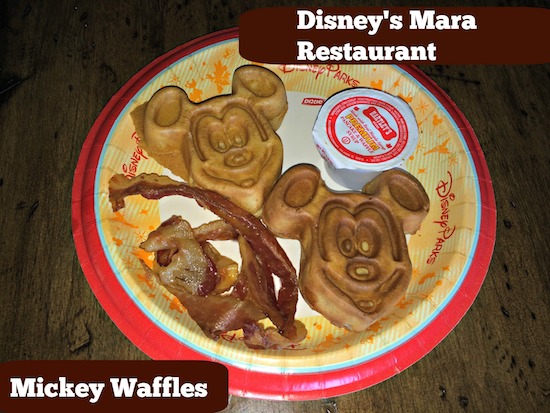 Mickey-shaped Waffle – Served with mixed seasonal berries, hand-whipped cream, and bacon or sausage- $8.79
Steal-Cut Oatmeal – Served with Cinnamon and Raisins  – $3.99
Breakfast Quinoa – Served with Honey and Dried Fruit  – $3.29
Sides
Steal-Cut Oatmeal – Served with Cinnamon and Raisins  – $3.99
Side of Bacon – $2.99
Side of Sausage – $2.99
Side of Breakfast Potatoes – $2.99
Pap and Chakalaka – Grits and Tomato-based African Salsa – $2.99
Snacks
Yogurt Parfait – Plain Greek Yogurt, Honey and Granola with mixed with Seasonal Fresh Fruit – $6.49
Zebra Domes – Chocolate Mousse baked with Amarula Cream Liquor-coated White Chocolate drizzled with Chocolate Stripes and Chocolate Shavings – $4.29
Mickey's Crisped Rice Treat – $4.69
Mixed Fruit Cup – $3.99
Chips – $2.99
Banana – $2.29
Bakery
Cinnamon Roll – $4.29
Croissant – $3.49
Chocolate Torsade – $3.99
Banana Nut Bread – $3.99
Assorted Muffins – $3.49
Assorted Danish – $3.99
Bagel with Cream Cheese – $3.49
Beverages
Resort Refillable Mug – $18.99
Assorted Fountain Beverage – $3.99
Cappuccino – $3.99
Jungle Juice Slushy – frozen blend of Passion, Orange and Guava Juices – $4.99
Odwalla Strawberry Lemonade Slushy – $4.99
Assorted Hot Beverage – Self-service Hot Beverage with a choice of Coffee, Hot Tea or Nestlé® Hot Cocoa – $3.29
Espresso – $3.29
Café Latte – $3.99
Alcoholic Beverages
Bloody Mary – with Snow Leopard Vodka – $11.25
Mimosa – traditional Orange Juice or our Jungle Juice – $10.75
Bud Light Lager – St. Louis, MO – 16 oz Can – Golden-colored with flavors that are dry, clean, crisp and refreshing with subtle bitterness – $7.75
Kids' Meals
For Young Safari Guides 9 and Under
Includes choice of small Lowfat Milk or small Dasani Water
Breakfast Platter – Scrambled Eggs, Bacon, and Grapes – $6.99
Kids' Meal Waffle Platter – with Bacon or Sausage and Grapes – $6.99
Kids' Cereal Breakfast – with Grapes, Kellogg's Frosted Flakes® Cereal, with Apple Slices, Peanut Butter – $4.99
The Mara Lunch and Dinner Menu
Menu Date: 04/2019
Entrées
Black Angus Bacon Cheeseburger – Grilled 1/3 lb Black Angus Burger topped with Berbere-spiced Bacon and Sharp Cheddar on a Brioche Bun served with French Fries and a Pickle – $11.99
Crispy Chicken Sandwich – Fried Chicken topped with Berbere Bacon, Buttermilk Ranch and Leaf Lettuce on Artisanal Cheese Bread served with French Fries – $11.99
Vegetarian Falafel Bites – Hummus, Chickpea Falafel, Garlic Yogurt, Cucumber and Tomato Salad, Tabbouleh, Kalamati Olives and Kulcha Bread – $11.99
Black Angus Cheeseburger – Grilled 1/3 lb Black Angus Burger topped with Sharp Cheddar on a Brioche Bun served with French Fries and a Pickle – $10.99
Chicken Breast Nuggets – 8 pieces with Kool Slaai and choice of Couscous or French Fries – $10.99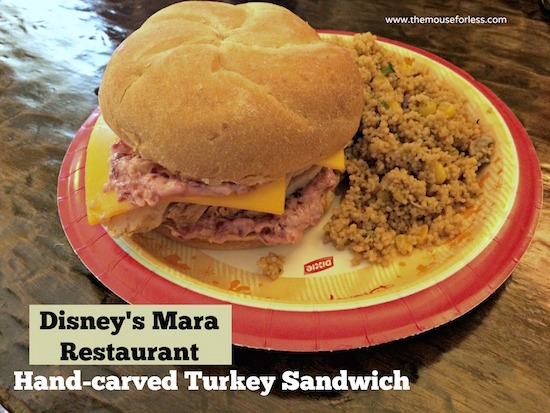 Hand-carved Turkey and Avocado Sandwich – Hand-carved Slow-roasted Turkey Breast, Berbere-spiced Bacon, Pickled Red Onions, Arugula and a Chunky Avocado-Mayo Spread served with Kool Slaai (Cole Slaw) and French Fries – $10.99
Tamarind Barbecue Pork Sandwich – Tamarind-seasoned Barbecue Pulled Pork on a Brioche Bun with Kool Slaai (Cole Slaw) on the side and served with French Fries – $10.79
Braai Chicken Flatbread – Freshly prepared Flatbread with a Sun-dried Tomato Pesto topped with Oak-fired Chicken pieces, Bacon, Red Onion, Mozzarella and Saag Dahl Ranch Drizzle – $10.49
Mara Chicken Salad – House-grilled Chicken Breast sliced over a bed of Mixed Greens with Red Onions, Lentils, Chickpeas, Cucumbers, Tomatoes and Feta served with Chili-Cilantro Vinaigrette Dressing on the side – $10.49
Caesar Salad with Grilled Chicken – House-grilled Chicken Breast sliced over a bed of Romaine Lettuce, Croutons and Shredded Parmesan served with Caesar Dressing on the side –  $9.99
Pepperoni Flatbread – Freshly prepared Flatbread topped with Pepperoni, Tomato Sauce and Mozzarella – $9.49
Mixed Tomato Flatbread – Freshly prepared Flatbread topped with Vine-ripened Tomatoes, Roasted Garlic, Fresh Herb Ricotta Cheese, Artichokes and Red Peppers – $9.99
Cheese Flatbread – Freshly prepared Flatbread topped with Tomato Sauce and Mozzerella – $8.99
African Potjie – Hearty stew with Beef, Turkey, Ham, Carrots, Potatoes, Peas, Chickpeas, and Raisins served over Basmati Rice – $8.49
Caesar Salad – bed of Romaine Lettuce, Croutons and Shredded Parmesan served with Caesar Dressing on the side – $7.99
Mara Salad – bed of Mixed Greens with Red Onions, Lentils, Chickpeas, Cucumbers, Tomatoes, and Feta served with Chili-Cilantro Vinaigrette Dressing on the side – $7.99
Dinner Only Entrées
Oak-fired Rotisserie Chicken – (Served after 5 p.m.) Half-Chicken seasoned and Slow-roasted in an Oak Fire with Durban (African) Spices served with Couscous topped with Marrakesh Vegetable Stew and Kulcha Bread – $13.99
Slow-Roasted Barbeque Ribs – (Served after 5 p.m.) On-the-Bone Slow-roasted Pork Ribs in Tamarind Barbecue Sauce served with Mealie Bread (Corn Bread), Kool Slaai (Cole Slaw) and French Fries – $13.99
Sides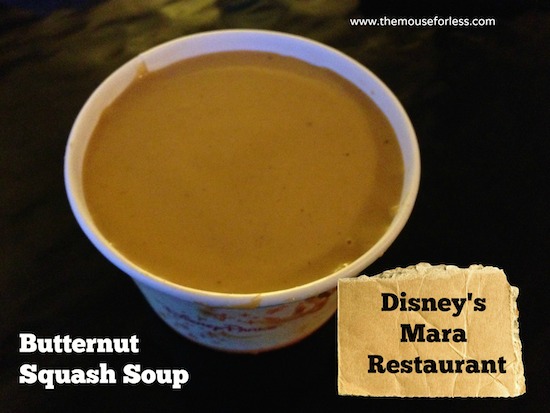 Butternut Squash Soup – $4.29
French Fries – $4.49
Desserts
Zebra Cupcake – Chocolate Cake and Chocolate Custard Filling with Chocolate and Vanilla Buttercream  – $5.49
Chocolate Chip Mickey Cookie – $3.99
Flamingo Cake – Vegan Cocoa Spice Cake and Coconut Ganache  – $4.79
Giraffe Éclair – filled with Caramel Custard and Chocolate Buttercream – $4.79
Nyala Brownie – Brownie with Peanut Butter Buttercream and a Vanilla Buttercream Stripe   – $4.79
Okapi Brownie – Brownie and Hazelnut Crisp topped with Chocolate and Vanilla Icing – $4.79
Kudu Cookie – Butterscotch Cashew Cookie Sandwich filled with Vanilla Buttercream – $3.99
Snacks
Yogurt Parfait – Plain Greek Yogurt, Honey and Granola with mixed with Seasonal Fresh Fruit – $6.49
Zebra Domes – Chocolate Mousse baked with Amarula Cream Liquor-coated White Chocolate drizzled with Chocolate Stripes and Chocolate Shavings – $4.29
Mickey's Crisped Rice Treat – $4.69
Mixed Fruit Cup – $3.99
Chips – $2.99
Banana – $2.29
Kids Meals
Ages 9 and Under
All meals include choice of small Lowfat milk or small Dasani Water
Green Salad with Chicken – with Italian Dressing, Grapes, and Dannon Danimals Smoothie – $6.99
Turkey Sandwich – with Grapes and Dannon Danimals Smoothie – $6.99
Uncrustable – with Grapes and Dannon Danimals Smoothie – $6.19
Cheeseburger – with Grapes and Dannon Danimals Smoothie – $7.49
Chicken Breast Nuggets – with Grapes and Dannon Danimals Smoothie – $7.19
Pepperoni Flatbread – Half of a Freshly prepared Flatbread topped with Tomato Sauce and Mozzarella with Grapes and Dannon Danimals Smoothie – $6.99
Cheese Flatbread – Half of a Freshly prepared Flatbread topped with Tomato Sauce and Mozzarella with Grapes and Dannon Danimals Smoothie – $6.49
Beverages
Resort Refillable Mug – $18.99
Assorted Fountain Beverage – $3.99
Cappuccino – $3.99
Jungle Juice Slushy – frozen blend of Passion, Orange and Guava Juices – $4.99
Odwalla Strawberry Lemonade Slushy – $4.99
Assorted Hot Beverage – Self-service Hot Beverage with a choice of Coffee, Hot Tea or Nestlé® Hot Cocoa – $3.29
Espresso – $3.29
Café Latte – $3.99
Alcoholic Beverages
Bloody Mary – with Snow Leopard Vodka – $11.25
Mimosa – traditional Orange Juice or our Jungle Juice – $10.75
Bud Light Lager – St. Louis, MO – 16 oz Can – Golden-colored with flavors that are dry, clean, crisp and refreshing with subtle bitterness – $7.75
A selection of bottled Sodas, Milk, and Juice are also available
** The Mara Menu and Prices are Subject to Change Without Notice **