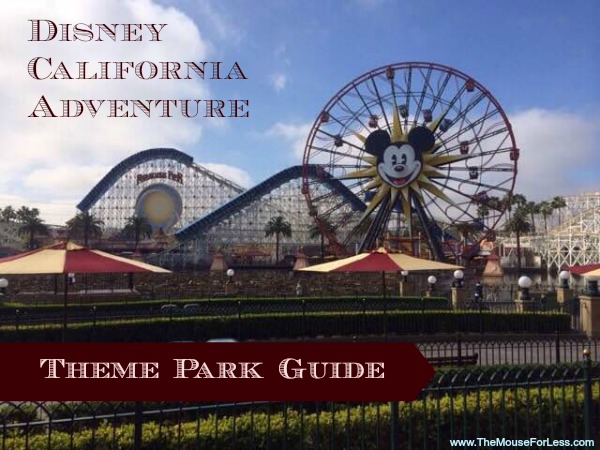 Explore the history and culture of California in a fun, unique setting. Although Disney California Adventure opened in 2001, it receive a major redesign and expansion that was completed in 2012. One of the highlights of this park is Cars Land — which completely immerses guests into the town of Radiator Springs, where the movie Cars is set. In addition to that wonderful area, there are seven other lands that help bring to live not only the rich California history, but also Disney and Pixar stories.
Admission   Fastpass   Fireworks   Height Requirement at a Glance  Food   Lockers   Lost Children   Map   Parades  Strollers   Tours   Transportation  Wheelchair Accessibility and Service Animals
Admission
Admission cost for a 1-Day/1-Park Ticket to Disney California Adventure is $96 for adults and $90 for children (ages 3-9). There is no sales tax on theme park tickets. Choosing the right ticket for your visit is fairly straight forward. Guests simply need to choose the number of days for the ticket and select single park or the hoper option. Park hopping allows guests admission to both Disneyland Park and Disney California Adventure.
Unlike Walt Disney World in Florida, the Disneyland Resort features two parks in very close proximity of each other. It is as simple as walking across the esplanade to get from one park to the other, which can make the park hopper an attractive option.
More park admission details and money saving options can be found on our Disneyland Tickets page.
Guests under the age of 14 years must be accompanied by a guest age 14 years or older in order to enter the park. To board an attraction, children under age 7 must be accompanied by a person age 14 years or older.
An official list of park rules and prohibited items can be found on Disney's website.
Attractions
There are eight different themed areas, or lands, at Disney California Adventure. Each land has its own unique feel from the rides and attractions to the cast member costumes and background music.
"A Bug's Land" — Shrink down to a bug's level and explore some fun, family-friendly attractions.

Flick's Flyers, Francis' Ladybug Boogie, Heimlich's Chew Chew Train, It's Tough to be a Bug!, Princess Dot Puddle Park, Tuck and Roll's Drive 'Em Buggies

Buena Vista Street — Step back in to to the Buena Vista Street (the street when Wald Disney Studios are located) from the days when Walt Disney first arrived in California.
Cars Land — Become a visitor to Radiator Springs in this amazing Cars themed land. At every turn you will find precise details and fun from the beloved movies.

Luigi's Rollickin' Roadsters, Mater's Junkyard Jamboree, Radiator Springs Racers

Condor Flats — Condor Flats in a airfield that gives a nod to the aeronautical advancements from the 1940s-1960s.
Grizzly Peak — Journey into California's national parks. Yosemite and Redwood national parks provide the background for some wilderness fun.

Grizzly River Run, Redwood Creek Challenge Trail

Hollywood Land — Inspired by the Golden Age of Hollywood, guests will feel like they have stepped back in time to Hollywood of the 1930s.

Ana & Elsa's Royal Welcome, Animation Academy, Disney Junior – Live on Stage!, Monsters, Inc. Mike and Sulley to the Rescue!, Red Car Trolley, Turtle Talk with Crush, Guardians of the Galaxy – Mission: BREAKOUT!, Frozen – Live at the Hyperion, Meet Olaf in Hollywood Land, Meet Super Heros in Hollywood Land

Pacific Wharf — Visit a wharf such as Fisherman's Wharf in San Francisco for some delicious food and sites.

The Bakery Tour, hosted by Boudin Bakery

Paradise Pier — Packed with fun, Paradise Pier is a coastal boardwalk area and the largest land in Disney California Adventure.

California Screamin', Games of the Boardwalk, Golden Zephyr, Goofy's Sky School, Jumpin' Jellyfish, King Triton's Carousel, Mickey's Fun Wheel, Silly Symphony Swings, The Little Mermaid~Arie's Undersea Adventure, Toy Story Mania!

Throughout the park Disney PhotoPass photographers will capture guests caught up in the Disney experience. Disney's PhotoPass gives guests the opportunity to have great high-resolution photos taken by Disney Photographers using state-of-the-art digital equipment at picturesque locations. Even better, your photos can be accessed, shared, and ordered online. Visit our Disney's PhotoPass Guide for more information on Disney's PhotoPass service.
Baby Care, Strollers and Lost Children
Baby Care Center
Parents with infants can visit Disney California Adventure worry free with the services of the Baby Care Centers. The Baby Care Center is located in Pacific Wharf, next to Ghirardelli Soda Fountain. The facility offers Guests a place to feed, change and nurse babies. Highchairs, rocking chairs, nursing rooms for Mom and baby, changing tables and a microwave to heat bottles and food are available. The Baby Care Center also offers formula, bottles, Gerber baby food, pacifiers, children's Tylenol, cold and allergy medication, band-aids, and wipes for Guests to purchase.
Strollers
Stroller rentals are available for single day rentals outside the Disneyland Park Main entrance. Stroller rental is $15 per day for one stroller or $25 per day for two strollers. Strollers may be brought into Disneyland and Disney California Adventure (just not Downtown Disney). The convenience of not having to take your child out of the stroller as you switch parks is very nice for families.
Strollers larger than 36″ x 52″ and wagons are not permitted.
For guests who would like to customize their stroller tags to make identifying their rental stroller easier they create their personalized tags with many design choices from The Mouse For Less' Stroller Tags page.
Lost Children
There's nothing more frightful to parents than the thought of losing their child in the ocean of people inside a theme park. There are many fascinating distractions at Disneyland and children can wander off in a blink of an eye. Be prepared so that you won't spend precious vacation time frightened and in search of each other. Have a plan, before your vacation, make and print some Kids Travel IDs. There are many designs to choose from, they're easy to make and children love to have their own ID cards. Before you start your touring for the day, take a picture of your child from your camera, phone or by a Disney Cast Member on your Photopass so that you can readily show a Cast Member what your child is wearing and what he/she looks like if you should become separated from your child. Set up a meeting area in the park.
Locate a Cast Member so that your child can meet a Cast Member "in person" and will not be afraid of them. Let your child know to look for Cast Members with Disney ID tags and to show the Cast Member their ID cards if they could not find you. If you become separated, stay in the area and enlist the assistance of a Cast Member to search for your child. Most likely your child is in the same vicinity looking for you. If you have not located your child after searching the area, and there is more than one adult in your party, split up and have one go to the pre-determined meeting location while another follow the direction of a Cast Member. All lost children will be taken to Lost Children inside the Baby Care Center by a Cast Member if they can not locate the parents in the immediate area.
Contact Numbers
Dining Reservations – (714) 781-DINE; (714) 781-3463
Guest Information – (714) 781-4565
Lost and Found– (714) 817-2166
Merchandise (800) 362-4533
Reservations – (714) 520-5060 or call your favorite travel agent at The Magic For Less Travel at (888) 330-6201
Ticketing – (714) 781-4565
Extra Magic Hour
Extra Magic Hour
Disneyland Resort Hotel Guests can access one park early on select days. Each guest must have valid theme park admission and an active hotel room key card. It is recommended that guests arrive at least one hour and 15 minutes prior to park opening.
The Extra Magic Hour schedule is as follows:
Disneyland Park: Tuesdays, Thursdays, and Saturdays
Disney California Adventure Park: Mondays, Wednesday, Fridays, and Sundays
FASTPASS
FASTPASS is a great system that lets you "eliminate the wait" at the many popular park rides and attractions. Nothing feels better than being able to bypass the wait and jump straight to the front of the line. Guests look for the FASTPASS distribution area near the entrance of the attraction. Check out the available Return Time listed on the signs. Insert your admission ticket into the FASTPASS machine and receive a ticket printed with your return time. Just come back to the ride during the designated return time and you will allowed into a special FASTPASS return queue.
FASTPASS is offered on the following Disney California Adventure rides and attractions:
World of Color (distributed at Grizzly River Run)
California Screamin'
Goofy's Sky School
Radiator Springs Racers (distributed near It's Tough to Be a Bug!)
Soarin' Around the World
Guardians of the Galaxy – Mission: BREAKOUT!
Disney MaxPass
Disney MaxPass is a new digital service at Disneyland Resort combining Disney PhotoPass and Disney FastPass services through the convenience of your smartphone.  You'll receive unlimited downloads of your Disney PhotoPass pictures, including Magic Shots, select attractions, and character dining. The digital FastPass will allow you to make your selection without visiting the FastPass kiosk.
Fireworks
Disney's World of Color is a nighttime spectacular like none other. Animation is projected on water screens, 1,200 fountains erupt in time to your favorite Disney music, and special effects abound.
Times vary each night of the performance but generally range between 9 p.m. and 10 p.m. Check the times guide or Disneyland's website for exact times during your visit.
Guests may choose to take advantage of a World of Color dining package at Ariel's Grotto, Wine Country Trattoria, or Carthay Circle Restaurant. The package includes a 3-course (starter, entrée and dessert) meal from a prix-fixe menu during lunch and/or dinner (depending on the location), a non-alcoholic beverage, and one voucher that reserves, in advance, your spot in the Paradise Park preferred World of Color viewing area.
Guests may also choose to get a FASTPASS for reserved World of Color viewing. The FASTPASS viewing section is limited, so it is recommended that guests wishing to take advantage of this viewing area go to the FASTPASS kiosk right away after entering the park.
All Disneyland fireworks spectaculars are enhanced when guests wear Glow with the Show Ear Hats.
Disney California Adventure Height Requirements at a Glance
California Screamin' – 48″ (Paradise Pier)
Goofy's Sky School – 42″ (Paradise Pier)
Grizzly River Run – 42″ (Grizzly Peak)
Jumpin' Jellyfish – 40″ (Paradise Pier)
Luigi's Rollickin' Roadsters – 32″ (Cars Land)
Mater's Junkyard Jamboree – 32″ (Cars Land)
Radiator Springs Racers – 40″ (Cars Land)
Silly Symphony Swings – 40″ (Paradise Pier)
Soarin' Around the World – 40″ (Condor Flats)
Tuck and Roll's Drive 'Em Buggies – 36″ minimum height to ride, 48″ minimum height to drive alone (a bug's land)
Guardians of the Galaxy – Mission: BREAKOUT! – 40″ (Hollywood Land)
Redwood Creek Challenge Trail – height and age requirements- Sequoia Smokejumpers Training Tower (zip line) has a height requirement of a 42 inches (106 cm) minimum and 63 inches (160 cm) maximum. Guests must be under 13 years old to ride. Cliff Hanger Traverse Rock Climb has a height requirement of 42 inches (106 cm).
Visit our Height Requirement page for height requirements at all Disneyland Resort attractions.
Food
There is no shortage of food options at Disney California Adventure Park. Guests wishing to bring their own meals may find seating in the picnic area just outside Disneyland's main entrance. Here guests will find tables, chairs, shade umbrellas and storage lockers.
Coolers larger than a 6-pack size are not allowed into the theme parks. Lockers are available near the picnic area just outside the Disneyland entrance. The lockers can accommodate coolers up for 18″ wide x 25″ high x 37″ deep. Lockers are not refrigerated and are limited. In addition, alcoholic beverages and glass containers are not permitted.
For those who prefer to leave the cooking to Disney, the following selections are available. Click on the name below for menu. Visit our Disneyland Menu Page for a complete list of menus available for Disney California Adventure.
Buena Vista Street
Cars Land
Condor Flats
Hollywood Land
Pacific Wharf
Paradise Pier
Lockers
Lockers are located inside Disney California Adventure on Buena Vista Street. The cost of the lockers is $7, $10, $11, $12, or $15. Rental includes unlimited access throughout the day at one price.
In addition, there are charging lockers, which will allow guests to charge their electronic devices for up to an hour. The iPhone, Android, and Blackberry lockers come complete with a pre-installed cord. For other devices (such as a camera, laptop, etc.) you will need to bring your own cord to rent a locker with a standard outlet.
Small 12″w x 18″h x 12.5″d – $7 per day
Large 12.5″ x18 " x 19″ – $10 per day
X-Large 15″ x 25 " x 19 " – $11 per day
Jumbo 15″ x 25″ x 25″ – $12 per day
Super Jumbo 18″ x 25″ x 37″ – $15 per day (Inside picnic area only)
Charging locker – $2 per hour
Lockers are also available at Disneyland and the Esplanade between the parks.
Parades
Paint the Night parade returns to Disney's California Adventure. This popular parade is set to return is set to run throughout the summer until Labor Day weekend. If you have never seen it, now is the time!  In addition, coming in June is an brand incredible new float featuring The Incredibles!
Tours
Guests who are interested in guided tours can take advantage of some excellent tours. "Cultivating the Magic Tour" offers guests a walking tour of the landscapes of Disneyland Park. "Discover the Magic Tour" is fun for families to explore together. Complete a treasure hunt through the park while enjoying some great attractions, and even get a special visit from a Disney character. Enjoy some frightful Halloween fun on "Disney's Happiest Haunts" tour (offered seasonally). Explore the holiday traditions of Disneyland Park and see how the holiday magic is made on the "Holiday Time at Disneyland" tour.
"Walk in Walt's Disneyland Footsteps" Guided Tour will bring to life Walt Disney's life and legacy. Listen to stories that inspired the creation of Disneyland, and visit Walt Disney's private apartment.
New to Disneyland? The "Welcome to Disneyland Resort" tour offers guests an introduction to the theme parks, resorts, and services. Been to Disneyland before? The trips, tricks and trivia from this tour will be fun and entertaining for seasoned guests as well.
Of course, VIP touring is available to make your family's trip extra special. VIP Services range from $315-$500 per hour with a minimum requirement of 6 hours.
To reserve and tours or for more information including dates, call (714)781-TOUR (8687). Separate park admission is required for all tours. Annual Passholders receive a 20% discount on all guided tours.
Wheelchair Accessibility and Service Animals
For the convenience of Guests with disabilities, wheelchairs and Electric Conveyance Vehicles (ECVs) are available for rent at the Disneyland Resort. The wheelchair rental fee is $12 per day. The ECV rental fee is $50 per day plus tax. A $20 refundable deposit is required for wheelchair and ECV rentals. Quantities are limited and subject to availability. Reservations are not available. Wheelchairs and ECVs may be used at both Disneyland and Disney California Adventure. Rentals are not permitted at Downtown Disney. Guests are welcome to bring their own ECVs and wheelchairs throughout the resort.
Trained service animals are welcome at Disneyland and are allowed in most locations. Not all attractions can accommodate service animals. In those instances a member of the Guest's party must remain with the animal. All service animals must remain on a leash or harness at all times. Service animals are welcome to use any open outdoor area for relief, provided the owner picks up after the animal. In addition, there are designated Relief Areas in Frontierland (Frontierland/Fantasyland transition area), Fantasyland (planter across from "it's a small world,") and in New Orleans Square (fountain are planter near train station).
Most restrooms are designed for access by Guests using wheelchairs. Companion-assisted restrooms are also available in select locations including City Hall and Tom Sawyer's Island.
Transportation
Disneyland is a pedestrian resort. The two theme parks—Disneyland Park and Disney California Adventure— are an easy walk across the Esplanade from each other. Guests can walk through Downtown Disney to easily reach the three Disneyland Resort Hotels.
For guests arriving via car, there are complimentary trams available from the Mickey and Friends Parking structure to the theme park.
For guests staying at an offsite hotel, check the distance with your hotel's reservations department. Some hotels are with walking distance of the Disneyland Resort, but most offer a shuttle service. Guests may also opt to use the Anaheim Resort Transportation system (ART) to shuttle through the area.
Other Disneyland Resort Theme Parks & Attractions: