Epcot | World Showcase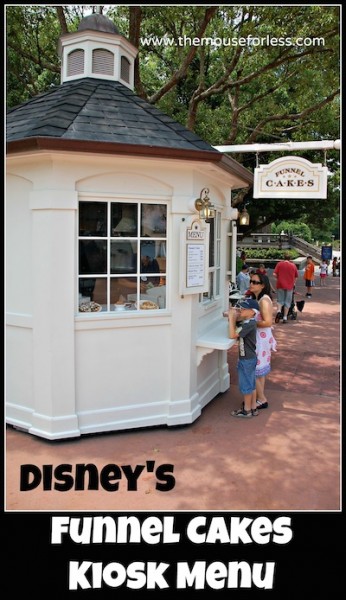 This kiosk located at the America Pavilion offers funnel cake in several seasonal varieties. For fall and winter, Funnel Cakes Kiosk features Pumpkin Spice and look for a Strawberry offering in the spring and summer.
Restaurant Info: American, Snacks, $ – $14.99 and under per adult
Find out how you can save money on dining at Walt Disney World by using one of Disney's Dining Plans.
Funnel Cakes Kiosk Menu
Menu Date: 08/2018
Desserts
Funnel Cake with Sugar – $7.00
Funnel Cake with Vanilla Ice Cream – $9.50
Funnel Cake with Chocolate Sauce – $8.25
Cookies and Cream Funnel Cake – with Sugar, Vanilla Ice Cream, crushed Cookies and Chocolate Sauce – $11.50
Beverage
Dasani Bottled Water – $2.75
Extras
Funnel Cake Gift Kit – $19.00
Maple Bacon Funnel Cake – topped with Candied Bacon – Food and Wine Festival Offering
** Funnel Cakes Kiosk Menu and Prices are Subject to Change Without Notice **