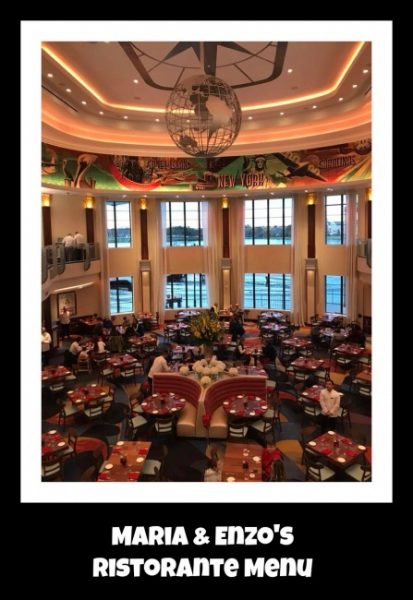 At Maria & Enzo's, you won't need to fly to Southern Italy to get a taste of traditional Sicilian dishes.
Set in a storied airline terminal from the 1930s, the structure has transformed into an elegant eatery featuring a spacious interior that perfectly sets the tone for a first-class, foodie experience.
Noteworthy elements include 50-foot high ceilings, a grand staircase and floor-to-ceiling views of Lake Buena Vista. Vintage maps and artifacts on display throughout the dining room also playfully enhance the aviation theme.
Maria & Enzo's is located in Disney Springs.  Find more Walt Disney World dining locations on our Walt Disney World menus page.
Restaurant Info: Italian
Find out how you can save money on dining at Walt Disney World by using one of Disney's Dining Plans.

Planning a Walt Disney World Vacation?
For a Free no-obligation quote, contact our sponsor
The Magic For Less Travel
. The Magic For Less Travel is an Authorized Disney Vacation Planner and has been helping guests plan magical vacations since 2002. Receive the best prices and free travel planning services. Their fee-free services will help you save time, money, and stress while planning a vacation designed around you and your needs!
Maria & Enzo's Lunch and Dinner Menu
Menu Date: 11/2021
Antipasti (Small Plates)
Salumi e Formaggi (minimum of two people)
24 Month Aged Prosciutto di Parma, Salami Piccante, Finocchiona, Pecorino, Parmigiano, Fontina, Olives, and Grissini (Bread Sticks) – $18.00 per person
Caprese
Cherry Tomatoes, Burrata Cheese, Basil and Extra Virgin Olive Oil – $19.00
Calamari
Crisp Rings served with Hot Cherry Peppers, Spicy Marinara Sauce, and Garlic Aïoli – $19.00
Polpettine
Classic Braised Meatball, Whipped Ricotta and Parmesan Cheese – $16.00
Caesar Salad
Enzo's Favorite Caesar Salad Recipe served with Mixed Romaine Lettuces, Ciabatta Croutons, Parmigiano – $16.00
Insalata della Casa
Mixed Baby Greens, Cucumbers, Cherry Tomato, Olives, Pickled Peppers and Ricotta Salta. Add Chicken 9 add Shrimp 10 – $14.00
Secondi
Ravioli
Ricotta filled pasta, Tomato, Pecorino and Basil – $28.00
Spaghetti alla Chitarra
Marinara Sauce, Meatballs, Calabrian Chile, Parmesan and Basil – $30.00
Torchio Alla Vedure
Twisted Bell-shaped Pasta, Asparagus, Cipollini Onion, Cherry Tomato, Parmigiano, Basil, Calabrian Chili, Toasted Bread Crumbs – $29.00
Pollo alla Parmigiana
Lightly Breaded Chicken Breast, Tomato Sauce, Fior di Latte Mozzarella, Parmigiano-reggiano and Spaghetti Pomodoro – $32.00
Lasagna Bolognese
Layered Egg Pasta, Beef, Veal and Pork Ragu, Tomato, Bechamel, Parmesan – $31.00
Costine Di Manzo
Braised Beef Short-rib, Creamy Polenta, Fontina, Roasted Carrots and Onions – $39.00
Salmone Alla Griglia
Grilled Salmon, Salt Baked Potato, Broccolini with Chile and Garlic, Lemon Oil – $36.00
Bistecca alla Griglia
Grilled 12-oz Certified Angus Sirloin Steak, Potatoes, Grilled Asparagus and Pizzaiola Sauce. Add Shrimp (10) – $52.00
Dolci
Cannoli Siciliano
Sweet Ricotta, Chocolate Chips, Candied Orange – $16.00
Torta della Nonna
Grandma's Tart, Creamy Custard, Pinenuts and Almonds – $15.00
Gelato
Two Scoops: Chocolate or Crema – $12.00
Chocolate Ganache
Bittersweet Chocolate Tart, Toasted Marshmallow Meringue and Orange Caramel – $15.00
Tiramisu
Ladyfinger Cookies, Mascarpone Cheese, Coffee, Cocoa Powder – $16.00
Featured Wines
Assorted Wines – Bottle $52.00 – $72.00, Glass $14.00 – $20.00
Maria's Flight School Meal Kit (Kid's Menu)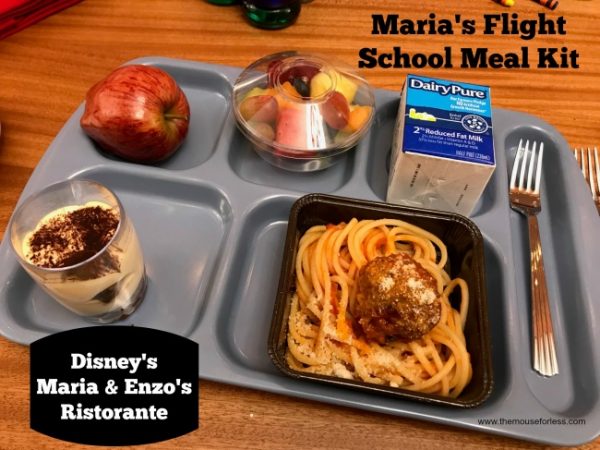 multi-compartment meal tray for kids

Choose one from each section – $14.00
Starters
Fried Cheese Bites with Marinara
Fruit Salad
Entrées
Spaghetti & Meatballs
Slice of Cheese Pizza
Chicken Tenders and Fries
Dessert
Ice Cream (Chocolate or Vanilla)
Choice of Beverage
Milk
Soda
Apple Juice
** Maria & Enzo's Menu and Prices are Subject to Change Without Notice **