Disney Springs | The Landing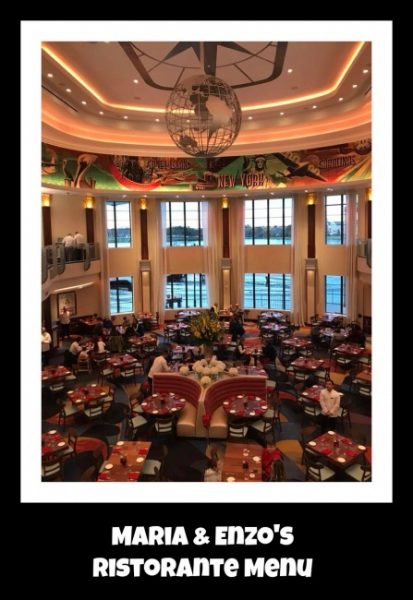 You won't need to fly to Southern Italy in order to get a taste of traditional Sicilian dishes.
Set in a storied airline terminal from the 1930s, the structure has transformed into an elegant eatery featuring a spacious interior that perfectly sets the tone for a first-class, foodie experience.
Noteworthy elements include 50-foot high ceilings, a grand staircase and floor-to-ceiling views of Lake Buena Vista. Vintage maps and artifacts on display throughout the dining room also playfully enhance the aviation theme.
Restaurant Info: Italian
Find out how you can save money on dining at Walt Disney World by using one of Disney's Dining Plans.
Maria & Enzo's Lunch Menu
Menu Date: 04/2019
Antipasti – Zuppa (Small Plates – Soup)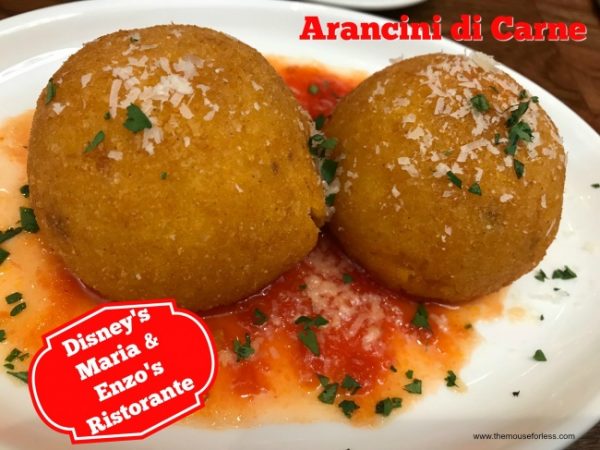 Antipasti Trio (minimum of two people) – Arancini, Mozzarella Caprese, Prosciutto di Parma- Per Person $12.00
Arancini – Fried Rice Balls stuffed with Meat Ragú and Mozzarella Cheese – $13.00
Caciocavallo Fritto – Fried Sicilian Cheese Fritters, Spicy Tomato Sauce – $12.00
Calamari – Crisp Rings served with Hot Peppers, Spicy Tomato, and Garlic Aïoli – $16.00
Sicilian Vegetable and Bean Soup – Seasonal Vegetables, Cannellini Beans, Parmesan Cheese – $9.00
Insalate (Entree Salads)
add chicken $5, add shrimp* $6
Roasted Baby Beets – Marinated Mozzarella Cheese, Arugula, Toasted Walnuts, Citrus-Dijon Mustard – $13.00
Burrata Caprese – Heirloom Cherry Tomatoes, Soft Mozzarella, Basil, Extra Virgin Olive Oil – $17.00
Misticanza – Mixed Baby Greens, Fennel, Rainbow Carrots, Apple, White Balsamic Vinaigrette – $11.00
Large Cesare – Mixed Romaine Lettuces, Olive Croutons, Parmesan Cheese, Classic Cesare Dressing – $13.00
Small Caesar – Mixed Romaine Lettuce, Olive Croutons, Classic Cesare Dressing – $8.00
Sandwiches
Mozzarella Caprese – Tomato, Zucchini, and Basil Pesto on Country Bread served with Crispy Handmade Pasta Chips – $12.00
Meatball Parm – Meatballs, Tomato Sauce, and Mozzarella on Ciabatta Bread served with Crispy Handmade Pasta Chips – $13.00
Prosciutto & Salame – Provolone, Pickled Vegetables, Arugula, and Garlic Aïoli on Ciabatta Bread served with Crispy Handmade Pasta Chips – $14.00
Paste (Pasta)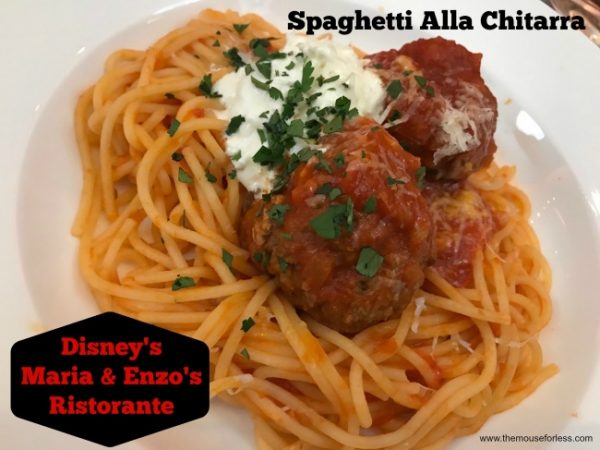 Spaghetti & Meatballs – Traditional Marinara Sauce, Parmesan Cheese, Basil – $23.00
Rigatoni alla Verdure – Roasted Eggplant, Zucchini, Tomatoes, Toasted Almonds, Basil, Parmesan Cheese – $20.00
Chicken Sausage Ragù – Spiral-shaped Pasta, Roasted Chicken Sausage, Toasted Garlic, Parmesan Cream Sauce – $23.00
Three Cheese Ravioli – Parmesan, Smoked Pecorino and Ricotta Ravioli, Tomato Sauce, Toasted Garlic, Almond Pesto – $21.00
Sicilian Oven-baked Pasta – Sicilian-baked Pasta, Meat Ragù, Peas, Zucchini, Caciocavallo Cheese – $23.00
Main Courses
Grilled Mahi Mahi – Roasted Red Pepper Romanesco, Artichokes, Green Beans, Lemon, Capers – $32.00
Eggplant Parmigiana – Eggplant, Tomatoes, Parmesan Cheese – $21.00
Mediterranean Sea Bass – Roasted Tomatoes, Broccolini, Garlic, Olive Oil-crushed Potatoes – $32.00
Grilled 16-oz Certified Angus Rib-Eye Steak – Roasted Forest Mushrooms, Fingerling Potatoes, Red Wine Beef Jus. Add Jumbo Gulf Shrimp 6 – $39.00
Prix Fixe Antipasti (select one)
Cesare – Mixed Romaine Lettuces, Olive Croutons, Parmesan Cheese, Classic Cesare Dressing
Caprese In Carozza – Crisp Marinated Fontina, Tomato, Basil Pesto
Polpettine – Classic Meatballs, Whipped Ricotta, Parmesan Cheese
Prix Fixe Secondi (select one)
Ravioli alla Panna – Three-Cheese Ravioli, Parmesan Cream Sauce, Almond Pesto – $21.00
Shrimp fra Maria – Linguini Pasta, Gulf Shrimp, Tomato, White Wine, Lemon, Calabrian Chili – $21.00
Chicken Parmigiana – Lightly Breaded Chicken Breast and Pan-fried topped with Tomato, Mozzarella, and Parmesan Cheese over Penne Pasta – $21.00
Sirloin Steak Pizzaiola – Grilled 8-oz Sirloin Steak, Salt-roasted Fingerling Potatoes, Roasted tomato Pizzaiola Sauce – $21.00
Dolci
Cannoli – Sheep's Milk Ricotta, Chocolate Chips, Candied Orange – $9.00
Cassata Siciliana – Traditional, Sicilian Ricotta-layered Sponge Cake – $10.00
Enzo's Torta – Chocolate and Mascarpone Cheesecake – $10.00
Gelato e Sorbetto – Crema, Cioccolato, Pistachio, Limone, Arancia – $9.00
Affogato di Vesuvio – Cremma Gelato, Espresso, Chocolate Whipped Cream, White Chocolate Snow – $12.00
Maria's Flight School Meal Kit (Kid's Menu)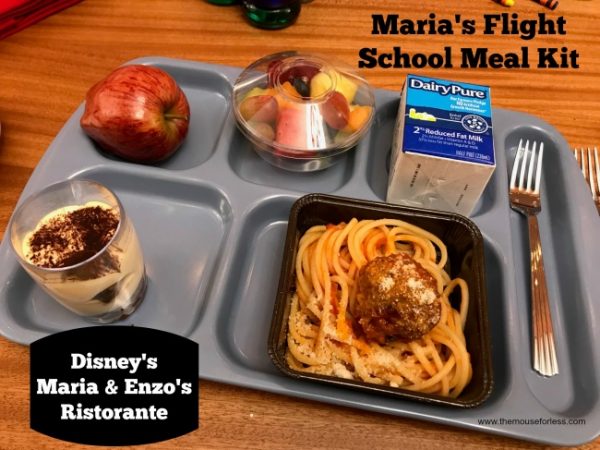 multi-compartment meal tray for kids

Choose one from each section – $12
Starters
Fried Cheese Bites with Marinara
Fruit Salad
Entrées
Spaghetti & Meatballs
Slice of Pizza
Chicken Tenders and Fried Potatoes
Penne and Butter
Dessert
Ice Cream
Chocolate Chip Cookie
Choice of Beverage
Milk
Chocolate Milk
Soda
Apple Juice
Fruit Punch
Maria & Enzo's Dinner Menu
Menu Date: 04/2019
Antipasti – Zuppa (Small Plates – Soup)
Antipasti Trio (minimum of two people) – Arancini, Mozzarella Caprese, Prosciutto di Parma- Per Person $12.00
Arancini – Fried Rice Balls stuffed with Meat Ragú and Mozzarella Cheese – $14.00
Caciocavallo Fritto – Fried Sicilian Cheese Fritters, Spicy Tomato Sauce – $13.00
Calamari – Crisp Rings served with Hot Peppers, Spicy Tomato, and Garlic Aïoli – $17.00
Sicilian Vegetable and Bean Soup – Seasonal Vegetables, Cannellini Beans, Parmesan Cheese – $10.00
Polpettine – Classic Meatballs, Whipped Ricotta, Pamresan – $12.00
Salumi e Formaggi (Minimum of Two Orders) – 24-month Aged Prosciutto, Salametto Piccante, Mortadella with Pistachio, Pecorino Romano, Parmigiano, Caciocavallo, Olives – Per Person $17.00
Insalate (Entree Salads)
add chicken $5, add shrimp* $6
Roasted Baby Beets – Marinated Mozzarella Cheese, Arugula, Toasted Walnuts, Citrus-Dijon Mustard – $13.00
Burrata Caprese – Heirloom Cherry Tomatoes, Soft Mozzarella, Basil, Extra Virgin Olive Oil – $18.00
Misticanza – Mixed Baby Greens, Fennel, Rainbow Carrots, Apple, White Balsamic Vinaigrette – $12.00
Large Cesare – Mixed Romaine Lettuces, Olive Croutons, Parmesan Cheese, Classic Cesare Dressing – $14.00
Small Caesar – Mixed Romaine Lettuce, Olive Croutons, Classic Cesare Dressing – $9.00
Paste (Pasta)
Spaghetti & Meatballs – Traditional Marinara Sauce, Parmesan Cheese, Basil – $25.00
Rigatoni alla Verdure – Roasted Eggplant, Zucchini, Tomatoes, Toasted Almonds, Basil, Parmesan Cheese – $22.00
Chicken Sausage Ragù – Spiral-shaped Pasta, Roasted Chicken Sausage, Toasted Garlic, Parmesan Cream Sauce – $24.00
Three Cheese Ravioli – Parmesan, Smoked Pecorino and Ricotta Ravioli, Tomato Sauce, Toasted Garlic, Almond Pesto – $22.00
Sicilian Oven-baked Pasta – Sicilian-baked Pasta, Meat Ragù, Peas, Zucchini, Caciocavallo Cheese – $23.00
Potato Gnocchi – Butternut Squash, Parmesan Cream, Spicy Italian Sausage, Basil Pesto – $24.00
Main Courses
Chicken Parmigiana – Lightly Breaded Chicken Breast, Tomatoes, Mozzarella, Parmesan Cheese – $29.00
Grilled Mahi Mahi – Roasted Red Pepper Romanesco, Artichokes, Green Beans, Lemon, Capers – $34.00
Eggplant Parmigiana – Eggplant, Tomatoes, Parmesan Cheese – $23.00
Mediterranean Sea Bass – Roasted Tomatoes, Broccolini, Garlic, Olive Oil-crushed Potatoes – $34.00
Grilled 16-oz Certified Angus Rib-Eye Steak – Roasted Forest Mushrooms, Fingerling Potatoes, Red Wine Beef Jus. Add Jumbo Gulf Shrimp 6 – $44.00
Maria's Flight School Meal Kit (Kid's Menu)
multi-compartment meal tray for kids

Choose one from each section – $12
Starters
Fried Cheese Bites with Marinara
Fruit Salad
Entrées
Spaghetti & Meatballs
Slice of Pizza
Chicken Tenders and Fried Potatoes
Penne and Butter
Dessert
Ice Cream
Chocolate Chip Cookie
Choice of Beverage
Milk
Chocolate Milk
Soda
Apple Juice
Fruit Punch
Maria & Enzo's Sunday Brunch Menu
Menu Date: 04/2019
Prix Fixe Brunch Starters
Pastry Basket – Chocolate Croissants, Butter Croissants, Assorted Mini Muffins
Antipasti – Salumi e Formaggi – Salumi Piccante, Salumi Finocchiona, Mortadella with Pistachios, Pecorino, Grana Padano, Fontina
Prix Fixe Brunch Insalate
Caesar Salad – Romaine Lettuces, Olive Croutons, Classic Caesar Dressing
Orange and Fennel Salad – Taggiasca Olive, Arugula, Citrus Vinaigrette
Caprese Salad – Tomatoes, Fresh Mozzarella, Extra Virgin Olive Oil, Fresh Basil, Balsamic
Norwegian Smoked Salmon – Red Onion, Capers, Creme Fraiche
Prix Fixe Brunch Breakfast Items
Assorted Frittatas
Scrambled Eggs
Smoked Bacon
Italian Sausage
Rosemary-Parmesan Roasted Potatoes
Brioche French Toast – Fresh Berries, Vanilla Mascarpone Whipped Cream, Maple Syrup
Prix Fixe Brunch Lunch Items
Sicilian Pasta al Forno – Baked Pasta, Bolognese Sauce, Peas, Zucchini, Caciocavallo Cheese
Rigatoni Pasta alle Verdure – Eggplant, Tomato, Toasted Garlic, Almonds, Parmesan Cheese, Basil
Carving Station – Chef's selection
Prix Fixe Brunch Dessert
Chocolate Fountain – with Accompaniments – Blondies, Brownies, Mini Cannolis, Rice Krispy Treats, Tiramisu, Strawberries, Pineapple, Orange Slices, Watermelon, Pretzels Biscotti, Marshmallows, Mini Raspberry Cheesecakes
Beverages
Bellini, Mimosa, or Rossini – $5.00
Elevated Bloody Mary – $7.00
** Menu and Prices are Subject to Change Without Notice **