Enjoy Boma-Flavors of Africa Buffet at Disney's Animal Kingdom Lodge. Guests will bask in the warmth of this expansive and inviting family buffet, which resembles an African marketplace. Experience open kitchens and watch the creative culinary team prepare salads, vegetarian dishes, grilled seafood and roasted meats — inspired by the varied flavors of over 50 African countries from the coast of the Mediterranean to the Indian Ocean. Capture the magic of the alluring tapestry of tastes and textures that make up the flavors of Africa at Boma Buffet.
Boma is located in Disney's Animal Kingdom Lodge Resort.  Find more Walt Disney World dining locations on our Walt Disney World menus page.

Planning a Walt Disney World Vacation?
For a Free no-obligation quote, contact our sponsor
The Magic For Less Travel
. The Magic For Less Travel is an Authorized Disney Vacation Planner and has been helping guests plan magical vacations since 2002. Receive the best prices and free travel planning services. Their fee-free services will help you save time, money, and stress while planning a vacation designed around you and your needs!
Boma Breakfast Buffet Menu
Menu Date: 08/2021
Wake up to the Boma Breakfast Buffet. Themed marketplace, offering mouth-watering American and African fare awaits you inside. Coffee brews from 7:30 until 11 a.m. Stop by for a cup!
Adult Price: $29
Child Price (ages 3 – 9): $16
Prices vary by season and include tax, but not gratuity.
Join Boma's International cast of early risers and enjoy a variety of items including:
Boma Breakfast Buffet Offerings (Partial Listing)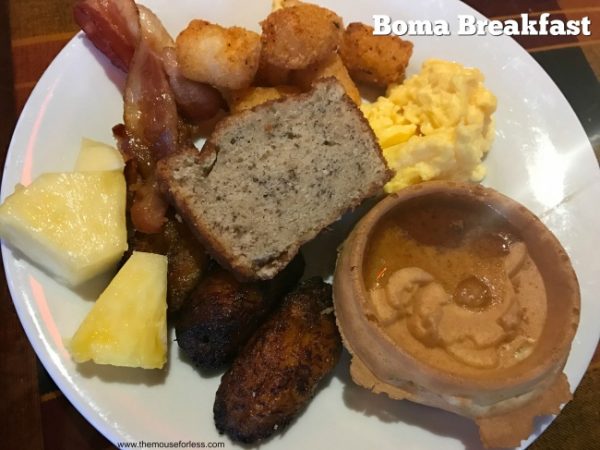 Breakfast Muffins
Pancakes
Waffles
Breakfast Potatoes
Bacon and Sausage
Cinnamon-Raisin Bread Pudding
Carved Ham
Coconut Steel-cut Oatmeal
Turkey Bobotie
Omelets
Ham and Swiss | Western with Ham, Peppers, Onions, Cheddar | Egg White with Roasted Red Pepper, Spinach, Feta | Plant-based Bobotie
Cinnamon Rolls
Sticky Buns
Deviled Eggs with Smoked Salmon and Hard-boiled Eggs
Composed Yogurt Parfait
Avocado, Papaya, Grapefruit Salad
Boma Specialty Non-Alcoholic Beverages
Press Pot with Joffrey's™ Kenyan Coffee
Premium Sparkling or Still Water
Latte
Cappuccino
Espresso
Watermelon Lemonade
Sparkling No-Jito
Fresh Limes, Agave Nectar, and Mint topped with Soda Water
Boma Dinner Buffet Menu
Menu Date: 08/2021
After a long day in the park, journey back to an abundance of African and American specialties available in the Boma. We've been preparing for your arrival. To enjoy the 60 different offerings available, with a menu that rotates daily, join us for dinner from 5:00 pm to 9:30 p.m. daily.
Comfort food favorites prepared with an African flair.
Adult Price: $49
Child Price (ages 3 – 9): $27
Prices vary by season and include tax, but not gratuity.
Buffet offerings can include a selection of any of the following & rotate daily:
Boma Buffet Offerings (Partial Listing)
Assorted Breads
French Rolls, Mealie Bread and Butter
Pita with Hummus and Coriander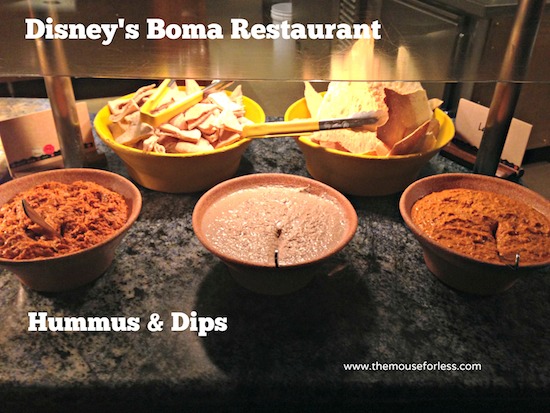 Berbere-Chickpea Salad
Tabbouleh
Tunisian Couscous and Shrimp Salad
North African Cauliflower Salad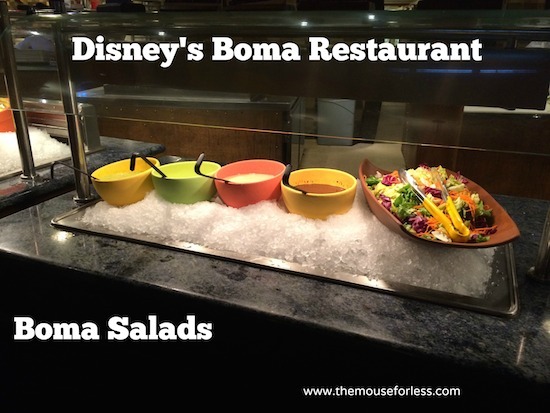 Spiced Green Beans with Golden Raisins
Black-Eyed Peas, Greens and Chakalaka
Peanut Rice
Penne Pasta, Marinara and Meatballs
Macaroni & Cheese
Chicken Bites
Sweet Corn Pudding
Olive Oil Herbed-crushed Potatoes
Senagalase Yassa-style Salmon
Lamb Bobotie
Boma Specialty Non-Alcoholic Beverages
Press Pot with Joffrey's™ Kenyan Coffee
Premium Sparkling or Still Water
Latte
Cappuccino
Espresso
Watermelon Lemonade
Sparkling No-Jito
Fresh Limes, Agave Nectar, and Mint topped with Soda Water
Boma Specialty Alcoholic Beverages
Mt Kilimarita
Our ultimate African Margarita with Patrón Silver Tequila, Van der Hum Tangerine Liqueur, and Sweet-and-Sour with a splash of Cranberry Juice
African Rum Runner
A refreshing combination of African Starr Rum, Blackberry Brandy, and Banana Liqueur with Orange and Pineapple Juices
Tusker Premium Lager, Kenya
Casa Premium Lager, Morocco
Cigar City Jai Alai IPA, Florida
Orlando Brewing Organic Blonde Ale, Florida
** Boma Menu and Prices are Subject to Change Without Notice *