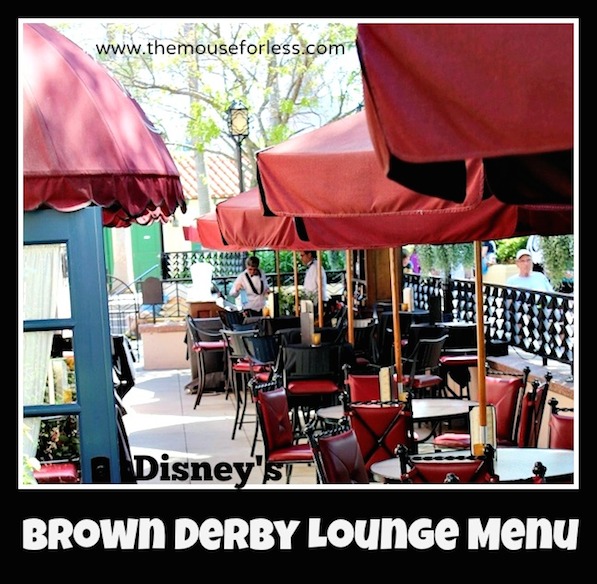 The Hollywood Brown Derby Lounge is located on the patio of The Hollywood Brown Derby restaurant. This hot spot serves guests on a first come, first served basis with no reservations required. Hollywood Brown Derby Lounge menu items will include small bites, beers, wines, and specialty cocktails.
The Hollywood Brown Derby Lounge is located in Disney's Hollywood Studios theme park.  Find more Walt Disney World dining locations on our Walt Disney World Resort menus page.
Restaurant Info: American, Lunch/Dinner/Small Bites, A la carte, $ – $14.99 and under per adult
Find out how you can save money on dining at Walt Disney World by using one of Disney's Dining Plans.

Planning a Walt Disney World Vacation?
For a Free no-obligation quote, contact our sponsor
The Magic For Less Travel
. The Magic For Less Travel is an Authorized Disney Vacation Planner and has been helping guests plan magical vacations since 2002. Receive the best prices and free travel planning services. Their fee-free services will help you save time, money, and stress while planning a vacation designed around you and your needs!
The Hollywood Brown Derby Lounge Menu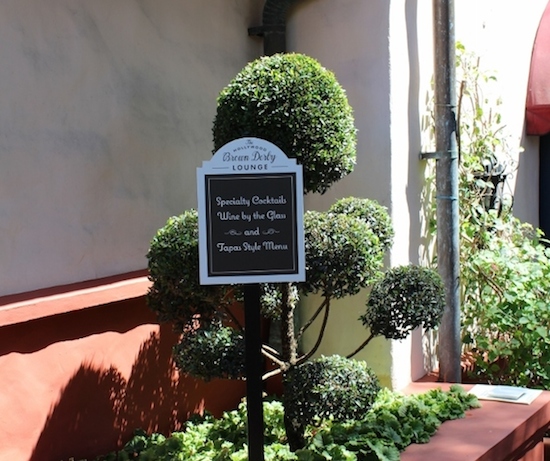 Menu Date: 2023
Lounge Appetizers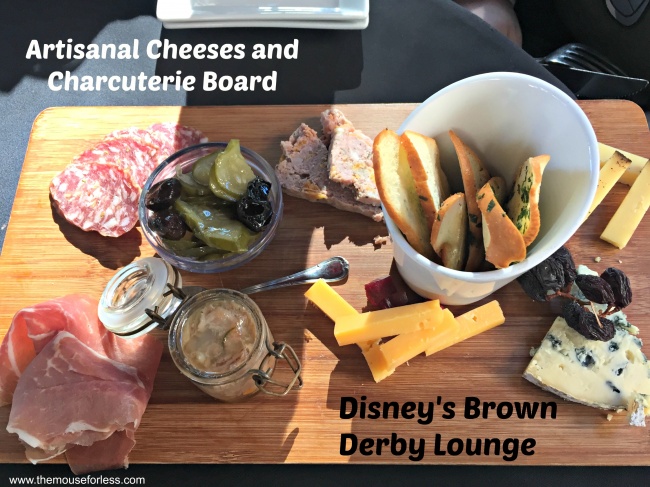 Charcuterie Board – Chef's selection of Cured Meats, Cheeses, and Accompaniments – $21.00
Shrimp Cocktail – Shaved Fennel, Cucumbers, Traditional Cocktail Sauce – $17.00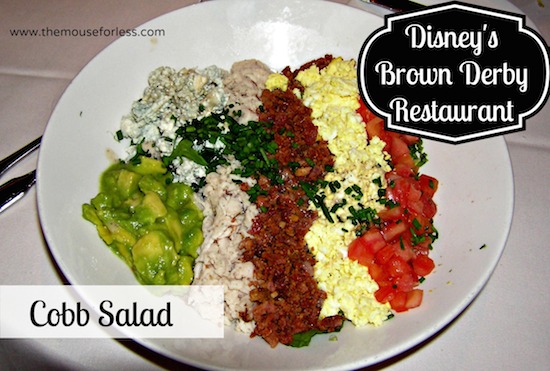 Corn Bisque – Grilled Local Corn, Guajillo Oil, Corn Fritter (Plant-based) – $15.00
Crab Louie – Crispy Olive Bread, Citrus Blend, Fried Capers, Louie Sauce – $17.00
Heirloom Tomato and Burrata Salad – Shaved Onions, Thai Basil, Gremolata, Citrus Vinaigrette – $13.00
Escargot – Roasted Garlic Béchamel, Crispy Prosciutto, Puff Pastry – $19.00
Roasted Bone Marrow – Braised Beef, Pickled Mustard Seeds, Fig Bread Crostini – $17.00
Lounge Entrées
Our Famous Cobb Salad – Spit-roasted Turkey, Bacon, Egg, Tomatoes, Blue Cheese, Avocado, Classic Dressing. Add Chicken 29.00 | Add Shrimp 32.00  – $20.00
BLT Sliders – Chipotle-glazed Pork Belly, Pea Shoots, Tomato Jam, Pickled Red Onions – $18.00
Filet Mignon* – Glazed Carrots, Potato Pavé, Horseradish Cream, Peppercorn Sauce – $49.00
Sustainable Fish* – White Bean Ragoût, Derby Summer Vegetables, Roasted Tomato Emulsion – $45.00
Free-Range Chicken and Dumplings – Lemon-Ricotta Gnudi, Shishito Cream, Gooseberry Jus – $35.00
Grilled Pork* – Lavender-Sage Polenta, Local Corn Salsa, Huckleberry Barbecue – $38.00
Seafood Cioppino – Shrimp, Sea Scallop, Seasonal Fish, Mussels, Toasted Baguette, Aromatic Tomato Broth – $48.00
Shepherd's Pie – Roasted Garlic Mashed Potatoes, Mushrooms, Peas, Lentils, Chickpeas, Carrot Romesco (Plant-based) – $32.00
Lamb Shank – Summer Vegetables, Harissa Vinaigrette, Nasturtium Chermoula – $45.00
Enhancements
Shrimp Macaroni & Cheese – Herbed Breadcrumbs, Smoked Gouda Sauce – $16.00
Mixed Mushroom Sauté – Corn-Truffle Purée, Aged Balsamic – $9.00
Spoon Bread – Lavender-Honey Butter – $8.00
Desserts
Grapefruit Cake – A Brown Derby Original. Vanilla Sponge Cake, Grapefruit Syrup,Cream Cheese Icing – $13.00
Crème Brûlée – Citrus and Cherry-spiced Compote – $13.00
Brûléed Champagne Sabayon – Minted Strawberries, Lemon-Pine Nut Biscotti – $13.00
Chocolate Rose – Chocolate Cake, Chocolate Sauce, Hazelnut Cream (Plant-based) – $12.00
Decadent Chocolate Cake – Towering Chocolate Cake, Dark Chocolate Mousse, Whipped Ganache – $13.00
Kids' Appetizers (à la carte)
Chicken Noodle Soup – $3.00
Chopped Salad – $3.00
Kids' Create-Your-Own Selections (choose two)
Seasonal Vegetables
Mashed Potatoes
Roasted Sweet Potatoes
Baked Potato Chips
Fresh Fruit Cup
Apple Slices
Strawberry and Yogurt Parfait
Non-Alcoholic Beverages
Peru Alto Mayo Protected Forest Coffee Roasted by Joffrey's Coffee™ – Disney supports Conservation International's Alto Mayo Protected forest project in Peru, which promotes sustainable coffee growing and economic growth. French Press Pot. Great for sharing. – $9.00
Featured Wines
Domaine Serene Evenstad Reserve Chardonnay, Dundee Hills
Castello Banfi Brunello di Montalcino, Tuscany
Jarvis Finch Hollow Chardonnay, Napa Valley
Caymus Cabernet Sauvignon, Napa Valley
After-Dinner Drink Flights
Dessert Wine Flight – Inniskillin Vidal Icewine, Niagara Estate, Royal Tokaji Red Label 5 Puttonyos, Hungary, La Spinetta Bianco Spino Moscato D' Asti – $27.00
Grand Marnier Flight – Grand Marnier, Grand Marnier 100 yr, Grand Marnier 1880 – $46.00
Tawny Port Flight – Dow's 10 yr, Dow's 20 yr, Dow's 30 yr – $25.00
After-Dinner Drinks
Nutty Irishman – Baileys Irish Cream and Frangelico topped with Whipped Cream – $15.50
Alberto Dante's Millionaire Cappuccino – Baileys Irish Cream, Grand Marnier, Kahlúa, and Frangelico – $14.50
Grapefruit Cake Martini – Celebrate the taste of the Grapefruit Cake created at the original Hollywood Brown Derby in the 1940s! Our concoction will delight you with Deep Eddy Ruby Red Grapefruit Vodka, Stoli Vanil Vodka, and a splash of Cream with a Graham Cracker Rim. – $15.50
Dessert Wines (3oz Pour)
Banfi Rosa Regale Brachetto d'Acqui, Piedmont, Italy
Inniskillin Vidal Icewine, Niagara Estate
Royal Tokaji Red Label 5 Puttonyos, Hungary
Cascinetta Vietti Moscato d'Asti, Piedmont
Ports/Sherry/Madeira (3-oz pour)
Quinta de Noval Black
Character Porto, Fonesca Bin 27
Dow's 10 year Tawny Port
Dow's 20 year Tawny Port
Dow's 30 year Tawny Port
Cognacs/Armagnacs (2-oz pour)
Grand Marnier 100 yr
Grand Marnier 1880
Louis XIII de Rémy Martin (1-oz)
Rémy Martin VSOP
Rémy Martin XO
Allergy-Friendly Appetizers
Guests must speak to a Cast Member about their allergy-friendly request
Corn Bisque – Grilled Local Corn, Guajillo Oil, Corn Fritter (Plant-based) (For Egg, Fish/Shellfish, Milk, Peanut/Tree Nut, Sesame, and Soy Allergies) – $15.00
Crab Louie – Crispy Olive Bread, Citrus Blend, Fried Capers, Louie Sauce (For Milk and Peanut/Tree Nut Allergies) – $17.00
Heirloom Tomato and Burrata Salad – Shaved Onions, Thai Basil, Gremolata, Citrus Vinaigrette (For Egg, Fish/Shellfish, Peanut/Tree Nut, Sesame, and Soy Allergies) – $13.00
Charcuterie Board – Chef's selection of Cured Meats, Cheeses, and Accompaniments (For Egg, Fish/Shellfish, Peanut/Tree Nut, Sesame, and Soy Allergies) – $21.00
Shrimp Cocktail – Shaved Fennel, Cucumbers, Traditional Cocktail Sauce (For Gluten/Wheat, Egg, Milk, Peanut/Tree Nut, Sesame, and Soy Allergies) – $17.00
Escargot – Roasted Garlic Béchamel, Crispy Prosciutto, Puff Pastry (For Fish, Peanut/Tree Nut, Sesame, and Soy Allergies) – $19.00
Roasted Bone Marrow – Braised Beef, Pickled Mustard Seeds, Fig Bread Crostini (For Egg, Fish/Shellfish, Milk, Peanut/Tree Nut, Sesame, and Soy Allergies) – $17.00
Allergy-Friendly Enhancements
Guests must speak to a Cast Member about their allergy-friendly request
Shrimp Macaroni & Cheese – Herbed Breadcrumbs, Smoked Gouda Sauce (For Egg, Fish, Peanut/Tree Nut, Sesame, and Soy Allergies) – $16.00
Mixed Mushroom Sauté – Corn-Truffle Purée, Aged Balsamic (For Gluten/Wheat, Egg, Fish/Shellfish, Milk, Peanut/Tree Nut, Sesame, and Soy Allergies) – $9.00
Spoon Bread – Lavender-Honey Butter (For Gluten/Wheat, Fish/Shellfish, Peanut/Tree Nut, Sesame, and Soy Allergies) – $8.00
Allergy-Friendly Desserts
Guests must speak to a Cast Member about their allergy-friendly request
Brown Derby Original Grapefruit Cake – Vanilla Sponge Cake with Grapefruit Syrup, Grapefruit Cheesecake, and Grapefruit Jam (For Fish/Shellfish, Peanut/Tree Nut, and Sesame Allergies) – $13.00
Brûléed Champagne Sabayon – Minted Strawberries, Lemon-Pine Nut Biscotti (For Fish/Shellfish, Peanut, Sesame, and Soy Allergies) – $13.00
Crème Brûlée – Citrus and Cherry-spiced Compote (For Fish/Shellfish, Peanut/Tree Nut, Sesame, and Soy Allergies) – $13.00
Chocolate Rose – Chocolate Cake, Chocolate Sauce, Hazelnut Cream (Plant-based) (For Egg, Fish/Shellfish, Milk, Peanut, and Sesame Allergies) – $12.00
Decadent Chocolate Cake – Towering Chocolate Cake, Dark Chocolate Mousse, Whipped Ganache (For Fish/Shellfish,  Peanut/Tree Nut, and Sesame Allergies) – $13.00
Allergy-Friendly Kids' Appetizers (à la carte)
Guests must speak to a Cast Member about their allergy-friendly request
Chicken Noodle Soup – (For Egg, Fish/Shellfish, Peanut/Tree Nut, and Sesame Allergies) – $3.00
Chopped Salad – (For Gluten/Wheat, Egg, Fish/Shellfish, Milk, Peanut/Tree Nut, Sesame, and Soy Allergies) – $3.00
Allergy-Friendly Kids' Create-Your-Own Entrées (choose one)
Guests must speak to a Cast Member about their allergy-friendly request
Grilled Chicken Breast – Served with choice of two (2) Selections and choice of Small Lowfat Milk, Small DASANI® Bottled Water, or Small Minute Maid® Apple Juice (For Gluten/Wheat, Egg, Fish/Shellfish, Milk, Peanut/Tree Nut, Sesame, and Soy Allergies) – $15.00
Grilled Seasonal Fish – Served with choice of two (2) Selections and choice of Small Lowfat Milk, Small DASANI® Bottled Water, or Small Minute Maid® Apple Juice (For Gluten/Wheat, Egg, Milk, Peanut/Tree Nut, Sesame, and Soy Allergies) – $17.00
Grilled Beef Filet – Served with choice of two (2) Selections and choice of Small Lowfat Milk, Small DASANI® Bottled Water, or Small Minute Maid® Apple Juice (For Gluten/Wheat, Egg, Fish/Shellfish, Milk, Peanut/Tree Nut, Sesame, and Soy Allergies) – $15.00
Hot Dog – Served with choice of two (2) Selections and choice of Small Lowfat Milk, Small DASANI® Bottled Water, or Small Minute Maid® Apple Juice (For Egg, Fish/Shellfish, Milk, Peanut/Tree Nut, and Sesame Allergies) – $9.00
Macaroni & Cheese – Served with choice of two (2) Selections and choice of Small Lowfat Milk, Small DASANI® Bottled Water, or Small Minute Maid® Apple Juice (For Egg, Fish/Shellfish, Peanut/Tree Nut, and Sesame Allergies) – $11.00
Allergy-Friendly Kids' Create-Your-Own Selections (choose two)
Guests must speak to a Cast Member about their allergy-friendly request
Seasonal Vegetables – (For Gluten/Wheat, Egg, Fish/Shellfish, Milk, Peanut/Tree Nut, Sesame, and Soy Allergies)
Mashed Potatoes – (For Gluten/Wheat, Egg, Fish/Shellfish, Sesame, and Soy Allergies)
Roasted Sweet Potatoes – (For Gluten/Wheat, Egg, Fish/Shellfish, Milk, Peanut/Tree Nut, Sesame, and Soy Allergies)
Baked Potato Chips – (For Gluten/Wheat, Egg, Fish/Shellfish, Milk, Peanut/Tree Nut, and Sesame Allergies)
Apple Slices – (For Gluten/Wheat, Egg, Fish/Shellfish, Milk, Peanut/Tree Nut, Sesame, and Soy Allergies)
Fresh Fruit Cup – (For Gluten/Wheat, Egg, Fish/Shellfish, Milk, Peanut/Tree Nut, Sesame, and Soy Allergies)
Strawberry and Yogurt Parfait – (For Gluten/Wheat, Egg, Fish/Shellfish, Peanut/Tree Nut, Sesame, and Soy Allergies)
Allergy-Friendly Kids' Desserts
Guests must speak to a Cast Member about their allergy-friendly request
Fresh Fruit Cup – (For Gluten/Wheat, Egg, Fish/Shellfish, Milk, Peanut/Tree Nut, Sesame, and Soy Allergies)
** Hollywood Brown Derby Lounge Menu and Prices are Subject to Change Without Notice **