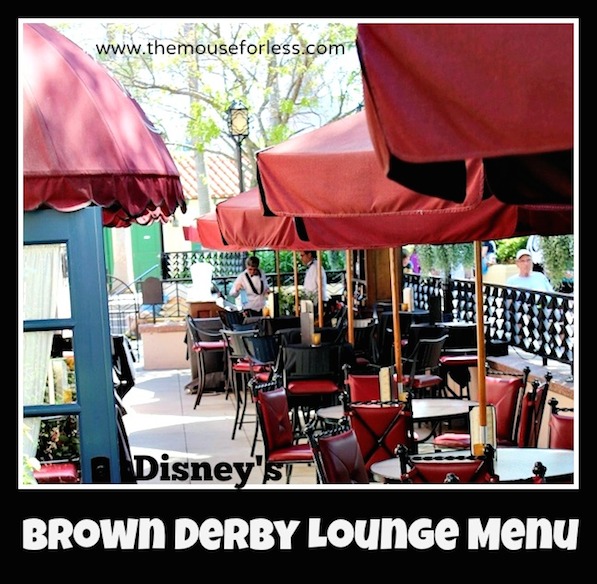 The Hollywood Brown Derby Lounge is located on the patio of The Hollywood Brown Derby restaurant. This hot spot serves guests on a first come, first served basis with no reservations required. Hollywood Brown Derby Lounge menu items will include small bites, beers, wines, and specialty cocktails.
The Hollywood Brown Derby Lounge is located in Disney's Hollywood Studios theme park.  Find more Walt Disney World dining locations on our Walt Disney World Resort menus page.
Restaurant Info: American, Lunch/Dinner/Small Bites, A la carte, $ – $14.99 and under per adult
Find out how you can save money on dining at Walt Disney World by using one of Disney's Dining Plans.

Planning a Walt Disney World Vacation?
For a Free no-obligation quote, contact our sponsor
The Magic For Less Travel
. The Magic For Less Travel is an Authorized Disney Vacation Planner and has been helping guests plan magical vacations since 2002. Receive the best prices and free travel planning services. Their fee-free services will help you save time, money, and stress while planning a vacation designed around you and your needs!
The Hollywood Brown Derby Lounge Menu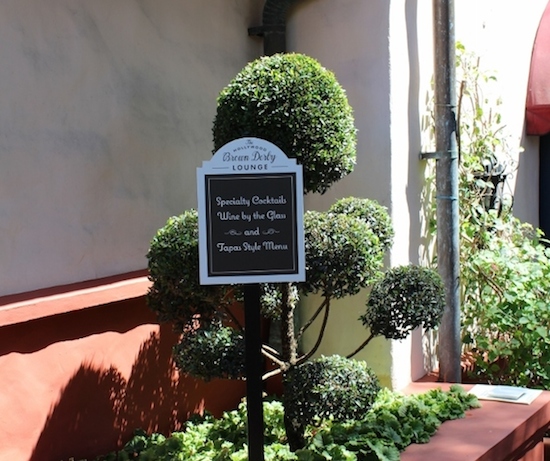 Menu Date: 09/2020
Small Plates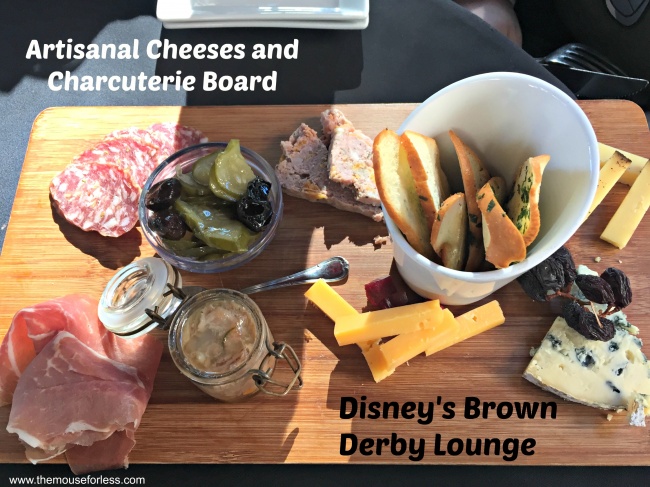 Artisanal Cheeses and Charcuterie Board – An assortment of Artisanal Cheeses and meats with House-made Pickles and assorted Bread – $20.00
Andouille-crusted Shrimp – Cotswold Cheddar Grits, Micro Salad with Lime, and Piment d'Espelette Oil – $15.00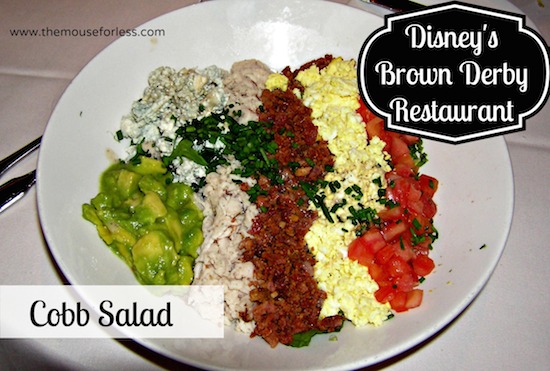 Famous Derby Cobb Salad – Finely Chopped Greens, Turkey Breast, Bacon, Egg, Tomatoes, Crumbled Blue Cheese, Avocado, Chives and Cobb dressing – $11.00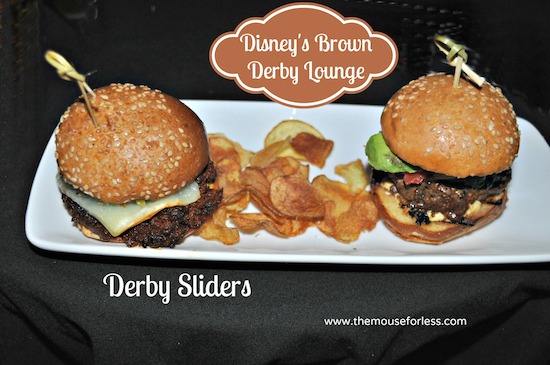 Derby Sliders – A Wagyu Beef with Cognac Mustard Aïoli, Smoked Gouda Cheese, Bacon and Avocado AND Duck Confit, Taleggio Cheese, Chipotle Vegetable Slaw, Sweet Onion, and Orange Conserve and crispy Leeks – $17.00
Guests can also order from the full Brown Derby menu upon request.
Mini Dessert Trio – Select three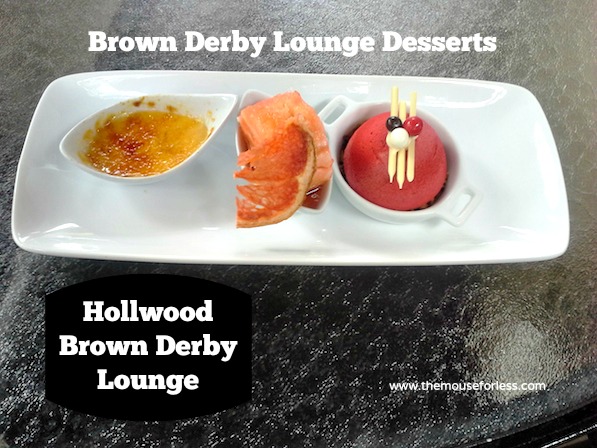 Espresso Cheesecake – Espresso – Chocolate Cheesecake, Chocolate Cream, Caramel – banana sauce, Espresso Macaron, Hazelnut Powder, Milk Chocolate Twig – $12.00
Chocolate Mousse Cake  – Dark Chocolate Sponge Cake, Dark Chocolate Mousse, Chocolate sauce, Amarena Black Cherries – $12.00
Grapefruit Cake – a Brown Derby original – $13.00
Mango – Passion Fruit Mousse – Mango Mousse, Passion Fruit Ganache, Mango Buttercream, Mango Chocolate – $12.00
Chocolate Coconut Cake – with Chocolate sauce, Hazelnut cream, and Fresh raspberries – $12.00
Non-Alcoholic Cocktails
Kiwi Glitzer – Sprite® and Kiwi – $5.99
Maliblue Beach – Lemonade and Blue Raspberry – $5.99
Pink Palace – Sprite® and Watermelon – $5.99
Sunset Boulevard – Sprite® and Tangerine – $5.99
Specialty Cocktails and Martinis
Bloody Mary – Absolut Peppar Vodka and Bloody Mary Mix garnished with Celery and Olives – $14.00
Whiskey Sour – Crown Royal Whiskey, Simple Syrup, and freshly squeezed Lemon Juice – $14.00
Hollywood Manhattan – Palm Ridge Reserve Whiskey and Antica Carpano Sweet Vermouth garnished with Luxardo Cherries – $16.00
Gin Mule – Nolet's Silver Dry Gin, Fever Tree Ginger Beer with fresh Lime Juice and Mint Leaves – $14.00
Grapefruit Cake Martini – Deep Eddy Ruby Red Grapefruit Vodka, Stoli Vanil Vodka, and a splash of Cream with a Graham Cracker Rim – $14.00
Spiked Sangria – White – White Wine blended with Peach Schnapps, Fruit Juices, and fresh Fruit, topped with Sprite – $11.00
Spiked Sangria – Red – Red Wine blended with Apricot Brandy, Fruit Juices, and fresh Fruit, topped with Sprite – $11.00
Specialty Flights
Martini Flight – Classic Gin, Citrus Vodka, and Derby Cosmo – order one (1) or a sampling of all three – $15.50
Margarita Flight – Classic, Blood Orange, or Pomegranate Margarita (order one (1) or try a flight of all three) – $15.25
Premium Ales and Beers
Ace Joker Hard Cider – $10.25
Chimay Blue – $12.75
Corona – $8.00
Founders All Day IPA – $9.00
Orlando Brewing I-4 IPA – $9.00
New Belgium Fat Tire Amber Ale – $9.00
Schöfferhoffer Grapefruit – $10.25
Terrapin Hopsocutioner – $9.00
Yuengling – $7.75
Truly Wild Berry Seltzer – $9.25
White Wines by the Glass
Honig Sauvignon Blanc, Napa – $12.00
Sartori Pinot Grigio, Veneto – $14.00
Louis Jadot Pouilly-Fuissé, France – $17.00
Mer Soleil Chardonnay, Santa Lucia Highlands – $17.00
Nicolas Feuillatte Brut Reserve Champagne – $19.00
Coppo Moncalvina Moscato d' Asti Piedmont – $11.00
L'Ecole No 41 Chenin Blanc, Colombia Valley – $11.00
Red Wines by the Glass
Hitching Post Cork Dancer Pinot Noir, Santa Barbara – $17.00
Santa Ema Reserve Merlot, Chile – $11.00
Masi Campofiorin Ripasso, Vento – $12.00
Chappellet Mountain Cuvée Cabernet, Napa – $18.00
Domaine Bousquet Malbec Grande Reserva, Tupungato – $13.00
** Hollywood Brown Derby Lounge Menu and Prices are Subject to Change Without Notice **