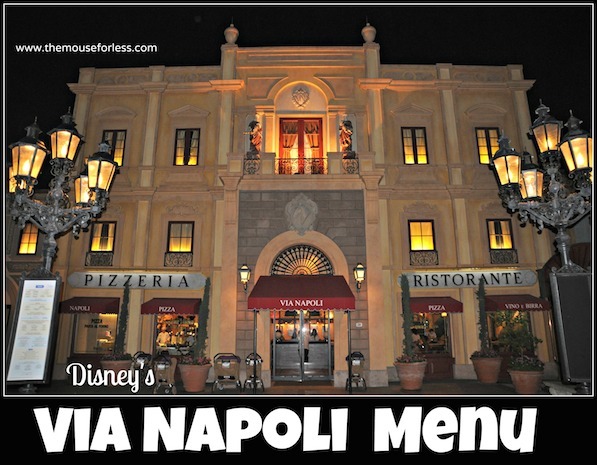 Created by Nick Valenti, CEO of the Patina Restaurant Group, Via Napoli's menu is based on his travels in Southern Italy and time developing and overseeing the successful Naples 45 Ristorante e Pizzeria in New York. Valenti spent time in Naples studying the art of dough, crust, sauce and oven temperatures at the famous pizzerias Da Michele and Trianon. A feature at Via Napoli is its wood-burning ovens, cleverly named after the three active volcanoes in Italy – Mount Etna, Mount Vesuvius, and Stromboli.
Via Napoli is located in Disney's Epcot theme park.  Find more Walt Disney World dining locations on our Walt Disney World Resort menus page.
Restaurant Info: Italian, Lunch/Dinner, $$ – $15.00 to $34.99 per adult
Find out how you can save money on dining at Walt Disney World by using one of Disney's Dining Plans.
Lunch and Dinner Menu   Kids' Menu

Planning a Walt Disney World Vacation?
For a Free no-obligation quote, contact our sponsor
The Magic For Less Travel
. The Magic For Less Travel is an Authorized Disney Vacation Planner and has been helping guests plan magical vacations since 2002. Receive the best prices and free travel planning services. Their fee-free services will help you save time, money, and stress while planning a vacation designed around you and your needs!
Via Napoli Lunch and Dinner Menu
Menu Date: 12/2019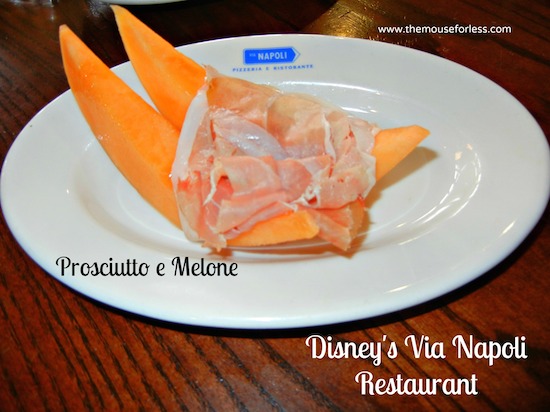 Appetizers
Arancini – Fried Risotto balls, Mozzarella meat ragu  – $13.00
Calamari Fritti – Fried Calamari rings served with Spicy tomato sauce – $19.00
Mozzarella Caprese – Fior di Latte mozzarella, Vine Ripened tomato, basil – $9.00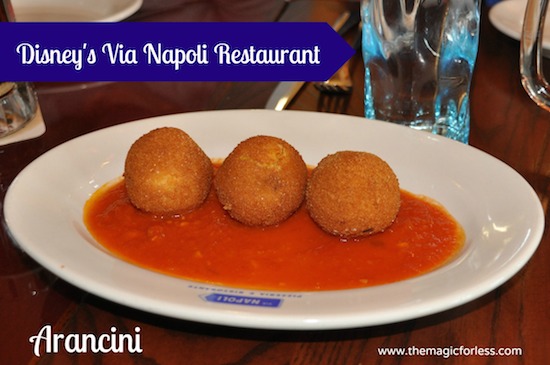 Cimarola – fried stuffed artichokes, taleggio, prosciutto – $9.00
Prosciutto e Melone– prosciutto, Melon, arugula – $13.00
Antipasto Misto – chef's selection of cured meats, cheeses, assorted Italian specialty salads, and vegetables. Serves 2-3 people. – $34.00
Insalate (Salads) & Zuppe (Soup)
Cesare – romaine lettuce, shaved parmesan, savory bread crumbs – $18.00
Mediterranea – mixed greens, vine ripened tomato, black and green olives, cucumber, feta cheese dressing – $15.00
Contadino – arugula, string beans, candied walnuts, pear, pecorino, mustard vinaigrette – $14.00
Add Chicken – $7.00
Add Shrimp – $9.00
Minestrone – vegetable soup with pasta – $9.00
Pasta
Fettuccine "Via Napoli" – mushrooms, prosciutto, choice of shrimp or chicken – $29.00
Penne "Arrabiata" – spicy tomato, garlic, basil, fresh mozzarella – $25.00
Lasagna Napoletana – beef, veal, and pork ragù, fresh egg pasta, béchamel – $27.00
Linquini di Mare – linguine, mussels, little neck clams, cherry tomato sauce, pancetta – $28.00
Spaghetti E Polpettine – hand-crafted veal meatballs & tomato sauce – $24.00
Ravioli  de Ricotta e Spinaci – Spinach, Ricotta, tomato sauce – $26.00
Secondi (Entrées)
Poll0 Parmigiana – breaded chicken breast, tomato, and mozzarella, spaghetti Pomodoro – $26.00
Tortino Melanzane – eggplant, tomato and mozzarella, spaghetti Pomodoro – $22.00
Branzino – grilled sea bass with spinach, potatoes, salmoriglio Trapanese – $31.00
Petto di Pollo – pounded chicken, oven roasted vegetables, pesto sauce – $24.00
Arista de Maiale – pork chop, eggplant, potatoes,rainbow cauliflower, string beans – $29.00
Bistecca – 12-oz grilled rib-eye, roasted potatoes, broccoli rabe – $35.00
Wood Fired Authentic Pizza Napoletana
Caputo flour imported from Naples, San Marzano tomatoes, handmade fior di latte mozzarella, water from our wells identical to the water found in Naples to make our pizza as authentic and delicious as that round on the streets of Naples.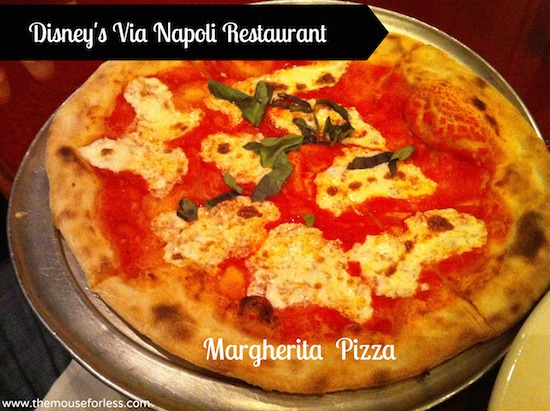 Margherita – tomato, mozzarella, basil Individual – $18.00 | Large – $29.00 (serves 2-3) | Mezzo Metro – $39.00 (serves 3-5)
Capriciossa – tomato sauce, eggplant, artichokes, ham, mushrooms, mozzarella – Individual – $21.00 | Large – $31.00 (serves 2-3) | Mezzo Metro – $41.00 (serves 3-5)
Pepperoni – tomato sauce, pepperoni, tomato, mozzarella – Individual – $21.00 | Large – $33.00 (serves 2-3) | Mezzo Metro – $45.00 (serves 3-5)
Quattro Formaggi – white pizza, mozzarella, parmesan, fontina, provolone – Individual – $22.00 | Large – $35.00 (serves 2-3) | Mezzo Metro – $45.00 (serves 3-5)
Piccante – tomato sauce, Italian spicy sausage, mozzarella – Individual – $21.00 | Large – $33.00 (serves 2-3) | Mezzo Metro – $45.00 (serves 3-5)
Carciofi – white pizza, artichoke, fontina, mozzarella, truffle oil – Individual – $22.00 | Large – $35.00 (serves 2-3) | Mezzo Metro – $45.00 (serves 3-5)
San Gennaro – white pizza – mozzarella, fontina, sweet Italian sausage, cherry peppers, onions, tomato – Individual – $22.00 | Large – $35.00 (serves 2-3) | Mezzo Metro – $48.00 (serves 3-5)
Broccolini – fresh diced tomato, broccoli rabe, fontina, mozzarella – Individual – $22.00 | Large – $35.00 (serves 2-3) | Mezzo Metro – $48.00 (serves 3-5)
Prosciutto e Melone – white pizza, fontina, mozzarella, prosciutto, cantaloupe, arugula – Individual – $23.00 | Large – $36.00 (serves 2-3) | Mezzo Metro – $48.00 (serves 3-5)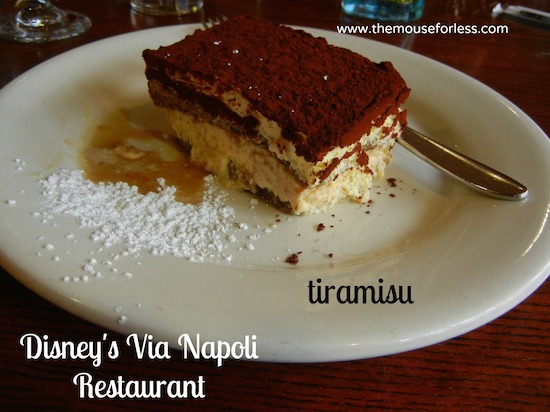 Desserts
Tiramisu – mascarpone cream, espresso coffee, lady fingers and chocolate – $12.00
Zeppole di Caterina – ricotta cheese fritters, served with whipped cream and chocolate sauce – $14.00
Cannolo Sicilano – crisp pastry filled with sweet ricotta, chocolate, and candied orange – $10.00
Gelati e Sorbetto – vanilla, chocolate, pistachio, lemon sorbet – $10.00
Coppa di Bruitti Ma Buoni – "Ugly But Good" Amarena cherry and vanilla gelato sundae – $15.00
Torta Caprese – a traditional Neopolitan chocolate-hazelnut and almond cake – $12.00
Gelato Frizzante – Ice Cream Soda "Italian Style" made with San Pellegrine's "Aranciata" and vanilla gelato – $11.00
Beverages
Fresh Brewed Ice Tea – $4.00
Assorted Fountain Beverages – $3.00
Italian Still or Sparkling Water – $8.00
Aranciata, Limonata – bottled Italian soda – $6.00
Alcoholic Beverages
Moretti – Imported Italian lager – $11.00 Glass, $33.00 Pitcher
Bud Light  – $9.00 Glass, $25.00 Pitcher
La Rossa – double malt – $13.00 Glass
Italian Beer Flight – 4.5 oz pour – Moretti lager, Moretti la rossa, seasonal selection – $16.00
Signature Cocktails
Via Napoli Sangria – our signature blend of Italian wine and hand-cut fresh fruit, available in white or red – $13.00 Glass, $39.00 Pitcher
Via Vesuvio – Blood orange Vodka, Prosecco, raspberries – $16.00
Americano – Gaspar Campari's Famous Cocktail with Sweet Vermouth & Club Soda – $15.00
Limoncello Mule – grey goose l'orange vodka, limoncello, peach purée, orange juice, pineapple juice, lime juice, ginger beer – $18.00
Sicilian Sunset – vodka, orangecello, orange and pineapple juices over shaved ice – $16.00
Via Napoli Kids' Menu
Menu Date: 12/2019
Kid's Appetizers
Fruit Cocktail – $6.00
Kids' Entrées
Pizza Margherita – with Fresh Mozzarella and Tomato Sauce – $9.50
Bocconcini – Breaded and fried mozzarella bites – $9.50
Spaghetti with Meatballs – $9.50
Kids' Desserts
Copetta di Gelato – Chocolate or vanilla Italian sundae – $5.00
Ruota di Carretto – Vanilla gelato cookie sandwich – $5.00
Kids' Beverages
Acqua Fresca – Fresh Fruit Puree, Water, over ice – Strawberry or Orange – $4.00
Juice, Bottled Water, or Milk – complimentary beverage when child's entree purchased (excludes Acqua Fresca)
** Via Napoli Menu and Prices are Subject to Change Without Notice **