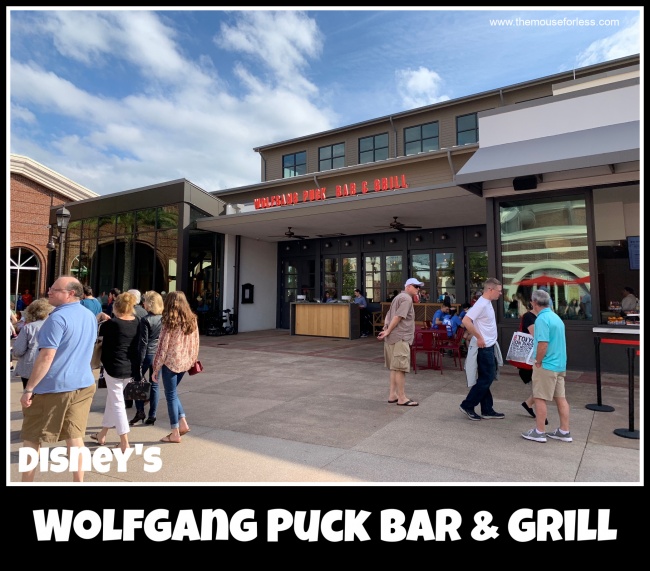 In Disney Springs Town Center, fall in love all over again with the classic dishes that made Wolfgang Puck a pioneer in California cuisine. From Mediterranean influences to innovative takes on comfort food classics, Wolfgang Puck Bar & Grill brings the essence of the laid-back California dining experience to Disney Springs.
Wolfgang Puck Bar & Grill is located in Disney Springs.  Find more Walt Disney World dining locations on our Walt Disney World menus page.
Restaurant Info: Fine/Signature Dining, $$ – $15-$34.99 per adult
Disney Dining Plans accepted.
Brunch Menu Lunch Dinner Menu Kids Menu

Planning a Walt Disney World Vacation?
For a Free no-obligation quote, contact our sponsor
The Magic For Less Travel
. The Magic For Less Travel is an Authorized Disney Vacation Planner and has been helping guests plan magical vacations since 2002. Receive the best prices and free travel planning services. Their fee-free services will help you save time, money, and stress while planning a vacation designed around you and your needs!
Wolfgang Puck Bar & Grill – Brunch Menu
Menu Date: 05/2022
Brunch
Smashed Avocado Toast
Poached Egg, Burrata, Multi Grain Bread – $18.00
Cajun Shrimp & Grits
andouille sausage, bacon, peppers, soft egg over easy – $27.00
Fried Chicken & Waffles
blueberry compote, maple honey butter – $27.00
Old School Breakfast
Two Eggs any Style, Bacon, Tuscan Potatoes, Toast – $22.00
Appetizers & Salads
Baby Gem Caesar Salad
creamy garlic dressing, pecorino cheese, ciabatta croutons – $15.00
Beet Salad
stracciatella, mint, local citrus – $18.00
Wedge Salad
blue cheese, smoked bacon, ranch dressing – $16.00
Crispy Florida Shrimp
spicy honey mustard, lime – $18.00
Maryland Blue Crab Cakes
old bay aioli, pickled green tomato – $24.00
Add Chicken to any Salad – $8.00
Add Shrimp to any Salad – $12.00
Pizza
Wild Mushroom
fontina cheese, garlic oil, marjoram – $18.00
Fennel Sausage
pickled peppers, roasted fennel – $19.00
Pepperoni
red onion, oregano – $20.00
BBQ Chicken
peppers, onions, bacon, jalapeno – $19.00
Smoked Salmon
dill cream, chives, salmon pearls – $32.00
Entrées
Spaghetti
tomato sauce, parmesan reggiano. add meatballs $8 – $19.00
Rigatoni
bolognese meat sauce, pecorino cheese – $28.00
Tagliatelle
shrimp, clams, spicy breadcrumbs – $37.00
Grilled Prime Burger
white cheddar cheese, red onion marmalade, garlic aioli, brioche bun – $21.00
Pan-seared Scottish Salmon
braised rainbow chard, neuske bacon, mushroom puree, balsamic – $33.00
Chicken Schnitzel
marinated tomatoes, dill cucumbers, fingerling potatoes, whole grain mustard – $29.00
Mesquite Grilled NY Strip
charred asparagus, roasted tomato – $59.00
Sides
Creamy Mac & Cheese
herbed breadcrumbs, grated parmesan – $11.00
Charred Broccolini
herbed breadcrumbs, pecorino cheese – $10.00
Tuscan Potatoes – $8.00
Applewood Smoked Bacon – $8.00
Grilled Ciabatta or Whole Wheat Bread
tomato butter – $6.00
Dessert
Spanish Cheesecake
Raspberry Coulis, Fresh Raspberries – $8.00
House Made Carrot Cake
Cream Cheese Icing, Caramel Sauce, Candied Walnuts – $9.00
Chocolate Cookie Crunch Milkshake
ice cream cookie sandwich, whipped cream – $15.00
Layered Chocolate Cake
raspberries, chocolate gelato, chocolate sauce – $10.00
Assorted Gelato or Sorbet Tasting
three assorted scoops – $8.00
Brunch Cocktails
Bloody Mary
tito's vodka, housde made bloody mary mix – $16.00
Strawberry Bellini
peach brandy, prosecco – $15.00
Bottomless Mimosa
prosecco, fresh squeezed orange juice (2 Hour Limit) – $25.00
Wolfgang Puck Bar & Grill – Lunch/Dinner Menu
Menu Date: 05/2022
Appetizers
Truffled Potato Chips
point reyes blue cheese sauce and chives – $14.00
Grilled Bruschetta
marinated tomatoes, mozzarella, pesto, ciabatta – $15.00
Crisp Calamari Fritti
olives, zucchini, spicy marinara – $17.00
Maryland Blue Crab Cakes
old bay aioli, pickled green tomato – $24.00
Tuna Tartare
avocado, radish, sesame soy vinaigrette, spicy aioli – $21.00
Soups & Salads
Chicken & White Bean Chili
cilantro, ancho chili, lime – $12.00
Caesar Salad
little gem lettuce, ciabatta croutons, garlic parmesan dressing* – $15.00
Chinese Chicken
Candied Cashews, Sesame-Honey-Mustard Vinaigrette – $17.00
Waterkist Farm Heirloom Tomato Salad
local burrata, basil pesto, aged balsamic – $18.00
Pizza
BBQ Pulled Pork
pasilla peppers, red onions, avocado and tomatillo cream – $18.00
Wild Mushroom
fontina cheese, garlic oil, marjoram – $18.00
Fennel Sausage
pickled peppers, roasted fennel – $19.00
Mortadella
roasted tomato, pepperdews, rapini, burrata cheese – $16.00
Taco
Chili spiced beef, cheddar cheese, pico de gallo, sour cream – $17.00
BBQ Chicken
peppers, onions, bacon, jalapeno – $19.00
Mesquite Charcoal Grilled
10-oz Flat Iron Steak
sweet peppers, broccolini, chimichurri* – $38.00
12-oz Ribeye
braised black kale, pancetta, pearl onions, steak sauce* – $49.00
Grilled Prime Burger
white cheddar cheese, red onion marmalade, garlic aioli, brioche bun – $21.00
Double Cut Pork Chop
creamy polenta, roasted mushrooms, apple cider glaze* – $39.00
Entrées
Spaghetti & Meatballs
tomato sauce, parmesan reggiano. add meatballs for 8.00 – $19.00
Rigatoni Pasta
bolognese meat sauce, pecorino cheese – $29.00
Tagliatelle
shrimp, clams, spicy breadcrumbs – $37.00
Pan-seared Scottish Salmon
braised rainbow chard, neuske bacon, mushroom puree, balsamic – $33.00
Florida Black Grouper
citrus and fennel salad, saffron aioli, lemon* – $34.00
Chicken Schnitzel
marinated tomatoes, dill cucumbers, fingerling potatoes, whole grain mustard – $29.00
Crisp Roasted Half Chicken
yukon gold mashed potatoes, honey butter – $29.00
Sides
Mac & Cheese – $9.00
Charred Broccolini
herbed breadcrumbs, pecorino cheese – $10.00
Tuscan Potatoes
garlic, chili, rosemary – $8.00
French Fries – $6.00
Mashed Potatoes – $7.00
Desserts
Spanish Cheesecake
raspberry coulis, fresh raspberries – $8.00
House Made Carrot Cake
cream cheese icing, caramel sauce, candied walnuts – $9.00
Chocolate Cookie Crunch Milkshake
ice cream cookie sandwich, whipped cream – $15.00
Layered Chocolate Cake
raspberries, chocolate gelato, chocolate sauce – $10.00
Assorted Gelato or Sorbet Tasting
three assorted scoops – $8.00
Grab and Go
Turkey Wrap – $13.00
Chicken Salad Wrap – $12.00
Greek Salad
roasted chicken, olives, creamy garlic dressing – $12.00
Chinois Chicken Salad – $13.00
Shrimp Cocktail
lemon, horseradish – $12.00
Reese's Peanut Butter Cookie (Gluten Free) – $4.00
Spanish Cheesecake – $7.00
Strawberry Shortcake – $7.00
Brownie Bites – $6.00
Salted Caramel Banana Pudding – $7.00
Milk Shake
Vanilla | Chocolate | Cookie Monster
Non-Alcoholic Beverages & Mocktails
Bottled Water – $4.00
Soda – $4.00
Ice Tea – $4.00
WP Coffee – $3.50
WP Espresso – $4.00
Cappuccino – $4.50
Café Latte – $4.50
Extra Shot Espresso – $2.00
Ginger-Lime Iced Tea – $7.00
Peach-Passionfruit Smash – $7.00
Flavored Lemonade
blackberry, strawberry, raspberry, peach, or pear – $7.00
Wolfgang Puck Bar & Grill Handcrafted Cocktails
Show Me Love
sobieski vodka, st. germain liqueur, lychee, lime – $14.00
Garden of Eden
garden of eden vodka, tea, lemon – $12.00
WP Spritz
moscato d' asti, aperol, st. germain, strawberry, lemon – $16.00
Lilly Belle
plymouth gin, aperol, sparkling rosé, lemon – $15.00
Strawberry Basil Margarita
lunazul blanco tequila, strawberry, basil, lime – $14.00
Kakamora's Dart
malibu coconut rum, plantation pineapple rum, lime – $16.00
Moscow Mule
ketel one botanical cucumber and mint vodka, lemongrass, ginger – $14.00
Old-Fashioned
house blend of bourbon and rye, demerara sugar – $20.00
Barrel Aged Negroni
tanquery gin, campari, aperol, carpano vermouth – $18.00
Red or White Wine Sangria
brandy, market fruits – $13.00 – $18.00
Winter Spiced
pear, apple, cinnamon – $13.00 – $18.00
Beer and Wine
Assorted Beer – $7.00 – $14.00
Assorted Wine by the Glass – $11.00 – $24.00
Wolfgang Puck Bar & Grill – Kids' Menu
Menu Date: 05/2022
Kids' Menu
Vegetables for Dipping
Seasonal Raw Vegetables, House-made Ranch – $6.00
Cheese or Pepperoni Pizza
Mozzarella Cheese and Tomato Sauce – $10.00
Crispy Chicken Strips
Sliced Apples and choice of French Fries or Broccolini – $9.00
Cheeseburger
American Cheese, French Fries – $11.00
Spaghetti with Tomato Sauce
Add a House-made Meatball 2.00 – $8.00
Grilled Chicken Breast
Roasted Potatoes, Sautéed Carrots – $10.00
Kid's Drink – Milk, Juice, or Soda – $2.50
** Wolfgang Puck Bar & Grill Menu and Prices are Subject to Change Without Notice **