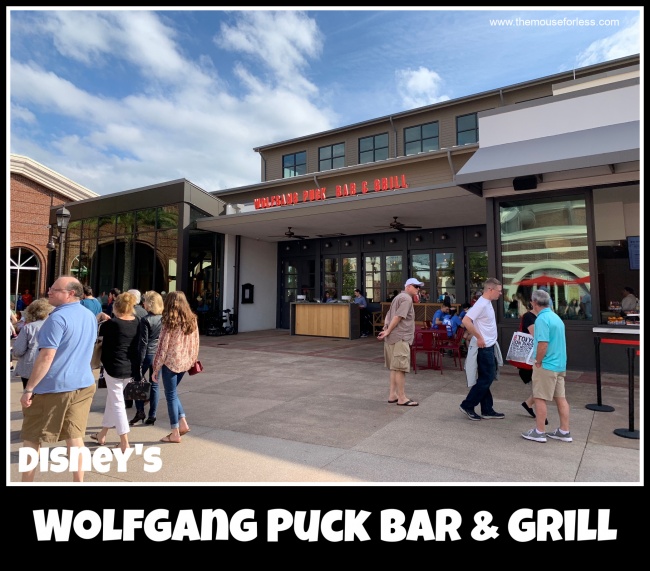 Lunch Menu Dinner Menu Kids Menu
In Disney Springs Town Center, fall in love all over again with the classic dishes that made Wolfgang Puck a pioneer in California cuisine. From Mediterranean influences to innovative takes on comfort food classics, Puck brings the essence of the laid-back California dining experience to Disney Springs.
Restaurant Info: Fine/Signature Dining, $$ – $15-$34.99 per adult
Disney Dining Plans not accepted.
Wolfgang Puck Bar & Grill – Lunch Menu
Menu Date: 11/2018
To Share for the Whole Table
Artisanal Salumi – Small – domestic and imported salumi and cheeses, marinated vegetables – $19.00
Artisanal Salumi – Large – domestic and imported salumi and cheeses, marinated vegetables – $29.00
House-made Focaccia – Rosemary- $4.00
Local Burrata – baby carrots, romesco sauce, walnuts – $14.00
Bruschetta – marinated tomatoes, torn mozzarella, pesto aïoli, aged balsamic – $12.00
Roasted Meatballs – tomato sauce, ricotta, basil – $12.00
Appetizer & Salads
Fall Vegetable Soup – herb ricotta crostini – $10.00
Baby Gem Caesar – creamy garlic dressing, pecorino cheese, focaccia croutons – $13.00
Add Chicken – $8.00
Chopped Vegetable Salad – marinated artichokes, olives, romanesco, fresh mozzarella, red wine vinaigrette – $14.00
Tempura Calamari & Shrimp – preserved lemon aïoli – $15.00
Tandorri-style Chicken Wings – yogurt, mint, cucumber – $14.00
Whole Wood-grilled Shrimp – nduja breadcrumbs, garlic toast – $15.00
Pizza
Wild Mushroom – fontina, roasted garlic, marjoram – $16.00
Fennel Sausage – pickled peppers, rapini, basil pesto – $17.00
Pepperoni – soppressata, red onion, fresno chilies – $20.00
Grilled Shrimp Greek Salad – marinated vegetables, yogurt dressing, feta cheese – $18.00
Basil Shrimp – roasted shishito peppers, red onion – $19.00
Vegetable – tomatoes, eggplant, onions, peppers – $15.00
Smoked Salmon – dill cream, chives, salmon pearls – $29.00
Panini
Grilled Chicken Sandwich – avocado, bacon, white cheddar cheese, tomato, pesto aïoli – $15.00
Shaved Beef Panini – aged provolone, confit onions, salsa verde, french fries – $16.00
Italian Salumi and Provolone – hoagie roll – $16.00
Porchetta – toasted ciabatta, pickled pepper relish, garlic aioli, arugula, house-made chips – $17.00
Pasta
Spaghetti – tomato sauce, basil, garlic – add meatballs 6 – $15.00
Pumpkin Ravioli – brown butter, sage, hazelnuts – $19.00
Pappardelle – bolognese meat sauce, ricotta salata  – $21.00
Tagliatelle – wild mushrooms, parmesan reggiano – $21.00
Entrees
WP Burger – white cheddar cheese, red onion marmalade, garlic aioli, brioche bun – $16.00
Grilled Sea Bass – shaved fennel salad, peperonata – $27.00
Pan-roasted Half Chicken – $27.00
Chicken Schnitzel – marinated tomatoes, dill cucumbers, fingerling potatoes, baby mache – $21.00
Mesquite Grilled NY Strimp "Steak Frites" – crisp french fries, green peppercorn sauce – $49.00
Gelato Bar
Gelato Bar – Cup or Cone (Small) – $5.00
Gelato Bar – Cup or Cone (Large) – $6.50
Gelato Bar – Gelate Flavors – Indonesian Vanilla, Rich Chocolate, Pistachio Italiano, Strawberries, Coconut, Chocolate Cookie Crunch, White Chocolate Raspberry, Butter Pecan Panna Cotta, Dark Cherry Chocolate Chunk, Caramel Sea Salt, Tiramisu
Gelato Bar – Sorbet Flavors – Tropical Mango, Razzle Raspberry, Lemon, Key Lime
Gelato Bar – Toppings – Chocolate Sauce, Caramel Sauce, Nutella, Sicilian Pistachios, Sliced Almonds, Diced Pineapple, Cookie Crumbs, Shaved Chocolate, Coconut Shavings, Fresh Strawberry, Maraschino Cherries, Diced Mango, Local Blueberries, Local Raspberries
Grab and Go
Funfetti Cupcake – $5.00
Fresh Fruit-Coconut Tapioca – $6.00
Strawberry Shortcake-Rice Crispy Treat – $5.00
Chocolate-Coconut Macadamia Cookies – $5.00
Chocolate Chip Cookies – $4.00
Oatmeal-Raisin Cookies – $4.00
Passion Fruit Kardinal Schnitte – $6.00
Tropical Mix Popcorn – $4.00
Brownie Bites – $4.00
Tiramisu – $6.00
Non-Alcoholic Beverages
Bottled Water – $3.50
Soda – $3.50
Cold Brew Coffee – $7.00
Ice Tea – $4.50
WP Coffee – $3.50
Cappuccino – $4.50
WP Espresso – $4.00
Cafe Latte – $4.50
Extra Shot Espresso – $2.00
Hot Chocolate – add Marshmallows .50 – $4.50
Specialty Drinks
Classic Affogato – single scoop of vanilla gelato, with a double shot of espresso – $9.00
Tiramisu "Shakerato" – two scoops tiramisu gelato, espresso, chocolate sauce, chocolate cigars, cocoa powder, waffle chips – $12.00
Beer
Bud Light – $9.00
Pabst Blue Ribbon – $9.00
3 Daughters Red Ale – $10.00
Founders "All Day IPA" – $10.00
For the Adults
House-made Limoncello – lemon sorbet, house made limoncello liquer – $12.00
Sgroppino – lemon sorbet, prosecco, vodka – $13.00
Mortimer's Margarita – lime sorbet, tequila, triple sec – $15.00
Monchito – coconut gelato, Myers's dark rum, pineapple – $14.00
Wolfgang Puck Bar & Grill – Dinner Menu
Menu Date: 11/2018
To Share for the Whole Table
Artisanal Salumi – Small – domestic and imported salumi and cheeses, marinated vegetables – $19.00
Artisanal Salumi – Large – domestic and imported salumi and cheeses, marinated vegetables – $29.00
House-made Focaccia – Rosemary- $4.00
Local Burrata – baby carrots, romesco sauce, walnuts – $14.00
Bruschetta – marinated tomatoes, torn mozzarella, pesto aïoli, aged balsamic – $12.00
Roasted Meatballs – tomato sauce, ricotta, basil – $12.00
Appetizer & Salads
Fall Vegetable Soup – herb ricotta crostini – $10.00
Baby Gem Caesar – creamy garlic dressing, pecorino cheese, focaccia croutons – $13.00
Add Chicken – $8.00
Chopped Vegetable Salad – marinated artichokes, olives, romanesco, fresh mozzarella, red wine vinaigrette – $14.00
Tempura Calamari & Shrimp – preserved lemon aïoli – $15.00
Tandorri-style Chicken Wings – yogurt, mint, cucumber – $14.00
Whole Wood-grilled Shrimp – nduja breadcrumbs, garlic toast – $15.00
Pasta
Spaghetti – tomato sauce, basil, garlic – add meatballs 6 – $15.00
Pumpkin Ravioli – brown butter, sage, hazelnuts – $19.00
Crumble – pineapple. coconut gelato – $8.00
Pappardelle – bolognese meat sauce, ricotta salata  – $21.00
Tagliatelle – wild mushrooms, parmesan reggiano – $21.00
Cheescake Spanish-Style – citrus sauce – $8.00
Platters
Whole Grilled Sea Bass – shaved bean salad, mustard seeds, pine nuts – $39.00
Seared Florida Red Snapper – 'aqua pazza', clams, mussels, fingerling potatoes, olives – $33.00
House-made Porchetta – butternut squash puree, apple – $29.00
Pan-roasted Half Chicken – potato puree, sautéed vegetables double blanched garlic, lemon  – $28.00
Chicken Schnitzel – marinated tomatoes, dill cucumbers, fingerling potatoes, baby mache – $27.00
Mesquite Grilled NY Strimp "Steak Frites" – crisp french fries, green peppercorn sauce – $49.00
32-oz Porterhouse Steak for Two – crisp tuscan potatoes, roasted elephant garlic – $84.00
Sides
Tagliatelle – wild mushrooms, parmesan reggiano – $23.00
Crispy Cauliflower – fried capers, garlic, chili, lemon – $10.00
Broccolini – parmesan, lemon breadcrumbs – $9.00
Tuscan-roasted Potatoes – garlic, chili, rosemary – $8.00
Gelato Bar
Gelato Bar – Cup or Cone (Small) – $5.00
Gelato Bar – Cup or Cone (Large) – $6.50
Gelato Bar – Gelate Flavors – Indonesian Vanilla, Rich Chocolate, Pistachio Italiano, Strawberries, Coconut, Chocolate Cookie Crunch, White Chocolate Raspberry, Butter Pecan Panna Cotta, Dark Cherry Chocolate Chunk, Caramel Sea Salt, Tiramisu
Gelato Bar – Sorbet Flavors – Tropical Mango, Razzle Raspberry, Lemon, Key Lime
Gelato Bar – Toppings – Chocolate Sauce, Caramel Sauce, Nutella, Sicilian Pistachios, Sliced Almonds, Diced Pineapple, Cookie Crumbs, Shaved Chocolate, Coconut Shavings, Fresh Strawberry, Maraschino Cherries, Diced Mango, Local Blueberries, Local Raspberries
Grab and Go
Funfetti Cupcake – $5.00
Fresh Fruit-Coconut Tapioca – $6.00
Strawberry Shortcake-Rice Crispy Treat – $5.00
Chocolate-Coconut Macadamia Cookies – $5.00
Chocolate Chip Cookies – $4.00
Oatmeal-Raisin Cookies – $4.00
Passion Fruit Kardinal Schnitte – $6.00
Tropical Mix Popcorn – $4.00
Brownie Bites – $4.00
Tiramisu – $6.00
Non-Alcoholic Beverages
Bottled Water – $3.50
Soda – $3.50
Cold Brew Coffee – $7.00
Ice Tea – $4.50
WP Coffee – $3.50
Cappuccino – $4.50
WP Espresso – $4.00
Cafe Latte – $4.50
Extra Shot Espresso – $2.00
Hot Chocolate – add Marshmallows .50 – $4.50
Specialty Drinks
Classic Affogato – single scoop of vanilla gelato, with a double shot of espresso – $9.00
Tiramisu "Shakerato" – two scoops tiramisu gelato, espresso, chocolate sauce, chocolate cigars, cocoa powder, waffle chips – $12.00
Beer
Bud Light – $9.00
Pabst Blue Ribbon – $9.00
3 Daughters Red Ale – $10.00
Founders "All Day IPA" – $10.00
For the Adults
House-made Limoncello – lemon sorbet, house made limoncello liquer – $12.00
Sgroppino – lemon sorbet, prosecco, vodka – $13.00
Mortimer's Margarita – lime sorbet, tequila, triple sec – $15.00
Monchito – coconut gelato, Myers's dark rum, pineapple – $14.00
Wolfgang Puck Bar & Grill – Kids' Menu
Menu Date: 11/2018
Kids' Menu
Vegetables for Dipping – Seasonal Raw Vegetables, House-made Ranch – $6.00
Cheese or Pepperoni Pizza – Mozzarella Cheese and Tomato Sauce – $10.00
Crispy Chicken Strips – Sliced Apples and choice of French Fries or Broccolini – $9.00
Grilled Cheese Sandwich – Sliced Apples and choice of French Fries or Broccolini – $8.00
Cheeseburger – American Cheese, French Fries – $8.00
Spaghetti with Tomato Sauce – Add a House-made Meatball $2.00 – $8.00
Grilled Chicken Breast – Roasted Potatoes, Sauteed Carrotes – $10.00
Bacon Wrapped Meatloaf – Assorted Flavors – $4.00
Kid's Drink – Milk, Juice, or Soda –  $2.50
** Wolfgang Puck Bar & Grill Menu and Prices are Subject to Change Without Notice **