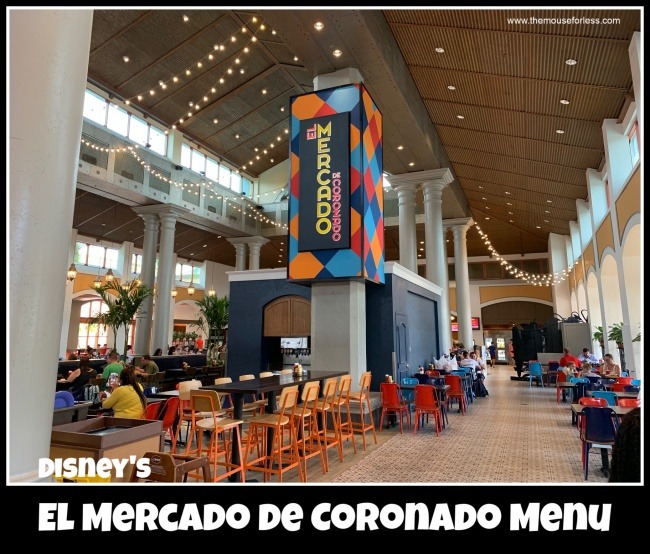 El Mercardo de Coronado has something for everyone, from pancakes and omelets at breakfast to Mexican favorites and pizza at lunch and dinner.
El Mercardo de Coronado is located in Disney's Coronado Springs Resort.  Find more Walt Disney World dining locations on our Walt Disney World menus page.
Restaurant Info: American and Mexican, Breakfast/Dinner, a la carte $$
Find out how you can save money on dining at Walt Disney World by using one of Disney Dining Plans.
Breakfast Menu   Lunch/Dinner Menu

Planning a Walt Disney World Vacation?
For a Free no-obligation quote, contact our sponsor
The Magic For Less Travel
. The Magic For Less Travel is an Authorized Disney Vacation Planner and has been helping guests plan magical vacations since 2002. Receive the best prices and free travel planning services. Their fee-free services will help you save time, money, and stress while planning a vacation designed around you and your needs!
El Mercardo de Coronado Breakfast Menu
Menu Date: 2023
Souvenir Specialties
Refillable Souvenir Mug – $21.99
Eligible for free refills at Beverage Islands at Quick Service locations at any Disney Resort Hotel during the length of your stay (available all day)
Hot Entrees
Egg & Cheese Sandwich – $10.00
served with Breakfast Hash Browns
Bacon, Egg & Cheese Sandwich – $10.50
served with Breakfast Hash Browns
Sausage, Egg & Cheese Sandwich – $10.50
served with Breakfast Hash Browns
Grande Fiesta Breakfast Bowl – $13.50
Scrambled Eggs topped with Cheese and Green Onions served with Breakfast Potatoes and Bacon or Sausage
Buttermilk Pancakes – $12.50
Three Buttermilk Pancakes served with Bacon or Sausage
Mickey-shaped Waffles – $13.50
Belgium-style Mickey Waffles served with Bacon or Sausage
Chorizo, Egg, & Cheese Empanadas – $8.00
Served with a side of Pico de Gallo
Frittata Mexicana – $13.50
Frittata sith Pablano Peppers, Spinach, Onions, and Monterey Jack and served with Breakfast Potatoes
Sides
Bacon – $3.99
Sausage – $3.99
Breakfast Potatoes – $3.99
Scrambled Eggs – $3.99
Sweets & Treats
Cronut – $5.00
Jumbo Doughnuts – $5.50
Cinnamon Roll – $5.50
Assorted Danishes – $6.75
Assorted Muffins – $5.50
Butter Croissant – $4.50
Chocolate Croissant – $6.75
Crumb Cake – $6.00
Bagel with Butter or Cream Cheese – $4.50
Biscotti – $3.50
Assorted Cupcake – $6.50
Red Velvet Cupcake – $7.50
Dulce de Leche Cupcake – $7.50
Funfetti Cupcake – $6.00
Assorted Cookies – $4.50
Lemon Bar – $5.75
Pecan Bar – $5.75
Brownie – $6.50
Macaron – $2.50
Macarons (6 pack) – $15.00
Kids' Entrees
Kids' Scramble – $12.50
Scrambled Eggs, Breakfast Potatoes, and Bacon, choice of  Yogurt Smoothie or Cutie and choice of Small Lowfat Milk or Small DASANI® Bottled Water
Kids' Mickey-Shaped Waffles – $12.50
Two Belgium style Mickey Waffles. Served with Bacon and your choice of Yogurt Smoothie or a Cutie and choice of Small Lowfat Milk or Small DASANI ® Bottled Water
El Mercardo de Coronado Lunch/Dinner Menu
Hand-Carved Chef's Specials – Selections Rotate Daily
*Available for Dinner only
Roasted Mojo Turkey Breast – $16.00
Topped with Citrus sauce and Cilantro and served with crisp Green Beans and Chorizo-Sweet Potato Hash
Oven-Roasted Beef Top Rounds – $20.00
Served with Mashed Potatoes, seasonal Vegetables, and a Garlic Parmesan Au Jus
Baked Atlantic Salmon – $18.00
Topped with a Mango Pepper Glaze and served with Herbed Rice Pilaf and seasonal Vegetables
Hot Entrees
Bacon Cheeseburger – $16.50
Half-Pound Burger, crisp Bacon and Cheddar Cheese. Served with Lettuce, Tomato, Onion, Fries and Pickle Spear
Nashville Chicken Sandwich – $16.00
Crispy Chicken Breast, Ancho Chile Nashville Rub, BLT Ranch Slaw, and Bread & Butter Pickles served with French Fries
Chipotle BBQ Pulled Pork Sandwich – $14.00
Pulled Pork Shoulder, Chipotle BBQ Sauce, Bread & Butter Pickles, and Buttermilk-cumin Slaw served with French Fries
Chicken Tenders – $14.00
Breaded Chicken Tenders served with French Fries
Beyond Burger – $17.00
Beyond patty (Peas, Potatoes, Beets), Roasted Red Bell Peppers, Goat Cheese, Baby Arugula and Peppered Aioli. Served with Lettuce, Tomato, Onion, Fries and Pickle Spear
Tex Mex Entrees
Nachos – $14.00
Corn Tortilla Chips with Ground Beef and Cheese sauce
Mexican Street Corn – $8.00
White Corn, Lime-Cilantro Aioli, Cotija Cheese, Flamin' Hot Cheetos, and fresh Cilantro
Fire-braised Chicken Rice Bowl – $16.00
Shredded fire-braised Chicken served on a bed of Cilantro Lime Rice, Black Beans, and Street Corn sauce garnished with Lettuce, Pico de Gallo, Pickled Red Onion, Shredded Cheese, and fresh Cilantro
Barbacoa Rice Bowl – $16.00
Shredded fire-braised Chicken served on a bed of Cilantro Lime Rice, Black Beans, and Street Corn sauce garnished with Lettuce, Pico de Gallo, Pickled Red Onion, Shredded Cheese, and fresh Cilantro
Plant-based Chorizo Rice Bowl – $17.00
Spicy plant-based Chorizo served on a bed of Cilantro Lime Rice, Black Beans, and Street Corn sauce garnished with Lettuce, Pico de Gallo, Pickled Red Onion, Shredded Cheese, and fresh Cilantro
Flatbreads & Pizzas
Cheese Flatbread – $16.00
Marinara Sauce, Mozzarella and Parmesan Cheese
Personal Pepperoni Pizza – $13.00
Marinara sauce, Italian Pepperoni, and Mozzarella
Personal Cheese Pizza – $12.00
Marinara sauce and Mozzarella
Personal Veggie Pizza – $14.00
Marinara sauce, Mozzarella, Bell Peppers, Black Olives, Onions, and Mushrooms
Personal Meat Pizza – $15.00
Marinara sauce, Mozzarella, Pepperoni, Sausage, Bacon, and Ham
Pastas (Selections Rotate Daily)
Chicken Parmesan – $18.00
Fried Chicken Breasts topped with melted Provolone over Penne Pasta tossed in Tomato Basil Cream Sauce (Available Daily)
Penne Primavera – $15.00
Penne Primavera, Squashes and Broccoli tossed in Alfredo sauce
Italian Sausage & Grilled Chicken – $17.00
Served with Penne Pasta in a Tomato Basil Cream Sauce with Parmesan Cheese
Shrimp fra Diavolo – $18.50
Penne Pasta tossed with Spicy Tomato Cream sauce, Garlic and Fire-roasted Red Peppers and topped with Sauteed Shrimp and Asiago
Jumbo Italian Meatballs – $17.00
Penne Pasta and Fresh Basil MarinaraFresh Grab-N-Go
Sweets & Treats
Cronut – $5.00
Jumbo Doughnuts – $5.50
Cinnamon Roll – $5.50
Assorted Danishes – $6.75
Assorted Muffins – $5.50
Butter Croissant – $4.50
Chocolate Croissant – $6.75
Crumb Cake – $6.00
Bagel with Butter or Cream Cheese – $4.50
Biscotti – $3.50
Assorted Cupcake – $6.50
Red Velvet Cupcake – $7.50
Dulce de Leche Cupcake – $7.50
Funfetti Cupcake – $6.00
Assorted Cookies – $4.50
Lemon Bar – $5.75
Pecan Bar – $5.75
Brownie – $6.50
Macaron – $2.50
Macarons (6 pack) – $15.00
Kids' Entrees
Kids' Mac N Cheese – $13.00
Served with French Fries and choice of Yogurt or a Cutie and choice of small Dasani Water Bottle, small Milk, or small Fountain Drink
Kids' Cheeseburgers – $13.00
Served with French Fries and choice of Yogurt or a Cutie and choice of small Dasani Water Bottle, small Milk, or small Fountain Drink
Kids' Chicken Quesadilla – $10.00Served with French Fries and choice of Yogurt or a Cutie and choice of small Dasani Water Bottle, small Milk, or small Fountain Drink
Kids' Chicken Tender Bites – $12.00
Served with French Fries and choice of Yogurt or a Cutie and choice of small Dasani Water Bottle, small Milk, or small Fountain Drink
Desserts
Seasonal Desserts – $5.75
Gluten Free Desserts – $7.50
Mickey Celebration Dome Cake – $39.99
** El Mercardo de Coronado Menu and Prices are Subject to Change Without Notice **