Resort Restaurants | Beach Club Resort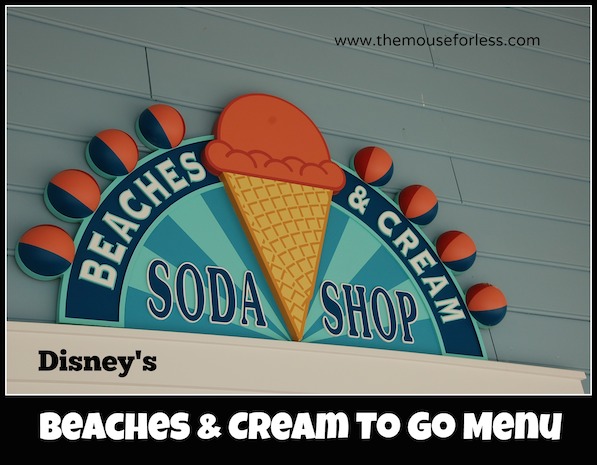 Revel in the nostalgia of the Atlantic seashore at this boardwalk-style ice cream window. The ice cream creations are yummy at Beaches and Cream Soda Shop To Go.
Restaurant Info: American, Snack, $ – under $14.99 per adult
Find out how you can save money on dining at Walt Disney World by using one of Disney's Dining Plans.
Beaches and Cream Soda Shop To Go Menu
Menu Date: 02/2018
Ice Cream Creations
Hand-scooped Ice Cream Flavors:
Vanilla, Chocolate, Strawberry, Mint-Chocolate Chip, Cookies and Cream, Butter Pecan, and Rainbow Sherbet
Double Hand-scooped Ice Cream – $6.00 Sugar Cone

| $6.50 Waffle Cone

Mini Mickey Sink – Vanilla, Chocolate and Strawberry Ice Cream topped with Pineapple, Strawberry, Hot Fudge, Peanut Butter, Whipped Cream, Oreo Cookies, chewy Brownie, assortment of Sprinkles and Morsels and Cherries – $23.00
Ice Cream Sandwich – Your favorite ice cream flavor between two chocolate-chip cookies – $6.00

Coke or Barq's Root Beer Float – $6.00

Adult Hard Floats and Milkshake
For Guests 21 and Over
S'Mores Shake – Amarula Cream and Crème de Cacao Brown Liqueurs topped with Marshmallows, Chocolate Sauce, and Graham Crackers  – $12.00
The Classic Root Beer Float – Coney Island Hard Root Beer with Vanilla Ice Cream  – $12.00
Grasshopper Float – Guinness Stout with Mint Chocolate-Chip Ice Cream – $12.00
Tropical Sunrise Float – Ace Pineapple Hard Cider with Rainbow Sherbet  – $12.00
Stout Float – Guinness Stout with Chocolate Sauce and Vanilla Ice Cream  – $12.00
Beverages
Soda – Coke, Diet Coke, Sprite, Fanta Orange, Barq's Root Beer – $3.29


= Snack on the Disney Dining Plan
** Beaches and Cream Soda Shop To Go Menu and Prices are Subject to Change Without Notice **