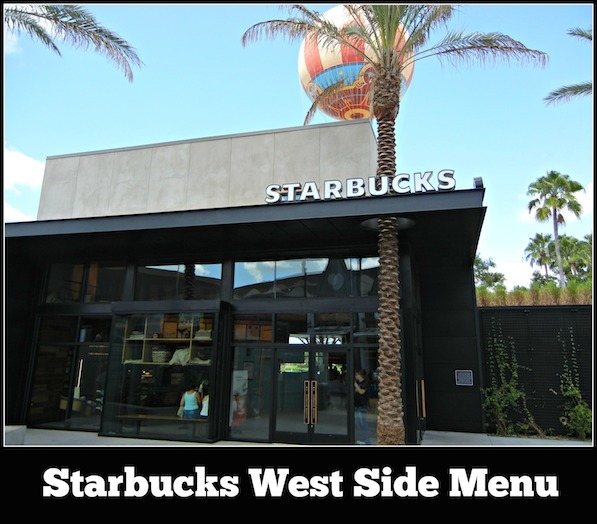 Starbucks West Side is a full-featured cafe with plentiful indoor seating and a covered patio overlooking the waterfront with an outdoor fireplace. The location also features the new Clover Bar, which serves special reserve coffees brewed to order. A high-tech screen displays images from coffee regions around the world, and the Human Connection Wall links up with the Starbucks at the Disneyland Resort in California and allows guests to use their finger to draw images on the large touch-screen monitor. Unlike the Starbucks locations in the Disney theme parks, this location is operated by Starbucks corporate. The venue accepts Starbucks gift cards and rewards but is not currently on the Disney Dining Plan.
Starbucks West Side is located in Disney Springs.  Find more Walt Disney World dining locations on our Walt Disney World menus page.
Restaurant Info: American, Snack A la carte, $ – $14.99 and under per adult
Find out how you can save money on dining at Walt Disney World by using one of Disney's Dining Plans.

Planning a Walt Disney World Vacation?
For a Free no-obligation quote, contact our sponsor
The Magic For Less Travel
. The Magic For Less Travel is an Authorized Disney Vacation Planner and has been helping guests plan magical vacations since 2002. Receive the best prices and free travel planning services. Their fee-free services will help you save time, money, and stress while planning a vacation designed around you and your needs!
Starbucks West Side Food Menu
Menu Date: 05/2022
Hot Breakfast
Smoked Shoulder Bacon Breakfast Sandwich – $5.75
Bacon, Gouda & Egg Sandwich – $4.65
Double-Smoked Bacon, Cheddar & Egg Sandwich – $5.15
Reduced-fat Turkey Bacon and Cage-Free Egg Sandwich – $4.45
Sausage, Cheddar and Egg Sandwich – $4.45
Roasted Ham, Swiss and Egg Sandwich – $5.15
Spinach, Feta, and Cage-Free Egg White Wrap – $4.45
Chicken Sausage and Bacon Biscuit – $5.15
Spicy Chorizo, Monterey Jack and Egg Sandwich – $5.15
Lunch
Crispy Grilled Cheese Sandwich – $5.95
Ham and Swiss Panini – $6.95
Turkey and Basil Pesto Panini – $6.45
Chicken Caprese Panini – $6.95
Chicken and Double-Smoked Bacon Panini – $6.95
Tomato and Mozzarella Panini – $6.25
Protein Boxes
Chicken Wrap Protein Box – $7.95
Smoked Turkey Protein Box – $7.95
Egg and Cheese Protein Box – $6.25
Cheese and Fruit Protein Box – $5.75
PB&J Protein Box – $5.75
Pastries & Treats
Plain Bagel – $2.25
Everything Bagel – $2.25
Sprout Grain Bagel – $2.25
Almond Croissant – $3.45
Butter Croissant – $2.95
Cheese Danish – $2.95
Chocolate Croissant – $2.95
Ham & Cheese Croissant – $3.95
Old-fashioned Glazed Doughnut – $2.25
Morning Bun – $2.95
Blueberry Muffin – $2.95
Blueberry Scone – $2.95
Pumpkin Bread – $2.95
Banana Walnut Loaf Cake
Lemon Bread – $2.95
Classic Coffee Cake – $2.95
Birthday Cake Pop – $2.25
Chocolate Chip Cookie Dough Cake Pop – $2.25
Chocolate Cake Pop – $2.25
Chocolate Chip Cookie
Double Chocolate Chunk Brownie – $2.95
Starbucks West Side Drink Menu
Menu Date: 05/2022
Starbuck Sizes: Tall – 12 oz | Grande – 16 oz | Venti- 24 oz | Trenta 31 oz
Classic Beverages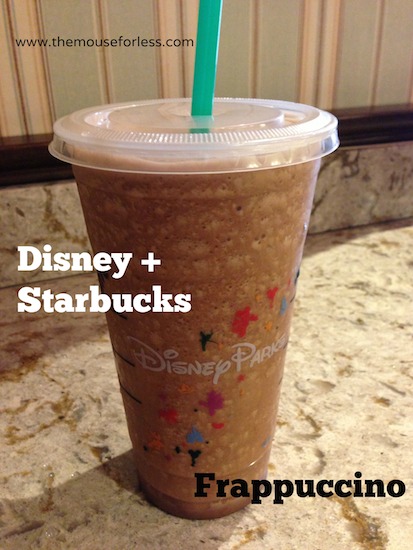 Caramel Frappuccino® – Tall – $5.25
Caramel Frappuccino® – Grande – $5.75
Caramel Frappuccino® – Venti – $5.95
Caffè Vanilla Frappuccino® – Tall – $5.25
Caffè Vanilla Frappuccino® – Grande – $5.75
Caffè Vanilla Frappuccino® – Venti – $5.95
Coffee Frappuccino® – Tall – $4.95
Coffee Frappuccino® – Grande – $5.45
Coffee Frappuccino® – Venti – $5.75
Espresso Frappuccino® – Tall – $5.85
Espresso Frappuccino® – Grande – $6.35
Espresso Frappuccino® – Venti – $6.65
Java Chip Frappuccino® – Tall – $5.25
Java Chip Frappuccino® – Grande – $5.75
Java Chip Frappuccino® – Venti – $5.95
Mocha Frappuccino® – Tall – $5.25
Mocha Frappuccino® – Grande – $5.75
Mocha Frappuccino® – Venti – $5.95
White Chocolate Mocha Frappuccino® – Tall – $5.25
White Chocolate Mocha Frappuccino® – Grande – $5.75
White Chocolate Mocha Frappuccino® – Venti – $5.95
Strawberry Frappuccino® – Tall – $5.25
Strawberry Frappuccino® – Grande – $5.75
Strawberry Frappuccino® – Venti – $5.95
Chai Crème Frappuccino® – Tall – $5.25
Chai Crème Frappuccino® – Grande – $5.75
Chai Crème Frappuccino® – Venti – $5.95
Double Chocolaty Chip Crème Frappuccino® – Tall – $5.25
Double Chocolaty Chip Crème Frappuccino® – Grande – $5.75
Double Chocolaty Chip Crème Frappuccino® – Venti – $5.95
Matcha Green Tea Crème Frappuccino® – Tall – $5.25
Matcha Green Tea Crème Frappuccino® – Grande – $5.45
Matcha Green Tea Crème Frappuccino® – Venti – $5.75
Vanilla Bean Crème Frappuccino® – Tall – $4.95
Vanilla Bean Crème Frappuccino® – Grande – $5.45
Vanilla Bean Crème Frappuccino® – Venti – $5.75
White Chocolate Crème Frappuccino® – Tall – $5.25
White Chocolate Crème Frappuccino® – Grande – $5.75
White Chocolate Crème Frappuccino® – Venti – $5.95
Teas & Refreshers
Chai Tea Latte – Tall – $4.45
Chai Tea Latte – Grande – $4.95
Chai Tea Latte – Venti – $5.25
Matcha Green Tea Latte – Tall – $4.45
Matcha Green Tea Latte – Grande – $4.95
Matcha Green Tea Latte – Venti – $5.25
Iced Black Tea – Tall – $2.75
Iced Black Tea – Grande – $3.25
Iced Black Tea – Venti – $3.65
Iced Black Tea Lemonade – Tall – $3.95
Iced Black Tea Lemonade – Grande – $4.65
Iced Black Tea Lemonade- Venti – $4.95
Iced Blueberry Black Tea – Tall – $3.95
Iced Blueberry Black Tea – Grande – $4.45
Iced Blueberry Black Tea – Venti – $4.75
Iced Blueberry Black Tea Lemonade – Tall – $4.45
Iced Blueberry Black Tea Lemonade- Grande – $4.75
Iced Blueberry Black Tea Lemonade – Venti – $5.25
Iced Green Tea – Tall – $2.75
Iced Green Tea – Grande – $3.25
Iced Green Tea – Venti – $3.65
Iced Green Tea Lemonade- Tall – $3.95
Iced Green Tea Lemonade- Grande – $4.65
Iced Green Tea Lemonade- Venti – $4.95
Iced Peach Green Tea – Tall – $3.95
Iced Peach Green Tea – Grande – $4.65
Iced Peach Green Tea – Venti – $4.75
Iced Peach Green Tea Lemonade – Tall – $4.45
Iced Peach Green Tea Lemonade – Grande – $4.75
Iced Peach Green Tea Lemonade – Venti – $5.25
Iced Passion Tango Tea – Tall – $2.75
Iced Passion Tango Tea – Grande – $3.25
Iced Passion Tango Tea – Venti – $3.65
Iced Passion Tango Tea Lemonade – Tall – $3.95
Iced Passion Tango Tea Lemonade – Grande – $4.65
Iced Passion Tango Tea Lemonade – Venti – $4.95
Iced White Tea – Tall – $2.75
Iced White Tea – Grande – $3.25
Iced White Tea – Venti – $3.65
Iced White Tea Lemonade – Tall – $3.95
Iced White Tea Lemonade – Grande – $4.65
Iced White Tea Lemonade – Venti – $4.95
Iced Guava White Tea – Tall – $3.95
Iced Guava White Tea – Grande – $4.45
Iced Guava White Tea – Venti – $4.75
Iced Guava White Tea Lemonade – Tall – $4.45
Iced Guava White Tea Lemonade – Grande – $4.75
Iced Guava White Tea Lemonade- Venti  – $5.25
Mango Dragonfruit Starbucks Refresher – Tall – $4.25
Mango Dragonfruit Starbucks Refresher – Grande – $4.75
Mango Dragonfruit Starbucks Refresher – Venti – $5.25
Mango Dragonfruit Lemonade Starbucks Refresher – Tall – $4.75
Mango Dragonfruit Lemonade Starbucks Refresher – Grande – $5.25
Mango Dragonfruit Lemonade Starbucks Refresher – Venti – $5.75
Dragon Drink – Tall – $4.85
Dragon Drink – Grande – $5.35
Dragon Drink – Venti – $5.85
Strawberry Acai Refreshers™ – Tall – $4.25
Strawberry Acai Refreshers™ – Grande
Strawberry Acai Refreshers™ – Venti – $5.25
Strawberry Acai Lemonade Starbucks Refreshers™ – Tall – $4.75
Strawberry Acai Lemonade Starbucks Refreshers™ – Grande – $5.25
Strawberry Acai Lemonade Starbucks Refreshers™ – Venti – $5.75
Pink Drink – Tall – $4.85
Pink Drink – Grande – $5.35
Pink Drink – Venti – $5.85
Very Berry Hibiscus Refreshers™ – Tall – $4.25
Very Berry Hibiscus Refreshers™ – Grande – $4.75
Very Berry Hibiscus Refreshers™ – Venti – $5.25
Very Berry Hibiscus Lemonade Refreshers™ – Tall – $4.75
Very Berry Hibiscus Lemonade Refreshers™ – Grande – $5.25
Very Berry Hibiscus Lemonade Refreshers™ – Venti – $5.75
Violet Drink – Tall – $4.85
Violet Drink – Grande (5.35) – $5.35
Violet Drink – Venti – $5.85
Espresso & Coffee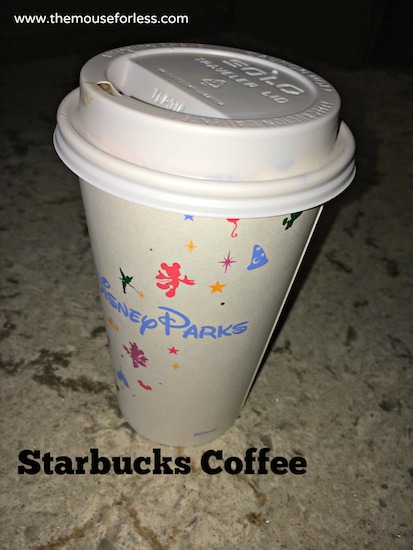 Vanilla Sweet Cream Cold Brew – Tall – $4.25
Vanilla Sweet Cream Cold Brew – Grande – $4.75
Vanilla Sweet Cream Cold Brew – Venti – $4.95
Salted Cream Cold Foam Cold Brew – $4.25
Salted Cream Cold Foam Cold Brew – Grande – $4.75
Salted Cream Cold Foam Cold Brew – Venti – $4.95
Caffè Americano – Tall – $3.45
Caffè Americano – Grande – $3.75
Caffè Americano – Venti – $3.95
Cappuccino – Tall – $4.25
Cappuccino – Grande – $4.65
Cappuccino – Venti – $4.95
Starbucks Doubleshot on Ice – Tall – $3.45
Starbucks Doubleshot on Ice – Grande – $3.95
Starbucks Doubleshot on Ice – Venti – $4.75
Espresso – Solo – $2.45
Espresso Con Panna – $2.55
Flat White – Tall – $4.95
Flat White – Grande – $5.45
Flat White – Venti – $5.75
Caffè Latte – Tall – $4.25
Caffè Latte – Grande – $4.65
Caffè Latte – Venti – $4.95
Freshly Brewed Coffee – Tall
Regular or Decaf – $2.45
Freshly Brewed Coffee – Grande
Regular or Decaf – $2.85
Freshly Brewed Coffee – Venti
Regular or Decaf – $3.25
Caffè Misto – Tall – $3.15
Caffè Misto – Grande – $3.55
Caffè Misto – Venti – $3.95
Iced Coffee – Tall – $3.25
Iced Green Tea – Grande – $3.25
Iced Coffee – Venti – $3.95
Starbucks Cold Brew – Tall – $3.65
Starbucks Cold Brew – Grande – $4.25
Starbucks Cold Brew- Venti – $4.74
Nitro Cold Brew – Tall – $4.75
Nitro Cold Brew – Grande – $5.25
Cinnamon Dolce Latte – Tall – $4.95
Cinnamon Dolce Latte – Grande – $5.45
Chai Tea Latte – Venti – $5.75
Skinny Cinnamon Dolce Latte – Tall – $4.95
Skinny Cinnamon Dolce Latte – Grande – $5.45
Skinny Cinnamon Dolce Latte – Venti – $5.75
Caramel Macchiato – Tall – $4.95
Caramel Macchiato – Grande – $5.45
Caramel Macchiato – Venti – $5.75
Caramel Cloud Macchiato – Tall – $5.25
Caramel Cloud Macchiato – Grande – $5.65
Caramel Cloud Macchiato – Venti – $5.95
Espresso Macchiato – $2.55
Caffe Mocha – Tall – $4.75
Caffe Mocha – Grande – $5.15
Caffe Mocha – Venti – $5.45
White Chocolate Mocha – Tall – $4.95
White Chocolate Mocha – Grande – $5.45
White Chocolate Mocha – Venti – $5.75
** Starbucks West Side Menu and Prices are Subject to Change Without Notice **