Disney's Animal Kingdom | Africa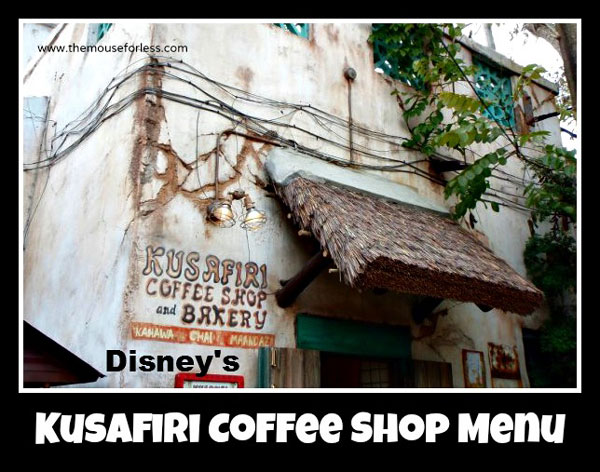 Satisfy your sweet tooth as you make your way through the edge of downtown Harambe. If you are headed out on safari, Kusafiri Coffee Shop is your last chance for shade-grown gourmet coffees and assorted muffins, cookies, pastries and cakes.
Restaurant Info: American, Breakfast/Lunch/Snacks, $ – under $14.99 per adult
Find out how you can save money on dining at Walt Disney World by using one of Disney's Dining Plans.
Kusafiri Coffee Shop & Bakery Menu
Menu Date: 10/2018
Breakfast Snacks
Hot Breakfast Wrap – Egg, Sausage, Spinach and Goat Cheese – $6.79
Warm Colossal Cinnamon Roll – serves two – $7.49
Elephant Ear Pastry – $5.99
Assorted Danishes – $3.99
Assorted Muffins – $3.49
Croissant – $3.49
Cereal with Milk – $4.99
Fresh Fruit Cup – $3.99
Dannon Greek Yogurt – $3.19
Paninis
Roast Beef and Cheddar Panini – Fire Roasted Beef, Smoked Tillamook Cheddar, and Horseradish-Sherry Vinaigrette on Ciabatta Bread. Served with House-made Curry Spiced Chips – $10.99
Ham and Cheese Panini – Rotisserie Ham, Comté Cheese, and Sweet Mustard Butter on Cibatta Bread. Served with House-made Curry Spiced Chips – $10.49
Smoked Turkey Sandwich – with Ugli Ripe Tomatoes, Leaf Lettuce, and Nueske's Bacon on Seven Grain Bread. Served with House-made Curry Spiced Chips – $10.99
Tomato and Mozzarella Sandwich – with Ugli Ripe Tomatoes, Fresh Mozzarella, Pesto Aïoli on Focaccia Roll. Served with House-made Curry Spiced Chips – $9.99
All Day Snacks
Warm Colossal Cinnamon Roll – serves two – $7.49
Elephant Ear Pastry – $5.99
Danish Chocolate Twist – $3.99
Chocolate Chip Cookie – $3.29
All-Day Beverages
Coffee – Regular or Decaf – $3.29
Nestlé Hot Cocoa – $3.29
Assorted Fountain Beverages – $3.99
Simply Orange Juice – $4.99
Minute Maid Apple Juice – $3.99
Dasani Bottled Water – $3.50
Iced Coffee – French Vanilla or Mocha – $4.79
Iced Coffee with Amarula Cream Liqueur – French Vanilla or Mocha – $10.25
Espresso – $2.49
Double Espresso – $2.99
Cappuccino – $3.99
Double Cappuccino – $4.79
** Kusafiri Coffee Shop Menu and Prices are Subject to Change Without Notice **