Resort Restaurants | Yacht Club Resort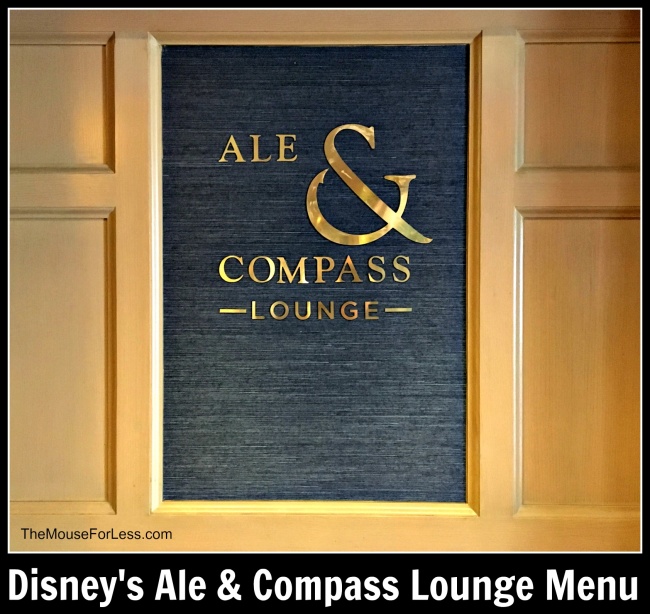 Both Beer and high-end liquors are poured at this nautical nook. Plus, you can enjoy light snacks like the fruit and cheese board and coffee and pastries in the morning.
Restaurant Info: American, Breakfast/Appetizers, $
Find out how you can save money on dining at Walt Disney World by using one of Disney's Dining Plans.
Ale and Compass Lounge Menu
Menu Date: 08/2018
Appetizers
Heath Oven Pies – Caramelized Leek and Chorizo – $18.00
Parker House Rolls and Spreads – Bacon Jam, Pub Cheese, and Smoked Trout Spread – $12.00
Grape Leaf-wrapped Baked Goat Cheese – Oven-roasted Tomatoes and Toasted Pumpkin Seeds with Grilled Baguette – $9.00
Duck Rillette and Skirt Steak Jerky – with Crostini and Pickles – $12.00
Oven Roasted Oysters – with Creamed Kale, White Cheddar, and Cornbread Crumbs – $12.00
Hearth Oven Pies – White Clam – $19.00
Oven-roasted Littlenecks – with Potatoes and Bacon – $13.00
Roasted Garlic Shrimp – $15.00
Roasted Buffalo-style Cauliflower – with Hearts of Romaine and Herb Ranch – $9.00
Non-Alcoholic Beverages
Strawberry Hibiscus No-Jito – Flavors of Strawberry and Hibiscus, fresh Lime Juice, and Mint topped with Soda Water – $4.49
Grapefruit Spritzer – Juices of Ruby Red Grapefruit and fresh Lime Juice topped with Soda Water – $4.99
Sparkling No-Jito – Fresh Lime Juice, Simple Syrup, and Mint topped with Soda Water – $4.49
No-Kick Mule – Ginger Beer with Simple Syrup, and fresh Lime Juice – $4.99
Wines
Banfi Rosa Regale Brachetto d'Acqui, Piedmont – $13.00 glass, $55.00 bottle
Nino Franco Rustico Prosecco di Valdobbiadene, Veneto – $10.00 glass, $45.00 bottle
Paul Cheneau Cava, Spain  – $10.00 glass, $45.00 bottle
Veuve Clicquot Ponsardin Brut Yellow Label, Champagne  – $89.00 bottle
Villa Rosa Moscato d;Asti, Piedmont  – $9.00 glass, $39.00 bottle
Dr. Loosen, Dr. L. Riesling, Mosel – crisp flavors of white peaches and green apples, bright and refreshing clean finish – $10.00 glass, $45.00 bottle
Placido Pinot Grigio, Veneto – $9.00 glass, $39.00 bottle
Kim Crawford Sauvignon Blanc, Marlborough – $11.00 glass, $49.00 bottle
Conundrum, California – Fruit forward flavors of apricot, peach, ripe pear, and apple joined in a creamy and richly textured style which has a long, lingering finish – $14.00 glass, $59.00 bottle
Domaine Savary Chablis, Burgundy – $13.00 glass, $55.00 bottle
Jackson Estate Chardonnay, Santa Maria Valley – $11.00 glass, $49.00 bottle
Chalk Hill Chardonnay, Sonoma Coast – $12.00 glass, $53.00 bottle
Gérard Bertrand Cote de Roses Rosé, Languedoc – $10.00 glass, $45.00 bottle
Kenwood Vineyards Vulupa White Zinfandel, Sonoma County – $8.00 glass, $35.00 bottle
MacMurray Estate Pinot Noir, Russian River Valley – Raspberry and cherry cola aromas, flavors are balanced in a silky and long, elegant finish –  $13.00 glass, $55.00 bottle
Meiomi Pinot Noir, California – $13.00 glass, $55.00 bottle
Canyon Road Merlot, California – Black cherry and juicy plum notes, balanced with a round, velvety texture – $9.00 glass, $39.00 bottle
Chateau Ste. Michelle Canoe Ridge Merlot, Columbia Valley – $14.00 glass, $59.00 bottle
Don Miguel Gascon Malbec, Mendoza – Dark black plum and blackberry flavors with fruit forward intensity, smooth and round finish – $10.00 glass, $45.00 bottle
Yangarra Shiraz, McLaren Vale – $14.00 glass, $59.00 bottle
Oberon Cabernet Sauvignon, Napa Valley – $13.00 glass, $55.00 bottle
Simi Cabernet Savignon, Alexander Valley – Richly extracted black currant and dark cherry flavors extend to a long, polished finish – $14.00 glass, $59.00 bottle
Classic Cocktails
Royal Manhattan – Knob Creek Straight Rye Whiskey, Carpano Antica Sweet Vermouth, and Angostura Bitters – $11.25
Captain's Mai Tai – Captain Morgan Original Spiced Rum, Bols Amaretto, and Tropical Juices topped with a float of Myers's Original Dark Rum – $10.50
Dark and Stormy – Myers's Original Dark Rum and Fever-Tree Ginger Beer – $10.25
Galleon Gimlet – Plymouth Navy Strength Gin with fresh Lime Juice and Simple Syrup – $11.25
Hudson Mule – Hudson Baby Bourbon, fresh Lime Juice, Simple Syrup, and Fever-Tree Ginger Beer – $13.00
Ultimate Long Island Iced Tea – Bacardi Superior Rum, Tito's Handmade Vodka, Hendrick's Gin, Cointreau, and Sweet-and-Sour with a splash of Coca-Cola – $11.25
Seaworthy Breeze – Yacht Club Vodka with Grapefruit and Cranberry Juices – $10.00
Original Cocktails
Maple Old Fashioned– Jim Beam Black Extra-aged Bourbon, Maple Syrup, Orange Juice, and Angostura Bitters – $10.25
The Big Apple – Buffalo Trace Bourbon, Crisp Apple Purée, and Carpano Antica Sweet Vermouth – $11.25
Purple Mariner– Hendrick's Gin, Crème de Violette, Simple Syrup, and fresh Lemon Juice topped with Soda Water – $11.25
Spicy Pomegranate Margarita– El Mayor Blanco Tequila, Ancho Reyes Chili Liqueur, Pomegranate Juice, Simple Syrup, and fresh Lime Juice – $11.25
NE Avenue – Jack Daniel's Tennessee Whiskey, Busnel Calvados, Passion Fruit, Pomegranate Juice, and Cardamom Bitters – $11.25
How Dare You – Fernet Branca Menta, fresh Lemon Juice, and Simple Syrup topped with Tonic Water – $11.25
Just Peachy – Cîroc Peach Vodka, Aperol, Peychaud's Bitters, Peach and Blood Orange – $11.25
Draft Beers
Bud Light – $6.50
Samuel Adams Boston Lager, Blue Moon Belgian White, New Belgium Fat Tire Amber Ale, Cigar City Ja Alai IPA – $8.25
Yuengling Traditional Lager – $7.25
** Ale and Compass Lounge Menu and Prices are Subject to Change Without Notice **