Resort Restaurants | Art of Animation Resort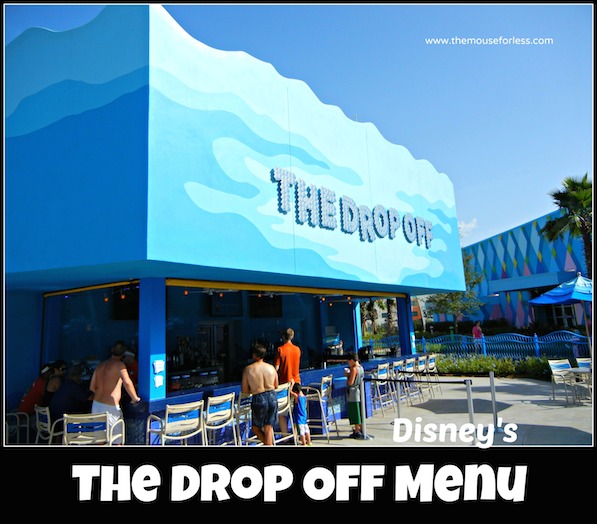 After an afternoon of fun in the sun, pull up a chair at The Drop Off Pool Bar and chill! Relax poolside with a thirst-quenching beverage and a snack!
Restaurant Info: American, Snacks, $ – $14.99 and under per adult
Find out how you can save money on dining at Walt Disney World by using one of Disney's Dining Plans.
The Drop Off Pool Bar Menu
Menu Date: 04/2019
Featured Cocktails
Big Blue Ocean – Svedka Vodka, Bacardi Superior Rum, Bols Blue Curaçao and Odwalla® Lemonade with a souvenir multi-colored glow cube – $14.00
Captain's Pineapple – Captain Morgan Original Spiced Rum blended with Pineapple Soft-serve – $11.25
Non-Alcoholic Specialties
Odwalla All-Natural Lemonade – $4.99
Wild Strawberry Lemonade – $5.49
Strawberry Smoothie – Strawberry Purée blended with Nonfat Yogurt – $5.99
Lava Smoothie – Raspberry Purée blended with Piña Colada Mix – $5.99
SmartWater – $5.50
Zico Watermelon Raspberry Coconut Water – $4.49
Dasani Bottled Water – $3.50
Powerade Mountain Berry Blast – $4.69
Fever Tree Ginger Beer – $4.99
Beer, Wine, Sangria
Assorted Canned or Bottled Beer – $7.75-$10.00
Assorted Draft Beer – $7.75-$10.00

Woodbridge by Robert Mondavi Pinot Grigio – $9.00
Woodbridge by Robert Mondavi Chardonnay – $9.00
Woodbridge by Robert Mondavi Cabernet Sauvignon – $9.00
Beso Del Sol Sangria – Red or White – $9.50
Frozen Beverages
Piña Colava – Bacardi Black Razz Rum blended with Piña Colada Mix and Raspberry Purée – $12.00
Frozen Jack and Coke – Frozen Coca-Cola® Slush blended with Jack Daniel's Tennessee Whiskey – $11.25
Frozen Bacardi Rum and Coke – Frozen Coca-Cola® Slush blended with Bacardi Superior Rum – $11.25
Frosé – featuring Meiomi Rosé and Tito's Handmade Vodka – $12.50
On the Rocks
Sunshine Margarita – Lunazul Reposado Tequila, Cointreau, and Sweet-and-Sour topped with Juices of Orange and Lime – $13.00
Blueberry Lemonade – Three Olives Blueberry Vodka, Bols Blue Curaçao, odwalla® Lemonade with juices of Lemon and Pomegranate topped with Sprite – $12.25
Bourbon Breeze – Bulleit Bourbon with Cranberry, Lime and Pomegranate Juices topped with Fever Tree Ginger Beer – $13.25
Banana Cabana – Cruzan Mango Rum, Coruba Coconut Rum, Crème de Banana, with Orange and Pineapple Juice and a float of Grenadine – $11.75
Captain's Mai Tai – Captain Morgan Original Spiced Rum, Bols Amaretto and Tropical Juices topped with a float of Myer's Original Dark Rum – $11.75
Poolside Iced Tea – Absolut Vodka, Bacardi Superior Rum, Beefeater Gin, Jose Cuervo Tradicional Reposado Tequila, Cointreau and Sweet-and-Sour topped with Coca-Cola – $13.50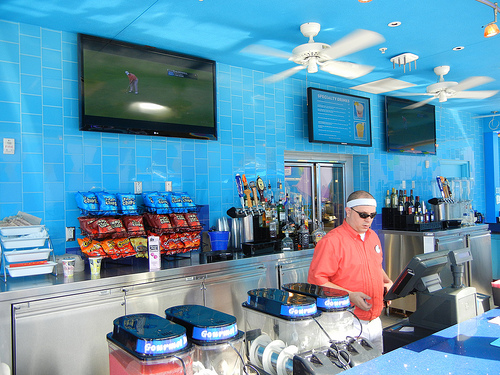 ** The Drop Off Pool Bar Menu and Prices are Subject to Change Without Notice **