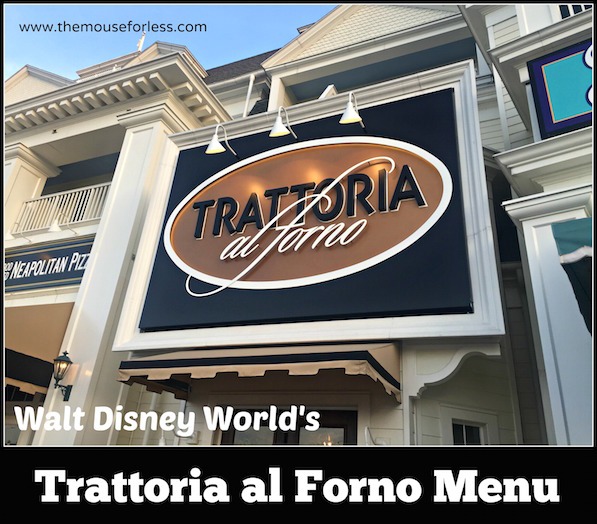 Translated from Italian, a "trattoria" is an Italian restaurant serving simple food, and "al forno" is Italian for "food baked in an oven." Therefore, Trattoria al Forno at Disney's BoardWalk Inn showcases delicious Old World culinary techniques. Here you will find a delicious menu including handcrafted mozzarella made daily, cavatelli (small dumpling-shaped pasta) and a variety of Neopolitan-style pizzas baked in wood-burning ovens.
Trattoria al Forno is located at Disney's Boardwalk Inn Resort.  Find more Walt Disney World dining locations on our Walt Disney World menus page.
Restaurant Info: Italian, Breakfast, Dinner, $-$$
Find out how you can save money on dining at Walt Disney World by using one of Disney's Dining Plans.
Breakfast Menu  Kids'Breakfast Menu  Dinner Menu  Kids' Dinner Menu

Planning a Walt Disney World Vacation?
For a Free no-obligation quote, contact our sponsor
The Magic For Less Travel
. The Magic For Less Travel is an Authorized Disney Vacation Planner and has been helping guests plan magical vacations since 2002. Receive the best prices and free travel planning services. Their fee-free services will help you save time, money, and stress while planning a vacation designed around you and your needs!
Trattoria al Forno Bon Voyage Breakfast Menu
Menu Date: 2023
Please Note: The Bon Voyage Character Breakfast is currently unavailable. The current breakfast option is listed below
Entrées
Oak-grilled Steak and Eggs* – $21.00
Sunny-Side Up Eggs, Breakfast Potatoes, Crispy Onions and Hollandaise Sauce
Sunrise Breakfast Pizza – $14.00
Scrambled Eggs, Bacon, Ham, Sausage, Bell Peppers and Cheese
Buttermilk Pancakes – $15.00
Seasonal Compote with Bacon, Ham or Sausage
Tiramisu Bread Pudding – $16.00
Cinnamon Brioche, Mascarpone Cream and Espresso drizzle served with choice of Bacon or Sausage
Eggs
Caprese Omelet – $17.00
Mozzarella, Ripe Tomatoes, Fresh Basil and Breakfast Potatoes served with choice of Bacon or Sausage
Al Forno Eggs* – $16.00
Brick Oven-roasted Cage-free Eggs, Polenta, Fennel Sausage, Spiced Tomato Sauce and Crispy Country Bread
Two Eggs Your Way* – $16.00
Breakfast Potatoes, Bacon, Ham or Sausage
Lighter Entrées
Avocado Toast – $13.00
Red Pepper Hummus, Cremini Mushrooms, Everything Spice, and Balsamic Vinaigrette (Plant-based)
Florentine Frittata – $17.00
Egg Whites, Baby Spinach, Goat Cheese, Fresh Herbs and Seasonal Fruit
Freshly Harvested Fruit Plate – $15.00
Yogurt, Honeycomb and House-made Granola
Sides
Bacon or Sausage – $5.00
Steel-cut Oatmeal – (Plant-based) – $7.00
Breakfast Potatoes – (Plant-based) – $5.00
Mickey Shaped Waffle – (Plant-based) – $5.00
Non-Alcoholic Beverages
Freshly Brewed Italian-style Joffrey's Coffee
Assorted Coca-Cola Soft Drinks
Coca-Cola, Diet Coke, Coca-Cola Zero, Sprite®, Barq's Root Beer, or Minute Maid Light Pomegranate Lemonade
Watermelon No-jito – $5.49
Assorted Sparkling Water – $4.75
with a hint of fruit flavor (6.75 oz)
Cappuccino or Caffe Late – $4.79
Bevande Speciali Alcoliche
Trattoria al Forno Press Pot Coffee Roasted by Joffrey's Coffee™ (Serves Two) – $9.00
This Italian blend coffee features an aroma of sweet berry and milk chocolate, which transcends itself into a citrus, dark berry flavor in the cup with Tangerine and Cantaloupe notes, the rich and tart aftertaste lead to a long finish
Iced Coffee – $4.50
Trattoria al Forno's special blend of Artisan Coffee, Cream, and Sweetener served over Ice
Specialty Character Drink – $6.50
Minute Maid® Zero Sugar Lemonade with flavors of Cotton Candy served in a souvenir Character Cup
Trattoria al Forno Bevande Alcoliche
Red or White Sangria
Peach Bellini – $14.50
Ruffino Prosecco with White Peach Purée
Caprese Bloody Mary – $13.50
Mimosa – $13.50
Trattoria al Forno Kids Breakfast Menu
For Guests Age 9 and Under
Kids' Create-Your-Own Entrees (choose one)
Served with choice of Small Lowfat Milk, Small Minute Maid Apple Juice, or Small Dasani Water and Two (2) selections
Mickey Egg White Omelet – $10.00
Two Eggs Any Style – $10.00
Fruit and Yogurt Plate – $7.00
Buttermilk Flapjacks –  $9.00
Mickey-shaped Waffle – $9.00
Kids' Create-Your-Own Selections (choose two)
Mixed Fresh Fruit

Breakfast Potatoes
Bacon
Sausage
One Egg – Any Style
Trattoria al Forno Dinner Menu
Dinner served from 5:00 p.m. to 10:00 p.m. daily.
Appetizers
Coastal Mussels – $18.00
Vino Bianco, Shaved Fennel, Chiles, Pesto Cream
Calamari – $17.00
Lemon, Parsley, Lemon Garlic Aioli
Charcuterie Board – $15.00
Cured Meats, Cheeses, Pickled Harvest Vegetables
Insalata Caprese
House-made Burrata, Ripe Tomatoes, Extra Virgin Olive Oil – $13.00
Roma Tomato Bruschetta – $13.00
Grilled Ciabatta, Genovese Basil, Aged Balsamic (Plant-based)
Caesar Salad – $12.00
Parmesan-Anchovy Dressing
Tuscan Salad – $12.00
Countryside Greens, Almonds, Gorgonzola, Blackberries, Lemon Vinaigrette
Tomato Bruschetta – $13.00
Oven-roasted Ciabatta, Genovese Basil, Aged Balsamic
Entrées
Oak-grilled Strip Steak Florentine* – $39.00
Hearth-roasted Vegetables, Olive Oil Potatoes, Amarone Butter
Veal Osso Buco – $35.00
Gremolata, Creamy Polenta, Arugula
Grilled Swordfish Salmoriglio $32.00
Pancetta, Bell Peppers, Zucchini, Cannellini Beans
Shrimp Papardelle – $31.00
Artichokes, Golden Tomato, Capers, White Wine-Butter Sauce
Lasagna al Forno – $30.00
Blended Italian Cheeses, Beef, Veal, Pork, Herb Ricotta
Parmigiana di Pollo – $29.00
Breaded Chicken Breast, Parmesan-Reggiano, Provolone, Rustic Tomato Sauce
Plant-based Bolognese $27.00
Semolina Rigatoni, Slowly Braised Ragù
Truffle Gnocchi – $28.00
Parmesan, Fontina, Truffle Cream
Pizza al Forno
Pizze Carni – $23.00
Proscuitto, Salami, Capicola Sausage
Pizze Pepperoni – $21.00
Plum Tomato Sauce, Parmesan
Pizze Margherita – $20.00
Fresh Mozzerella, Crushed Tomatoes, Torn Basil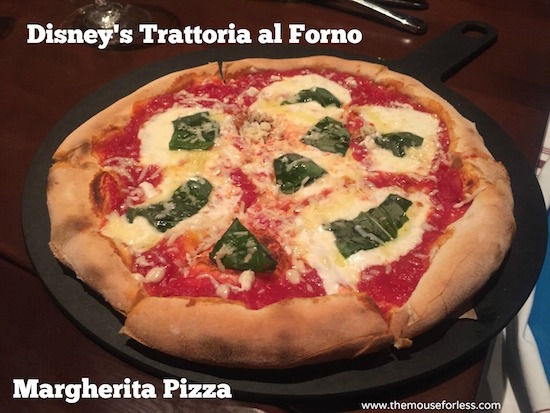 Pizze Stagionale – $23.00
Chef's seasonal Pizza selection
Sides
Crispy Pancetta Arrancini – $14.00
Fried Italian Rice Ball with Mozzarella and coated in Bread Crumbs
Shrimp Scampi – $9.00
Garlic Bread – $7.00
Olives – $5.00
Polpette – $5.00
Desserts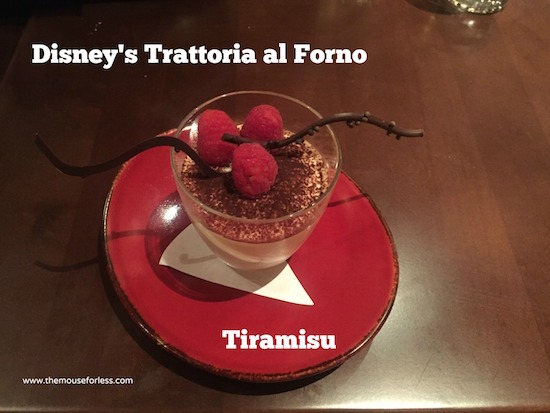 Tiramisù – $10.00
Lady Fingers soaked with Espresso and layered with Italian Mascarpone Cream
Panna Cotta – $10.00
Fresh Fruit, Florentine Lace Cookie
Affogato al Caffè – $8.00
Frozen Coconut-Vanilla Bean Milk, Chocolate-Hazelnut Ribbons, Amaretti Cookies (Plant-based)
House-made Gelato  – $6.2-5
Choice of Milk Chocolate, Vanilla, Pistachio, or Stracciatella
Non-Alcoholic Beverages
Freshly Brewed Italian-style Joffrey's Coffee
San Pellegrino Sparkling Fruit Beverages (6.75 oz) – $4.75
Assorted Coca-Cola Soft Drinks
Coca-Cola, Diet Coke, Coca-Cola Zero, Sprite®, Barq's Root Beer, or Minute Maid Light Pomegranate Lemonade
Watermelon No-Jito – $5.49
Cappuccino or Caffe Latte – $4.79
Cocktails
Aperol Spritz – $15.50
Aperol and Prosecco topped with Soda Water
Menta Espresso Martini – $15.50
Fernet Menta, Antica Sweet Vermouth, Central Espresso
Pericolo Rosso – $17.50
Banfi Grappa di Brunello, Campari, and Vanilla Syrup topped with Michele Chiarlo Nivole Moscato d'Asti Dessert Wine
Basil-Lemon Drop Martini – $16.50
Absolut Citron and House-made Basil Simple Syrup with a Fresh Basil Leaf from EPCOT'S Land Pavilion
Blueberry Spritzer – $14.50
Bacardí Silver Rum, House-made Blueberry Syrup served over clear Ice Cube with Blueberries
Old Fashioned – $16.50
Eagle Rare Bourbon, Angostura and Orange Bitters with Agave Nectar
Molto Bello – $16.50
Patron Silver Tequila, Caravella Limoncello, fresh Lime Juice and Agave Nectar
Italian Manhattan – $15.50
Jim Beam Black Extra-Aged Bourbon, Amaro Nonino and Augustra Bitters with a Luxardo Cherry
Sicilian Iced Tea – $15.50
Amaro Averno Liqueur, Caravella Orangecello, Iced Tea, Agave Nectar and fresh Lime Juice
Tuscan Sour – $14.50
Maker's Mark Bourbon, Nipozzano Chianti, Agave Nectar with fresh Lemon and Lime Juice – $14.00
Red or White Sangria – Pitcher $31.00 | Glass $11.00
Draft and Bottled Beers
Assorted Beer, Cider, and IPA available – $8.00 – $12.50
A full bar is available featuring an assortment of cocktails, wines, and beer
Trattoria al Forno Kids Dinner Menu
For Guests Age 9 and Under
Kids' Appetizer
Mixed Green Salad $3.00
with Ranch Dressing
Tomato-Basil Soup – $3.00
Kids' Create-Your-Own Entrees (choose one)
Served with choice of Small Lowfat Milk, Small Minute Maid Apple Juice, or Small Dasani Water and two (2) selections
Grilled Chicken Breast – $15.00
Grilled White Fish – $16.00
Meatballs – $15.00
Pepperoni Pizza – $15.00
Cheese Pizza – $13.00
Kids' Create-Your-Own Selections (choose two)
Whole Wheat Pasta Marinara
Steamed Broccoli
Scoop of Vanilla Gelato
Fresh Fruit Cup
Green Beans
Buttered Noodles
** Trattoria al Forno Menu and Prices are Subject to Change Without Notice **