Resort Restaurants | Polynesian Village Resort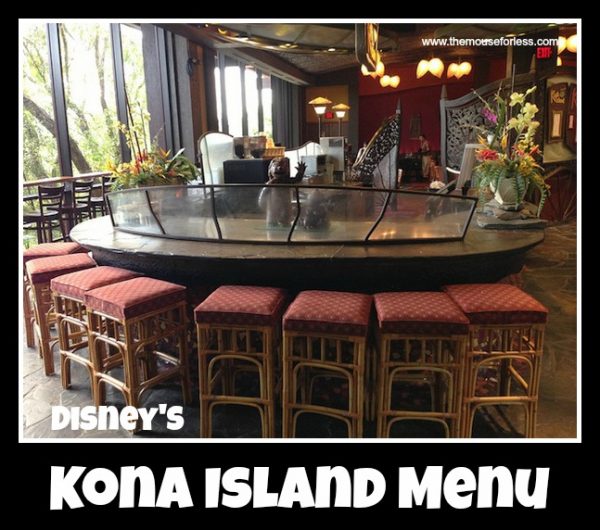 Morning Fare   Sushi Menu  Lunch/Dinner Menu
Coffee grown in Kona, Hawaii and roasted in Orlando, Florida – Kona Island at Disney's Polynesian Resort serves the perfect "morning" cup along with assorted pastries daily. In the evenings, say aloha to made-to-order sushi and sashimi at this quick service bar.
Restaurant Info: American, Beverage/Snack/Sushi, $
Find out how you can save money on dining at Walt Disney World by using one of Disney's Dining Plans.
Kona Island Morning Fare
Menu Date: 01/2019
Coffee Bar
Kona Blend Coffee Press Pot for Two – $9.00
Kona Blend Coffee – regular and decaf freshly brewed – $3.19
Café Americano – small – $3.69/large – $3.99
Espresso – single – $3.99
Espresso – double – $4.89
Café Latte – small – $4.69/large – $5.59
Café Mocha – small – $4.79/large – $5.79
Iced Café Mocha – $5.29
Cappuccino – small – $4.69/large – $5.49
Caramel Macchiato – $5.19
Iced Caramel Macchiato – $5.69
Assorted Hot Tea – English Breakfast, Earl Grey, Chamomile, Pure Peppermint, Jasmine Green, Chai – $3.19
Skinny Latte – small – $4.79
Pastries
Chocolate Croissant – $3.00
Croissants – $4.00
Banana Nut Bread – $3.00
Mickey Cookie – $3.00
Assorted Muffins – $3.00
Assorted Danishes – $4.00
Bagels – $3.00
Sticky Buns – $3.00
Assorted Whole Fruit – $2.00
Specialty Cupcake – $5.49
Allergy-friendly Doughnut – $3.75
Allergy-friendly Cupcake – $4.99
Beverages
Assorted Juice Boxes – $2.69
Simply Orange Orange Juice – $4.49
Milk – 2%, Skim or Chocolate – $3.69
Nestle Hot Chocolate – small – $3.19/large – $3.50
Dasani Bottled Water – $3.00
Assorted Beverages – $3.29
Kona Island Lunch/Dinner Offerings
Menu Date: 01/2019
Appetizers
Kona Salad – Seasonal Greens, Cucumbers, Carrots, Tomatoes, Peanut Brittle, and Blood Orange Vinaigrette – $10.00
Shrimp Cocktail – Fresh Shrimp marinated in Citrus Juices from Florida – $15.00
Beef Carpaccio Tataki – Thinly Sliced Beef in a Spicy Black Pepper Marinade topped with Chili Oil – $12.00
Seasonal Soup – $7.00
Sushi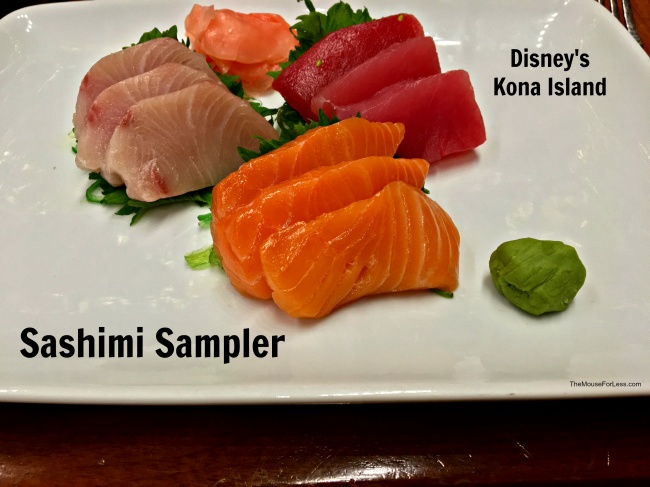 Vegetable Nigiri – Six pieces of our Chef's seasonal vegetables – $13.50
Sashimi Sampler -Chef's choice of six pieces of seafood – $18.00
California Roll – Jumbo lump crab, citrus mayonnaise, cucumber, and avocado – $15.00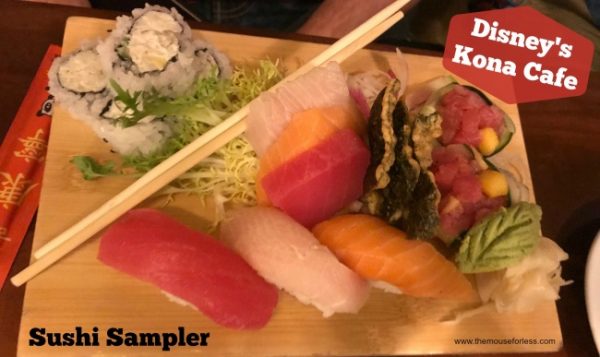 Hamachi Tune-Cilantro Roll – Hamachi tuna, avocado, and cilantro served with our ponzu sauce – $17.00
Coffee Bar
Kona Blend Coffee Press Pot for Two – $9.00
Kona Blend Coffee – regular and decaf freshly brewed – $3.19
Café Americano – small – $3.69/large – $3.99
Espresso – single – $3.99
Espresso – double – $4.89
Café Latte – small – $4.69/large – $5.59
Café Mocha – small – $4.79/large – $5.79
Iced Café Mocha – $5.29
Cappuccino – small – $4.69/large – $5.49
Caramel Macchiato – $5.19
Iced Caramel Macchiato – $5.69
Assorted Hot Tea – $3.19
Skinny Latte – small – $4.79
Beverages
Assorted Juice Boxes – $2.69
Simply Orange Orange Juice – $4.49
Milk – 2%, Skim or Chocolate – $3.69
Nestle Hot Chocolate – small – $3.19/large – $3.50
Dasani Bottled Water – $3.00
Assorted Beverages – $3.29
Desserts
Kilauea Torte – $7.00
Kona Mocha Crémeux  – Kona Coffee Crémeux with crispy Chocolate Pearls and Roasted White Chocolate Ganache – $8.00
Beer and Wine
Assorted Beers
Assorted Wines
** Kona Island Menu and Prices are Subject to Change Without Notice **