Disney's Hollywood Studios  | Streets of America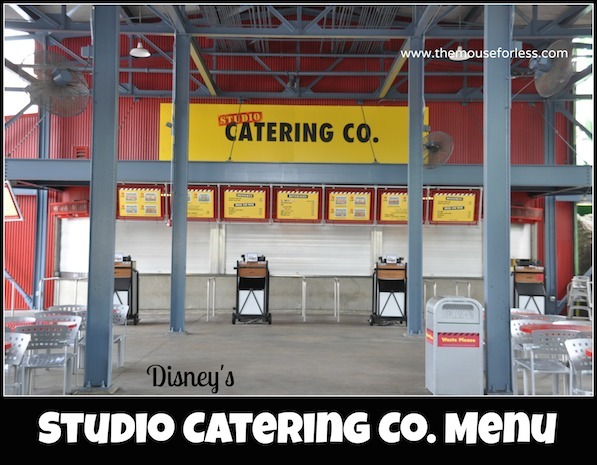 When you need to take a break from the action, Studio Catering Company offers seats in the shade and an eclectic menu featuring Greek salads and chicken Caesar wraps.
Restaurant Info: American, Lunch/Dinner, $ – under $14.99 per adult
Find out how you can save money on dining at Walt Disney World by using one of Disney's Dining Plans.
Special Notice: Studio Catering Company will close permanently on April 3, 2016 to make way for a Disney's Hollywood Studios expansion project.
Studio Catering Company Lunch and Dinner Menu
Menu Date: 03/2016
Entrées
Pulled Beef Brisket Sandwich – Braised Beef Brisket, Muenster Cheese, Arugula and Horseradish Sauce on a Ciabatta Roll served with French Fries, House-made Chips, or Apple Slices – $10.49
Deli Sandwich – Smoked Ham, Salami, Pepperoni, Provolone, Creamy Caesar Pesto, Lettuce, Diced Tomatoes, Kalamata Olives, Pepperoncini Peppers and Balsamic Glaze served with House-made Chips
– $9.49
Spicy Chipotle Ranch Chicken – Breaded Chicken Breast, Romaine, Tomato and Chipotle Ranch Dressing on a Ciabatta Roll served with French Fries – $9.99
Turkey and Cheese Panini – Turkey, Swiss, and Provolone on Sourdough Bread served with Tomato Basil Soup – $10.49
Vegetable Wrap – Zucchini, Mushrooms, Roasted Red Peppers, Tomatoes, Watercress, Provolone, and Garlic Herb Spread on a Spinach Tortilla served with House-made Chips – $9.49
Greek Salad – Romaine, Tomato, Cucumber, Kalamata Olives, Red Onion, Feta Cheese, and Greek Dressing Tossed-to-order – $7.19
House-Made Desserts
Strawberry Parfait – with Vanilla Wafers and Heath Bar Crunch; No Sugar Added – $4.39

Vanilla Cake – with Chocolate Custard and Oreo cookie Crunch – $4.29

Olaf Cupcake – Carrot Cake with Cream Cheese Icing – $5.59

Beverages
Soda – Coke, Diet Coke, Sprite, Fanta Orange, Minute Maid Light Lemonade, Gold Peak Sweetened and Unsweetened Tea- $2.99 Regular | $3.29 Large

Souvenir Cup with Fountain Beverage
• 16 oz Pink or Green – $5.99
• 24 oz Blue or Orange – $7.49
Desert Pear Lemonade – featuring odwalla – $3.29

Dasani Bottled Water – $2.75

Milk – $2.59

Nesquik Chocolate Milk – $2.59

Nestle Hot Cocoa – $2.49

Coffee – Regular or Decaf – $2.49

Simply Orange Juice – $3.99

Minute Maid Apple Juice – $2.79

Beer and Wine
Bud Light – $7.00
Yuengling, Shock Top Seasonal or Dos Equis – $7.75
Woodbridge by Robert Mondavi – Chardonnay or Cabernet Sauvignon – $7.50
Beso Del Sol Sangria – $8.00
Kids' Menu
Menu Date: 08/2015
Kids' Meals
For Guests Ages 9 and Under. All Meals Include Applesauce, Carrot Sticks, and Choice of Small Lowfat Milk or Small Dasani Water
Chicken Breast Nuggets – $6.49
Mickey Check Meals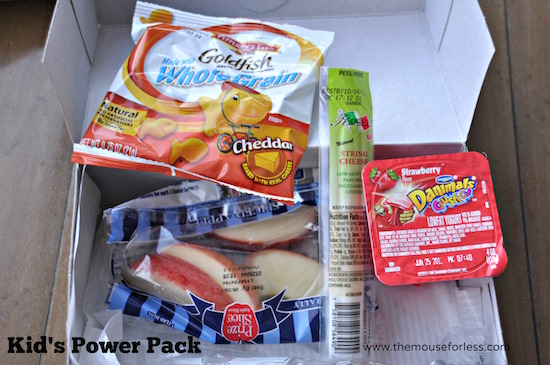 Kid's Power Pack: Dannon Danimals Yogurt, Apple Wedges, Carrot Sticks, Goldfish Crackers, Apple-Cinnamon Snack Bar and choice of Small Lowfat Milk or Small Dasani Water – $5.49

Smuckers Uncrustables P&J Sandwich – $5.49

= Meets Disney Nutrition Guidelines for Complete Meals without substitutions.

= Snack on the Disney Dining Plan
** Menu and Prices are Subject to Change Without Notice **