Resort Restaurants | Fort Wilderness Resort and Campground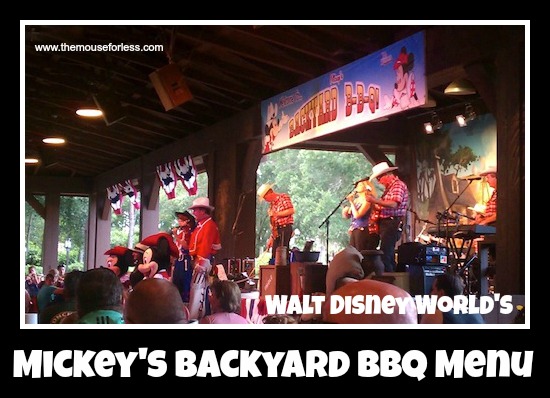 Clap and stomp along to the country western entertainment at this fun-filled all-you-care-to-eat Character picnic.
Restaurant Info: American, Dinner Show, $$$-$$$$
Find out how you can save money on dining at Walt Disney World by using one of Disney's Dining Plans.
Mickey's Backyard BBQ Menu
Menu Date: 06/2018
Booking Information
Mickey's Backyard BBQ Dinner Show in the Outdoor Pavilion at Disney's Fort Wilderness is presented from 6:30 p.m. to 9:30 p.m., Tuesdays, Thursdays, Fridays and Saturdays – typically March thru December. Dinner show features foot-stomping music from a country-western band, line dancing, rope tricks and kid-friendly fun. Little ones can even dance a jig with their favorite Disney Characters. Shows may be canceled due to inclement weather.
There are two Categories to book for Mickey's Backyard BBQ.
Guests booking Mickey's Backyard BBQ Category 1 must arrive 1 hour before show time. The benefits of booking a Category 1 seating are:
Early access to the Backyard Pavilion
Priority seating that gets you closer to the experience
A Character Greeting with Mickey and pals prior to the show
Plus, early access to all food and beverages 
Prices (tax and gratuity included):
Category 1: Adults $72;  and children (age 3-9) $47
Category 2: Adults $62; children (age 3-9)  $37
An Additional Surcharge is applied during Holiday Seasons
Characters and Reservation Details
Characters: Mickey, Minnie, Goofy, Chip and Dale
Reservations: Requires full payment with credit card at the time of booking. Cancellations up to 48 hours in advance will receive a full refund. Guests on the Disney Dining plan must use 2 table credits. Guests are seated based on arrival. Tickets are available for pick-up immediately after reservation has been confirmed online at any Walt Disney World Resort Guest Relations, Guest Service, or Resort Concierge desk. For same day box office pick-up, please arrive 44 minutes prior to show time. Characters Do Not Visit Individual Tables and guests will be sitting with other Parties on long banquet style picnic tables
Transportation & Driving Instructions: Guests driving to Mickey's Backyard BBQ should park in the main parking lot at the front of Disney's Fort Wilderness Resort & Campground and take the internal bus system to Settlement Depot, allowing extra time for travel to the location. Guests traveling from Magic Kingdom Park may take watercraft to the marina at Disney's Fort Wilderness Resort & Campground, located just a short walk from the pavilion for Mickey's Backyard BBQ."  A direct bus route to and from the Magic Kingdom is also now in operation.
All You Can Eat Picnic Menu
Cornbread
Salads
Creamy Cole Slaw

Kid-Friendly Vegetables
Cowboy Beans
Corn on the Cob
Macaroni and Cheese

Barbecue Pork Ribs
Smoked BBQ Chicken
Honey-mustard Baked Chicken
Jambalaya
Hamburger
Hot Dog

Warm Fruit Cobbler
Strawberry Shortcake
Watermelon
And More
Beverage Choice: Lemonade, Fruit Punch, Ice Tea, Soft Drinks, Beer and Wine
** Mickey's Backyard BBQ Menu and Prices are Subject to Change Without Notice **