Disney's Hollywood Studios | Streets of America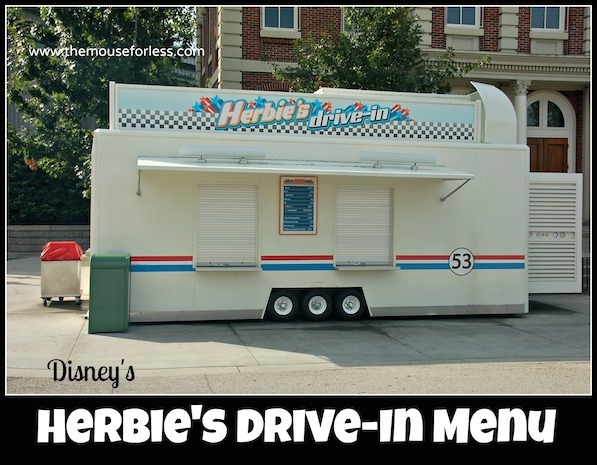 Stop by Herbie's Drive-In for old-fashioned American snacks and refreshments.
Restaurant Info: American, Lunch/Dinner/Snack, $
Find out how you can save money on dining at Walt Disney World by using one of Disney's Dining Plans.
Special Notice: Herbie's Drive-In will close permanently on April 3, 2016 to make way for a Disney's Hollywood Studios expansion project.
Herbie's Drive-In Menu
Menu Date: 03/2016
Entrees
Corn Dog – $4.99
Chili-Cheese Hot Dog – $7.19
Hot Dog – $5.49
Snacks
Chili-Cheese Nachos – with Pico de Gallo& Jalapeno – $5.99

Nachos with Cheese – $4.49

Assorted Chips – $2.99

Herbie's Drive_In Beverages
Coke-Cola Frozen Cooler – $3.99

Lemonade Frozen Cooler – $3.99

Asstored Fountain Drinks – Coke, Diet Coke, Coke Zero, Sprite, Minute Maid Lemonade – $2.99

Souvenir Cup with Fountain Beverage – $11.99
Dasani Bottled Water – $2.75

smartwater – $4.25

Alcoholic Frozen Cooler – Coca-Cola or Minute Maid Lemonade with a shot of Bacardi Superior Rum, Jack Daniel's Tennessee Whiskey or Three Olives Cherry Vodka – $10.50
Beso Del Sol Sangria – $8.00

= Snack on the Disney Dining Plan
** Menu and Prices are Subject to Change Without Notice **