Epcot | Future World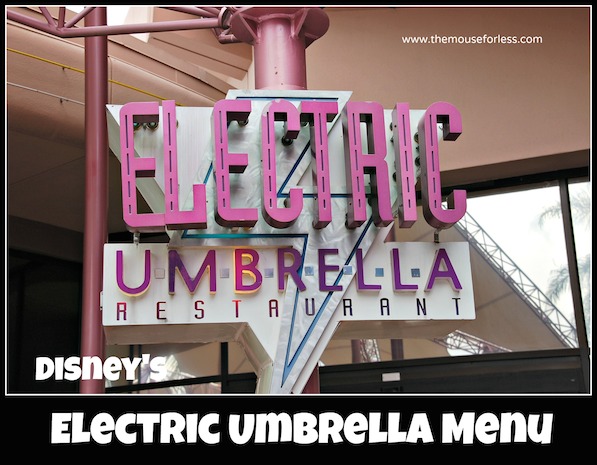 Make a culinary discovery of your own right in the bustling heart of Innoventions. Hidden away beneath colorful canopies, sink your teeth into all kinds of classic fare at Electric Umbrella.
Restaurant Info: American, Lunch/Dinner/Snack, $ – $14.99 and under per adult
Find out how you can save money on dining at Walt Disney World by using one of Disney's Dining Plans.
Electric Umbrella Menu
Menu Date: 11/2018
Entrees
Mojo Pulled Pork Burger – Flame-broiled 1/3 lb Angus Burger topped with Marinated Mojo Pork, drizzled with Cilantro Lime Aïoli and served with French Fries – $13.49
1/3 lb Bacon Cheeseburger – Flame-broiled Angus Burger topped with Bacon, melted American Cheese served with French Fries – $11.99
1/3 lb Angus Cheeseburger – Flame-broiled Angus Burger topped with melted American Cheese served with French Fries – $10.99
Energy Salad with Roasted Chicken – Fresh greens topped with Roasted Chicken, Seasonal Fruit and Feta Cheese – $10.99
Energy Salad – Fresh greens topped with Seasonal Fruit and Feta Cheese – $8.99
Chicken Breast Nuggets – served with French Fries – $9.99
3 Cheese Flatbread -topped with fresh Mozzarella, Provolone, Parmesan, and Arugula – $10.49
Brisket Sandwich – Slow-cooked Smoked Beef Brisket Marinated in Au Jus on top a Toasted Roll covered with Homemade Beer Cheese and served with French Fries – $10.99
Vegetable Quinoa Salad – Cauliflower, Carrots, Cabbage, Cucumbers, Tomatoes and Edamame drizzled with Agave Lime Dressing – $9.99
Sides
French Fries – $4.49
Kids' Meals
For guests ages 9 and under. Served meals served with Dannon Danimals Smoothie, Apple Slices and choice of small Lowfat Milk or small Bottled Water
Cheeseburger – $7.49
3 Cheese Flatbread – $6.99
Macaroni & Cheese – $6.69
Chicken Breast Nuggets – $7.19

Turkey on Goldfish Honey Wheat Bread – $6.99

Smucker's® Uncrustables® – $6.19

Meets Disney Nutrition Guidelines for Complete Meals without substitutions
Small Minute Maid Juice, small Nesquik Chocolate Milk, Dannon Danimals Yogurt, Cherry Gelatin or French Fries substituted upon requests
Desserts
Red Velvet Cake – $4.49
Mixed Fruit Cup – $3.99
Chocolate Cupcake – $4.99
Chocolate Overload Cookie – Chocolate Chip Cookie loaded with Chocolate Chips, drizzled with White Chocolate and Caramel – $3.29
No Sugar Added Brownie – $4.29
Beverages
Coca-Cola Products – Coke, Diet Coke, Coke Zero, Sprite, Fanta Orange, Iced Tea, Light Lemonade – $3.99
BB-8 Droid Souvenir Stein – with choice of fountain beverage – $14.69
Frozen Blue-Raspberry Slushy – $4.99
Frozen Pineapple-Coconut or Strawberry Slushy – $4.99
Dasani Bottled Water – $3.50
Hot Tea – $3.29
Coffee – Regular or Decaf – $3.29
Hot Cocoa – $3.29
Alcoholic Beverages
Heineken – $8.50
Bud Light – $7.75
Strawberry Margarita –  A refreshing frozen Strawberry Margarita served with a float of Sauza Tequila  – $11.50
Piña Colada – Frozen blended Coconut and Pineapple Juice with a float of Don Q Rum  – $10.50
** Electric Umbrella Menu and Prices are Subject to Change Without Notice **