Disney's Animal Kingdom | DinoLand, U.S.A.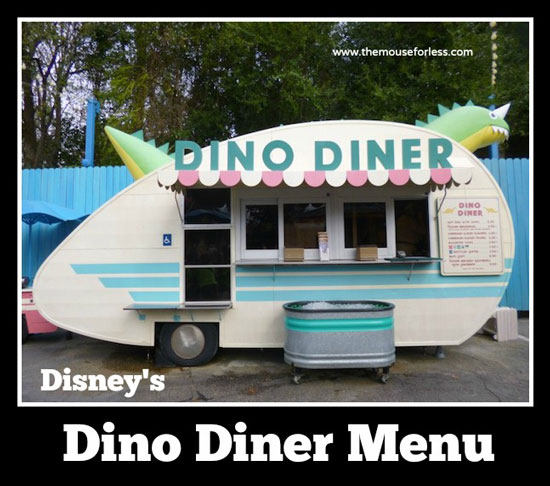 Look for this kiosk at Chester and Hester's Dino-Rama in Dinoland U.S.A. Specializing in sweet and savory snack items.
Restaurant Info: American, Snacks, $ – under $14.99 per adult
Find out how you can save money on dining at Walt Disney World by using one of Disney's Dining Plans.
Dino Diner Menu
Menu Date: 09/2018
Feature Items
Italian Sausage Hoagie – Broiled Italian Sausage, Sauteed Onions and Peppers served with Potato Chips – $9.99
Churro with Chocolate Sauce -$5.19

Donald's Dino-Bash Cupcake – $5.99

Dino Diner Beverages
Assorted Soda – Coke, Diet Coke, Sprite, Barq's Root Beer, Minute Maid Lemonade – $3.29

Frozen Beverages –  Minute Maid Lemonade – $4.29

Dasani Bottled Water – $3.00

Bud Light – $7.50
Key West Sunset Ale Draft – $9.25
Frozen Lemonade with Bacardi Black Razz Rum – $10.25

= Snack on the Disney Dining Plan
** Dino Diner Menu and Prices are Subject to Change Without Notice **