Resort Restaurants | Contemporary Resort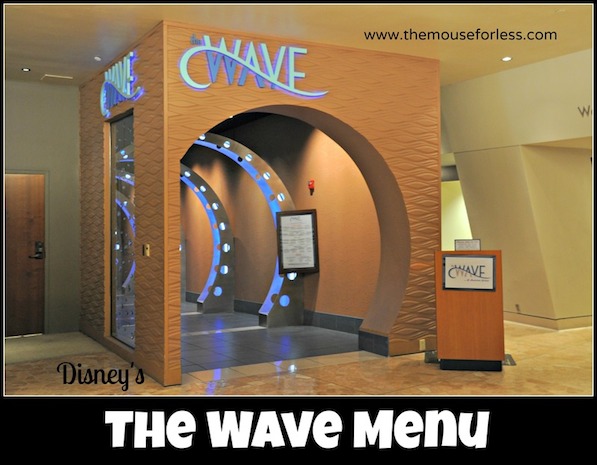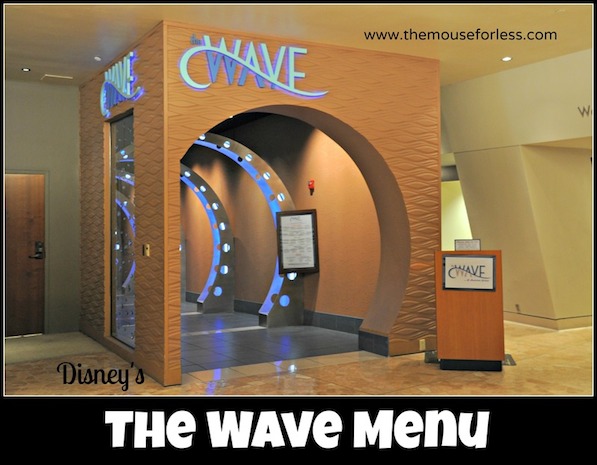 Immerse yourself in a "swell" time at this stylish bar inside The Wave… of American Flavors restaurant. Serving organic beer, New World wines and trendy cocktails, this elegant oasis promises a chic retreat for adults looking to unwind.
Restaurant Info: American Cuisine, Lounge $ – $14.99 and under per adult
Find out how you can save money on dining at Walt Disney World by using one of Disney's Dining Plans.
The Wave Lounge Menu
Menu Date: 10/2019
Appetizers
Lump Crap and Florida Rock Shrimp Cakes  – Citrus Radicchio Salad and Old Bay Cornichon Rémoulade – $14.50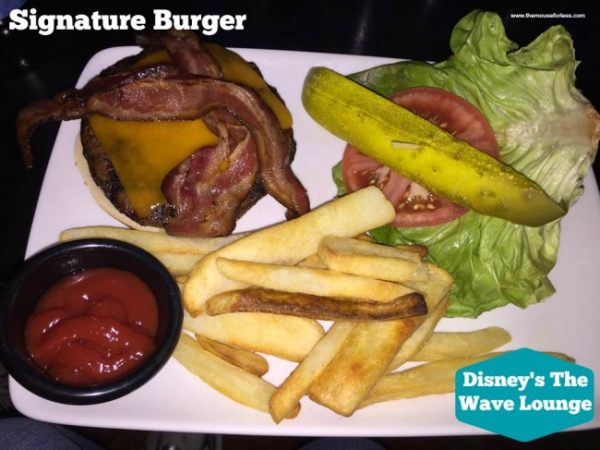 Signature Burger – Char-grilled Grass Fed Florida Beef, Applewood-smoked Bacon, Cheddar, and Vidalia Onion Glaze – $19.00
Caesar Salad – with Caesar Dressing, Brown Butter Croutons, and Shaved Pecorino Romano – $8.50
Artisanal Bread Selection – Multigrain Boule, Focaccia, and Lavosh with Seasonal Spreads – $11.00
The Wave Cheese Board – Featuring unique American-crafted Cheeses and Seasonal Accoutrement – $15.50
Grilled Chicken Sandwich – Herb-marinated Chicken Breast, Chèvre Cheese, Tomato Jam, and Arugula on Focaccia Bread – $14.00
Non-Alcoholic Specialties
All Natural Lemonade – Odwalla Lemonade topped with Wildberry Foam – $4.49
Sparkling No-Jito – Fresh Limes, Agave Nectar, and Mint topped with Soda Water
Draft Beers
Florida Road Trip – Draft Beer Flight 5-oz sample of each Duke's Cold Nose Brown Ale, Orlando Brewing Blonde Ale, Key West Sunset Ale – $14.50
Bud Light
Yuengling Traditional Lager
Samuel Adams Seasonal
Kona Brewing Co. Aloha Series Seasonal Beer

Cigar City Jai Alai IPA
Orlando Brewing Blonde Ale
Key West Sunset Ale
Duke's Cold Nose Brown Ale
Scotch
Johnnie Walker Blue Label
Bourbon
Elijah Craig Small Batch Bourbon
Tequila
** The Wave Lounge Menus and Prices are Subject to Change Without Notice **