Disney's Spirit of Aloha Dinner Show
Disney's Polynesian Resort
Dinner Show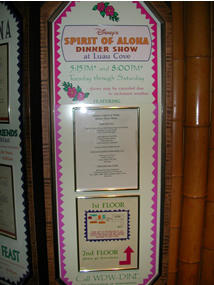 Get carried away by the spirit of the Pacific in this spectacular live celebration of Polynesian culture. From hula dancers to fire twirlers, the excitement doesn't cease as you feast on an all-you-care-to-eat banquet inspired by the flavors of the South Seas. You may even want to join in on the fun so brush up on your hula. Aloha! Welcome to paradise!
Restaurant Info: Polynesian, Dinner Show, $$$$
Find out how you can save money on dining at Walt Disney World by using one of Disney's Dining Plans.
Dinner Show Menu
Menu Date: 11/2014
Booking Information
Category 1 Prices (includes tax and gratuity): main floor, center stage
Adults - $69.99-$73.99, Children - $35.99-$39.99

Category 2 Prices (includes tax and gratuity): main floor to left & right; upper floor center
Adults - $62.99-$66.99, Children - $30.99-$32.99

Category 3 Prices (includes tax and gratuity): main floor, far left & right; upper level far left and right
Adults - $58.99-$62.99, Children - $29.99-$31.99
Dinning Plan: The Spirit of Aloha Polynesian Luau participates in the Disney Dining Plan for Categories 2 and 3 seating only. TWO table service credits are required per person for this show.
Additional info: Shows take place daily, Tuesday through Saturday at 5:15 p.m. and 8:00 p.m. at Luau Cove at the Polynesian Resort. Reservations may be made 180 days in advance by calling 1-407-WDW-DINE or reserved on Disney's web site. Tables are assigned according to the order in which they were reserved. Seating is limited. Payment is required in full at the time of booking. Cancellations made up to 48 hours in advance will receive a full refund. Cancellations are possible due to inclement weather.
Family Style Feast
Appetizers
Pineapple-Coconut Bread
Mixed Greens - with Honey Lime Vinaigrette
Mango Slaw
Soba Noodle Salad
Fresh Pineapple
Main Courses
Aloha Pulled Pork
BBQ Pork Ribs
Roasted Chicken
Vegetable Medley
Dessert
Warm Pineapple Bread Pudding - with Caramel Sauce
Na Keiki (Child's) Offering
Mini Corn Dogs - with tater tots
Cheese Pizza
Grilled Chicken - with rice and green beans
Mahi Mahi - with rice and green beans
Complimentary Beverages
Draft Beer - Budweiser or Bud Light
Wine - Concha Y Toro Frontera Chardonnay, Merlot, or Rosé
Soda - Coke, Diet Coke or Sprite
Pink Lemonade
Hot Tea
Iced Tea
Coffee
Milk
Specialty Cocktails
An 18% Gratuity and applicable Sales Tax will be added to all orders. All specialty cocktails are served in our souvenir Disney's Spirit of Aloha Dinner Show Glass
Pele's Fire Punch - The Volcano Goddess' blend of Bacardi rum, Myers' Original Dark Rum, Banana Liqueur, blackberry brandy, pineapple juice, and Grenadine served in an authentic, hand-carved monkey coconut. You keep the coconut - $14.95
Fire Knife Quencher - Ketel One Vodka, Peach Schnapps, cranberry juice, and orange juice - $11.25
Pina Colada or Strawberry Daiquiri - with Bacardi rum - $11.25
Maui Margarita - Jose Cuervo Gold Tequila, Triple Sec, Sweet-and-Sour, and lime juice - $11.25
Island Breeze - Captain Morgan Original Spiced Rum, Parrot Bay Coconut Rum, Bacardi 151 Rum, pineapple juice, and cranberry juice - $11.25
Captain's Mai Tai - Captain Morgan Original Spiced Rum, Amaretto, and tropical juices topped with a float of Myers' Original Dark Rum - $11.25
Bottled Beer
An 18% Gratuity and applicable Sales Tax will be added to all orders
Kona Fire Rock Pale Ale - $5.75
Kona Longboard Island Lager - $5.75
Corona - $5.75
Na Keiki Concoctions (Non-Alcoholic)
An 18% Gratuity and applicable Sales Tax will be added to all orders
Tropical Sunburst - Orange Juice, Pineapple Juice and Grenadine - $4.79
Virgin Strawberry Daiquiri - $4.69


** Menu and Prices are Subject to Change Without Notice **
Top