Disney's Hollywood Studios | Sunset Blvd. Area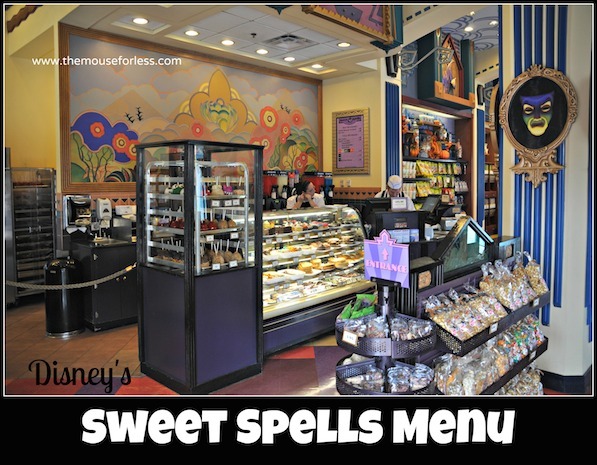 Satisfy your sweet tooth at Sweet Spells, your one-stop shop for everything naughty and nice.
Restaurant Info: American, Snack, $ – under $14.99 per adult
Find out how you can save money on dining at Walt Disney World by using one of Disney's Dining Plans.
 Sweet Spells will undergo a major refurbishment beginning April 16 at Disney's Hollywood Studios. During this time, the nearby Reel Vogue will remain open. Guests on Sunset Boulevard looking for snacks should visit Once Upon A Time. When the location reopens, it will be known as Beverly Sunset and will feature an expansion of current Pixar merchandise as well as pre-packaged treats. This location will be the exclusive location for Toy Story Land merchandise. Favorite snacks from Sweet Spells, will continue to be offered across Disney's Hollywood Studios at various merchandise shops and quick service locations.
Sweet Spells Menu
Menu Date: 03/2018
Sweet Treats
Assorted Danishes – $3.59
Assorted Muffins – $3.29
Fresh Fruit Options:
• Apple – $1.69
• Pineapple Spear – $3.29
• 2 Strawberries – $1.49
• Fruit Kabob – $4.29
Chocolate Dipped Strawberries – $3.99
Chocolate Dipped Pineapple Skewer – $4.29
Chocolate Dipped Fruit Skewer – $4.29
Chocolate Dipped Banana – $3.79
Chocolate Dipped Banana with Topping – $4.29
Mickey Chocolate Dipped Cake Pop – vanilla or chocolate – $4.19
Mickey Sugar Coated Cake Pop – vanilla or chocolate – $4.19
Mickey Red Velvet Cake Pop – $4.19
Assorted Cupcakes – $4.59
Holiday Specialty Cupcakes (seasonal) – $5.59
Mickey Crispy Treats – $5.49
Cinderella Crispy Treats – $5.49
Seasonal Crispy Treats – $5.49
Assorted Crispy Treats – $4.49
Mickey Marshmallow Wand – $4.99
Minnie Marshmallow Wand – $4.99
Chocolate Dipped Marshmallow Wand – $3.99
Chocolate Dipped Marshmallow Wand with Topping – $4.99
Sugar Cookie – $3.99
Oatmeal Raisin Cookie – $3.99
Snickerdoodle Cookie – $3.99
Chocolate Chip Cookie – $3.99
White Chocolate Chip Cookie – $3.99
Raspberry White Chocolate Chip Cookie – $3.99
Peanut Butter Cookie – $3.99
Mickey Gingerbread Cookie – $3.99
Mickey Red Shorts Shortbread Cookie – $3.99
Assorted Decorated Cookie – $3.99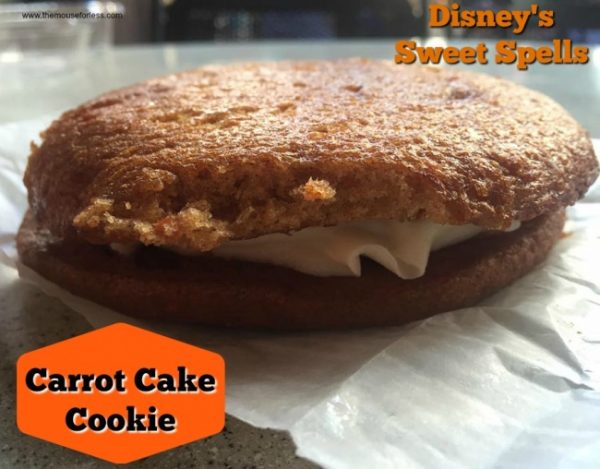 Carrot Cake Cookie with Cream Cheese Filling – $3.99
Large Mickey Chocolate Dipped Ears Sugar Cookie – $5.49
Large Mickey Chocolate Dipped Ears Peanut Butter Cookie – $5.49
Large Mickey Chocolate Dipped Ears Chocolate Chip Cookie – $5.49
English Toffee – $4.99
Mickey Peanut Butter Cup – $4.99
Mickey White Chocolate Peanut Butter Cup – $4.99
M&M Cup – $4.99
Pecan Caramel Roll – $4.99
Gourmet Pecan Cluster – $4.99
Mammoth Pecan Patty – $4.99
Assorted Chocolate Candy – $4.99
Assorted Fudge – chocolate nut, rocky road, cookies & cream, peanut butter, maple nut – $4.39
Assorted Character Inspired Caramel Apples – Mikey, Minnie, Goofy, etc – $10.99
Specialty Apples with Assorted Toppings – $10.99
Carmel or Chocolate Dipped Apple – with or without Nuts – $5.79
Candy Apple – $5.79
Caramel Peanut Apple – $6.29
Whoopie Pie – Banana, Cookies & Cream, or Maple Bacon – $3.99
Goofy's Candy Company Bagged Candy – 8 oz and Under – $5.49
Goofy's Candy Company Bagged Candy – 8 oz and Over – $7.49
Bulk Candy – per 1/4 Pound – $3.25
Cotton Candy – $4.39
Goofy's Glaciers – Strawberry, Blue Raspberry, or Lemonade – $4.79
Hot Beverages
Coffee – regular or decaf – $2.49
Hot Tea – $2.49
Hot Cocoa – $2.49
Cold Beverages
Iced Coffee – $2.49
Soda – Coke, Diet Coke, Coke Zero, Sprite, Fanta Orange – $3.29
Powerade – $3.99
Dasani Bottled Water – $3.00
** Sweet Spells Menu and Prices are Subject to Change Without Notice **