Disney Springs | West Side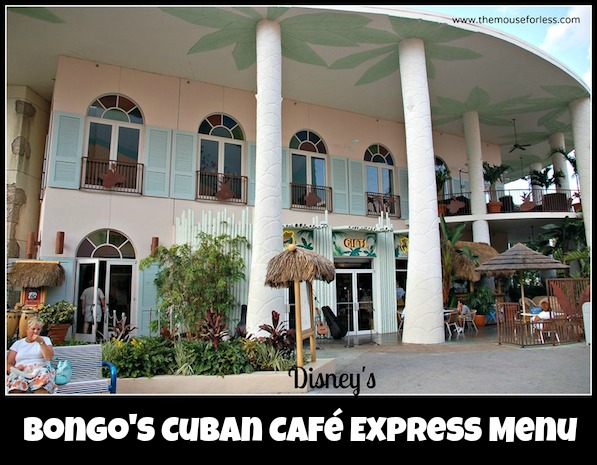 Reviews

Bongo's Cuban Café Express offers take out items from Gloria Estefan's Bongo Cuban restaurant.
Restaurant Info: Cuban, Lunch/Dinner A la carte, $ – under $14.99 per adult
Find out how you can save money on dining at Walt Disney World by using one of Disney's Dining Plans.
Bongo's Cuban Café Express All-Day Menu
Menu Date: 09/2017
Cuban Snacks
Cuban Party Box – Ham Croquette, Hand-breaded Stuffed Potato with Beef, Mini Cuban Sandwich and Guava Pastry – $12.00
Classic Cuban Garlic Toast – Tostadas Cubanas con Ajo – $3
Baked Cuban Empanadas – choose from roasted chicken, roasted pork or Cuban Criolla minced beef – $4.00

Hand-Breaded Stuffed Potatoes with Beef – Papas Rellena, Hand-breaded Mashed Potato stuffed with authentic Cuban Criollo Ground Beef – $2 each

Ham Croquettes – Croquetas de Jamon Tradicional, Abuela's classic recipe made with a creamy béchamel sauce – $2.00 each

Soups & Salads
Classic Chicken Soup – Sopa de Pollo, traditional homemade recipe – $6
Bongos House Salad – Ensalada de la Casa, locally sourced fresh Greens, sliced Tomatoes, Onions, Cucumbers and Carrots – $8.00
with Chicken – $12.00
Caesar Salad – Ensalada Caesar, chopped Romaine Lettuce tossed in Caesar Dressing, topped with Parmesan Cheese and homemade Cuban Bread Croutons – $8.00
with Chicken – $12.00
Sandwiches & Wraps
All Sandwiches are toasted, pressed and served with French fries.
Cuban Sandwich – Our famous classic sandwich made with our award winning slow roasted pork, ham, pickles, Swiss cheese & mustard on Cuban bread – $12.00
Midnight Sandwich – Our award winning slow roasted pork, ham, pickles, Swiss cheese & mustard served on sweet bread – $12.00
Cuban Roasted Pork Sandwich – Our award-winning Slow Roasted Mojo Marinated Pulled Pork, Grilled Onion and Mojo served on Cuban Bread – $12.00
Chicken Caesar Wrap – A tortilla layered with chicken breast, lettuce, croutons, Caesar dressing & Parmesan cheese in a wrap – $12.00
Lechon Flatbread – Crispy Flatbread baked in-house topped with our award-winning Roasted Pork, Mozzarella Cheese and Sweet Plantains drizzled with Organic Honey – $12.00
Cheese Flatbread – Crispy Flatbread baked in-house topped with Marinara Sauce and Mozzarella Cheese – $10.00
Entrees
Chicken Bites – Chicharrones de Pollo, Breaded Chicken Bites served with Sweet Plantains and Cilantro Aioli – $12.00
Cuban Criolla Beef – Picadillo, traditional Cuban Criollo Ground Beef with Onions, Peppers and Olives served with White Rice – $12.00
Side Orders
French Fries – $5.00
Plantain Chips – $5.00
Black Beans – $5.00
Sweet Plantains – $6.00
Green Plantains – $6.00
Kids' Meals
Mini Cuban Sandwich – slow roasted pork, ham, Swiss cheese, pickles & mustard on Cuban bread, served with French fries – $8.00
Mini Midnight Sandwich – slow roasted pork, ham, pickles, Swiss cheese & mustard on sweet bread, served with French fries – $8.00
Chicken Bites – served with French fries – $8.00
Desserts
Traditional Flan – Cuban style custard topped with caramel – $4.00
Guava Pastry – Rich pastry filled with guava – $5.00
Cuban Cheese Pastry Pastry – Rich pastry filled with cheese – $5.00
Chocolate Chip Cookie – $3.00
Beverages
Cuban Coffee – $5.00
Coffee with Steamed Milk – $5.00
Coffee Latte – $5.00
Cappuccino – $5.00
American Coffee – $3.00
Hot Chocolate – $4.00
Hot Tea – $3.00
American Coffee – $3.00
Milk – $3.00
Chocolate Milk – $3.00
Assorted Fountain Drinks – Coca Cola, Diet Coke, Sprite Ginger Ale, Pink Lemonades, Iced Tea – $4.00 regular, $7.00 large

Latin Sodas (Canned) – Materva, Malta India, Jupina or Ironbeer – $4.00

Juice – Mango, Guava, Peach, Apple, & Orange – $4.00
Bottled Water – $2.00

Assorted Frozen Beverages – Lemonade or Strawberry – $4.00 regular, $7.00 large
Beers and Wines
Cigar City Beers – Jai Alai & Invasion  – $7.00
Persimmon Hollow Brewing – Daytona Dirty Blonde & Beach Hippie IPA – $7.00
Imported Beers – Corona, Corona Light, Stella or Heineken – $7.00
Domestic Beers – Budweiser or Bud Light – $6.00
Corona Light Draft – $5.00
Red Sangria Glass – $6.00
Estefan Kitchen Merlot, California – $8.00
Estefan Kitchen Chardonnay, California – $8.00

= Snack on the Disney Dining Plan
** Bongo's Cuban Café Express Menu and Prices are Subject to Change Without Notice **