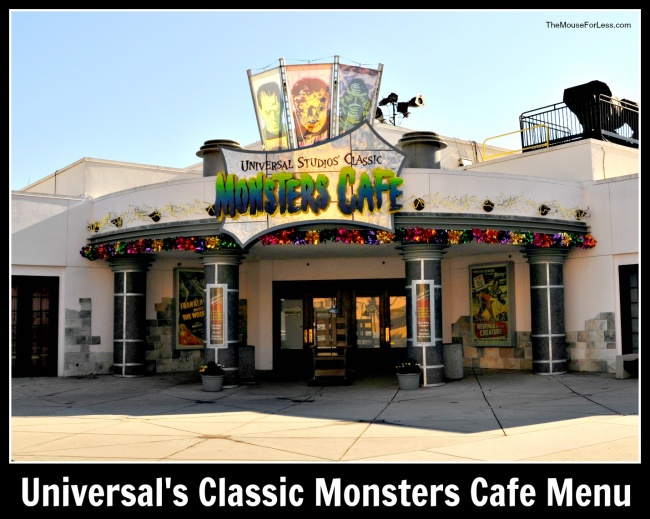 Your monster appetite will feel right at home when you step into the Universal Studios' Classic Monsters Cafe.  As you approach the entrance to the restaurant, you'll be greeted with the sight of an electric chair.  Once inside, you can choose if you would like to dine in Dracula's castle, the swamp, or a flying saucer.
Universal Studios' Classic Monster Cafe is located in the Universal Studios Florida theme park. Find more Universal Orlando dining locations on our Universal Orlando Resort menus page.
Hours of Operation
11:30 am – 4:30 pm
Universal Dining Plan participant.
Universal Studios' Classic Monsters Cafe Menu
Menu Date 12/2020
Entrees
Mesquite Seasoned 1/2 Chicken Combo
served with 2 sides and choice of apple cobbler or pineapple – $17.99
Mesquite Seasoned 1/2 Chicken Platter
served with 2 sides – $13.99
St. Louis Sparerib Combo
served with 2 sides and choice of apple cobbler or pineapple – $21.49
St. Louis Sparerib Platter
served with 2 sides – $17.99
Sparerib & Chicken Combo
served with 2 sides and choice of apple cobbler or pineapple – $20.49
Sparerib & Chicken Platter
served with 2 sides – $16.99
The Mummy Combo
vegan – slow cooked jackfruit, crispy onions & crunchy slaw on a kaiser roll, served with 1 side and choice of apple cobbler or pineapple – $16.79
The Mummy Platter
vegan – slow cooked jackfruit, crispy onions & crunchy slaw on a kaiser roll, served with 1 side – $12.99
Salads & Sides
Rotisserie Chicken Salad – $11.49
BBQ Roasted Jack Fruit Salad – $12.49
French Fang Fries – $3.49
Franken Mac N Cheese – $4.49
Creepy Spice Roasted Cauliflower – $3.49
Gory Green Salad
choice of dressing – $3.49
Coffin Cornbread – $3.49
Desserts
Phantom Apple Cobbler – $4.49
Pineapple Cup – $4.29
Crypt Cookie
S'mores chocolate chip cookie – $3.99
Unlimited Refill Souvenir Cups
Coca-Cola freestyle Souvenir Cup
Unlimited self-serve refills on your favorite Coke products with over 100 combinations. Discounts available when purchasing multiple cups. – $16.99
Extra day of refills for Freestyle Cup
Add an extra day of free refills to your previously purchased Coca-Cola freestyle Souvenir Cup – $9.99
Beverages
Single Serve Coca-Cola freestyle cup
Enjoy more than 100 drink choices with the Coca-Cola freestyle single-serve cup – $4.19
Lavender Elixir
sprite with blueberry popping boba – $5.29
H2O+ Premium Water – $5.00
Minute Maid Juice
Apple, Orange – $2.89
Powerade
Fruit Punch, Mountain Berry Blast – $5.00
Milk
2%, Chocolate – $3.29
Hot Drinks
Coffee, Hot Cocoa, Hot Tea – $3.29
Beer
Draft Beer
Yuengling or Bud Light – $9.50
Souvenir Pilsner
Yuengling or Bud Light – $12.00
Canned Beer
Miller Lite, Angry Orchard, Truly Wild Berry Hard Seltzer, White Claw Mango Hard Seltzer – $9.00
***Universal Studios' Classic Monsters Cafe Menu Items and Pricing are Subject to Change***