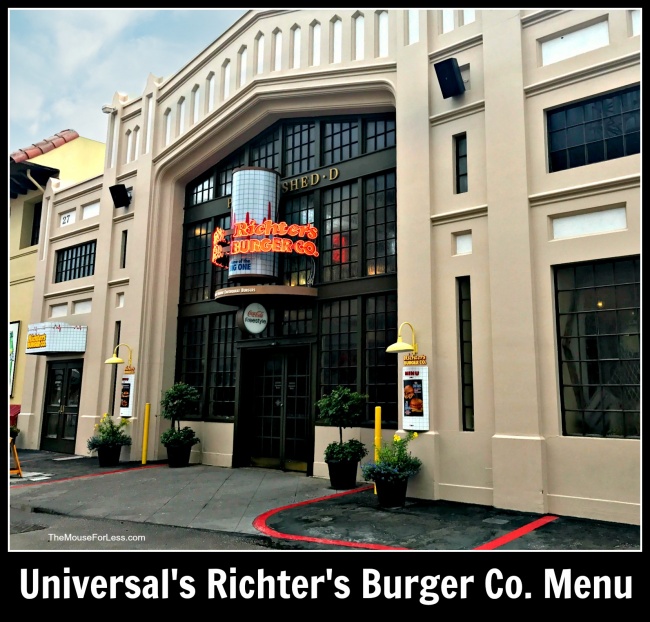 If your stomach is rumbling enough to register on the Richter Scale, it's time to take a break and grab something to eat.  Richter's Burger Co. menu offers burgers, sandwiches, and salads as well as sweet treats.
Richter's Burger is located in the Universal Studios Florida theme park. Find more Universal Orlando dining locations on our Universal Orlando Resort menus page.
Hours of Operation
Times vary, visit location or Guest Services for details
Universal Dining Plan participant.
Richter's Burger Co. Menu
Menu Date 12/2020
Platters
Mushroom Swiss Truffle Burger Platter
Premium Fresh Angus Beef Patty, Swiss Cheese, Mushrooms, Truffle Aioli. Served with fries – $16.49
The Aftershock Platter
Bacon cheeseburger served with fries – $14.99
The San Andreas Platter
Grilled chicken sandwich served with fries – $11.49
Plant-Based Beyond Burger Platter
Plant-based burger served with a side of fries – $12.49
Customize Your Burger or Sandwich with These Delicious Toppings
Guacamole  – $2.49
Jalapenos – $1.19
Sauteed Mushrooms – $1.19
Sauteed Onions – $1.19
Fries
French Fries – $3.49
Chili Cheese Fries – $5.99
Cheese Sauce – $1.99
Salad
The Richter Scale
Grilled chicken breast served on a bed of fresh greens with choice of dressing – $11.49
Unlimited Refill Souvenir Cups
Coca-Cola freestyle Souvenir Cup
Enjoy more than 100 drink choices and refills thru the day with the Coca-Cola Freestyle souvenir cup. Discounts on multiple cup purchases – $16.99
Extra day of refills for Coca-Cola freestyle Souvenir Cup
Add an extra day of free refills to your previously purchased Coca-Cola freestyle Souvenir Cup – $9.99
Beverages
Single Serve Coca-Cola freestyle cup
Enjoy more than 100 drink choices with the Coca-Cola freestyle single-serve cup – $4.19
H2O+ Premium Water – $5.00
Minute Maid Juice 
Apple, Orange – $2.89
Milk
2% – $3.29
Hot Beverage
Coffee, Hot Tea – $3.29
Beer
Heineken, Miller Lite, Anchor Steam – $9.00
Desserts and Shakes
The Frisco Shake
Available in Chocolate, Vanilla or Swirl
Regular – $3.99
Large – $5.99
Mile High Apple Pie – $3.99
Seasonal Fresh Fruit Cup – $4.29
Brownie Sundae – $5.69
Walnut Brownie – $3.49
Chocolate Cheesecake – $4.89
Freshly Baked Giant Chocolate Chip Cookie – $3.29
***Richter's Burger Co. Menu Items and Prices are Subject to Change***