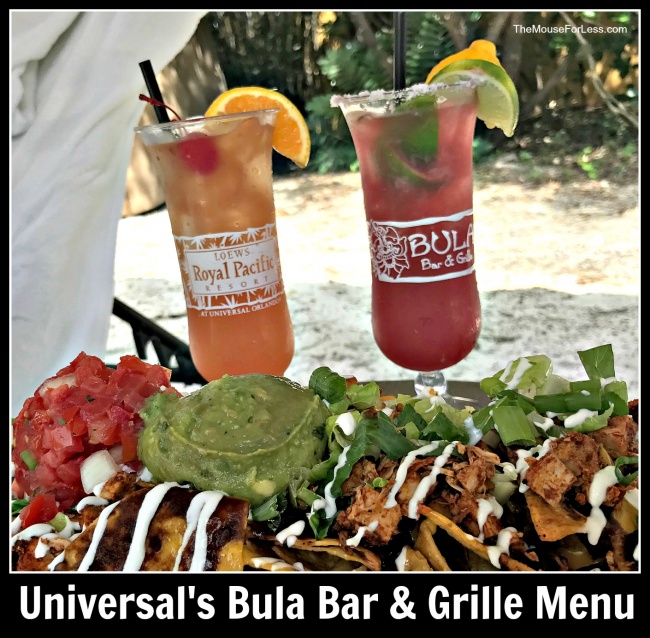 "Bula" is a greeting used to welcome people on the island of Fiji. The poolside atmosphere of Bula Bar & Grille will make you feel welcome as you spend time relaxing at the pool. The menu for Bula Bar & Grille has a tropical flair, but also offers familiar sandwiches and burgers.
Bula Bar & Grille is located in the Loews Royal Pacific Resort. Find more Universal Orlando dining locations on our Universal Orlando Resort menus page.
Open daily 11:00 am – 9:00 pm
Lunch & Dinner Menu Drink Menu

Planning a Universal Vacation?
Bula Bar & Grille Menu – Food
Menu Date 01/2020
Starters
Shipwrecked Loaded Nachos
Black Beans, Cheddar Cheese Fondue, Sour Cream, Pico de Gallo, Guacamole, Shredded Lettuce, Scallions, and choice of Grilled Chicken or Seasoned Beef – $15.00
Spicy Ahi Tuna Tostada
Ahi Tuna, Carrot, Avocado Red Onion Chow Chow, Bula Slaw, Sweet Soy Sauce, Scallion, Crispy Corn Tortilla – $12.00
Red Pepper Chipotle Garbanzo Dip
Served with Fresh Vegetables – $8.00
Big Kahuna Chicken Quesadilla
Sweet Onion, Roasted Red Pepper, Grilled Chicken, Cheddar, and Pepper Jack – $12.00
Char Siu Pork Lettuce Wraps
Pickled Vegetables, Crispy Rice Sticks, Scallions, Lettuce – $10.00
Salads
Chopped Caesar Salad
Chopped Romaine, Focaccia Croutons, Parmesan Cheese, Caesar Dressing – $11.00
With Grilled Chicken – $16.00
Tropical Fruit of the Islands
Mixed Melons, Pineapple, Strawberries, Grapes, and Vanilla Yogurt – $12.00
With Assorted Cheeses – $15.00
Local Organic Mixed Greens
Cucumber, Tomatoes, Carrots, Red Onion, Choice of Dressing. – $15.00
With Grilled Chicken or Grilled Tofu
Asian Chicken Salad
Marinated Grilled Chicken, Chopped Romaine Lettuce, Cucumbers, Snow Peas, Orange Segments, Carrots, Crispy Wontons, Thai Chili Vinaigrette – $16.00
South Pacific Fish Salad
Organic Greens, Pineapple Pico, Radish, Fresh Strawberries, Mango Passion Fruit Vinaigrette – $19.00
Burgers & Sandwiches
All Burgers and Sandwiches are Served with French Fries, Fresh Fruit, or Garden Salad.
Bula Burger
Angus Beef, Smoked Adobe Ham, Pineapple Pico de Gallo, Cheddar Cheese, Brioche Bun – $17.00
Roasted Portobello Mushroom Wrap
Mixed Greens, Roasted Red Peppers, Portobello, Cucumber, Ginger Soy Dressing – $11.00
Turkey Wrap
Smoked Turkey, Chipotle Garbanzo Spread, Lettuce, Tomato, Pickled Vegetables – $12.00
Huli Huli Chicken Sandwich
Marinated Grilled Chicken Breast, Pepper Jack Cheese, Adobo Mustard, Coconut Bread – $14.00
Korean BBQ Beef Sandwich
Braised Korean BBQ Brisket, Bula Slaw, Pepper Jack Cheese, Crispy Wontons – $15.00
Turkey Burger
House Made 8oz Patty, Swiss Cheese, Brioche Bun – $14.00
Grilled Fish Sandwich
Avocado Chow Chow, Sriracha Aioli, Lettuce, Tomato, Brioche Bun – $18.00
Tacos
Three Tacos, Fresh Flour Tortillas
Fish Tacos
Grilled "Fresh Catch", Bula Slaw, Crispy Wontons, Thai Chili Lime – $15.00
Bahn Mi Beef Taco
Slow Cooked Beef Brisket, Cucumbers, Pickled Vegetables, Cilantro, Sriracha Aioli – $15.00
Loews Loves Kids
All Kids' Meals are Served with French Fries, Fresh Fruit, or Garden Greens.
Chicken Fingers – $8.00
Grilled Cheese – $8.00
1/4lb Hamburger – $8.00
1/4lb Cheese Burger – $8.00
Kids' Hot Dog – $8.00
Chicken Sandwich – $8.00
Desserts
Ice Cream Cookie Sandwich – $4.00
Frozen Chocolate Banana – $4.00
Chocolate Pineapple Ice Cream Lollipop – $4.00
Snickers, Twix, Sponge Bob Ice Cream Bar – $4.00
Vanilla, Chocolate or Strawberry Ice Cream Pint – $5.00
Bula Bar & Grille Menu – Drinks
Menu Date 01/2020
Beverages
Soda
Coke, Diet Coke, Sprite, Lemonade, Ginger Ale – $3.00
Voss Artesian Water (small) – $4.00
Voss Artesian Water (large) – $7.00
Iced Tea – $3.00
Hot Coffee – $4.00
Juice or Milk – $3.50
Margaritas
Jalapeño Margarita
Fresh Muddled Jalapeños and Limes, 1800 Silver Tequila, Cointreau and Sour Mix
Perfecta Margarita
Tres Generaciones Anejo Tequila, Chambord, Raspberry Puree, Sour Mix and Garnished with Mint
Blood Orange Margarita
Patron Silver Tequila, Solerno Blood Orange Liquor, Fresh Lime, Sour Mix & Splash of Orange Juice
Frozen Cocktails
All Signature Cocktails are Served in a Souvenir Glass.
15 oz. Hurricane Glass – $14.50, Refills – $10.00
45 oz. Big Kahuna Glass – $35.00, Refills – $30.00
Maui Sunset Colada
Bacardi Pineapple Fusion Rum, Passion Fruit puree, Piña Colada with a Strawberry Swirl
Hang 10
Bacardi Banana Rum, Blue Curacao, Coconut Puree, Pineapple Juice
Kontiki Daiquiri
Bacardi Light Rum Blended with Strawberry & Peach Puree, Topped with a Grand Marnier Peach Floater
Coco Loco
Bacardi Coconut Rum, Piña Colada Island Oasis, Topped with a Myers Dark Rum Floater
Frozen Sangria
Cruzan Mango Rum, Blackberry Brandy, Raspberry Puree, Red Wine Swirl
Blueberry Lemonade
Stoli Blueberi Vodka, Blueberries, Lemonade Oasis
Rocks
Dragon Splash
Bacardi Dragonberry Rum, Chambord, Fresh Lime Juice, Sprite, Raspberry Puree
Big Bula
Bacardi Coconut and Mango Rum, Banana Liqueur, OJ, Pineapple, Grenadine
Bacardi Mai Tai
Classic Bacardi light Rum, Crème de Noyaux Pineapple, and OJ, Topped with Myer's Dark
Witch Doctor
Absolut Vodka, Cruzan Rum, New Amsterdam Gin, Triple Sec, Midori and Sour
Tiki Smash
Crown Royal, Sour Mix, Fresh Muddled Oranges, Lemons and Mint
Cucumber Breeze
Titos Handmade Vodka with muddled Fresh Basil, Cucumber, and Lemons, Sprite
Kraken Rum Runner
Kraken Rum, Blackberry Brandy, Crème de Banana, Orange and Pineapple Juices, Grenadine
Malaysian Mary
Bloody Mary Made with Tito's Handmade Vodka, Taste of Florida Regular or Spicy Mix. Garnished with Olives, Celery, Bacon, and Pepperoncini Pepper
Beers
16 oz. Can
Budweiser, Bud Light, Coors Light, Miller Lite, Michelob Ultra, Corona Extra, Modelo, Heineken, Sam Adams Boston Lager, Rebel IPA, Grapefruit IPA, Guinness, Fat Tire, Stella, Angry Orchard, Big Storm Florida Ale – $8.00
Beer Bucket (6) – $35.00
Draft
Bud Light, Yuengling American Lager, Sam Adams Seasonal, Blue Moon, Corona Light, Rotating Local Florida Brew
16 oz. $8.00 | 24 oz $10.75 | 32 oz $16.00 | 32oz refill $12.00
Wines
6oz glass – House Wine
Merlot, Cabernet, Pinot Noir, Chardonnay, Pinot Grigio, Sauvignon Blanc, Riesling – $9.00
White Peach or Red Sangria
Glass – $11.00
Ruffino Prosecco
Glass – $11.00 | Bottle – $42.00
MockTails (Non-Alcoholic)
Eddie Royale
Refreshing Mix of Lemonade, Sprite, Peach, Strawberry, Lime, & Fresh Mint – $4.00
Smoothies
Strawberry, Piña Colada, Passion Fruit, Mango, Banana, Raspberry, Peach, Lemonade, Cookies and Cream, Birthday Cake, or Vanilla – $7.00
***Bula Bar & Grille Menu Items and Pricing are Subject to Change***