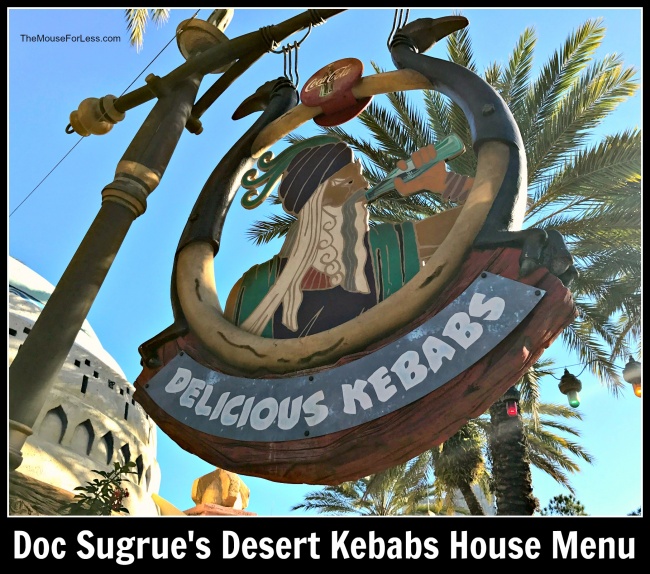 Doc Sugrue's Desert Kebabs House will tempt you with enticing Mediterranean aromas as you wander through the Lost Continent. Located near the Mystic Fountain, the restaurant offers beef, chicken, and vegetarian kebabs if you are looking for a full meal. Satisfy your thirst with your favorite combination of Coke products from the Coca-Cola Freestyle machine.  If all you want is a light snack, the Doc Sugrue's Desert Kebabs House menu offers that as well.
Doc Sugrue's Desert Kebabs House is located in the Islands of Adventure Theme Park. Find more Universal Orlando dining locations on our Universal Orlando Resort menus page.
Visit location or Guest Services for operating hours. Doc Sugrue's Desert Kebab House is temporarily closed.
Universal Dining Plan participant.

Planning a Universal Vacation?
Doc Sugrue's Desert Kebabs House Menu – Lunch & Dinner
Menu Date 01/2020
Entrees
Beef Kebab Combo
Skewered marinated beef & vegetables in our special house seasoning. Served with pita bread, tzatziki sauce and choice of chips. – $14.49
Chicken Kebab Combo
Skewered marinated chicken & vegetables in our special house seasoning. Served with pita bread, tzatziki sauce and choice of chips. – $13.40
Vegetarian Kebab Combo
Marinated in our special house seasoning. Served with pita bread, tzatziki sauce and choice of chips. – $12.49
Greek Salad – $9.49
Snacks
Hummus
Fresh made garbanzo bean dip served with carrot, celery sticks, and pita bread. – $4.99
Greek Yogurt – $3.99
Fruit Cup – $4.29
Pretzel & Cheese Sauce Combo – $6.79
Churro & Chocolate Sauce Combo – $6.19
Chips
Choice of Cheddar SunChips or Lays – $3.49
Refreshing Cold Beverages
Enjoy more than 100 drink choices and unlimited free refills with the Coca-Cola freestyle souvenir cup. Get a discount when you purchase multiple cups
Coca-Cola freestyle Souvenir Cup
Unlimited self-serve refills on your favorite Coke products with over 100 combinations. Discounts available when purchasing multiple cups – $16.99
Extra day of refills for Coca-Cola freestyle Souvenir Cup
Add an extra day of free refills to your previously purchased Coca-Cola freestyle Souvenir Cup – $9.99
Single Serve Coca-Cola freestyle cup
Enjoy more than 100 drink choices with the Coca-Cola freestyle single-serve cup – $4.19
Powerade
Mountain Berry Blast, Fruit Punch – $5.00
H2O+ Premium Water – $5.00
Ice Cold Beer
Coors Light – $8.49
Heineken – $8.99
** Doc Sugrue's Desert Kebabs House Menu and Prices are Subject to Change Without Notice **