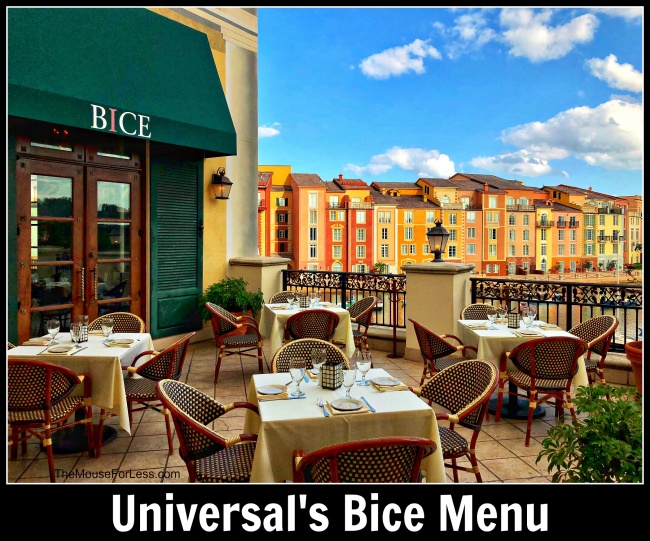 At Bice Ristorante, an exquisite culinary voyage right to the heart of Italy awaits you amid a decor which combines Old World elegance and modern chic. Bice Ristorante offers Northern Italian cuisine and superb service in an elegant atmosphere. Resort or business casual attire is recommended to dine at Bice Ristorante.
Bice Ristorante is located in the Loews Portofino Bay Hotel.  Find more Universal Orlando dining locations on our Universal Orlando Resort menus page.
Open daily: 5:30 pm – 10:00 pm
Bice Ristorante Dinner Menu
Menu Date 05/2019
Antipasti (Appetizers)
Antipasto all'Italiana con Salumi, Formaggi assortiti, servito con olive
Selection of assorted cured meats and imported cheeses served with olives – $24.00
Carpaccio di manzo servito con rucola e parmigiano
Beef Tenderloin Carpaccio served with arugula and parmesan shaved in a EVOO dressing – $18.00
La Caprese, Mozzarella Burrata tegole croccanti di focaccia e pesto  al basilico
Fresh burrata mozzarella and vine ripened tomatoes with basil and EVOO – $20.00
Prosciutto di Parma, Melone
Parma prosciutto and sweet cantaloupe – $19.00
Tartar di Tonno con salsa inglese profumata al rafano e misticanza
Ahi Tuna tartare served with horseradish cream, capers, avocado and microgreens – $21.00
Calamari, Gamberi, Zucchine e Funghi Fritti con Salsa al Pomodoro Piccante
Crispy flash fried Calamari, shrimp, zucchini and mushrooms with a spicy tomato sauce – $21.00
Tortino di gamberoni servito con zupetta di aragosta e germogli
King shrimp Tart served with Lobster bisque and micro green Salad – $22.00
Bruschetta con Pomodoro, aglio, basilico e origano
Bruschetta served with fresh chopped tomatoes with EVOO, garlic, basil and oregano – $15.00
Polipo Gigliato con patate alle olive e crema di piselli
Grilled Octopus served with potato, olives in a green peas puree – $19.00
Insalate (Salads)
Insalatina Mista con Rucola, Romana e Riccia, Pomodori e Julienne di Carote, condita con Aceto Balsamico
Romaine, arugula and Frisse salad with grape tomatoes and carrot julienne in aged balsamic vinegar dressing – $13.00
Tricolore di Indivia, Radicchio e Rucola con Parmigiano e vinaigrette al balsamico
Radicchio, Endive and arugula served with parmesan cheese in a balsamic vinaigrette dressing – $14.00
Insalata di Indivia Belga, Noci Tostate, Pere e Gorgonzola in Salsa Dijon
Belgian Endive and Gorgonzola Cheese and Pear Salad with a Dijon Mustard Dressing and Toasted Walnuts – $15.00
Spinacciata con Formaggio di Capra e Pancetta con citronette ai Frutti di bosco
Spinach salad with goat cheese and pancetta in a red berries citronette – $15.00
Insalata di Cesare con Crostini di Pane e Focaccia
Romaine Heart lettuce, homemade croutons in a Caesar dressing – $13.00
Add Anchovies – $3
Add Grilled Chicken – $7
Add Grilled Salmon – $9
Add Grilled Shrimp – $11
La Pasta Fatta In Casa (Homemade Pasta)
Whole Wheat and Gluten Free Pasta available on request for substitutions
Cappellaccio al brasato di manzo con salsa cremosa ai funghi
Homemade "Little Hat" shaped pasta stuffed with braised Beef short rib, served with fresh mushrooms Marsala Cream sauce – $28.00
Agnolotti con ripieno di scampi e granchio in salsa d'aragosta con gamberi
Homemade Agnolotti stuffed with shrimp and crab meat in a Lobster and prawns sauce – $30.00
Mezzelune alle melanzane con salsa di pomodorini, basilico e mozzarella fresca
Homemade "Half Moon" pasta filled with eggplant, served with cherry tomatoes mozzarella and basil – $26.00
Gnocchi di patate alla sorrentina
Homemade Potato and ricotta Gnochetti in a fresh diced tomato sauce, mozzarella cheese and basil – $25.00
Pappardelle al telefono
Homemade Pappardelle with mozzarella cheese, fresh basil, in a tomato cream sauce – $23.00
Tagliatelle al ragu' di carne alla Bolognese
Homemade tagliatelle pasta with slow braised Bolognese ragu' and marinara sauce – $26.00
Lasagna classiche Bolognesi con ragu di carne e besciamella
Homemade lasagna with slow Braised Bolognese ragu', parmesan, béchamel and mozzarella cheese – $25.00
Spaghetti alla Chitarra con salsa allo scoglio
Homemade Spaghetti with P.E.I Mussels, Clams, Scallops and shrimp in a white wine and tomato sauce – $30.00
Strozzapreti con ragu di salsiccia e foglie di spinaci
Homemade Fresh Strozzapreti pasta with sausage ragu and baby spinach leaf – $26.00
Gnocchi Verdi con scampi, funghi, Carciofi e spinaci freshi
Homemade Green Gnocchi Pasta served with Mediterranean Shrimp, Mushrooms, Artichokes and Spinach – $30.00
Cannelloni gratinate al ripieno di Mozzarella di Bufala e Ricotta
Homemade oven baked Cannelloni stuffed with Buffalo Mozzarella and Ricotta, served with marinara and Basil Pesto – $24.00
La Pasta Tradizionale (Traditional Pasta)
Whole Wheat and Gluten Free Pasta available on request for substitutions
Penne all'Arrabbiata
De Cecco Penne pasta served in a spicy tomato sauce with garlic and fresh chopped parsley – $23.00
Risotto al funghi freschi, Zafferano e scalogno
Risotto with fresh wild mushrooms, saffron and scallions – $31.00
Zuppa (Soups)
Minestrone alla romana con pecorino e crostini
Minestrone Soup with Pecorino Romano cheese and crostini – $12.00
Vellutata di Aragosta servita con gamberoni
Lobster Bisque served with 3 U-15 Black Tiger Prawns – $22.00
Pesce (Fish)
Cappesante dall'Alaska con purea di patate, funghi e pesto di Rucola
U-10 Alaskan Sea Scallop served with mashed potatoes, mushroom and arugula pesto – $38.00
Seabass Cileno servito con verdure di stagione, patate viola e salsa verde
Chilean Seabass served with salsa verde, Sicilian capponata and purple potatoes – Market Price
Trancio di Salmone in crosta di pistacchio servito con verdure di stagione
Pistacchio crusted Atlantic Salmon served with seasonal Vegetables – $34.00
Halibut saltato in padella con Bietola e cannellini stufati
Pan seared Wild Halibut served with Swiss Chard and stewed Cannellini beans – $39.00
Carne (Meat)
Splitting Charge of $5 will apply
Add any Vegetable Sides $9.00
Ossobuco di Vitello con Risotto alla Milanese
Braised Veal Shank "Ossobuco" with saffron risotto – $48.00
Costoletta di Vitello da latte alla Milanese con Insalatina di rucola e pomodorini
Pan fried 14 oz. lightly breaded Veal Chop served with arugula and cherry tomato salad – $46.00
Tagliata di Manzo alla rucola, pomodori freschi verdure e patate al forno
Grilled 12 oz. N.Y. Strip sliced, served with arugula, fresh tomatoes and roasted potatoes – $38.00
Scaloppine di Vitello "Piccata" Patate alla crema e Asparagi Saltati
Sautéed Veal Scaloppini with a lemon capers and white wine sauce, served with creamy potatoes and sautéed asparagus – $36.00
Galletto ai ferri con verdure grigliate, Broccolini e salsa alle carote e zenzero
Grilled Deboned Cornish-Hen served with vegetable, roasted potatoes and Broccolini in a Ginger & Carrot sauce – $30.00
Carre' di Agnello arrosto servito con Funghi, pomodorini saltati e Pure' di patate
Oven Roasted Rack of Lamb served with sautéed fresh mushrooms and garlic mashed potatoes in a Port wine demi glaze – $43.00
Filetto di Manzo alla Rossini, schiacciata di patate al tartufo, verdure di stagione grigliate con salsa al pepe verde
Grilled 9 oz. "Prime Chairman" beef tenderloin center cut Filet topped with foie gras and served with truffle potatoes, seasonal vegetables with green pepper sauce – $48.00
Costolette di Cervo con patate alla crema, funghi saltati e salsa di frutti di bosco alla senape
Organic Pan Seared Venison chops served with creamy potatoes, sauteed Mushrooms and Wild Berry-Mustard sauce – $44.00
Dolci (Desserts)
Tiramisù della Bice
Homemade Classic Tiramisu cake with mascarpone cheese and Espresso soaked Ladyfinger Cookies – $13.00
Cioccolatissimo alla Bice con Gelato alla Vaniglia e Amarene di Modena
Soft Chocolate Soufflé served with Vanilla gelato and Wild Cherry – $13.00
Crema Cotta alla Vaniglia con scorza di Lime ed Arancio
Vanilla Crème Brule perfumed with Lime and Orange zest – $13.00
Cannelloni di balsamico e mousse al cioccolato bianco con crema alle fragole
Balsamic Sweet Cannelloni with white chocolate mousse and strawberry cream – $13.00
Semifreddo alle Nocciole e Miele con crema di menta e ciliege
Semi-Frozen Hazelnut and Honey Custard served with mint and cherry cream – $13.00
Spugna al Cioccolato con crema alla Vaniglia e crema di Menta
Chocolate Sponge Cake served with Vanilla and Mint cream – $13.00
Torta alla Ricotta fresca e Nutella servita con pere saltate alla Cannella
Nutella and Ricotta Cake served with Cinnamon sautéed Pear – $13.00
Torta Semifreddo con Chantilly all'arancio e crepes, con salsa di arancio e cioccolato al Rum
Semi-Frozen Orange Chantilly Cake served with orange cream and Rum flavored chocolate – $13.00
Gelati (Cioccolato, Vaniglia, Fragola, Pistacchio e Carmello) e Sorbetti (Lamponi e Limone)
Italian Gelato (Vanilla, Chocolate, Strawberry, Pistacchio and Sea Salt Caramel) and Sorbet (Raspberry and Lemon) – $10.00
** Bice Ristorante Menu and Prices are Subject to Change Without Notice **

Planning a Universal Orlando Vacation?
For a Free no-obligation quote, contact our sponsor
The Magic For Less Travel
. Services are provided free of charge and their expert planning advice will help you make the most of your vacation time and money.