Universal Orlando | Universal Studios Florida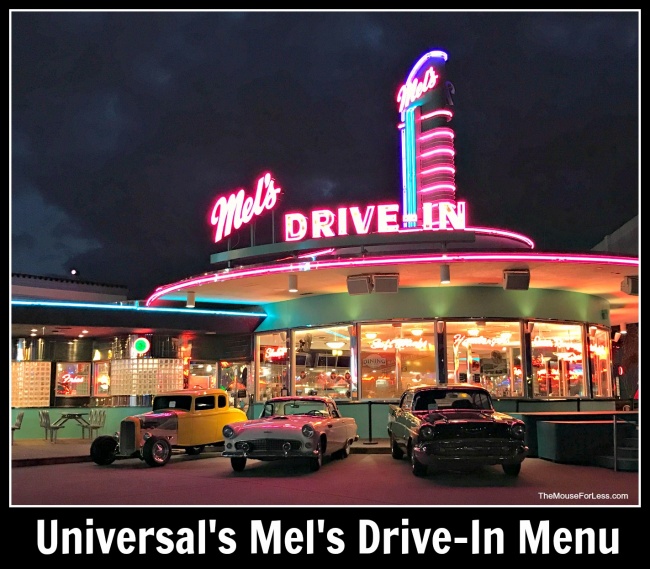 Step back into the 50's and dine while listening to your favorite oldies on the jukebox at Mel's Drive-In, based on the popular movie, American Grafitti. Sitting inside at the vinyl booths or outside under the neon lights will make you feel like you've gone back in time.  Mel's Drive-In menu offers classic diner food such as burgers, fries and onion rings that you can wash down with an ice cold root beer float or creamy milkshake.
Open daily. Visit location or check with Guest Services for hours.
Universal Dining Plan participant.
Mel's Drive-In Menu
Menu Date 04/2019
Platters
All platters are served with fries. Make it a combo with fires and a regular shake!
Bacon Cheeseburger Combo
Served with fries and a regular shake – $16.49
Bacon Cheeseburger Platter
Served with fries – $12.99
Cheeseburger Combo
Served with fries and a regular shake – $14.99
Cheeseburger Platter
Served with fries – $11.49
Chicken Fingers Combo
Served with fries and a regular shake – $14.99
Chicken Fingers Platter
Served with fries – $10.99
Grilled Chicken Sandwich Combo
Served with fries and a regular shake – $14.99
Grilled Chicken Sandwich Platter
Served with fries – $11.49
Chick'n Avocado Sandwich Platter
Plant-based Gardein Chick'n and Follow Your Heart American cheese. Served with a side of fries – $12.49
Impossible Burger Platter
Plant-based burger served with a side of fries – $12.49
Salad
Grilled Chicken Salad
Grilled chicken breast served on a bed of fresh greens with choice of dressing – $11.49
Sensational Sides
Onion Rings – $4.49
French Fries – $3.49
Chili Cheese Fries – $5.59
Beverages
Fountain Soda
Coca-Cola, Coke Zero Sugar, Diet Coke, Coca-Cola Cherry, Sprite, Fanta Orange, Barq's Root Beer, Minute Maid Lemonade, Gold Peak Iced Tea – $3.69
Single Serve Coca-Cola freestyle cup
Enjoy more than 100 drink choices with the Coca-Cola freestyle single-serve cup. – $3.69
H2O+ Premium – $5.00
Minute Maid Juice
Choice of Apple or Orange – $2.39
Powerade
Choice of Fruit Punch or Mountain Berry Blast – $5.00
Milk  – $2.99
Hot Drinks
Coffee, Decaf, Hot Cocoa, Hot Tea – $3.29
Unlimited Refill Souvenir Cups
Coca-Cola freestyle Souvenir Cup
Unlimited self-serve refills on your favorite Coke products with over 100 combinations. Discounts available when purchasing multiple cups – $15.99
Extra day of refills for Freestyle Cup
Add an extra day of free refills to your previously purchased Coca-Cola freestyle Souvenir Cup
Desserts
Milkshakes
Available in Chocolate, Vanilla, or Swirl
Regular – $3.99
Large – $5.99
Shake Toppings
Rainbow Sprinkles, Oreo Crumbs or Strawberry – $0.99
Old Fashioned Root Beer Float
Regular – $3.99
Large – $4.49
Apple Pie – $4.49
Beer
Bottle Beer
Bud Light or Miller Lite – $7.99
***Mel's Drive-In Menu Items and Prices are Subject to Change***