Universal Studios Florida | Hollywood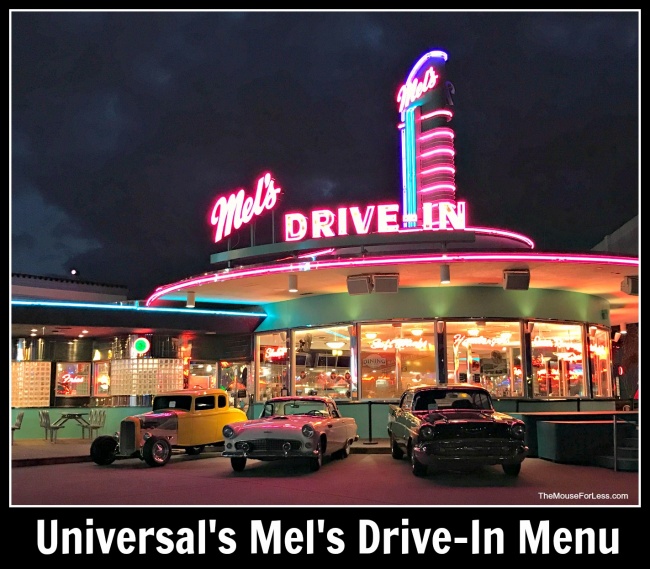 Step back into the 50's and dine while listening to your favorite oldies on the jukebox at Mel's Drive-In, based on the popular movie, American Grafitti. Sitting inside at the vinyl booths or outside under the neon lights will make you feel like you've gone back in time.  Mel's Drive-In menu offers classic diner food such as burgers, fries and onion rings that you can wash down with an ice cold root beer float or creamy milkshake.
Open daily. Visit location or check with Guest Services for hours.
Universal Dining Plan participant.
Mel's Drive-In Menu
Menu Date 11/2018
Platters
All combos served with fries and regular shake. Platters served with fries only.
Bacon Cheeseburger
Combo – $16.49
Platter – $12.99
Chicken Fingers
Combo – $14.99
Platter – $10.99
Grilled Chicken Sandwich
Combo – $14.99
Platter – $11.49
Garden Burger with Cheese
Combo – $14.49
Platter – $10.69
Chick'n & Avocado Sandwich Platter – $12.49
Grilled Chicken Salad – $11.49
Sensational Sides
Onion Rings – $4.49
French Fries – $3.49
Chili Cheese Fries – $5.59
Ice Cold Drinks
Fountain Soda
Coca-Cola, Coca-Cola Zero, Diet Coke, Coca-Cola Cherry, Sprite, Fanta Orange, Barq's Root Beer, Minute Maid Lemonade, Gold Peak Iced Tea – $3.69
Minute Maid Orange – $2.39
Minute Maid Apple Juice – $2.39
H20 Premium + Water – $5.00
Milk 2%  – $2.99
Coffee, Hot Tea, Hot Cocoa – $3.29
Desserts
Whole Lot A Shakes
Chocolate, Vanilla, Twist
Regular – $3.99
Large – $5.99
Toppings
Rainbow Sprinkles or Oreos – $0.99
Old Fashioned Root Beer Float
Regular – $3.99
Large – $4.49
Apple or Cherry Pie
A La Mode – $4.49
Beer
Miller Lite – $7.99
Bud Light – $7.99
***Mel's Drive-In Menu Items and Prices are Subject to Change***