Islands of Adventure | Toon Lagoon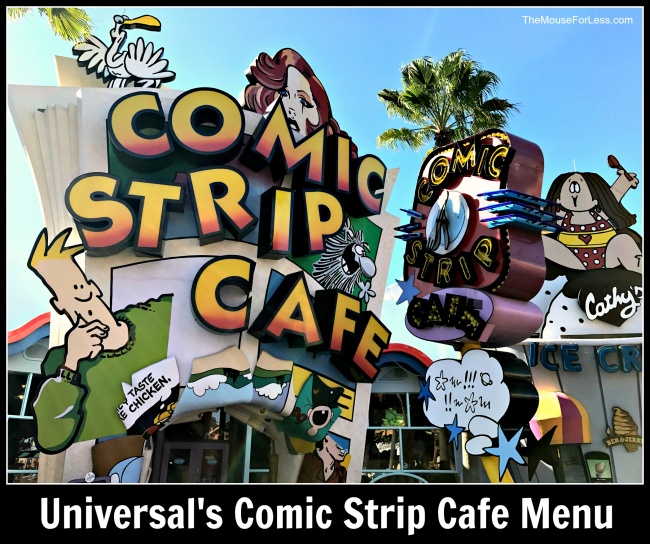 Enjoy the Sunday comics while dining at Comic Strip Cafe. The restaurant features old favorites such as Beetle Bailey, Hagar the Horrible, and Nancy.  Food ranges from American staples like fried chicken, hot dogs, and burgers to more adventurous Chinese, seafood, and pizza.
Open Daily: 11:00am – Park Close (subject to change)
Part of the Universal Dining Plan
Comic Strip Cafe Lunch and Dinner Menu
Menu Date 10/2018
Burgers & Dogs
Served with Fries.
Combo Served with Fries and Regular Shake.
Nathan's Chili Dog – $10.49
Combo – $13.99
Bacon Cheeseburger – $12.99
Combo – $16.49
Grilled Chicken Sandwich – $11.49
Combo – $14.99
Pizza & Salad
Combos Served with a Side Salad and Breadstick.
Individual Cheese Pizza – $10.99
Combo – $14.99
Individual Pepporoni – $11.99
Combo – $15.99
Individual Specialty Pizza – $11.99
Combo – $14.99
Spaghetti with Meatballs – $9.29
Combo – $13.29
Fettuccini Alfredo with Chicken – $10.79
Combo – $14.89
Chicken Caesar Salad
Served with a breadstick – $12.49
Chinese
Served with Rice, Vegetables and Egg Roll
Asian BBQ Half Chicken Platter – $15.49
Dragon Platter
Combo of Sweet & Sour and Beef & Broccoli – $15.49
Beef & Broccoli Platter – $12.49
Sweet & Sour Chicken Platter – $12.59
Fish & Chicken
Served with Fries
Combos served with Fries and Regular Shake
Chicken Fingers – $10.99
Combo – $14.49
Fried Fish Sandwich – $13.49
Combo – $16.99
Chicken & Fish – $13.99
Combo – $17.49
Fish & Chips – $15.99
Combo – $14.49
Sides
French Fries – $3.49
Onion Rings – $4.49
Egg Roll – $2.79
Breadsticks with Marinara – $3.29
Side Salad – $4.59
Desserts
Brookie – $3.29
Chocolate Chip Cookie – $2.99
Milkshake
Vanilla or Chocolate – $3.99
Funnel Puffs – $7.49
Beverages
Souvenir Cup
Enjoy more than 100 drink choices and unlimited free refills with the Cocoa-Cola freestyle souvenir cup. Get 3 – 6 souvenir cups for $12.99 each, 2 for $14.99 each, or 1 for $15.99 at participating Coca-Cola freestyle locations (valid day of purchase only)
Fountain Soda
Coca-Cola, Diet Coke, Coca-Cola Zero, Sprite, Fanta Orange, Barq's Root Beer, Gold Peak Iced Tea, Vitamin Water – $3.29
Powerade
Mountain Berry Blast, Fruit Punch – $4.49
Minute Maid Orange – $2.39
Minute Maid Apple Juice – $2.39
H20+ Premium Water – $4.50
Beer
Miller Lite
Draft Beer – $7.99
Souvenir Pilsner – $10.49
Bud Light
Draft Beer – $7.99
Souvenir Pilsner – $10.49
Yuengling
Draft Beer – $7.99
Souvenir Pilsner – $10.49
Heineken
Draft Beer – $8.99
Souvenir Pilsner – $11.99
**Comic Strip Cafe Menu Prices and Items Subject to Change**