Universal Studios Florida | World Expo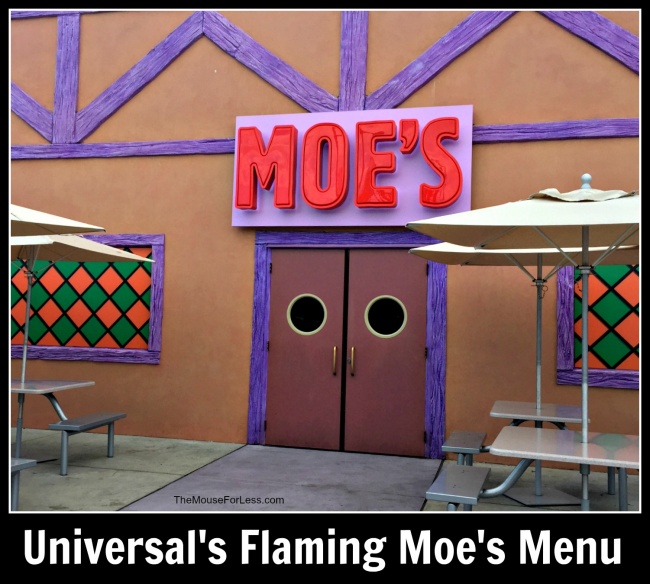 While you're visiting Springfield, make sure to stop at Flaming Moe's and try the Flaming Moe. This specialty nonalcoholic drink is a bubbly, citrus flavored drink that's sure to quench your thirst.  The Flaming Moe's menu offers a variety of specialty drinks for the whole family as well as local beers at a convenient walk up counter.
Open Daily 11:00 am – park close.
Universal Dining Plan participant.
Flaming Moe's Menu
Menu Date 11/2018
Specialty Drinks
Freshly Prepared Daily
Flaming Moe
Signature Specialty Drink of Springfield
Non-Alcoholic – $8.99
Mt. Swartzweider Apple Drink
Apple Juice, Granny Smith Apple Syrup, Lemonade and Fresh Brewed Tea. Freshly Prepared and Served with a Specialty Garnish. – $3.99
Groovy Grove Juice
Orange Juice, Lemonade, and Blood Orange Syrup. Freshly Prepared and Served with a Specialty Garnish. – $3.99
Mr. Teeny
Lemonade, Pineapple Juice, and Blue Curacao Syrup. Freshly Prepared and Served with a Specialty Garnish. – $3.99
Fountain Beverages
Buzz Cola
Zero Calorie Cherry Flavored Cola – $399
Fountain Soda
Coca-Cola, Coca-Cola Zero, Diet Coke, Sprite, Fanta Orange, Barqs Root Beer, Hi-C Fruit Punch, Gold Peak Tea – $3.69
Premium H20 + Water – $5.00
Milkshakes
Milkshake "100% Mammal Milk"
Chocolate or Vanilla. Reg. – $3.99
Duff Beer
Hand Crafted, Locally Brewed
Duff
Draft – $8.99
Bottle – $7.99
Souvenir Stein – $11.49
Duff Lite
Draft – $8.99
Bottle – $7.99
Souvenir Stein – $11.49
Duff Dry
Bottle – $7.99
***Flaming Moe's Menu Items and Prices are Subject to Change***