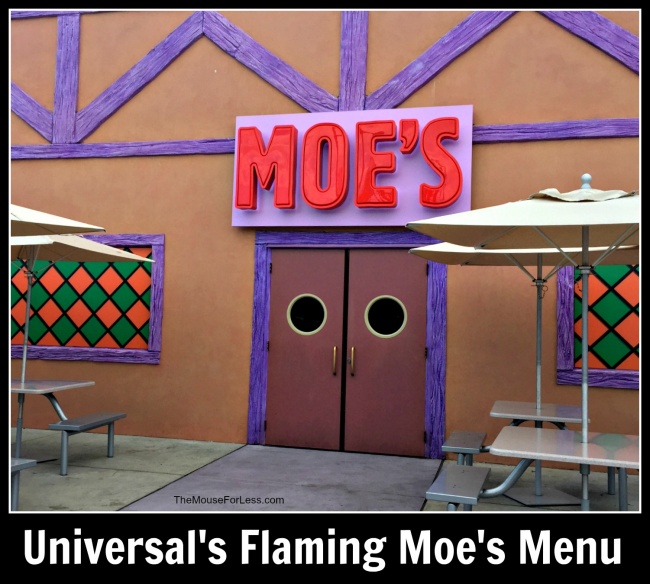 Looking to get a Flaming Moe without visiting a bar or tavern? Stop by Flaming Moe's, a popular walk up counter in the World Expo area of Universal Studios and order any of the drinks offered inside Moe's Tavern, plus other specialty beverages. If you've never had a Flaming Moe, this is the perfect opportunity to indulge in the bubbling, citrusy, non-alcoholic beverage. If you're looking for something more traditional to quench your thirst, Flaming Moe's offers fountain beverages, including Buzz Cola. Since you're in Springfield, if you're looking for beer, be sure to try a Duff beer, and maybe even bring home a souvenir mug to remind you of your vacation!
Flaming Moe's is located in the Universal Studios Florida theme park. Find more Universal Orlando dining locations on our Universal Orlando Resort menus page.
Hours of Operation
11:00 am – park close

Planning a Universal Vacation?
Flaming Moe's Menu
Menu Date 05/2022
Specialty Drinks
Flaming Moe
Signature Specialty Drink of Springfield. Non-Alcoholic – $8.99
Groovy Grove Juice
Orange juice, lemonade, Blood Orange syrup – $4.19
Mt. Swartzweider Apple Drink
Granny Smith Apple syrup, apple juice, lemonade and fresh brewed tea- $4.19
Mr. Teeny
Lemonade, pineapple juice, Blue Curacao syrup – $4.19
Fountain Beverages
Buzz Cola
Zero Calorie Cherry Flavored Cola – $4.59
Fountain Soda
Coca-Cola, Coke Zero Sugar, Diet Coke, Sprite, Fanta Orange, Barq's Root Beer, Hi-C Lemonade, Gold Peak Iced Tea – $3.99
H2O+ Premium – $5.00
Bottled Beverages
Selection of teas, smoothies and juices – $2.89
Unlimited Refill Souvenir Cups
Coca-Cola Freestyle Souvenir Cup
Unlimited self-serve refills on your favorite Coke products with over 100 combinations. Discounts available when purchasing multiple cups. – $16.99
Extra Day of Refills for Freestyle Souvenir Cup
Add an extra day of free refills to your previously purchased Coca-Cola freestyle® Souvenir Cup -$9.99
Milkshakes
Milkshake "100% Mammal Milk"
Choice of Chocolate, Vanilla or Swirled. Available in regular and large sizes – $3.99
Beer
Hand Crafted, Locally Brewed
Duff Draft
Choose from Duff or Duff Light – $10.99
Souvenir Mug Duff Draft
Choose from Duff or Duff Light served in a souvenir mug – $13.49
Bottled Duff Beer
Choose from Duff, Duff Light or Duff Dry – $8.49
***Flaming Moe's Menu Items and Prices are Subject to Change***