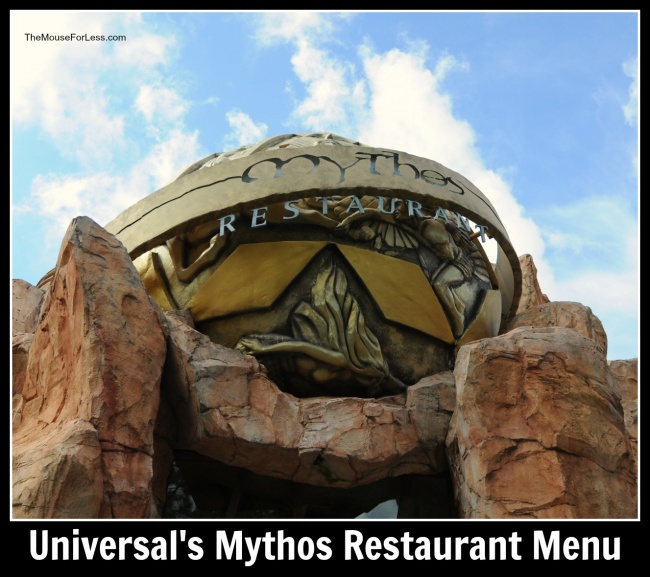 As you approach the towering rock formations, cascading waterfalls and ancient figures carved into the side of Mythos Restaurant, you know you're in for a dining experience unlike any other. This award-winning restaurant offers exceptional contemporary cuisine in a setting to spark the imagination.
Mythos Restaurant is located in the Islands of Adventure Theme Park. Find more Universal Orlando dining locations on our Universal Orlando Resort menus page.
Open for Lunch and Dinner Daily
Universal Dining Plan Participant

Planning a Universal Orlando Vacation?
For a Free no-obligation quote, contact our sponsor
The Magic For Less Travel
. Services are provided free of charge and their expert planning advice will help you make the most of your vacation time and money.
Mythos Lunch and Dinner Menu
Menu Date 02/2020
Appetizers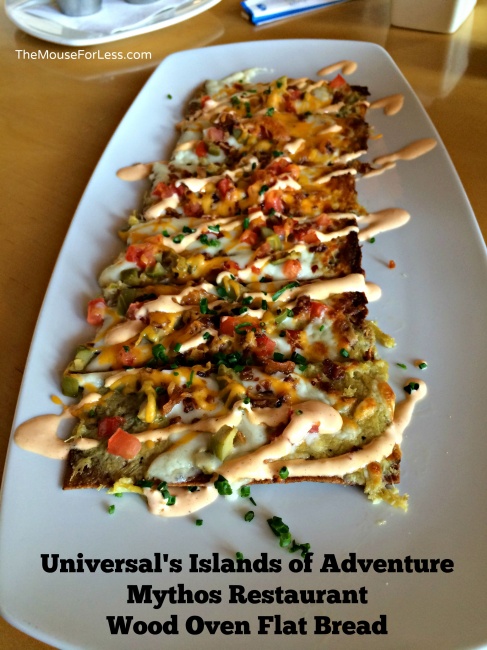 Wood Oven Flat Bread
roasted artichoke hearts, olives, tomato, bacon with cheddar and mozzarella cheese and a roasted red pepper sauce – $11
Spanakopita Dip
a savory blend of spinach, feta cheese, lemon, and fresh herbs, served hot with fresh pita chips seasoned with za'atar spice, with fresh cucumber, tomato, and olives – $10
Semolina Crusted Calamari
tender calamari flash fried, served with Spanish choriza aioli, marinara and charred lemon – $12
Shrimp Sushi Katsu Roll
flash fried, panko crust, sweet soy, wasabi aioli – $13
Mezze Platter (GF)
a tasting of housemade hummus, baba ganoush, marinated fennel, Kalamata olives served with charred pita – $11
Soups & Salads
Chef's Signature Greek Salad (GF)
Shredded lettuce, diced tomatoes, red onions, Kalamata olives, feta crackers, herb-lemon vinaigrette, and shaved marinated feta:
Grilled Chicken – $17
Shrimp – $21
Mixed Baby Greens (GF)
Marinated feta cheese, tomatoes, onions and citrus dressing:
Grilled Chicken – $14
Shrimp or Salmon – $18
Wedge  (GF)
Crisp iceberg, blue cheese vinaigrette, cherry tomatoes, red onion, sweet and sour bacon jam, croutons:
Grilled Chicken – $15
Shrimp – $19
Heart of Romaine Caesar (GF)
Crisp romaine lettuce, roasted plum tomato, charred pita, housemade Caesar dressing, shaved Parmesan
Grilled Chicken – $15
Shrimp – $19
Tuscan Tomato Soup (GF)
slow roasted hearty tomato soup, housemade croutons, Parmesan, basil oil drizzle – $8
Entrees
Add cup of soup or a side salad to any entree for $5
Beef Loin Medallions (GF)
potato puree, sea salt roasted carrots, watercress, red wine reduction – $26
Pan Roasted Wild Salmon (GF)
Wild rice, saute of mushrooms and zucchini ribbons, romesco sauce – $25
Pad Thai (GF, V)
Rice noodles, mixed vegetables, chicken and shrimp tossed in a sweet and sour peanut sauce – $21
Wild Caught Pacific Flounder 
potato puree, lemon beurre blanc, tomato-olive tapenade and sauteed asparagus – $27
Summer Truffle Risotto (GF, V)
shaved black summer truffles, seasonal wild mushrooms, chive oil drizzle, shaved Parmesan – $20
Gnocchi Bolognese
Slow simmered beef and tomato sauce, cream, crispy Parmesan wafers – $18
Souvlaki Couscous Bowl
tomato-olive couscous, grilled zucchini, eggplant, tzatziki, cucumber, feta cheese, pita bread
Tofu – $19
Chicken – $21
Beef – $23
Brick Oven Roasted Chicken
Spiced yogurt marinated half chicken, lemon-rosemary potatoes, roasted vegetables, blistered tomatoes, lemon-chive yogurt – $18
12oz Bone-In Pork Chop
Blue cheese cranberry crust, lemon-garlic fingerling potatoes, cannellini and corn succotash, apple brandy reduction – $19
Seared Lamb Chops
Moroccan spiced lamb chops, mascarpone polenta, roasted tomato tapenade, mint demi-glace, watercress, pomegranate – $36
Sandwiches
Traditional Cheeseburger (GF)
1/2 pound topped with cheddar cheese, bacon, lettuce, tomato, and French fries – $16
Balsamic Grilled Chicken Sandwich
marinated grilled chicken breast, thick cut bacon, tarragon lemon aioli, balsamic red onion, tomato, mozzarella cheese – $16
Fork, Knife, & Spoon Grilled Cheese
a unique presentation of a classic three cheese sandwich set in a Tuscan tomato soup with crispy pork belly and house-made chips. – $16
Mythos Signature Lamb Burger (GF)
Hand-packed ground lamb with grilled onion, shredded lettuce and fresh tomato feta-olive aioli, served with French fries. – $18
GF- can be prepared Gluten Free V- can be prepared Vegan
** Mythos Restaurant Menu and Prices are Subject to Change Without Notice **